Rice-eccles Stadium
Salt Lake City

,

UT
Salt Lake City
Monster Energy AMA Supercross Championship
After missing five races with a broken collarbone, Red Bull KTM's Ryan Dungey returned to action in Monster Energy Supercross last week, and then returned to the top spot on the podium this weekend. But it wasn't easy! We talked to RD5 after the race.
Racer X: We didn't get to talk last weekend. How long have you been back riding?
Ryan Dungey: Got back on the bike about three weeks ago. I just tried to keep up on the fitness side. Obviously there's nothing like riding a dirt bike, but nowadays there is stuff you can do physically in the gym, and cardio wise, and so forth, to keep your shape somewhat good. Once things start getting better, week by week you can start doing a little more here and a little more there. We were all trying to figure out if we should come back and race these races or not. And it had nothing to do with the final points position or any of that, we came back just to get back into the racing swing of things.
Also, I think some of us have already forgotten that this is a new bike because you have come so far, so fast, in winning races on it. But do you look at these three races as a way to learn something, development wise, maybe even for supercross next year?
Yeah, we might just learn even more. I think we have a great setup, and we spent a lot of time with it. But even if, nine times out of ten you don't even find anything new, you might just learn something that one time.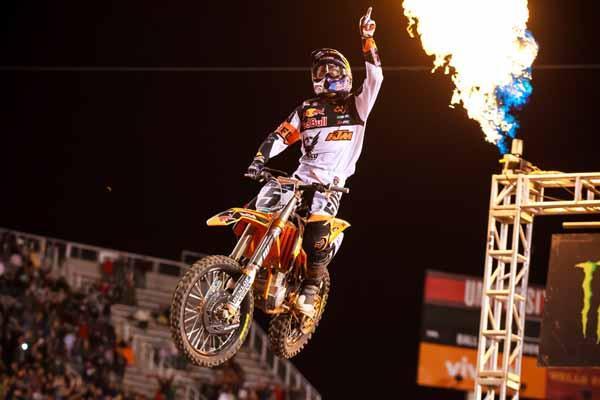 Dungey made a late charge to pick up his third win of 2012.
Simon Cudby photo
So how are you feeling now? Back where you were, pre-injury?
Um, you know, I feel like last week was a good start. Maybe not where I'd like to be, but I know that as we start going through the weeks we'll start feeling better and better. But, by no means am I out here not at 100 percent. I wouldn't even be out here if I wasn't. But at the same time, there's probably maybe a few small areas we need to pick up on, but now that I'm back we can steadily progress.
Okay, today, what the heck happened right off the bat in practice?
Oh, man! It was kind of a rough morning! I have to be thankful I'm okay. I fell on the first lap of practice, and I kind of fell right into Andrew's [Short] path. He hit my bike and not me, but the bike, the bars and everything was done. The guys worked really hard to get the bike fixed for the next practice, but when I went out there, a piece in the clutch was broken, and it didn't feel safe to ride. So that left us with only the third one to put in good laps and good times. We made a few clicks of adjustments in that practice, too.
It seemed like in both the heat race and the main, you got good starts, but the first lap or two, people were going nuts and you got passed by some guys.
Yeah, and that was a bit tougher on my part. The heat race, I made a few mistakes, I went from first to sixth in about half a lap. I was able to regain composure. Brayton and Millsaps were riding good, but I was able to get back to them. Then in the main, I had the good start, but Millsaps got a good jump on me and pinched me off, then he got on the gas and got by me. I got passed by Weimer, but I was trying to be patient there a little bit. Those guys, it was high intensity, obviously, early, but I was just trying to wait for my opening. I got around Weimer, but he just kind of tapped me, you know, and it caught me off guard, and I lost my front in the bales. Thankfully, I got back on the bike quick and I was able to catch back up.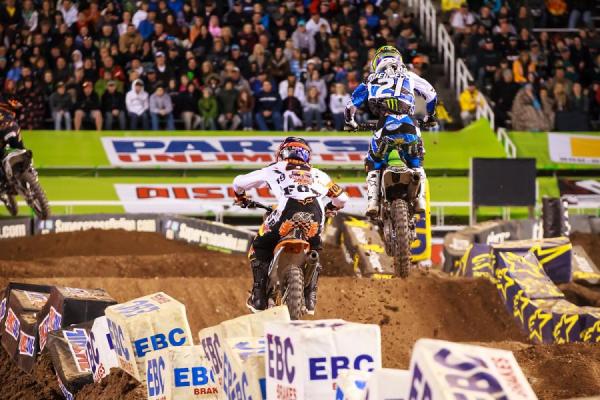 Dungey chases down Jake Weimer en route to the win in Salt Lake City.
Simon Cudby photo
After you went down with that Weimer pass, everyone was thinking, "Oh man, Dungey is so mad right now!" Were you riding angry? Did you think it was dirty?
Yeah, it was dirty, no doubt. I was pretty tight in there and he had to go out of his way to make it happen in there. But, at the same time, it's racing. I was kind of fired up! But, you know how it is, if I got caught up in that and start going out there just trying to take someone out, that's not good for my race, either. When I passed him the first time, it got awkward, because I tried to tuck under, then I thought he was going to tuck under, so I got on the brakes. It was kind of weird there, but it was what it was. I don't know. After the crash, I just put in good laps. If I caught him I caught him, if I got second, I got second, if I got first, I got first. I'm glad it worked out in the end.
So when you got back to Weimer, you were just looking to pass him, instead of saying, "I owe this guy and I have to take him out!"
No, I was focused on Millsaps.
Two laps to go Millsaps had a lead. What even happened there? You closed up so quickly, and then instantly you shot into the lead!
I don't know! I found some better lines late in the race and I was able to get a better drive going to the triples and stuff. But, those lappers, they played a key role. Myself, even, I got held up by them and had to double some triples at times, but, I don't know, I didn't really see what happened, but it looked like Millsaps had to basically single through that section, and I got by. Then the last lap he was hot on my heels. I had to go!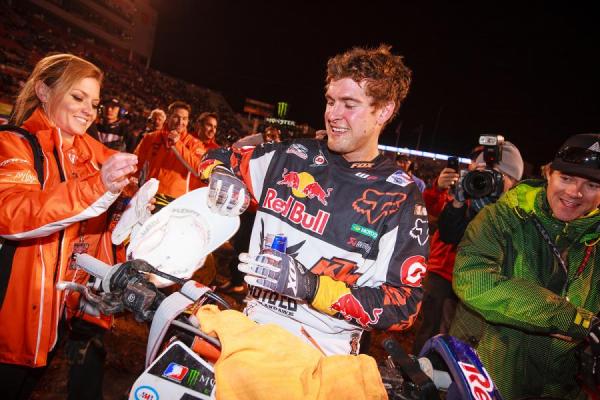 With second in points still up for grabs, Dungey has plenty on the line in Vegas.
Simon Cudby photo
Speaking of hot on the heels, did you notice the fire went off a lap early over the finish line jump?
Yeah! [Laughs] On the last lap, I was like, what the heck? I saw the white flag, so I just said I was going to go! I knew they messed up.
Feel good?
I do. It's great to be back. We are where we want to be, and maybe at first you don't see things for what they are, but maybe somewhere there was an advantage to this. I tried to use the downtime as much as I could. It's good to get a win before the end of the season, and we've got one more to go, so we'll focus on getting ready for Vegas.