Rice-eccles Stadium
Salt Lake City

,

UT
Salt Lake City
Monster Energy AMA Supercross Championship
Interviews by Jason Weigandt, Steve Matthes, Jordan Roberts
Jake Weimer, Monster Energy Kawasaki, 3rd in Supercross Class
Racer X: How was the race?
Jake Weimer: The race was tough. Overall, a good night. And two weekends in a row, so that's good for me. That seemed to be difficult for me to do this year. That's good and overall a good night. But the main event was tough, for sure. The track was pretty tricky tonight and I felt good early on. It felt like I could make a push. And then, honestly, I just blew it really. It was all me. I kind of locked up a little bit. I was struggling on one section of the track and it kind of got me rattled because I was trying to do something different there each time and I was just struggling. It wasn't working and I just kind of locked up a little bit.
What section was it? The triple coming back towards us?
Yeah. I mean, obviously I knew I was losing time there and I was trying to figure it out and I couldn't do it. Then one lap, I messed up bad. Then one lap I got messed up before the finish line, got all squirrely. Like I said, it was a tough main event. Track was tough tonight. But a good day, for me.
Did you get arm pump or just tired, or was it mental?
I would say it was just kind of arm pump a little bit. And maybe mentally frustrated. I was trying to go fast and I didn't feel like I was doing what I wanted to do. Maybe a little bit mentally frustrated. I mean, I didn't get tired, but the cold weather makes it tough for sure.
The battle there with Dunge: Was that just racing or were you trying to make an aggressive move there? He actually went down there. I don't know if you realized that or not.
I figured something happened, obviously, because he wasn't right behind me. I don't really know what to say. It seems like every time we get around each other, the riding gets aggressive.
Yeah, and for him, only with you, and for you, only with him.
Yeah, it is what it is. I'm not trying to put him on the ground, but I don't want to get pushed around anymore and I don't want it to happen to me again. I was running up front and I didn't want to be up in a podium spot and then end up laying on the ground. I don't want to get pushed around anymore. It is what it is.
When he got back on, were you worried he was going to take you out or something?
Well, I was ready. It could happen. But that spot on the track that I struggled with, ironically, is where he passed me. He was going so much faster than I was right there that he just blew by me.
So you're not super bummed.
No, I'm not super bummed. It's a step in the right direction. I mean, I was in a good opportunity to do better, but I didn't. Probably the biggest thing is just two weekends in a row. And just the whole day in itself was good for me. I was pretty good in practice, I won my qualifier and then battled in the main. So that's good. The ending wasn't exactly what I wanted, but it's not anything for me to be bummed on.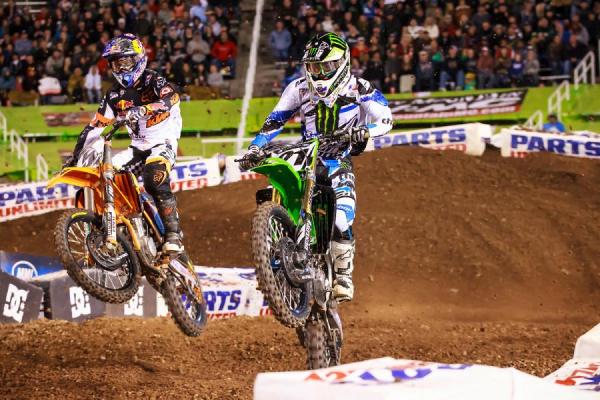 "I'm not trying to put him on the ground, but I don't want to get pushed around anymore and I don't want it to happen to me again." - Jake Weimer
Simon Cudby photo
Jason Anderson, Rockstar Energy Suzuki, 2nd in Lites Class

Racer X: Is this your first pro podium?
Anderson: Yeah, it is.
How does it feel?
I'm happy. It's the best I've ever done, so I couldn't be happier. Supercross is winding down, so I'm just pumped.
Were you nervous when you were out there leading? What was going through your head?
Yeah, I felt solid the first few laps and towards the end I started feeling nervous. I got a little less nervous when Eli [Tomac] got around me. I just started following him and I pulled off a second.
Martin Davalos, Rockstar Energy Suzuki, 3rd in Lites Class

Racer X: Did you start the day off feeling good, or did you just end it that way?
Martin Davalos: It was a good day for me overall. I felt good in practice and had good laps times out there. I got a great start in the Main Event, and my teammate obviously got the holeshot and ran away, but I was able to throw down my own lap times. I saw Deano [Wilson] crash really hard, and obviously that's a real bummer to see and hopefully he's ok. It was a great night for me and the team. I've been struggling all year and I'm happy to be up here.
It seemed like you dropped back a little bit [in the Main] in the beginning, and then you picked it up and came right back at those guys.
Yeah, definitely. I kind of needed to change some lines out there and picked up some lines from Deano and Eli [Tomac]. Eli was coming through the pack really quick. I was able to get into my groove. With two laps to go I saw Wil coming, and I knew I had the distance, so I was comfortable with that. I'm pumped!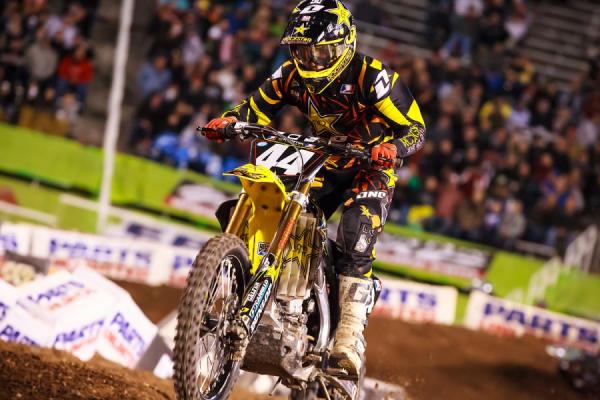 "I'm happy. It's the best I've ever done, so I couldn't be happier." - Jason Anderson
Simon Cudby photo
Wil Hahn, GEICO Honda, 4th in Lites Class
Racer X: How was it?
It was okay. I'm making progress. My qualifying was good. My heat race was good. My main was terrible. At least the first seven laps. So if I clean that up, I'll be on the podium. It's as simple as that. Sounds easy when you talk about it. I struggled a bit tonight, but I'm dang close to getting back on that thing.
Do you know what you struggled with?
Yeah, it was mainly consistency. At the beginning of the race, I was casing stuff, clipping stuff, hitting bad corners, going from second place to seventh. I don't know. Just making a lot of dumb mistakes. I guess it's part of this rebuilding process and, like I said, it's taking longer than I'd like it to be. But we're making progress.
There were flashes where you showed good speed and things were good.
Yeah, and there's plenty of positives to go along with the negatives. We're getting there.
Dean Wilson, Monster Energy Pro Circuit Kawasaki, 19th in Lites Class
It was a tough night for sure. Tough week and day. Obviously, it sucks and I'm pretty upset. But all you can do is move on from it. I just want to get healthy. I'm so sore, just sore all over. Just such an upsetting night, but I gave it all I could tonight. That was the best I could do.
The rumor was you could barely ride. So considering that, you had fast qualifying times, you won your heat race, you were killing it at times.
Yeah the first practice, I was just trying to learn the track and test out the shoulder. I was a little bit scared and didn't want to push it too hard. I was second fastest, so that was good. But at the end of that practice, I had a bit of a bike malfunction on the triple. I didn't really crash, but it was a hard impact on my shoulder, and I was really sore. But mostly, I wanted to race, so I lined up, and I did okay in my heat. I was sitting on the line, and I was just thinking, I wanted it so badly, and maybe I just thought about it too much. I got by guys so fast, I was doing okay, but I missed a triple, and it kind of went downhill from there. It was bad. Obviously, I got cross rutted in the whoops, and it happened so quickly, it just threw me down.
Do you think the shoulder weakness had anything to do with the crash?
Yeah, I think it does have something to do with the crash. I had to do therapy all week and I didn't get to ride, so I pumped up, I wasn't ice and loose like I usually am. I don't know, it's a crappy day.
Props to you for coming out and talking after a tough night.
Yeah it was a tough night, I just want to get 100 percent healthy. I just want to thank all the people that helped me this week with therapy, it was really tough.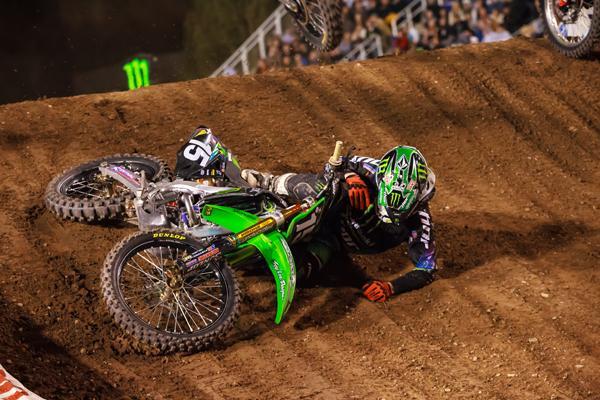 "Obviously, I got cross rutted in the whoops, and it happened so quickly, it just threw me down." - Dean Wilson
Simon Cudby photo
Broc Tickle, Monster Energy Pro Circuit Kawasaki, 6th in Supercross Class

It's just frustrating because I'm riding better and better every week, but I'm not getting good starts so I don't really give myself the opportunity to do as good as I can. But all day was good, the practices felt good, the heat was good, and the main was good. I was able to make some passes, went back and fourth with Brayton, that was the first time I was up there with those guys.
Andrew Short, Chapparal Honda, 7th in Supercross Class
It was embarrassing. When I try to force something and work really hard, it doesn't come. I just need to be really relaxed and happy and just ride. I need to work on that. This is the worst I've ridden since I've come back, and some problems remerged and exposed themselves tonight. At least I kind of know why I finished where I did tonight. Looking forward to going to Vegas and turning it around.
Jason Thomas, BTOSports.com BBMX Suzuki, 15th in Supercross Class
It's pretty sad that this is my second main event of the year. It hasn't been easy, and it hasn't been for lack of trying. It just hasn't been easy like it has been in the past. Years past, getting into the main event, I just run my pace and it's good enough. This year, it's everything I have just to be on the bubble. In the main, I started on the outside, so I didn't have much of a chance. The track was really treacherous, I'm sure if you talk to anyone they'll all say they had some close calls out there. I was behind [Chris] Blose for awhile and I was able to get him, then I was behind [Gavin] Faith. I was kind of riding around by myself a lot. It was uneventful, but just doing a track this tough, it was so slippery and rocky, at speed, it was exciting enough.
Jimmy Albertson, BTOSports.com BBMX Suzuki, 19th in Supercross Class
It was an alrght night. I got a flat tire in my first practice. In the main event, I was riding around in 14th, it wasn't too bad, I just clipped a double, and I'm surprised it put me down. I hit my head a little bit, but I broke my front brake caliper. I pulled into the mechanic's area and we tried to fix it, but it didn't work. I pulled off and called it a night.