Qwest Field
Seattle

,

WA
Seattle
Monster Energy AMA Supercross Championship
With a runner-up finish behind Ryan Villopoto in New Orleans, DNA Energy/Jeff Ward Racing Kawasaki's Josh Grant delivered his first podium finish in supercross since 2009. Is this a signal that the old, high-flying, race-winning Josh Grant is back? We called him for this week's Between the Motos to find out.
Racer X: You're finally back on the podium. And out of nowhere! It wasn't like the previous races you were getting a sixth, a fifth and a fourth. Where did this come from?
Josh Grant: I think it came from a good start. Just one of those things I've been battling. Ever since I got hurt in L.A., it was like, "Okay, what are my goals here?" And to be honest, it wasn't like I expected to be up on the podium just four races back from my injury. Going into the weekend I was just trying to keep building a base for outdoors, because that's what I'm putting my focus into. The last couple weeks have been tough because I would get ninth place in the heat, and I would automatically get 18th gate pick in the main, and that makes it hard to get a good start, and once you're in the back it's almost impossible to make your way forward. So this weekend, yeah, I finally got a good start, tucked my front wheel in there and got into second. I know I've been working my butt off so I could do 20 laps, so I just settled into my own lines and my own pace.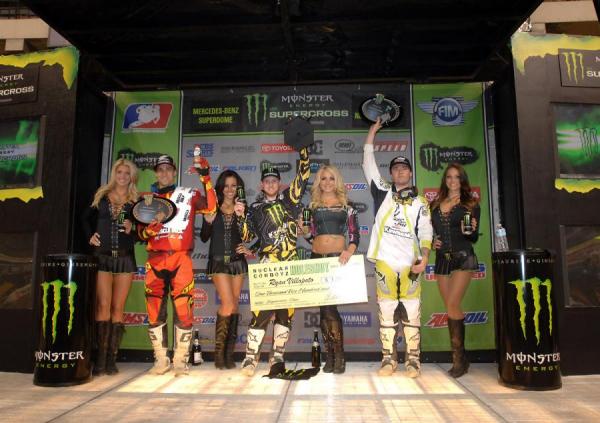 Grant (right) secured his first podium since '09 in New Orleans.
Carl Stone photo
So what kind of a boost is this?
Honestly, it was so relieving. I've been busting my ass for the last couple of years. When I was on Honda, I didn't really get a chance to do much because of the two knee injuries I had, they were big injuries and I couldn't really ride or train much, and that sucked. But since then, the work I've been putting in with my trainer, and how comfortable I'm feeling on the Kawi, I just really wanted to do well. To have a good, strong finish, and to feel like I was capable of doing that the whole time, that meant more to me than getting the second place finish. To know I still had the mojo to do it.
To me that's always been a strength of yours. You always seem to have belief in yourself, and we've seen you come back from injuries before and run up front again. But did even you start to have some doubts?
Yeah, you know, it's like, you know what you've done in your life, and what you did that first year in 450s, and you have to live up to that reputation. The last few years have really beaten me up, not just on the racing side, but the personal side, too. I've had a lot of stuff happen in my life that I don't want to talk about here, but I don't think a lot of people could have gotten through it. I think having my son Wyatt with my wife Ashley, at that time, it helped me get through it, and get back to the person I used to be.
I'm sure you want to turn this all around, so do you try to use this finish as proof that the worst is behind you?
I mean, there's still stuff that goes on that we have to deal with, but what makes my job easier is knowing I have to provide for him [Wyatt]. He's the one that makes me want to succeed. I want to be a dad that can go out there and support his child. That drives me more than anything else I've ever had. You know, it's not even close to saying you want to buy yourself a new car or something like that. None of that crap even matters to me. Now I have school to pay for and things like that. That's my whole motivation.
Back in the day, they used to think having a family was a bad thing for a racer as far as how it would hurt their results, but nowadays a lot of riders have kids and they're still going fast. You seem to think it's actually a boost.
I definitely feel that way. Right now is the most focused I've been in a long time. He keeps me on my toes. And it's not like this is a burden or something I only feel like I have to do. This is something I want to do. So you keep plugging away, and it feels good. Even when you're at the gym, when it hurts like hell, even that feels good when you have this kind of motivation.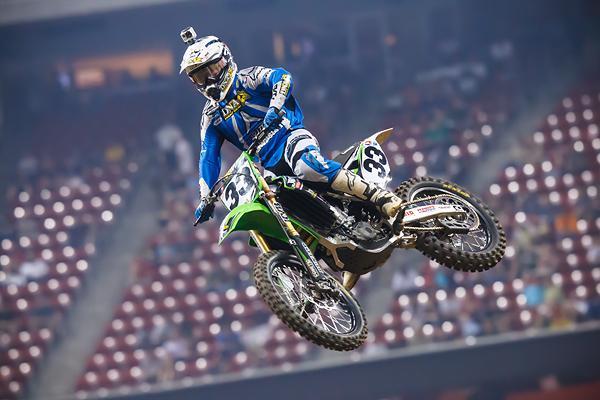 Although he is coming off a podium performance, Grant's expectations are still tempered for the rest of the SX season.
Simon Cudby photo
So where do we put the expectations now? Ratchet them right back up and expect podiums every weekend again?
No! [Laughs]. For me, having that second was a good way to show I can still do it, but I'm not going to kill myself for another podium this year in supercross. I want to get ready for outdoors. Supercross, this year, it's over. It's not worth pushing your limit again just for three rounds. I just want to bring my momentum into outdoors and build a strong base.
So might we see the old Josh Grant for the Nationals?
I can tell you I'm feeling like my old self. I've been riding the tracks out here in California and the bike has been feeling really comfortable for me. I'm excited about it. My head is in a good place and so is my body.
I know you were almost rushing to get ready for Anaheim. Did the shoulder injury in L.A., and the time off, actually help your knee?
Yeah it definitely did. I was kind of questioning that myself when I got hurt in L.A. I was rushing, I had only ridden three weeks before Anaheim, and had maybe been on the bike 10 times. But at the same time I thought I should race, and I could make the mains and get my feet back in the door. Then I got hurt again. But that definitely helped my knee recover from that last surgery, in July. It doesn't bother me anymore. I was struggling going onto table tops with an on off, because I didn't have the leg strength there to do it. So I was sticking to slower rhythms. Now I feel like I have that intensity and that spark and fire back.
But if you don't podium at these last few, we don't need to go crazy. You'll be ready come Hangtown.
Yeah Seattle is always crazy with the weather. I'm just going to run my pace and see where it gets me. If it's fifth or fourth, or on the podium or even a win, whatever it gets me is what it gets me. I just want to have fun and be ready for outdoors. But it definitely feels good to have that monkey off my back.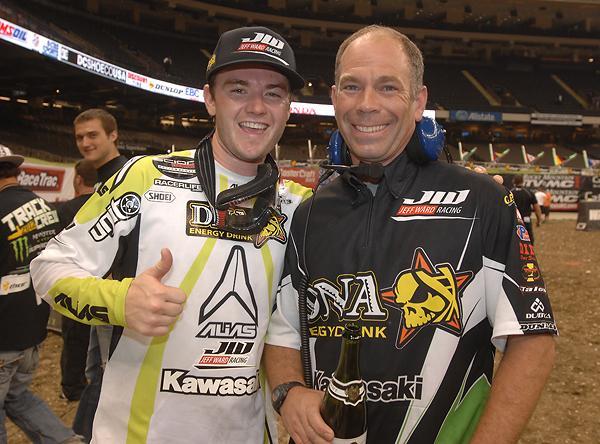 Grant celebrates his first podium with the DNA Energy/Jeff Ward Racing Kawasaki team.
Carl Stone photo