Edward Jones Dome
St. Louis

,

MO
St. Louis
Monster Energy AMA Supercross Championship
In the April '12 issue of Racer X Illustrated is an epic piece about "The Whoops": their origins, their evolution, their proliferation, and their every-Saturday-night challenge for Monster Energy Supercross. It's a really cool piece that includes words from everyone from Gary Bailey (the likely OG creator of stadium whoops) to Jean-Michel Bayle (OG whoops-blitzer) to current SX #1 Ryan Villopoto. So for today's List, how about ten memorable moments in The Whoops over the last ten or so years? These are not in any kind of order—they're just ones we recalled as being downright interesting!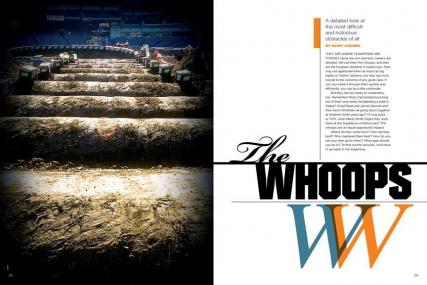 Check out "The Whoops" in the April '12 issue of Racer X Illustrated.
Photo: Simon Cudby

10. St. Louis 2006: This one, from a heat race, simply hurts to watch. RC did later return to make the main event, but a first-turn crash busted up his bike and left him with a rare DNF:


9. Orlando 2005: After a mud race and then an injury early in the season, James Stewart finally got a shot at a 250 supercross on a dry track. He led early in Orlando before crashing in the whoops and handing the lead to Chad Reed. It would have been Stewart's first AMA Supercross win on a 250, but then he threw it away. James' own helmet cam captures this one at 7:10:
8. San Diego 2012: If you were at or watching the San Diego Supercross, then you saw Eli Tomac get himself in trouble in the whoops and crash out of the race, effectively handing the points lead to Dean Wilson, who was 22 points down at that point.
7. Anaheim 2009: One of many James Stewart-Chad Reed battles, with Stewart making up ground and getting into the lead. Then the Yamaha-mounted Stewart missed a shift coming into the whoops, causing Suzuki's Reed to run straight into the back of him. They both crashed, and when Stewart got back up, he pushed his bike right into a charging Kevin Windham. The eventual winner? Josh Grant.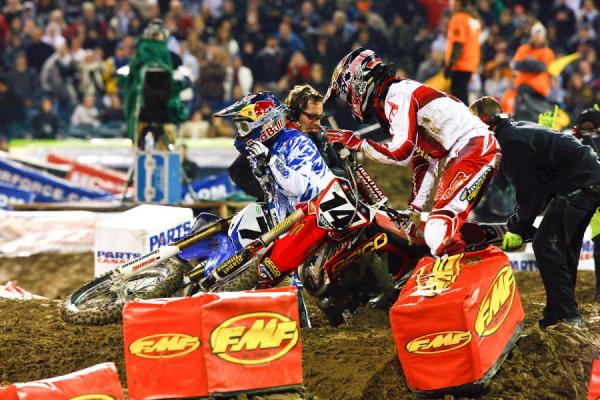 The Stewart/Reed crash at Anaheim '09 turned into a Stewart/Windham crash.
Photo: Simon Cudby
6. San Diego 2005:
RC had won a bunch of races early, but Reed passed him in lapped traffic on the last lap in San Diego. RC sent a hail mary through the whoops to try to get him back but went down in the process. Check out 3:09 of this one to see it firsthand through RC's helmet cam:
5. Daytona 2006: Remember how good Travis Pastrana used to be at blitzing the whoops, especially in Daytona? He was doing it one year to his great advantage, or at least until one them reached up and tackled him!
4. Anaheim 2002: At the 2002 Anaheim Supercross opener, Yamaha of Troy rider Rodrig Thain appeared headed to the win on the last lap before Factory Connection Honda's Christopher Gosselaar decided to up and go for it, pinning his Honda CR125 in an all-or-nothing bid for the win. He ran into the back of Thain, both went down, and Travis Preston ended up winning. Neither Thain nor Gosselaar came that close to winning again.
3. Dallas 2011: Another Stewart-Reed crash-'em-up, only this time Stewart got sideways while running behind Reed. In crashing he ran into Reed and sent him over the high berm and Tuff Blox on the outside.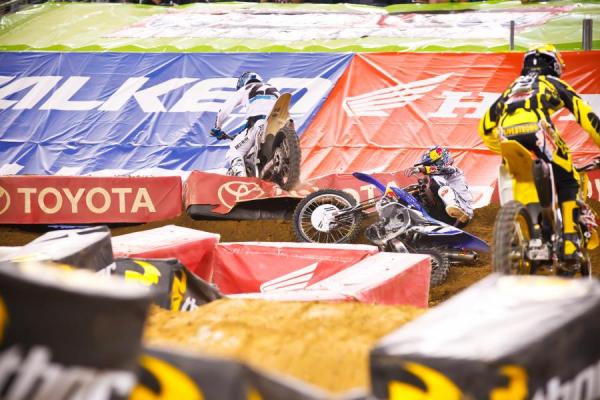 This crash proved to be a championship changing moment last year.
Photo: Simon Cudby
2. Dallas 2006: Ricky Carmichael was battling with Reed and Stewart in Dallas in 2006 and made a blitz through the whoops in hopes of making something happen. But he skated on top and got out of control, his bike flying off the track into the infield and hitting—wait for it—a MasterCraft speedboat! He also clipped Terry Boyd, the infield announcer, and some photographers. Ken Faught, owner of Pole Position Raceway, captured the moment.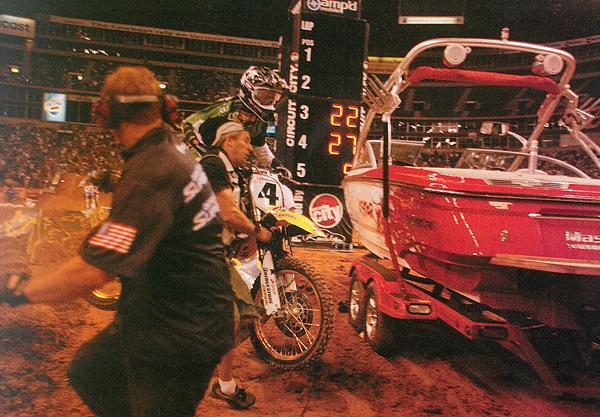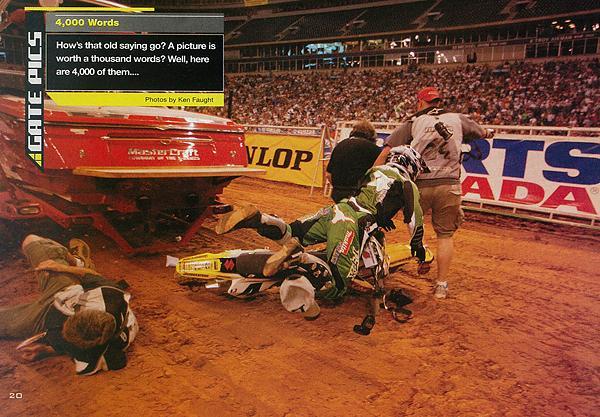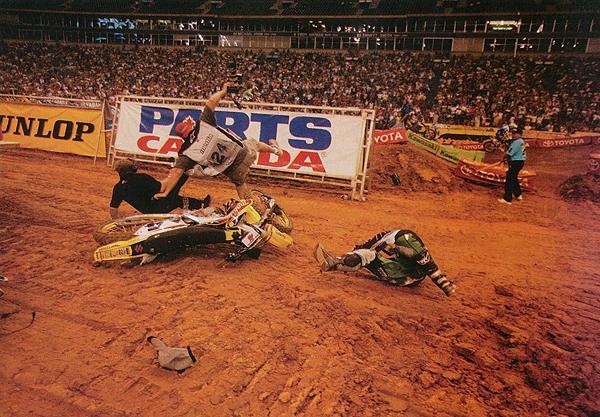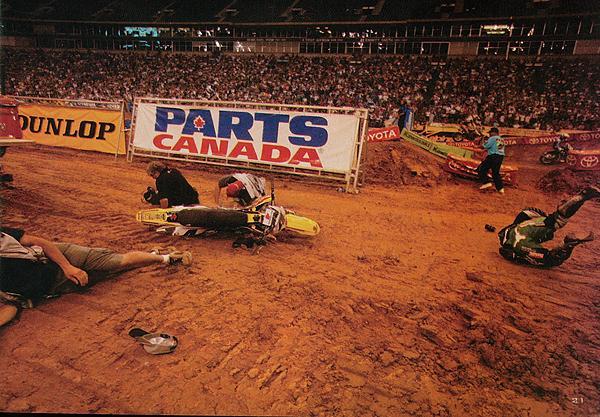 Ricky Carmichael hits the Titanic of infield product placements.
Photos: Ken Faught
1. Las Vegas 2011:
Another Stewart crash, and another unintended victim in
Kevin Windham
. James was leading the way and seemed likely to win, but Windham, who loves slick tracks like Vegas often is, was right there in the hunt. When James crashed in the whoops,
K-Dub
was too close, and down he went. Had he been a little farther back, the veteran might have been a winner—and how cool would that have been?