Dodger Stadium
Los Angeles

,

CA
Los Angeles
Monster Energy AMA Supercross Championship
Let's start with the big news. No, not KTM's first win (we were all over that all week). Ryan Villopoto's last-to-third charge? Amazing but expected. And no, it's not James Stewart changing tires brands (which didn't actually happen). The Los Angeles weather? Still developing. Bret Michaels? Only with a time machine. No, the big news I am getting at is an industry blockbuster: After fifteen years at ONE Industries, Danny Dobey punched the clock there for the last time on Monday. Good luck, Dobey, and sorry again about those San Diego Chargers (again).
Welcome to Racerhead, coming to you from Southern California, where everyone is gathering for Round 3 of the 2012 Monster Energy Supercross Championship. This weekend's race will air on Sunday on CBS, beginning at noon (ET). Unfortunately, the Lites main will show on Monday at noon on SPEED. And before you start writing angry comments at the bottom about that odd time, remember how far the whole TV package has come in the past few seasons, and how cool it was to see Anaheim and Phoenix live.
I was at the Phoenix SX and it was another great night of racing, albeit another runaway in the main event by a 450 rider. The weather this weekend could go either way—there is a chance of rain, but right now it looks amazing outside.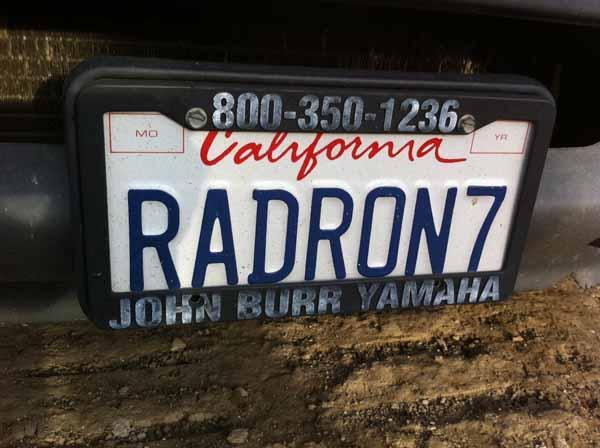 I have been out here on the West Coast for the past fortnight and it's amazing how many things are going on. Yesterday alone I got up to LAX to pick up Bryan Stealey, stopped by DC Shoes to chat with Nate Hawley, checked out Fox Racing and visited with Beeker and Shift's Rob Salcedo, then headed out to Lake Elsinore for another site check, where I ran into new equipment operator "Radical" Ron Turner (yes, THE Ron Turner of Southern California motocross fame). We also grabbed dinner with the gang from the Medium Creative Group: Ryan Cooley, Garth Milan, and Luis Rodriguez. We even stopped in the Troy Lee Designs store here in Laguna Beach to check out all of the cool bikes. And the day before my kids and I did a little field trip to Kawasaki for this week's photo essay, otherwise known as The List.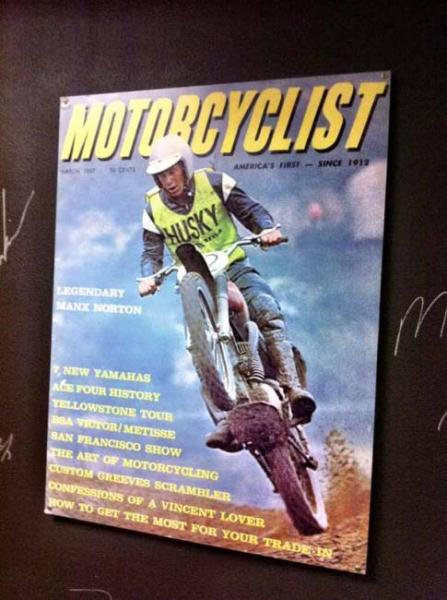 That's an awesome Malcolm Smith cover we spotted in the Corona Sports Group's HQ
Then last night was a really cool open house at the Corona Sports Group, which houses Answer, MSR and Pro-Taper. The place was packed with industry friends, as well as a few top racers and FMXers: James Stewart, Kevin Windham, Malcolm Stewart, P.J. Larsen, Jimmy Albertson, Brian Deegan, Nate Adams, and more. Add it all up and it was one of those days that makes me wish I lived in California....
Then I got up and sat in traffic on the 405 for about an hour before I figured out it was one of those days that remind me why I'm glad I don't live in Southern California!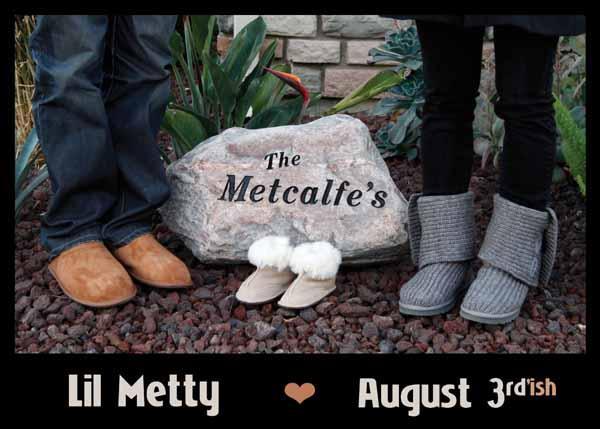 Here's the Metcalfes, Brett and Sheena, on their very special announcement...
Earlier this week I was invited to Long Beach for an announcement of a new project by my longtime friend Larry Little, the former publisher of Cycle World magazine. Little is part of the group that is hoping to revamp the U.S. motorcycle industry's trade shows, those annual unveilings of new products that have never really hard the excitement or buzz of big shows like they have in Europe. The American International Motorcycle Expo will take place in the fall of 2013 (rather than February) and hopefully in a much warmer climate than the biggest show right now (Indianapolis). Little has a lot of great connections and friendships in the industry. If anyone can make a run at something like this and make it work, I believe it's Larry Little. We will have more details as they are worked out.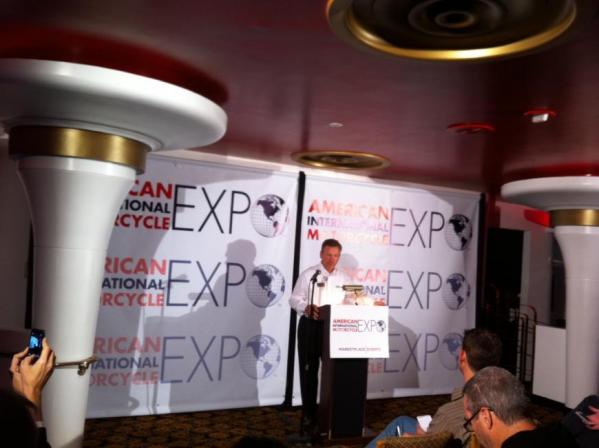 Our buddy Matt Wozney over at MXPTV put together an awesome video of last year's Ricky Carmichael Daytona Amateur Supercross event. RCSX showcased a deep pool of talent on the RC-designed Daytona SX track with amateur riders like Jessy Nelson, Cooper Webb and even guys like Earl May and Barry Carsten mixing it up in the Vet classes. Check out Wozney's video here:
For information on this year's RCSX, go to www.mxsports.com. To register, click HERE.
Since everything was live last Saturday night, you know all of the results and saw most of the action. So let me turn it over here to the rest of the gang to show you what you may have overlooked, and also what you need to know as you get read for this weekend's race at Dodgers Stadium.
Here's the Weege:
I brushed up on my math skills this week. A key stat I uncovered for Bench Racing Ammo, where we noted that the Round 3 winner has gone on to win the championship in ten of the last thirteen years. In contrast, the Round 1 winner has won the title in just five of the last thirteen years. I don't believe this is just a random stat; there is real meaning to all of this. By Round 3 everyone is much closer to their A game in bike setup, and the nerves of Anaheim 1 are long gone. The winner of the third round can leave knowing he can beat anyone at any time, and surely Villopoto's come-from-behind effort to win last year served as a huge confidence boost for him.
I also noted a different stat in my Redux column on Tuesday. During the 2008 and '09 seasons, Chad Reed and James Stewart won forty out of fifty-eight AMA SX and MX races. During the last two seasons, Ryan Dungey and Ryan Villopoto have won thirty-seven out of fifty-eight. Is the guard already changing, or has it already changed? There are some stats that prove meaningless, and some that hold real weight, and I'd say these numbers are on a collision course this weekend. The old guard (Reed/Stewart) could really benefit from a win this weekend.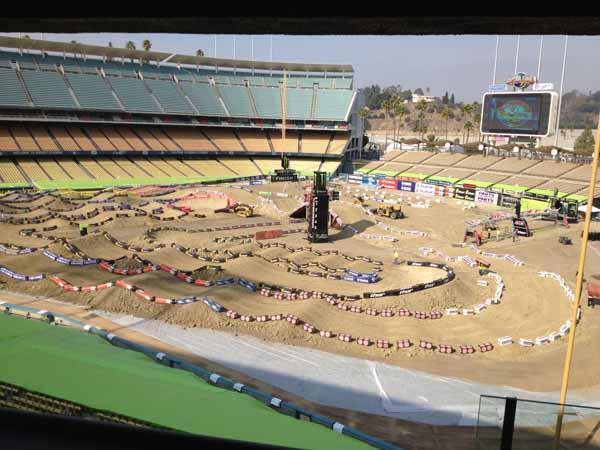 We've got some great videos coming up throughout the weekend, as our shooter Matt Francis and on-camera gal Georgia Lindsay attended the Corona Sports Group's open house last night and grabbed interviews with Stewart, K-Dub, Nick Wey, Jimmy Albertson (Georgia's better, er, beat-up half), Matt Moss and Ryan Morais. Look for those throughout the weekend.
By the way, this weekend's race is not live on SPEED but airing Sunday on CBS. Nothing is cooler than the live shows, but television ratings on the regular network (CBS) usually do outshine cable, so the sport actually gets a boost when it's on CBS. Meanwhile, if you do want to follow the races live, just stick to our @racerxonline twitter account. I'll be typing out live play by play from the press box. And if the racing isn't great, I'll just make up some cool stuff to keep you entertained. You can't lose!
Okay, here is Steve Matthes:
Dear Dodger Stadium, I will not be sampling any of your so-called Dodger Dogs this weekend in L.A. I find them to be unappetizing, and I can't believe I bought into the hype of those last year. Not a good hot dog at all.
So are we going to see this week? Ryan Dungey killed it in Phoenix but Ryan Villopoto came from near the back to get third. There's not much separating those two, and something that many people didn't know was that last week Villopoto was sick and only able to put in one day of training and riding going into last weekend. So we'll take that knowledge and see what happens with it.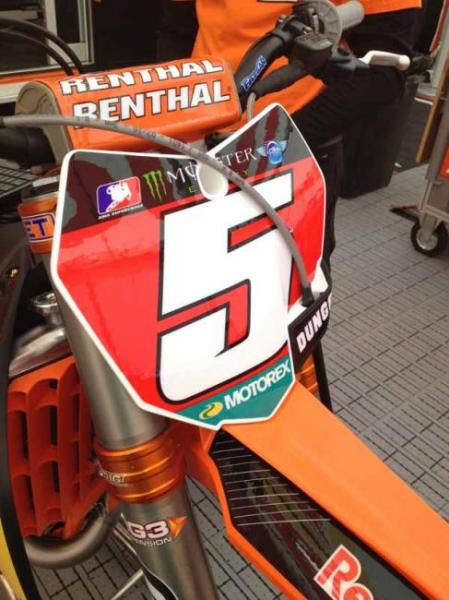 Dungey and Villopoto will both be sporting the red plate in L.A. this weekend.
The first L.A. Supercross last year was a thriller with Trey Canard crashing heavily and coming back to win the LCQ, to RV/James Stewart battling it out to Cole Seely's first ever win in the 250 class. The Chavez Ravine gave us some real action.
Chad Reed got second at the opener in a good ride but in Phoenix he was just okay (for him), and I'll be looking for him to bounce back with a strong performance. He and Phoenix 250 winner Dean Wilson rode together this week up at Castillo Ranch (where Reed bases himself for the West Coast rounds), and it should be interesting to see how those two do.
As far as the 250 class, I think there is starting to be a little bit of clarity. The title is most likely going through Dean Wilson, Tyla Rattray, Eli Tomac, and Cole Seely. Marvin Musquin, although strong in Phoenix, is not quite there yet. The four riders I mentioned are the cream of the crop (Zach Osborne is only doing two more races before he begins his GP season) and will battle it out to the end in my opinion.
Eli Tomac needs a start like Dane Cook needs his career back. Tomac's been super fast but hasn't been able to get up there yet. In a short series, he's got to make it happen this weekend. I'm no Gary Semics, but you can't give away points in the 250 class.
I wrote a little story about Dungey's win from a KTM perspective over on Motoonline.au.com right here.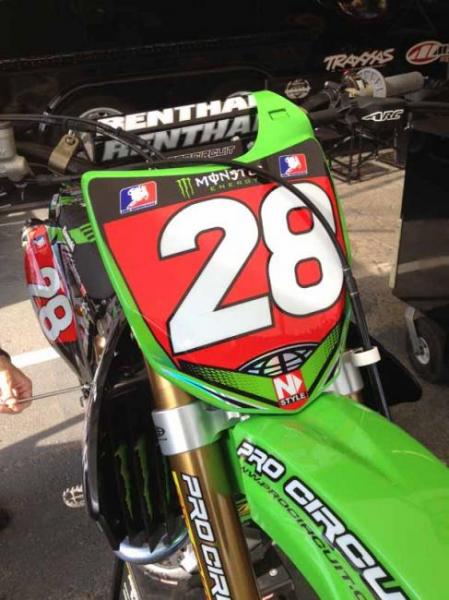 Rattray holds the points lead in the Lites class.
The Kawasaki Pulpmx Show t-shirt contest winner was announced and it was none other than John Nunley from Arizona. There were so many choices and so many great designs to choose from, it was really tough. Thanks to Kawasaki, John is going to get a trip for two to A2, full VIP access at the race, meet some riders, get a Traxxis RC car, some Monster Energy drinks, and who knows, maybe a giraffe or something. Kawasaki has been there for us on the show and we thank them for that—I know John does!
Oh, and check out Pulpmx.com for the best of the rest of the designs and thanks to everyone for entering.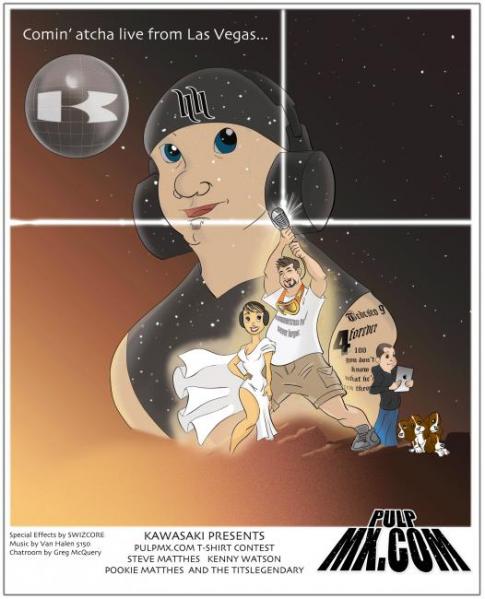 John Nunley's design that won the contest. May the force be with Kenny....
And now over to Ping:
You have to love the drama that supercross brings. There are top-level riders not making the mains, LCQ take-outs, crashes, KTMs winning races, a new and excellent theme song from a relevant and wildly popular musician, and Ricky Carmichael standing on boxes and wearing controversial jackets with an excessive numbers of zippers. Supercross is delivering the entertainment in 2012!
Add to all that the significant chance of rain this weekend and you have the recipe for another awesome and unpredictable night of racing. I, for one, am absolutely giddy that it could be a mud-fest on Saturday. Not because I like the mud or standing around in the rain all day, but because when esteemed journalist Tom Hoffarth (remember him?) sees his precious baseball diamond being slathered with muck, I'm going to laugh. And it won't be just a chuckle or even a hearty belly laugh but more of a Doctor Evil-style "Muaaahhahah, muahahahah, muahahaha," with my pinky held to the corner of my mouth for effect. Maybe that seems spiteful but that guy is a dick.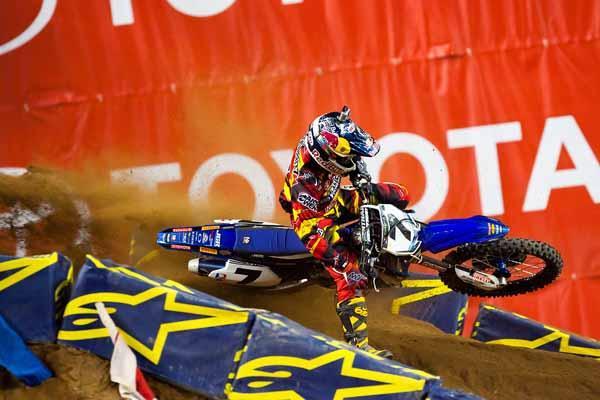 Can Stewart rebound from his crash in Phoenix?
Photo: Andrew Fredrickson
Good news for Jimmy Albertson fans: Top Jimmy is in for Saturday's race. He came together with Nick Wey on the opening lap last weekend and banged himself up pretty badly. Six teeth were knocked out, he dislocated his shoulder, and he was unconscious temporarily after the crash. Jimmy took the Asterisk Impact test and things came back within normal limits, so he is going to give it a go. You gotta love the grit from that guy. And even though I joked about his missing teeth on Twitter this week, Jimmy says he already had everything fixed and they look as good as, if not better than, they did before the incident. Georgia is a lucky lady.
That is a great segue into reminding all supercross and national motocross competitors to go and take the Impact Test through the Asterisk Medical Unit. This is a great way to have a baseline in case you ever do hit your head. Brain injuries are very difficult to assess in terms of stages of healing, and this is one way you can see if you are ready to get back on the bike or not. And besides, the test become mandatory before you race in the 2012 Lucas Oil Pro Motocross Championship.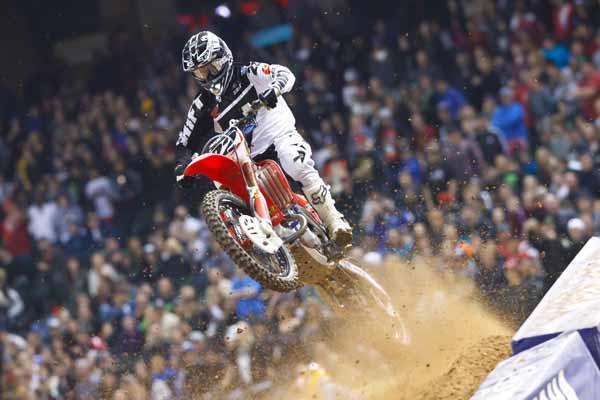 Can Reed get his first win of 2012 in L.A.?
Photo: Simon Cudby
Many people are shocked that Dungey and his Red Bull KTM are looking this good already. The KTM team has never had a problem making horsepower, but getting their chassis and suspension sorted on the bigger bike is another story. If you ask DeCoster or Dungey they will both say that one of the guys who has been instrumental in getting Ryan happy is Rob Hendrickson. Rob is the owner of RG3 Suspension, but he has been contracted for many years by Roger to help with Suzuki suspension settings. You'll now see him in an orange jacket on the weekends keeping a close eye on the #5 bike. Rob is an incredibly intelligent guy and probably one of the most unsung technicians in the suspension world. Congratulations to Ryan, Rob, and the entire KTM staff, who've all worked tirelessly to get to where they were last Saturday night. I'm sure there will be more nights like that to come.
Let me throw it to Aaron Hansel:
Well, with all the talent out there in both classes, we knew 2012 was going to get rough for some teams, but I didn't think it was going to get this rough this early! So far we've seen big names like Josh Grant, Ryan Sipes, Ryan Morais, Nick Wey, Gareth Swanepoel, Austin Stroupe, and Broc Tickle fail to qualify for main events, while guys like Stroupe, Nico Izzi, Tommy Hahn, Wil Hahn, Jimmy Albertson, and Josh Hill have all gotten hurt in one way or another. All this after just two rounds of racing!
One of the teams that's been hit especially hard so far is Star Valli Motorsports. In Anaheim, two of the team's riders, Stroupe and Swanepoel, didn't make the main. In Phoenix, Sipes, Morais, and Stroupe were all forced to sit the main out as well. Sipes was cleaned out by Matt Moss in the LCQ, Morais was deathly sick with the flu, and Stroupe crashed so hard in his heat that he knocked himself and was not permitted to rejoin the action. To make matters worse, Nico Izzi had a crash of his own that resulted in a hurt wrist!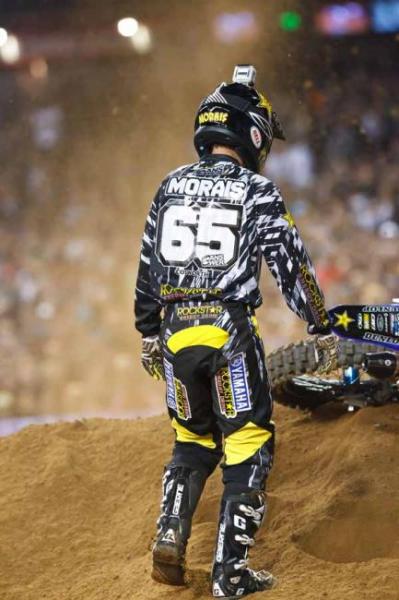 It was a tough weekend in Phoenix for Morais and the Star/Valli team.
Photo: Simon Cudby
I had the opportunity to speak with Star Valli Motorsports co-owner Chad Lanza, and he said it was the roughest weekend he's ever experienced since the team came into existence in 2009. "I would say it couldn't get any worse, but I said that at Anaheim, so I don't think I'm going to use that phrase again," Lanza said after the Phoenix round. When I asked Lanza what the mood back at the truck was after Moss took Sipes out in the LCQ, he said Sipes was more upset about ending up in the LCQ for the second week in a row than anything else. "Sipes is just a true professional. He was having a difficult evening, and I'm sure he believes he shouldn't have even been there in the first place," Lanza explained. "When you're the caliber of rider that Sipes is, and you're in back-to-back LCQs, well, he just doesn't belong in those LCQs."
The only comment I could get Lanza to make on Moss was that it "didn't appear that [Moss] was trying to make a pass." Hopefully this weekend goes better for the Star Valli team, as well as the rest of the guys that have already been experiencing their fair share of bad luck this season.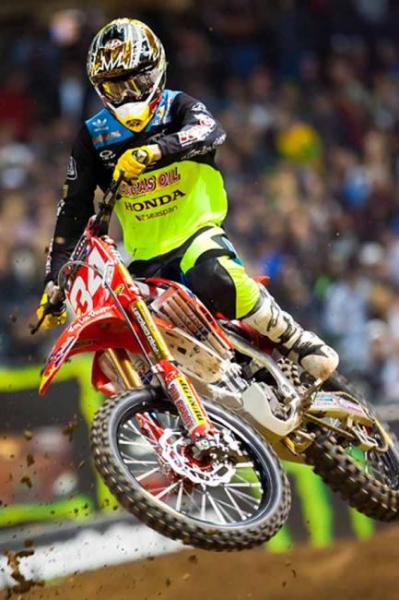 Can Seely regain control of the red plate in L.A.?
Photo: Andrew Fredrickson
Ping mentioned Los Angeles Daily News staff writer Tom Hoffarth, who wrote the demeaning article about our sport following the Los Angeles Supercross last year. It was full of negative stereotypes, and was met with a massive backlash from fans. If he attends, it's going to be interesting to see what he comes up with this year, although the following mini race preview he wrote for www.insidesocal.com may give us an idea:
Motocross: Monster Energy Supercross, Dodger Stadium, 7 p.m.:
The Dodgers have agreed again to cover up the infield with plywood and tarps, bring in the dump trucks and rent out the place for the AMA dirt jumpers. God bless 'em. Here's the only time when loge level seats ($60) are more expensive than field level ($50), pavilion seats ($35) give you a better look than the best dugout-section spots (they aren't even on sale) and kicking back in the top deck ($20) provides the best opportunity to smuggle in medicinal marijuana without drawing much attention. Doors open and qualifying starts at 12:30 p.m. Ear plugs required. (http://www.insidesocal.com/tomhoffarth)
Whatever he decides to write, I'm not going to get worked up over it again. Hoffarth clearly has no understanding of the sport, and based on the article he wrote last year, he's not concerned with writing articles based in fact or reality. Besides, if the race is half as good as it was last year, I'll be too excited to think about anything but racing anyway.
Okay, that about does it for Racerhead from a very busy Southern California. Thanks for reading our stuff. See you at the races.