Los Angeles, CA
Los Angeles
Monster Energy AMA Supercross Championship
Yesterday I took my kids, Vance and Sloane, on a field trip to Kawasaki's HQ in Irvine, California, where we were given a guided tour by Kawasaki Team Green's Ryan Holliday. Ryan took us through both the company museum as well as the race shop, where the mechanics and engineers were preparing for this weekend's Los Angeles Supercross. Vance is doing a paper on it for school—how cool is that for a homework assignment?—and also some of these photos. In no particular order, here's a few of the cool things we saw, many of them curated by Norm Bigelow, about the company and its history in motocross.
Kawasaki's original factory motocross team lined up for a race in Japan, sometime in the 1960s.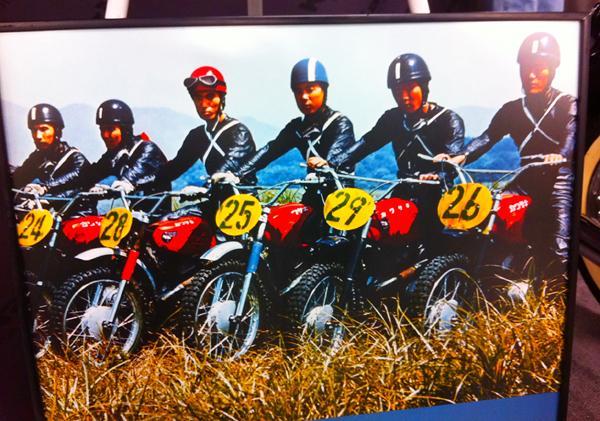 This is a 1966 Kawasaki B8M that must sound amazing when it's fired up. Known as the "red-tank Kawasaki," this bike was first put into development in 1962. It was based on a 125cc street bike.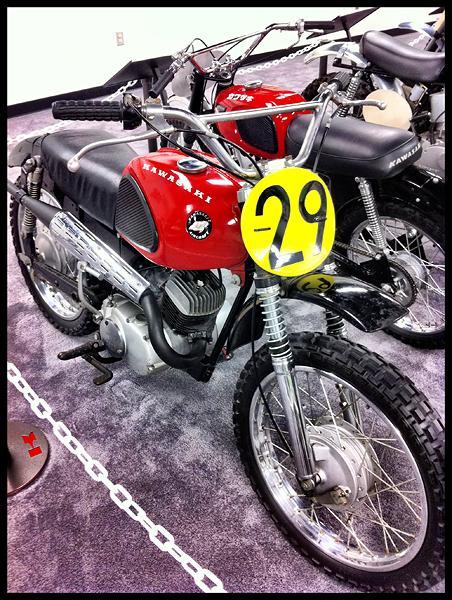 Photos: DC
And here's the company's latest piece of green machinery, Ryan Villopoto's 2012 Monster Energy Kawasaki KX450F, tuned by Mike Williamson.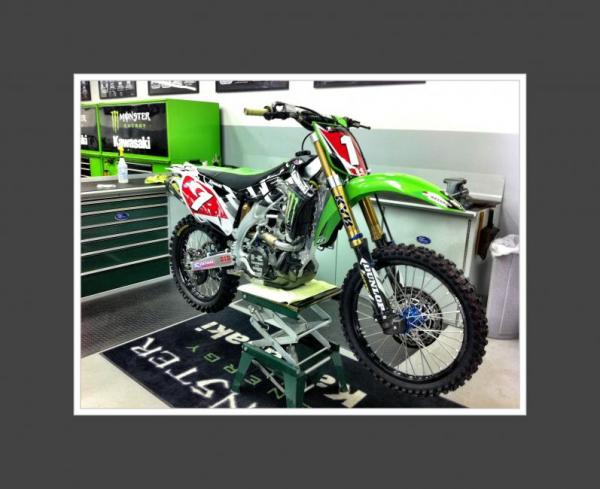 When we spotted the name on this crate outside the race shop, Ryan explained that it's used to send RV's bike back and forth to Florida, where he lives and trains for much of the season.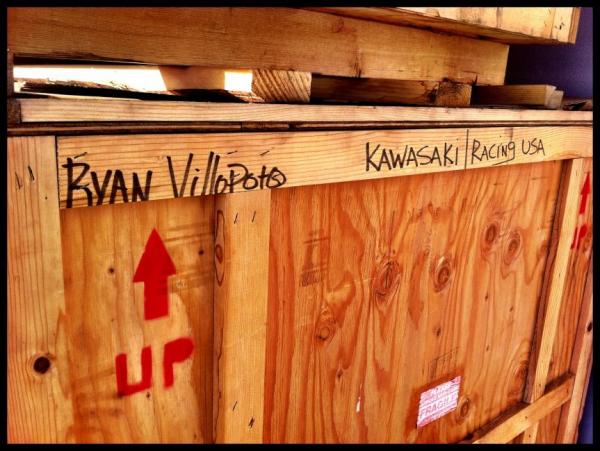 "Ricky Carmichael has his own cereal?" asked Vance.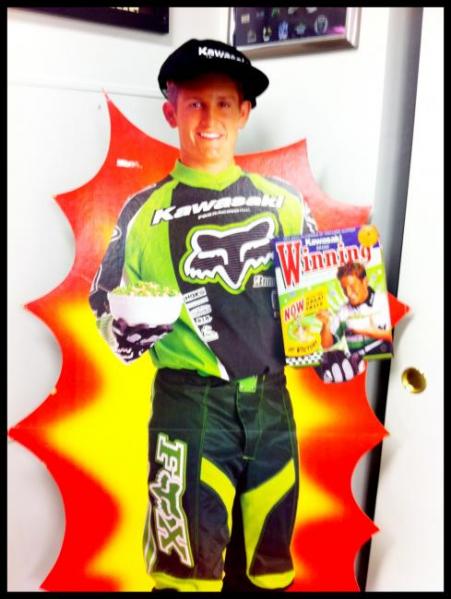 This was the KX125 piloted by Mike Kiedrowski in 1991, when he won the AMA 125cc National Motocross Championship.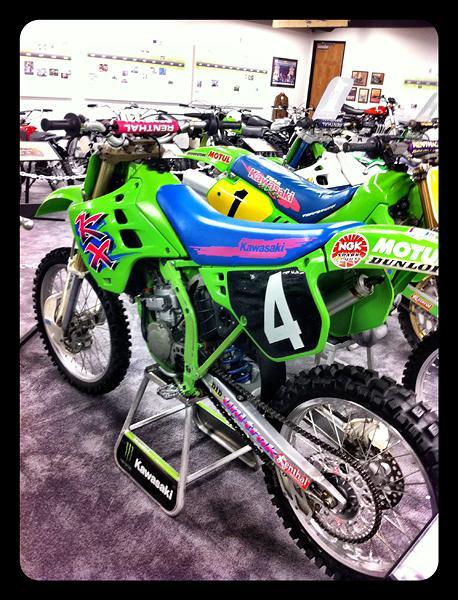 This is the famous race shop refrigerator that has collected decals for about forty years at Kawasaki. It may not work, but it's now a work of art.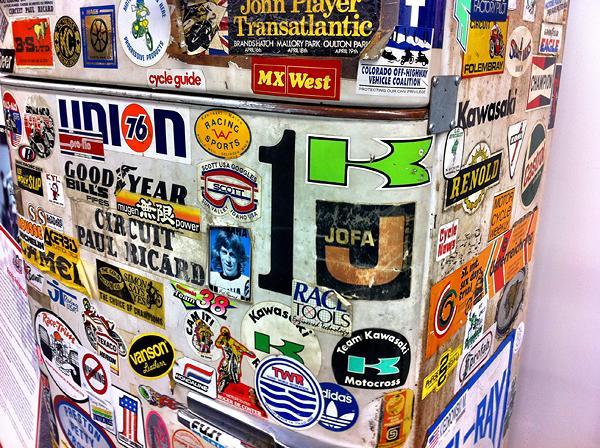 "RV doesn't like getting second-place trophies, so I usually end up with them," Mike Williamson explained as he showed us Villopoto's Southwick trophy from last August. As for the #1 plates, those belong to the team.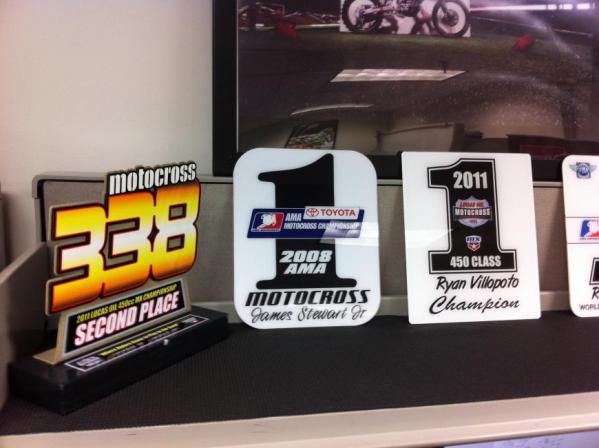 The very rare 1973 F11M was the first 250cc motocross bike homologated for AMA Motocross competition, but just over 200—the minimum number of units required—were made by the company.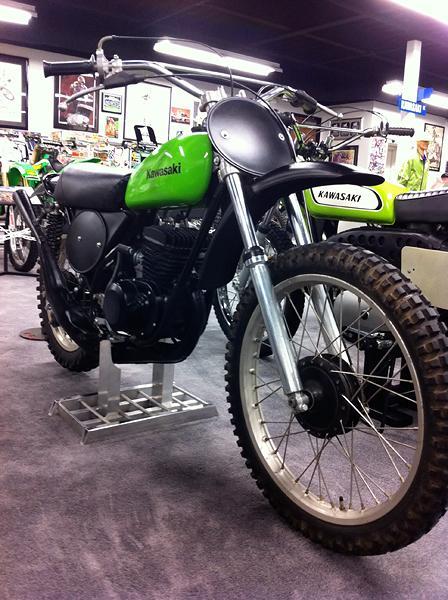 This was apparently the first computer that was used at Kawasaki Motor Corporation here in the California office. Now it's an artifact!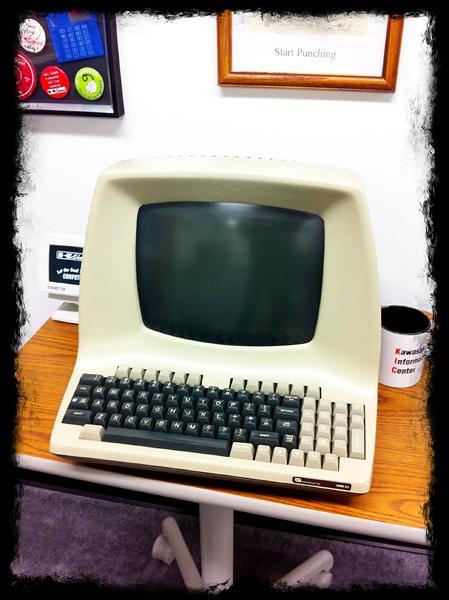 And speaking of artifacts, here's the bike on which Mike LaRocco won the last AMA 500cc National Motocross Championship back in 1993. He only got to race the bike with #1 once, and that was at the 1994 Motocross of Nations in Roggenburg, Switzerland, where Team USA was upset by the British.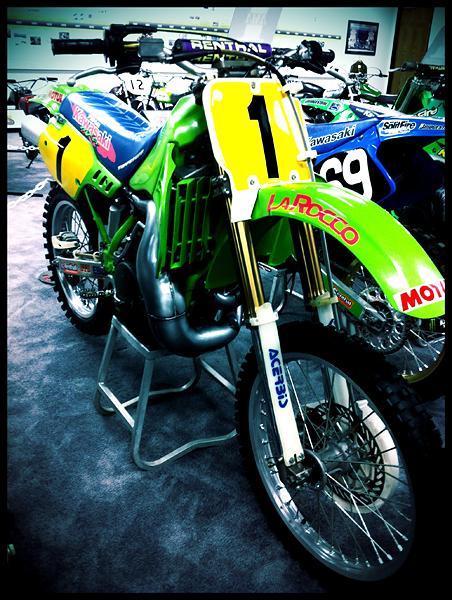 This outfit was always synonymous with Team Green staff at the big amateur races back in the day, which made them the only clothes many of us saw guys like Jeff Chambers, Steve Ransbothom, Jose Gonzalez, Mark Johnson, and the late Dane Leimbach wearing back in the eighties.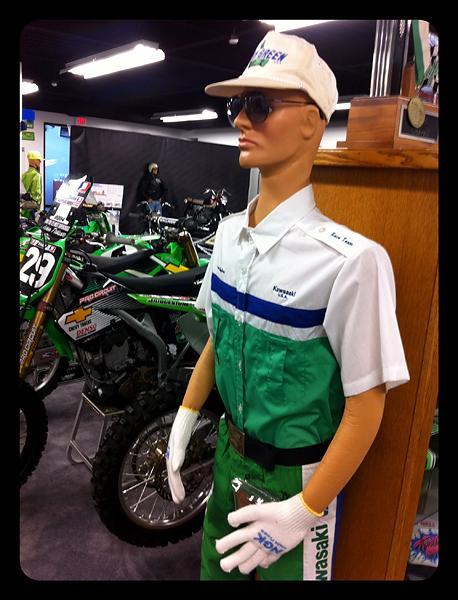 Jeff Ward's championship-winning works Kawasaki KX125, which he used to dethrone Honda's Johnny O'Mara for the '84 outdoor title.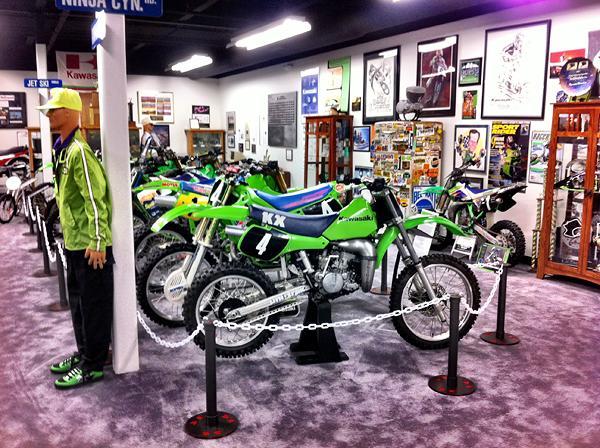 Here's a sweet Kawasaki bicycle, and that's just a random little girl who wanted to ride it.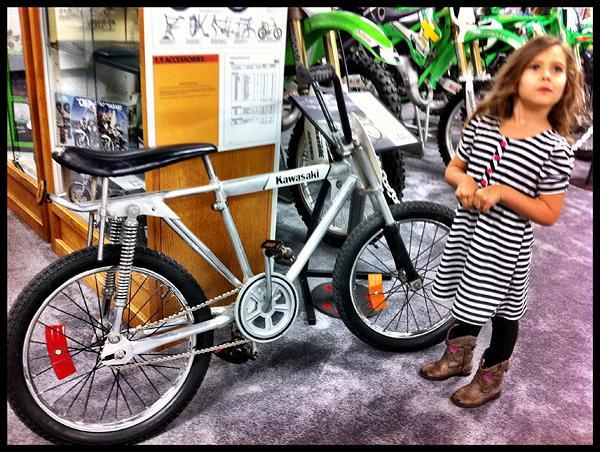 This was the company's first KX80, cobbled together with some old parts found in the garages of people who used to work at Kawasaki. First guys I saw riding there were "Fast" Eddie Warren and Randy Jones, way back in 1979 or '80.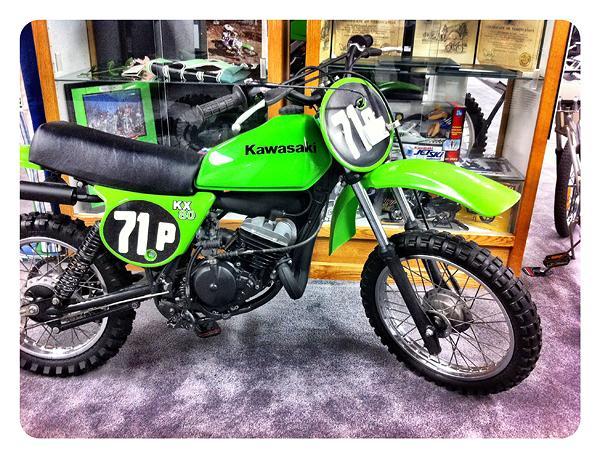 One thing Norm Bigelow and everyone else added to the museum was the memorabilia collected over the years, now proudly displayed behind glass as if they were diamonds. And to sticker collectors like myself, they are diamonds!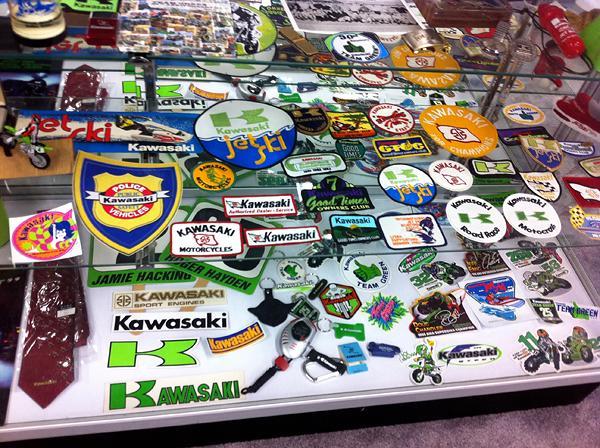 James Stewart's last minicycle. I told the kids that watching Bubba ride that bike meant watching the fastest minicycle racer of all time, in my personal opinion.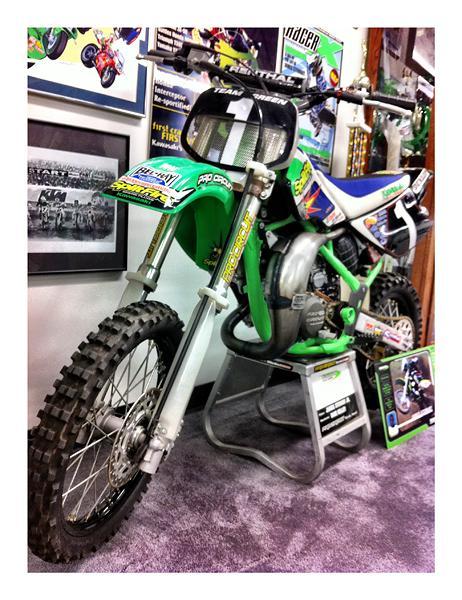 The early 1970s Centurion was apparently the bike where the company decided to switch base colors from red to green.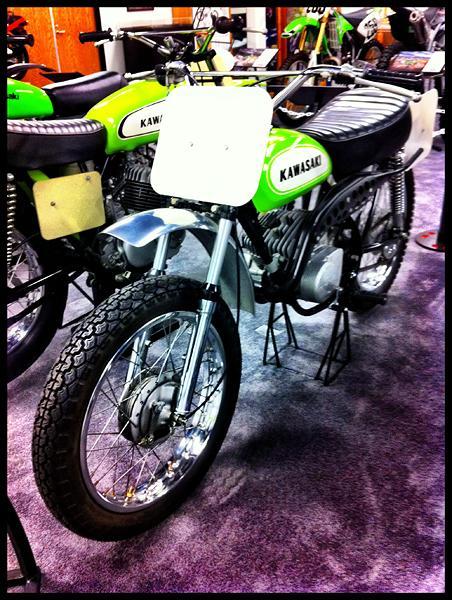 One of "Bad" Brad Lackey's bikes—or maybe it's "Jammin'" Jimmy Weinert's.... Either way, they don't make nicknames like they used to.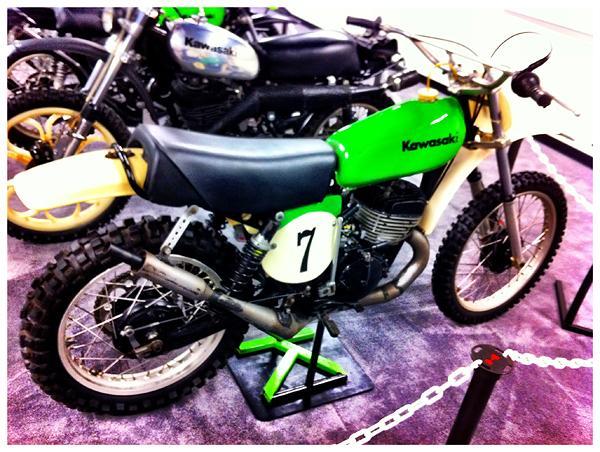 Finally, my personal favorite: Ricky Carmichael's 1997 Splitfire/Pro Circuit Kawasaki KX125. This was the bike on which RC announced himself to the pro motocross world. What followed in the ensuing decade is motocross history, but how it all got started in 1997 remains in the hands of Kawasaki.