Angel Stadium
Anaheim

,

CA
Anaheim I (A1)
Monster Energy AMA Supercross Championship
Factory contracts can be programmed to last more than one year. In racing, that's too slow. Oh sure, every aspect of motorsports and athletic performance takes time to develop. Great race machines are not created overnight. Fitness doesn't come in a week. And team work, camaraderie and even confidence takes while to build. Not to mention championships. You'll notice that every rider who could potentially grab a title likes to explain the strategy by saying, "It's a long season."
And yet, even with all of those warnings against snap judgments, we immediately rush to conclusions with every darned lap. Especially early in the season. You'll do it, and so will I. We do it in other sports, too. A piece of paper comes out with results and scores, and the thought process begins.
Judgment day is coming for Red Bull KTM's Ryan Dungey experiment, and also Ryan Dungey's experiment with Red Bull KTM. Oh sure, he has a multiple year deal with hopes of really having his program dialed in for 2013, and yes, the bike he's riding is so new that KTM only put out a PR announcing production intent Wednesday. To wit, James Stewart has explained how losing a year of testing time (due to injury) with the then-new 2010 Yamaha YZ450F hurt him in 2011, and now, in year three on that platform, he hopes to have it working. And note Honda's 2009 CRF450R. It at first seemed a step back from the superb 2008 model. But by season three in development, it was racking up nothing but praise from the likes of Chad Reed, Trey Canard, and Kevin Windham.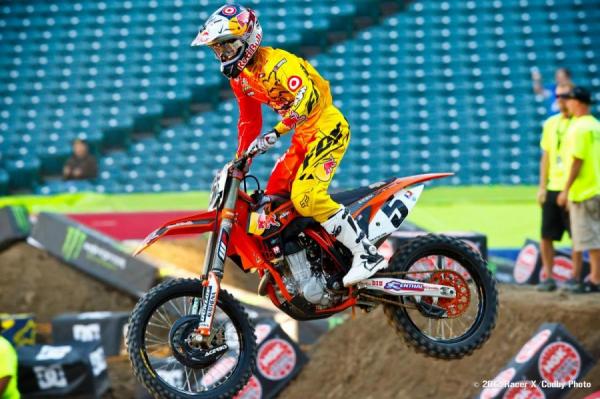 Photo: Simon Cudby
The radical newer Honda and even more radical new Yamaha didn't come ready to win straight from the crate. It took time. And even the company that says "Ready to Race" will need some time, too. Remember, KTM is a marque that has won in just about every avenue of off-road motorcycle racing but has never been able to crack the supercross code at this level. And, Dungey doesn't have a teammate, nor any satellite teams testing alongside him. It just can't possibly be possible for KTM to make an all-new bike the best bike on the track.
Which is fine. That's a tall order. The big story, for now, should be that KTM even employs a contender at all, because while they've never grabbed a podium in AMA Supercross, they have also rarely had a rider capable of doing it, anyway. With Dungey, they have instant cred and attention. Today's Monster Energy SX press conference featured five riders: two on Hondas (Canard and Reed, and one each for KTM (Dungey), Yamaha (Stewart), and Kawasaki (Villopoto). Suzuki, recent employer of Ricky Carmichael, Chad Reed, and Dungey, wasn't represented among the fast five this time, now that Dungey is wearing the KTM cap.
So now KTM is on the map. KTM is a player. But the snap judgements of fans—especially the ones who care enough to buy new bikes—will be based on nothing but results. And no one will wait until 2013 to look at those. Yeah, so Dungey wasn't on pace with Villopoto in the bike's first outing at the Monster Energy Cup. He gets a little rope. But how much?
You could probably ask Dungey himself. If anyone is too competitive to wait, it's him. Same with DeCoster. These guys are not going to be happy taking fifth-place finishes and taking data back to the shop. Heck, they won't be happy with third place finishes for very long. And there's that old confidence thing. You can't take a year of beatings and expect to come out the same, mentally. You can't stay happy and healthy and motivated when you're programmed to win. So Dungey can't wait.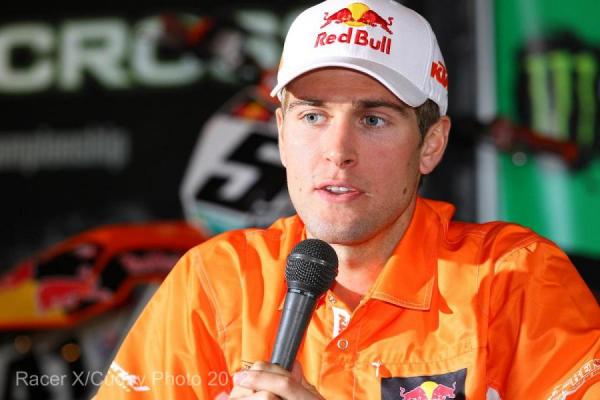 Photo: Simon Cudby
"We've made a lot of progress since the Monster Energy Cup," Dungey said. "We only had two weeks on the bike at that point. It was good to ride it under race conditions. After that we took a little break, and then we started working with that information. We've really progressed since then."
Dungey went on with his explanation of progress. He praised KTM's ability to make quick changes, and the close relationship with the parent company in Austria. Then he finally uttered the most important phrase: "I wouldn't have signed a deal if I didn't think we could be competitive. I want to win races."
Today's economy has forced some folks to make strange business decisions. At this moment, KTM is apparently not afraid to invest at a time when others have pulled back. No doubt, money and long-term stability had to be factors in the decision process for Dungey and DeCoster. But don't think this is all about the money. The competitive side of this duo serves as insulation from that. If Dungey and DeCoster didn't think they can win, and soon, they wouldn't be here right now.
Because it's all about right now. In racing, it always is.