Welcome to a new weekly feature here on Racer X Online—This Week in Yamaha SX History. Last year we chronicled great moments for the KX set, this year Yamaha is on board to open up their history books, and we'll outline some of the great races and racers of Yamaha's past right here.
Up first, the Anaheim opener. A YZ really set the sport on its ear in 1990, when a 17-year-old 250 class rookie took on the best in the world, and won. The kid was a manchild named Damon Bradshaw, born and raised on Yamaha equipment. The investment in Bradshaw started paying off as soon as he hit the pro ranks, where he shocked the establishment by winning an off-season supercross in Japan at just 16. He then stormed to the '89 125 East SX title and just missed the '89 125 National Championship. For 1990, he jumped to the 250s.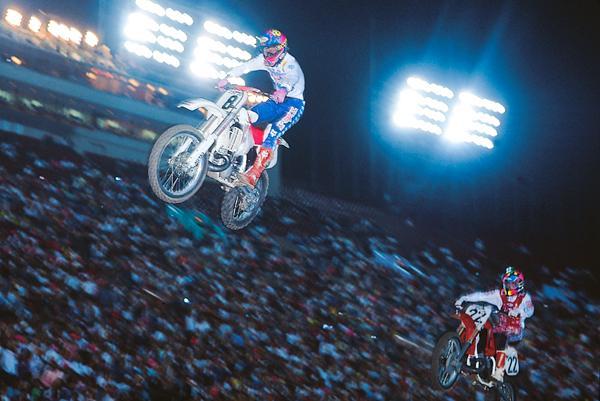 Bradshaw and Jean-Michel Bayle were part of a pack of new faces on the scene in 1990.
Photo: Moto Verte
The North Carolina native was all about "rubbin' is racin'" so it didn't take long to build a rivalry with a rough rider from the West Coast, Jeff "Chicken" Matiasevich. Chicken won the '89 West 125 title, setting up a showdown on 250s. And a showdown it was, as the two immediately started bashing in their heat race!
The main event was stacked with stars such as Ricky Johnson, Jeff Ward, Jeff Stanton and Johnny O'Mara. Bradshaw and Matiasevich could be expected to take a back seat to the legends, but instead Bradshaw pulled one of the gutsiest moves of all time, railing all the way around the outside of turn one, holding it on, and just barely slipping past 19 other bikes on the inside to steal the holeshot. If Bradshaw had gotten to turn one a second later, he would have been shoved up into the stands. Instead, he had the lead, and Matiasevich was soon with him. They battled hard until late, when Matiasevich began to fade and Bradshaw got away. Later, Jean-Michel Bayle got in the mix and made the move on Matiasevich to take second.
The legends in the pack? Nowhere to be seen. The 17-year-old Bradshaw took off and threw in a sick (for 1990) double pump no hander at the finish. In just his second season as a pro, Bradshaw had won the AMA 250 Supercross opener.