Let's start with where we all really want to be right now, and that's Angels Stadium in Anaheim, home to next Saturday night's opening round of the 2012 Monster Energy Supercross Championship! All of the riders, teams and sponsors are getting ready to make their grand debuts, including past champs-turned-team-owners Jeremy McGrath and Jeff Ward, riders with bold new graphics (
James Stewart
) and even completely brand changes (
Ryan Dungey
). Of course they will all be shooting for the #1 of
Ryan Villopoto
, the 2011 Racer X Rider of the Year, as well as the champion of everything he rode in!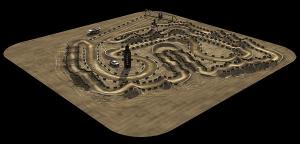 There it is: Anaheim 1, by our man in Sweden, Daniel Ahlgren.  We have re-upped red arrow for another season as well. Look for our 3-D track maps every week at Racer X Online.
All next week Racer X Online will be updating you with photos, films, Tweets, interviews and even Morse code if it all breaks down in order to give you all the information we can on the new season, which will air live next Saturday night thanks to SPEED and Feld Motorsports. We will also be on hand at the Thursday press conference, where Villopoto will receive his championship ring from Feld Motorsports' Dave Prater, and then watch as the riders get a glimpse at the racetrack they will see come Saturday night.
Racer X is also proud to have once again produced the 2012 Monster Energy Supercross Souvenir Yearbook. It's packed with cool info, photos, features and more, and it will be available at every round of the series. Look for it and grab one because it's something you will want to keep and also keep referring back to for a long time to come.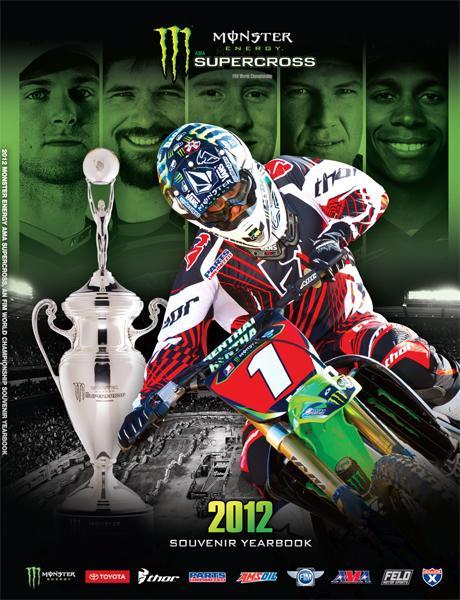 And if none of that is happening fast enough for you, check out this film that Simon Cudby made yesterday out at Starwest:
It was a black week for the Orangemen as
Ken Roczen
, the much-heralded and highly-anticipated newcomer from Germany broke his arm while practicing, and then JDR KTM's
PJ Larsen
broke his wrist doing likewise. That pretty much makes Roger DeCoster's plan to put both Roczen and
Marvin Musquin
(his only two Lites riders) in the same West Region. It also has people talking about the possibility of
Malcolm Stewart
, last year's AMA Motocross Rookie of the Year, being moved up from JDR to the full-factory team for the West Region.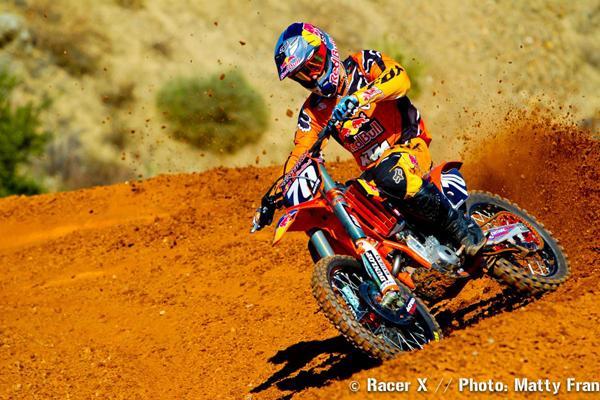 Ken Roczen joined a long line of world champs-turned-ER patients as they learn the specialized craft of supercross.
Photo: Matty Fran
Racer X Online immediately weighed in on how we all felt Roczen's crash might affect things in the Lites class for our Rapid ReaXtion, which you can check out right here:
We also posted a list of
FAILS for 2011
that was meant to be as funny as it was informative. We included Mike Sotille's crazy day at
Southwick
, where the friendly, fast privateer from New England laid down the fastest qualifying lap of anyone just before the rain started, the track got rough and so on and so forth. I was there that day and made sure that Jason Weigandt and Jeff Emig and Erin Bates knew all about Mike's remarkable moment in the sun (on a terrible day as Hurricane Irene was coming to ground) and he got some TV time because we knew that when the race started he would probably be nowhere near
Ryan Dungey
,
Ryan Villopoto
,
Chad Reed
,
Justin Barcia
and so on and on... Well, he wasn't.  In fact, he may have even had the slowest lap of anyone finishing the second 450 moto. So we mentioned it for its diversity, not because Mike really failed. It was one of our favorite stories of the year, but it looked like something else because it ended up on a list of FAILS. So my apologies to all of the Mike Sotille friends and fans out there.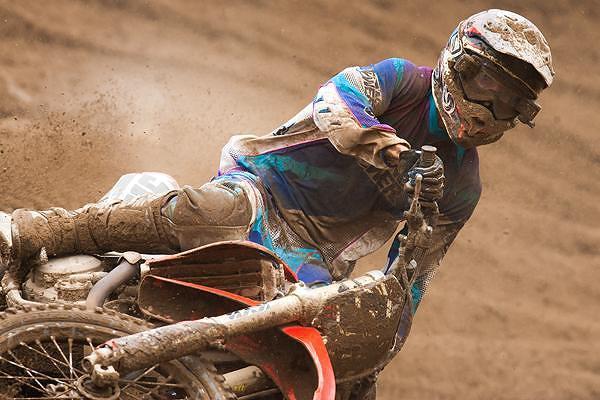 Mike Sotille's efforts at Southwick were diverse, but by no means a failure. Racer X apologies for the confusion.
Photo: Andrew Fredrickson
Now, let's take it a step further. If there was a true FAIL at
Southwick
, it would probably fall to Weege and Jeff Emig! Remember the start of the second 450 moto? You probably don't, unless you were actually there, because the broadcast booth missed the start while focused on the goings-on back up in the Rockstar Suzuki pits, where
Ryan Dungey
's mechanic Mike Gosselaar was working frantically to get the bike running. TV viewers were left confused and disappointed that they missed the start, which saw
Justin Barcia
nearly holeshot from the far outside,
Chad Reed
crash, and Weege and Fro thinking they were watching the world's most intense parade lap!
The Racer X Vault has been the source of some serious bench-racing all week long. It contains the results of every AMA Motocross National since the very beginning, back on April 16, 1972. But it's not complete -- not yet. Check out the following letter:
Dear Racer X,
I loved looking at the history venue that you posted with all of the results over the past 40 years, and looking thru noticed my name missing... I was never a superstar in any sense of the word, and did not mind that I was not listed. I did travel to many of the races from 1978-'82 and most often did not qualify, missing the main gate by a few places mostly, but nonetheless having many life-fulfilling memories that will never change, but knowing that I indeed did in my life remember qualifying for at least on national in my life and sitting on the gate for the national anthem wondered why I had not even made honorable mention? It was the 1982 race in Castle Rock, Colorado. I do not remember my results of the day but do remember getting out of the way of Ricky (Johnson) and Donnie (Hansen) lapping me as their epic battle wore on... Maybe in my mind I just thought I raced?! Also pulling the holeshot at the 1982 qualifier at Saddleback with Brad Lackey and Danny "Magoo" Chandler flying over my head going down Banzai Hill and not making the main will still be a great memory to me as well!
Sincerely Gerry D. Fostvedt
National #260 (1980)  National #394 (1981) and National #522 (1982)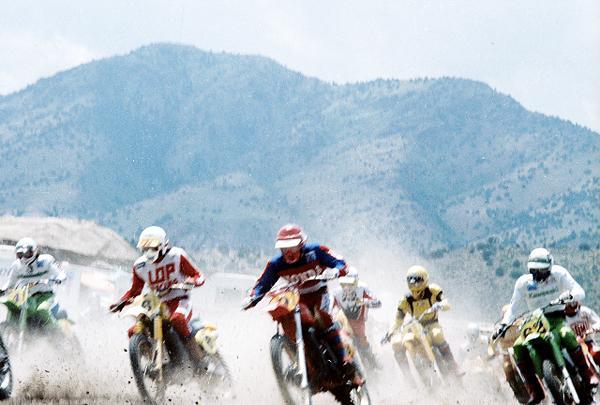 Gerry Fostvedt not only raced but he snapped the occasional photo, like this shot from the '79 Lakewood National in Colorado.
Gerry, it was no oversight, just that in the older records all we have right now are the riders who finished in the top 20 in one moto and thus received points and an overall finish. We are working on gathering everything up and filling out the complete information, including all of the lists of national numbers, as well as other series results. And I know how you feel: My only national was
High Point
'85 where I qualified for the 125 class but did not make top twenty in either moto. So I am not listed either! And I was AMA National #214 in 1985, but I didn't make the top twenty...
And we received this from our own Scott Wallenberg, a former top regional pro in the  seventies and a Monark factory rider, concerning the Vault:
"For over 35 years I have wondered why I earned $10 at Midland, MI in 1976. Now I know why from the Vault! A tremendous archive that will get better as we made the little corrections and add many, many more results!"
A little more old school: We are hearing rumors that our friends over at Unadilla, the Robinson family are organizing a massive vintage and off road historical event the first weekend of June, 2011. With the history of Unadilla and the lack of a strong vintage weekend in the northeast, this could be one cool event! We will let you know as soon as we know more. In the meantime, here's a look at what Unadilla looked like back in its gnarliest days:
Everyone has a sleeper pick for the West Region, and mine is a real longshot -- maybe. After two forgettable seasons in Europe with Husqvarna, Michael Leib is back in the USA. He's been looking for a home, but his lack of any past SX results have probably shied teams away from the once-hot Southern California prospect. So Leib, a very smart, articulate young man and a hard worker, is going it mostly alone. But he is getting some help from Chad Sanner, the man behind Eleven 10Mods who helped
Darryn Durham
and
Alex Martin
play David to the Goliaths of the 250 class this past summer. So look for #170 working out of the trademark flat-black box van of Eleven 10Mods starting next weekend at the Big A. He's been working with Randy Lawrence as his trainer, and getting additional help from Rocket Exhaust, Renegade Fuels, Factory Connection and JT Racing.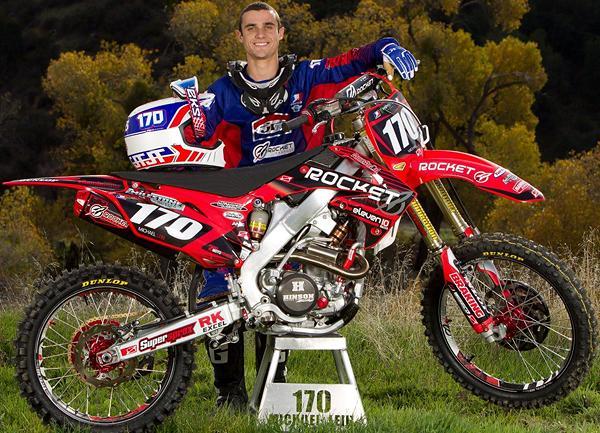 Michael Leib is back in the USA, riding a Honda, wearing JT Racing gear, and working with star-buster team Eleven 10Mods.... Almost has Jean-Michel Bayle written all over this!
Bothersome quote of the week: "Mr. Maddison hopes to make 400 feet on his motorcycle. Mr. LaVallee wants to best his own mark of 361 feet on a snowmobile. He'd also like to not kill himself."  That's from last Sunday's New York Times' preview of the coming week in television, and it discussed "Red Bull: New Year. No Limits." Which is the annual stunt party the company shows every New Year's Eve for people who can no longer stand to see or hear Dick Clark count down the dropping of the ball in Times Square.
I posted a photo of a motocross paint-by-numbers set I found at the mall on the American Motocross Facebook page and got a few inquiries about the rather rare set. The company that produced it is www.royalbrush.com and I did find something on their site that looks like you can order the piece: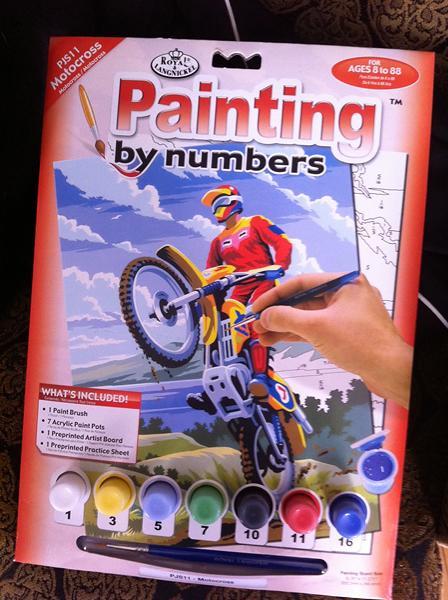 Looking for a cool motocross canvas for your kids? www.royalbrush.com might just have something for you.
Okay, time for
Jason Weigandt
:
Last weekend kicked off the NBA's jammed together, strike shortened new season. Some teams are packed with talent, but shortened training camps means they'll be meshing that talent together on the fly, during the season. That's not easy.
We were in a similar spot at this time last year. At the eve of the 2011 season, we launched an all-new website, along with major personnel changes behind the scenes. We used to run Racer X Online as an off-shoot of the Racer X Illustrated magazine, working the web with whatever time we had left after working on the mag. But now both our print and electronic pubs get equal time and attention. That required some staff changes. I was assigned as the first ever Racer X Online Editor, so everything you see on this site essentially runs through me now. We brought Steve Matthes back into the fold after he left the ranch for a year to work with TWMX. And we brought in a new kid named Chase Stallo from VurbMoto.com, who has become just a warrior in the trenches. Chase is the one who physically posts every single story, press release, news blurb and most photos and videos on this site. That includes this Racerhead column. He still finds time to write stories and articles for us in between, like our Sign of the Lap Times feature, and Privateer Profile. The web is a 24/7 business and Chase has been a one-man gang in that spot. Without him, we'd be in serious trouble.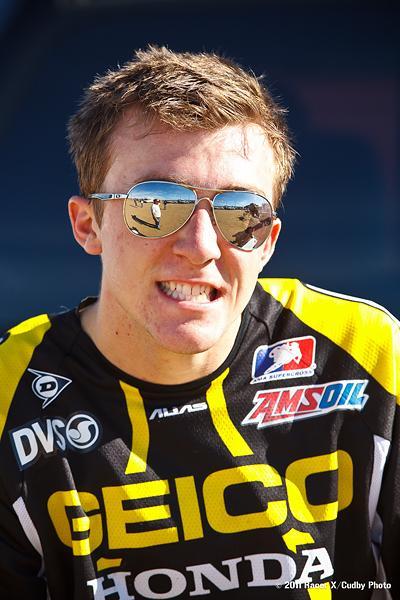 After nearly taking home an SX Lites title in his rookie year, GEICO Hondas Eli Tomac is a top threat heading into 2012.
Photo: Simon Cudby
Making this even harder, we only brought Stallo in on January 1 last year, the same time we launched the site, and, the same time we were ramping up to Anaheim 1. It was a crazy, crazy first week, as we hit the ground running without any practice time. We learned on the fly, changing things on the daily. All the deadlines and all of our ambitions pushed me way past the boiling point on too many occasions, so if I have one New Year's Resolution this year, it's "stay calmer."
That's easy to say a week before the season begins. I'm sure we'll be pressed full-max for the next 30 or so weeks. But I think we'll be better equipped. This year we've added contributor Aaron Hansel to the mix, and we have a great intern named Haley Whisennand helping with interviews. Of course David Pingree is irreplaceable, and big thanks to Steve Dye who helped out a bunch over the summer, and hopefully will continue to in the future. The summer also brought us the Racer X Motocross Show for a fifth season, with big thanks to Robo Robb Swiatek, Danny Stuart and Paul Lindsey for picking up my slack. And I believe our A/V gang is second to none, with Simon "the Gubnah" Cudby and Matt Francis anchoring our photo and video efforts out of California, and Andrew "Fred" Fredrickson is our photo and video ace back east. And a welcome to new guy Jordon "Aaron Rogers" Roberts, who will also be helping out with any and everything back at the Racer X Offices, unless he's working the Racer X Booth at the races!
But with such talent comes great expectations. We want to believe Racer X Illustrated is the best magazine you can buy, of any magazine. We want to believe Racer X Online is the best website you can find, of any website. We work hard to do that, but we set high standards for ourselves. This time the talent is in place to do it, and we've had a year to learn the system. Now it's on me to be a leader and organizer and orchestrate the whole effort. It will be tough, but no matter what, it never ceases to be fun. For example, each week after the race, Matthes, myself and Ping jumped on the phone for a post-race podcast. By the time the call came, I had already written and analyzed the race for three days straight. But still, nothing was more fun than putting those podcasts together, and when the call ended after 90 minutes, I couldn't wait to do it again the next week. I'd like to think you'd be the same way with your buddies.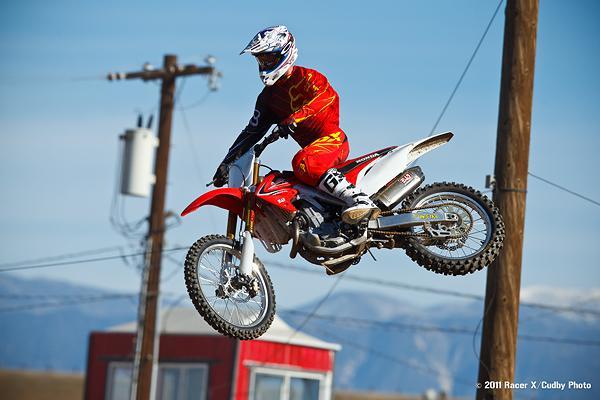 Tommy Hahn is going the privateer route in 2012. But he is still expecting to contend for podiums and wins.
Photo: Simon Cudby
Let me know what you want from us on this website in 2012. Shoot me an email: jasonw@racerxonline.com with 2012 in the subject line. I appreciate the feedback and I'll see you at the races. Happy New Year.
Here's Steve Matthes:
Well, it's the end of the year and with that, a time to reflect on what we just saw. The sport had its difficulties off the track in regards to teams and sponsors being stretched to the financial limit but it does seem to me that it's getting a bit better here of late. Whatever issues we had off the track were offset in a ways by the incredible racing that we saw on the track, in this year two of our A.F (After Ferry) era.
Some incredible SX racing with so many incredible sub-plots and "Did you see that?" moments followed by a battle to the death outdoors between the Ryan's. It was definitely the most exciting year that I've ever seen since joining the circuit full-time in 1996 as a mechanic.  There wasn't much to separate the racers at the top and I just don't see it being much different in 2012 either. I was doing the Racer X Podcast Show with Jason Thomas and Weege and really, when you line them up and think about the top ten, there are going to be some upset racers because it's going to be gnarly to be inside the top ten.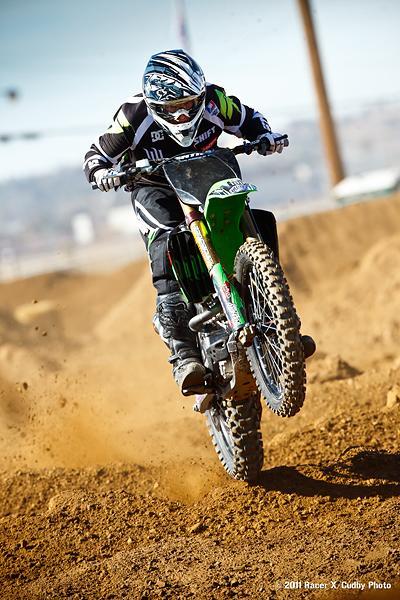 Josh Hill will be back for 2012, let's not forgot that he challanged Dungey and RV in 2010 before an injury sidelined him for the entire 2011 season.
Photo: Simon Cudby
After years of Jeremy McGrath/Ricky Carmichael domination followed by glimpses of Chad Reed and James Stewart, I believe that parity has arrived on the scene and we'll seem more great moments this year. A guy may win the title with only five races won or something like that. Last time we saw that was in 1992 when Jeff Stanton repeated as SX champ with only four races won on the year. Ah, those were the days!
With all that in mind, I thought I'd make some resolutions for the New Year and I really, really hope to keep them:
1.) I resolve not to count out Chad Reed like I did last year. Despite him injuring his thumb recently and probably being behind in his training, Reed's proven to all of us time and time again that when you count him out, he's better than ever.
2.) I resolve I'm not going to believe it when every rider tells me they're working harder than ever and their bike is unbelievable despite them crashing and pulling off.
3.) I resolve that I'm not going to have a Dodger Dog this year. After wanting to believe the hype in our first visit as a series to Dodger Stadium, I was let down in a big way when I tasted one of the plain, dry, crappy dogs.
4.) I resolve I'm going to try and get out of the stadium after a supercross before 1 a.m. as it makes that next days flight out much better if you can get to bed at a decent time. Then again, if there's some bench racing somewhere, I might have to break this one.
5.) I resolve to do whatever I can to protect Trey Canard from black cats, walking under any ladders and stepping on any cracks. He's got to get some good luck going his way.

Rookie Justin Bogle is looking to have a break out year for GEICO Honda in 2012.
Photo: Simon Cudby
6.) I resolve that I may just have to go to one of these "official" supercross after-parties and maybe, just maybe, meet one of the riders that the poster says I can party with.
7.) I resolve to never, ever, hit the pause button until Chad Reed actually stops talking because you just don't know what he's going to say.
8.) I resolve to hit the pause button and say that my batteries are dead when talking to Grant Langston because otherwise I'll be there all day with one of the nicest guys on the tour.
9.) I resolve to hug Tim Ferry more because you just never know when he might take a job testing with James Stewart's Yamaha team and stop coming to the races.
10.) I resolve to not get arrested Friday or Saturday night at the New Orleans Supercross in order to not join a bunch of other industry people in the joint.
Thanks for coming out, tip your waiters- I'll be here all week.
Okay, here's
Ping
:
A lot of people wonder why injuries hit so hard as the season gets really close. In the last two weeks we've lost Trey Canard, Ken Roczen, PJ Larsen, Michael Byrne and Jimmy Decotis. Some of is just circumstantial (broken hubs) but to some degree it is inherent. The first part of the off-season guys are working their way into things and taking their time. Pace isn't as critical in October as it is with three or four weeks until A1. But once December hits you have to start pushing yourself. These guys have to be able to throw down a fast qualifying lap and you don't want to wait until the first race to see how fast you can go one time around. Sometimes, especially in supercross, things go sideways [literally] and one crash can mean the end of the season before it even begins. Hopefully all the guys who are healthy now can stay that way through May.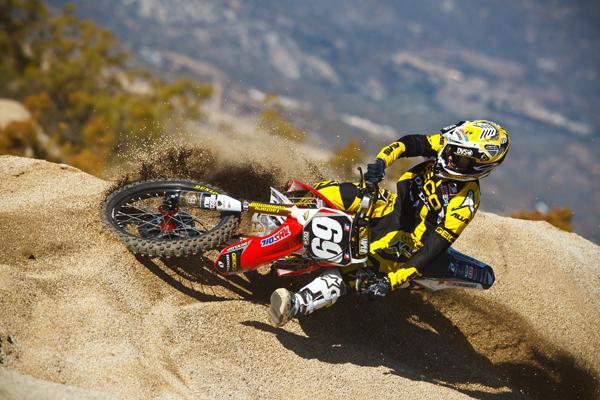 Decotis joined a host of others on the injury list this week.
Photo: Simon Cudby
Speaking of Byrner, I wonder if he will go back to wearing a neck brace after his crash? He has been riding with Reed, who is an outspoken proponent of the devices, but not long after removing his Michael broke a couple vertebrae in his cervical spine, the area that some braces claim to protect. Regardless, I'm glad Byrner is walking away from this one and hopefully we see him lining up soon.
You know who has been quietly having a really good off-season? Eli Tomac. This is my guy to win the opener. Yep, you can add another rider to the list of winners in the west division. Don't forget how close Eli came to winning the title last year in his rookie season. If he isn't on your list of favorites or on your fantasy team you should sign him immediately. Sadly, Roczen is off the list but it sounds like he'll be back in the saddle in time for the east series, which is great.
Don't forget to tune into the Red Bull New Year No Limits event that starts at around 8:00pm PST on Saturday night. Maddo and Levi LaValee will be jumping over part of Mission Bay in San Diego… side-by-side. It should be a really cool event and it will be over before ten, which means I can go to bed at a decent time. Is it a sign that you've getting old when you don't stay up until midnight anymore? Whatever. I'm going riding Saturday morning and I need my sleep. Happy New Year to everyone. I hope 2012 brings us prosperity, great racing and maybe even a Chick-Fil-A to my side of town. That would be just great.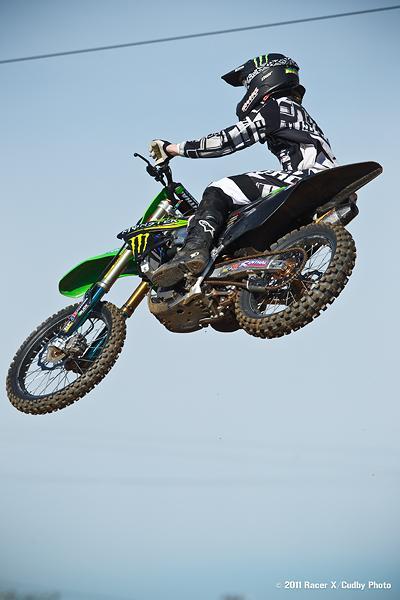 With a late injury to Ken Roczen, it looks like we could see Dean Wilson (above), K-Roc and Justin Barcia all on the East coast. Now that is a line-up.
Photo: Simon Cudby
Aaron Hansel checks in from NorCal:
If all you got for Christmas was a sweater from your grandmother and a subscription to a magazine other than Racer X Illustrated, don't worry, the gift we've all been waiting for will be delivered one week from tomorrow when the gate drops on the 2012 supercross season in Anaheim. I can't wait for the action to start, and what I'm most excited about is the fact that most of the guys have managed to stay healthy. Sure, there have been some injuries, but not enough to even come close to ruining what promises to be a fantastic year for the fans. Besides, Roczen's broken arm won't cause him to miss any racing, it just puts him on the East Coast, where he and Barcia will no doubt battle to the death, and that's just the competition for best whip that will surely take place every practice!
Trey Canard's situation is a little more serious, and he's pretty much out of the title hunt. It sucks, and it's the last thing he wants, but at least he'll be back soon, banging bars and swapping paint, just like last year. And who knows, with the way last season went, Canard could even find himself in the hunt by the end of the season. After all, Ryan Villopoto missed a race and won the title! No matter how the gate drops, we're in for a seriously wild ride in 2012.
A few weeks ago in Racerhead I wrote about Jessica Patterson and the fact that she's still hunting for a ride. I spoke with her yesterday, and it sounds like her fans can relax. Patterson has several options available to her at the moment, including an outside chance that she'll still end up with her old team in its new form, Star Valli Motorsports. Right now she's simply looking at what situation will provide her with the best equipment. Patterson says the folks at Yamaha Motor Corporation are very happy with her and want to continue their relationship, so odds are wherever she ends up, she'll be riding blue.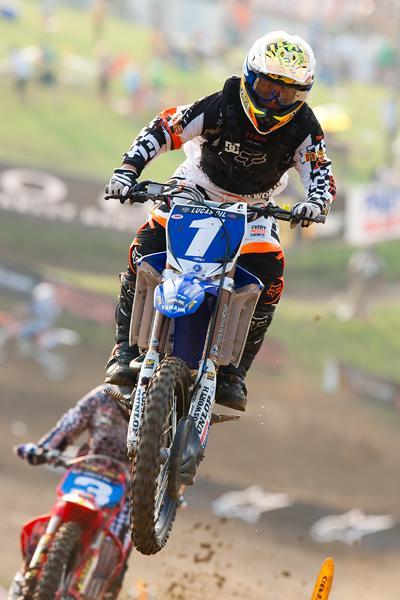 Jessica Patterson is hoping to have her contract for 2012 figured out shortly.Photo: Andrew Fredrickson
I asked her if she's considered putting together her own effort if she can't land in a situation that makes her happy, and while she admitted she'd considered that option, it isn't likely to happen. "I've talked to Yamaha, and they'd support me 100 percent if I wanted to do that, but I don't think I'm ready to do that right now," Patterson explained. "If it looked like I didn't have a couple options lined up, yeah, I'd do it, but right now, I have a couple people that are interested."
Patterson is definitely one of the most dominant WMX riders in history, and there's no question that she's the fastest unsigned WMX rider there is right now. Whatever team ends up signing her will be signing up for a serious title run in 2012. "It's not like I don't know how to win, I won twelve of sixteen motos last year," Patterson said. "Hopefully this season I end up on the right equipment. The way things are going right now, I think it might end up pretty good, so I'm excited."
Casey Hinson and Justin Sprugasci of SVM Racing have teamed up with Minnesota Vikings Jared Allen's charity, Homes for Wounded Warriors, to put together a West Coast Lites effort for 2012. The charity builds handicap accessible homes for wounded warriors, and I think it's cool Hinson and Sprugasci have thought outside the box to bring in such a unique and honorable outside sponsor. To learn more, check out the Shoei Privateer Profile I did earlier in the week with Hinson.
Happy New Year everybody, keep your holiday celebrations safe, and remember to put the phone number to a cab company in your phone before you go out for the night.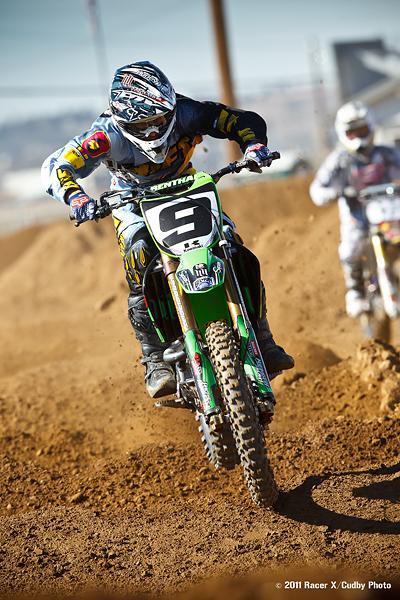 Ivan Tedesco is back with Hart and Huntington for 2012 and looking to reclaim a spot in the top five.
Photo: Simon Cudby
Finally, some notes in closing:
Monster Energy Gives Back / Make-A-Wish - Jan. 6 at Pole Position Raceway
Join other racing fans Friday, January 6th for a benefit night full of  indoor kart racing, Monster Energy celebs and athletes, catered dinner and unbelievable raffle opportunities. This event will be held at 1594 Bentley Drive in Corona, CA at the Pole Position Raceway, America's #1 chain of indoor kart tracks. This event is open to the public and a $20.00 donation for entry will be collected at the door. For more information visit www.monsterenergy.com.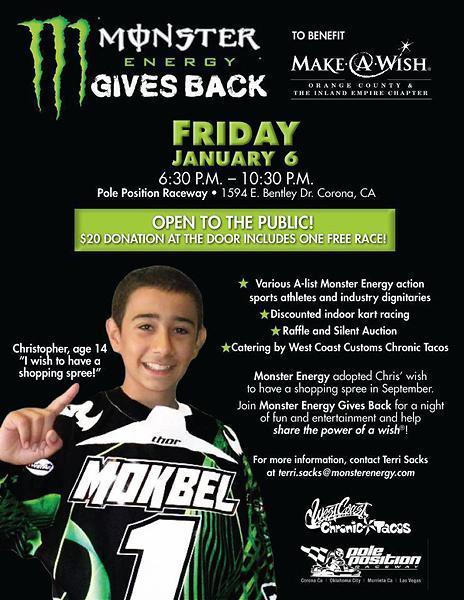 You may have gotten all that you wanted for Christmas, but if you didn't, and you're looking for something really, truly extra special -- and unique -- look no further:
If you are an amateur or vet rider out of the West Coast, or even just a fan of all-things-motocross, check out the new publication Rider 2 Rider Motocross Magazine, which recently launched in December of 2011. Rider 2 Rider is based out of Southern California and will be distributed to all regional tracks as well as select dealers and outlets. It is also free and bi-monthly publication. You can find the Digital Edition of our Premier Issue @. Good luck to the aspiring publisher Cory McDonald on this endeavor. We know what he's up against, as what is now Racer X Illustrated started out as a District 5 newspaper called The Racing Paper!
A few weeks back we gave away a sick MOTO3 Element iPhone case. It fits all iPhone 4 and iPhone 4s phones and is priceless! You can't even buy this special edition case (similar Vapor Pro cases from Element start at $129.99). We were able to get our hands on one more, so we're going to let you have at it again. This time, it's easy. Just send a photo to contests@racerxonline.com of your Anaheim 1 party setup, in your man cave, living room, neighborhood bar, maybe even at your track? Be creative, and we'll choose what looks like the best viewing party setup photo and the case is yours. And for some reason if you haven't already, go check out MOTO3 at www.MotoXCinema.com. Alright, now get planning and send your party setup picture to contests@racerxonline.com.
eligible to CONUS residents only.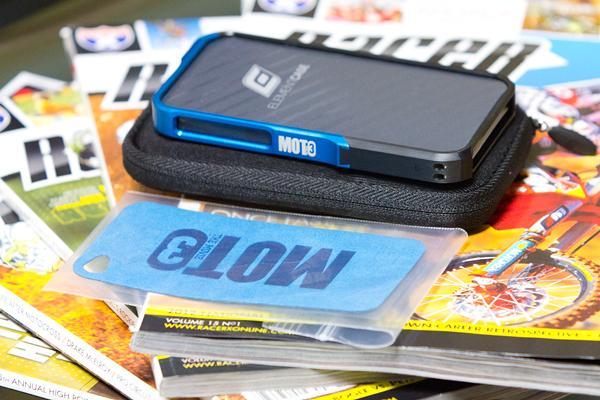 That's it for 2011... At least until tomorrow. Tune back in for a look back at the friends and folks we lost in a year gone by.
Thanks for reading Racerhead. See you at the races.