There is no denying that GEICO Powersports Honda's newest rookie, Justin Bogle, knows how to go fast on a dirt bike. After tearing up the amateur ranks for a few years, Bogle made his professional debut at Unadilla in 2011, and proceeded to put in some tremendous results in the remaining rounds, including a second place in the final moto at Pala. Now, Bogle is poised for yet another debut, this time in supercross. For this edition of 250 words, Bogle took a few minutes out of his busy testing schedule to talk to us about his upcoming season.
Racer X: What have you been doing for the past couple months?
Justin Bogle: Well, I got moved out to California for the winter, and I've just been trying to get all my testing and riding in.
How has the transition to life in California been after living in Oklahoma?
It's been alright. Obviously it's a lot different, but it's a nice change of pace, and the weather has been decent, so that's good. There's no traffic in Oklahoma and there's one track there that we ride. Out here there's more tracks, and everything is faster paced.
Are you riding the East or West Coast?
I'm not sure yet, but if I had to put money on it, I'd bet East. I haven't gotten the final word from anyone yet.
Have you had much supercross experience in the past?
No, not really, just when I would sneak onto Trey's [Canard] track every now and then when he wasn't looking!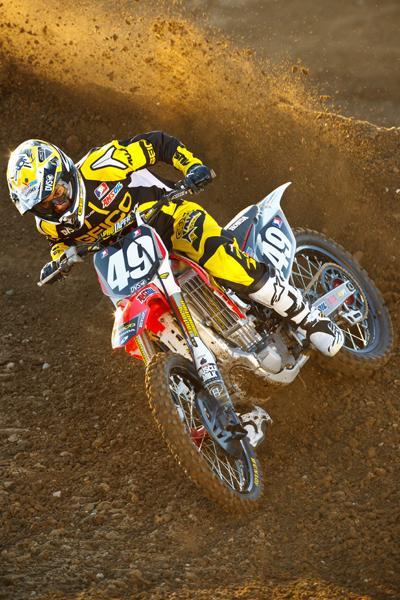 Bogle is looking to carry his outdoor success into supercross.Photo: Simon Cudby
How is the testing going?
So far so good. I still have some stuff I need to get worked out, but I'm feeling a lot better about it, and I definitely feel like I'll be ready when it comes time to race. That's the main thing.
Has the team put an expectations on you, as far as where they think you should be placing, or are you just looking to get some experience this year?
I haven't really talked to anyone about the team's expectations. Obviously, they invest a lot of time and money in us, so they want us up front. I have my own expectations, and I don't know too much about what they want, but I know what I want.
Describe what you would consider to be a successful supercross campaign in 2012.
That's the thing, I don't really want to say I'm going to go out and do this or that. I just want to go in and get my feet wet in the first couple rounds and see where I'm at. I'd definitely like to be up front. I've put in a lot of work, and I'd like to see it pay off, but there's no set place that I have to get for my season to be successful. I've never raced supercross before, so it's a learning year. I want to learn a lot and improve every round. Those are the main goals right now.
You've got some pretty talented and established racers for teammates. Does that increase the pressure, or are you able to draw on their experience?
It obviously adds a little bit of pressure, you don't want to be last on the team. But I think it's definitely good having those guys and their experience around to help me out. It's definitely a good thing.
After a dominating amateur career, Bogle will make his supercross debut for GEICO Honda in 2012.Photo: Simon Cudby
I saw the video of Jimmy Decotis trying to clear that ridiculous gap. Does he always do stuff like that?
I haven't really had a chance to ride with him too much yet, but so far, Jimmy D is crazy! He just goes for it! He's always jumping all sorts of gnarly transfers and stuff--stuff that doesn't really look possible, like the one in the video, but it's really awesome! I think that's more of what he was going for, the awesome factor, which he definitely scored a 10 out of 10 on.
Was it obvious he wasn't going to make it from the beginning?
Yeah! (laughs)
What'd we miss?
I'd like to thank some people that I wouldn't be here without. The GEICO Honda team obviously--all those guys--and Robbie Reynard, who has been a huge part of my program and I can't thank him enough, and the whole Reynard Raceway crew. I'd like to thank my whole family and everyone for sticking with me. I'm also excited about my new sponsors; Alias Gear, Oakley, Shoei Helmets, and Alpinestars. It should be a good year, we've got some great people behind us.
Thanks for your time Justin, and good luck this year!
Thank you.