Vegas is always about the risk versus the reward, for no one more so over the weekend than
Ben Townley
. BT101 spent a year away from the U.S. racing scene while embarking on what turned out to be an ill-fated run at the MX1 class in the FIM GPs. Injuries ended his season early-but then again, that same thing happened far too many times while Ben was preparing for a U.S. supercross run, as well.
Ben wants back on a strong U.S. team for the 2012 AMA Pro 450 MX Championship. To show what he has, he picked up a one-race Monster Energy Cup deal with his old Monster Energy Pro Circuit Kawasaki team on a 450. For Townley, who last completed an AMA Supercross season in 2007, jumping into the deep end at the MEC could be risky. Even though the event was dubbed as a hybrid between motocross and supercross, could Ben really show his motocross potential next summer on this track?
Consider the reward worth the risk. Townley rode extremely well, even holding off 2010 AMA Supercross Champion Ryan Dungey for second place in the first main event. He was the only rider to finish in front of one of the Ryans on the night. Unfortunately, Townley ran into bad luck at the next race, courtesy of a rock.
"The chain guide got bent," he explains. "It was slowing the chain down as I was going through the air, in turn acting like a rear brake and bringing the front down and making the big shake in the air on those big jumps. I wasn't willing to risk it for a one of race when I didn't know what was wrong."
Outside of that first race, Townley's results don't show how well he rode. But he's still happy. "I really enjoyed the track," he says. "There was nothing I wasn't jumping that anyone else was doing so right away that made it easier to battle with some of those top guys. I felt great on my bike, Mitch and all the guys there hooked me up big time and I had a great bike and got really good starts. The first main was awesome, I was so pumped up to finish second!"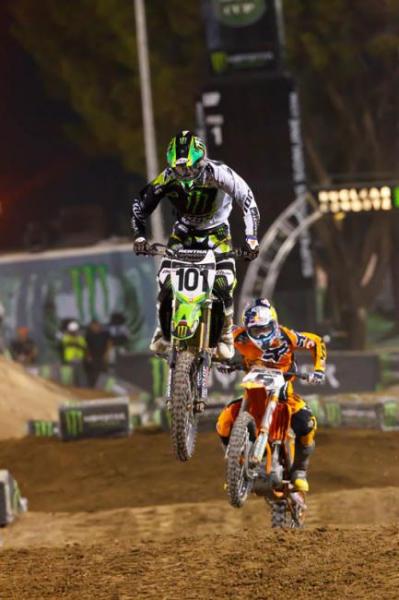 Townley leading Dungey in a stadium? What is this, 2007?
Simon Cudby photo
Of course, now that Townley proved he could still handle the jumps and turns of an indoor track, does it tempt him to maybe mount a full-time supercross comeback? "I guess it does in one way, but I have to be realistic," he says with a laugh. "I haven't raced AMA Supercross in three years now, the guys at the top of our sport are very, very fast and to race at that level again would be a big ask, in reality. The Monster Energy Cup was a perfect track for my level of SX these days and I really enjoyed it, but I'm going to stick to my plan of outdoors only."