Sam Boyd Stadium
Las Vegas

,

NV
Monster Energy Cup
Monster Energy Cup
There's one thing we do know: This weekend's Monster Energy Cup in Las Vegas is not just another supercross race. The event producers at Feld Motor Sports are going to great lengths to make this race stand out, so while it may share a building with the final round of Monster Energy Supercross, it doesn't share much else. For this week's
Bench Racing Ammo
, we present a step-by-step guide to the Monster Energy Cup.
The Format: This is a supercross with three main events. The night show features Heats, Semis (yes, for one night only, the semis are back!), and a Last Chance Qualifier. The top four riders advance from each of the two Heats, the top five from each of the two Semis, and the top four from the LCQ. That makes for a 22-rider Main Event field.
Each Main Event runs 10 laps, and there is only a 15-minute break between each. That's not a lot of time to rest, recover, or fix something if it breaks. Should make things interesting.
The Scoring: The winner is determined via overall scores from the three Main Events. Points are rewarded Olympic-style, meaning a win gets 1 point, a second gets 2, etc (instead of 25 points for a win like AMA Pro Motocross).
Of course, the easiest way to win the overall is to win all three Main Events. Which leads us to....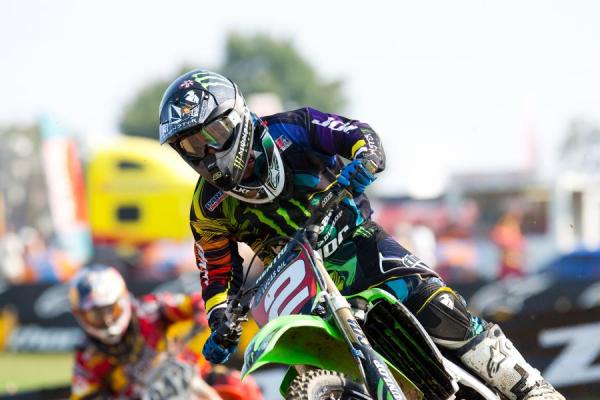 Villopoto is the favorite heading into Vegas, but can he take home the Monster Million?
Photo: Andrew Fredrickson
The Monster Million: If a rider sweeps all three Main Events, he wins $1 million. Dr. Evil would be pumped. You have to survive three starts, and a lot of riders are claiming "anyone can go fast for 10 laps." So it will be tough for someone to pull off all three—but even if you don't, the overall win still pays $100,000 out of a $250,000 purse. It's not chump change.
We keep getting this question, and here is the answer: The whole event airs live on SPEED this weekend. Starts at 10 p.m. Eastern. Watch it.
The Riders: Here's where it gets tricky. Ryan Villopoto is committed to racing. He had to work his previously scheduled honeymoon around the event, but if he collects $100,000 (or the million), we doubt he'll be complaining. Who can stop him? Chad Reed has announced he needs a break and is out. James Stewart still doesn't have a 2012 deal in place, so even though he originally committed to the event, he is probably going to run out of time. Ryan Dungey has said he won't race his new KTM until Anaheim in January. To us, this race seems like a good, basic way to get some time in on his new bike, but he probably knows better than we do. However, we wouldn't rule out appearances by anyone, really—at the old U.S. Open, riders who weren't supposed to show up often arrived at the last minute. It's not like they'll bar the door if the KTM semi rolls up on Friday. Well, actually it's coming anyway, since Marvin Musquin is racing on a 350.
Kawasaki has its big guns in this one (hey, it's a Monster Energy event). Villopoto's teammate Jake Weimer is racing, and Broc Tickle will make his Pro Circuit KX450F debut here. Ben Townley is also racing a PC Kawi 450. Arenacross champ Tyler Bowers is racing too. And this will be Josh Hansen's last race for Pro Circuit before moving over to Hart & Huntington. This is definitely Hanny's type of race.
Kevin Windham is in, and he was flying in Vegas back in May. We also just learned Justin Brayton is in debuting his factory Honda. And a lot of people think this event will work well for Mike Alessi. Mike is back on a Suzuki and motivated to show people he's still a contender—this is not an off-season race for him, it's a proving grounds. Three short races lend themselves to Mike's holeshot abilities, and the track doesn't have supercross whoops.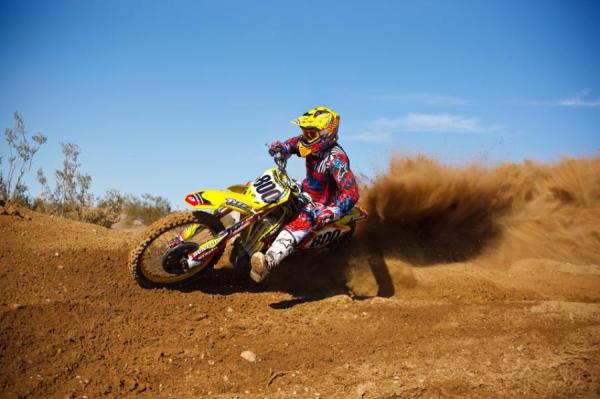 Alessi will be on a new ride this weekend.
Photo: Simon Cudby
The Track: We've seen the drawings, and the green arrow has taken a fast lap. But until bikes actually lay down real laps on Saturday, no one really knows how this will turn out. The track is supposed to be a hybrid of motocross and supercross, so the rhythm lanes are toned down, the whoops are gone, and the section outside the stadium is much, much bigger than the one used in the Vegas SX finale. Even crazier, the track actually has elevation change, as it goes up into the stands. We haven't seen since that since the Pontiac Supercross back in the 1990s.
We don't know how this track will affect the racing, but we do think it will be cool to see something different. Remember, the original goal of this track was to entice GP riders like Antonio Cairoli to race, so it will not be a supercross track. We see it more as an experiment. Ricky Carmichael and Jeremy McGrath helped design the track, but for anyone involved, they've got to be super pumped to just get to do something so different.
The Rules: The production rule is not used here, so teams can run whatever they want as long the bike passes the sound test and uses AMA-legal fuel. That's it. Also, 250s can race against 450s. Eli Tomac, who very nearly won the West Region Lites SX title, may have the best odds of a David versus Goliath. Remember, if someone has $1 million on the line heading into the final race, it can get crazy. Like that time Chad Reed was going for the $250,000 at the U.S. Open and ignited "the first-turn crash to end all first-turn crashes." Most of the 450 riders went down, leading to Jake Weimer scoring a Main Event win on a CRF250R. It can happen!
We know, we know. You all want someone to race a big-bore two-stroke. It's legal, at least.
TV Show: We keep getting this question, and here is the answer: The whole event airs live on SPEED this weekend. Starts at 10 p.m. Eastern. Watch it.
The Others: There are other races between the mains, and that's way different than a regular supercross too. The Amateur All-Star race features top A and B riders, and they'll race two five-lap main events. The Super-Mini class also gets two five lap races.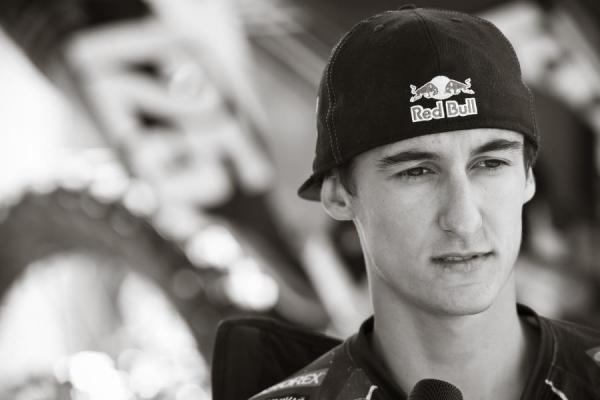 Musquin could be a sleeper this weekend.
Photo: Simon Cudby
As befitting a field called Amateur All-Stars, competitors include Thomas Covington, Chris Alldredge, Zach Bell, Justin Hill, Vann Martin, Josh Mosiman, Jessy Nelson, Austin Politelli, Grant Ransdell, Cole Thompson, and Jesse Wentland. That's a stacked gate.
Super-Mini is headlined by Adam Cianciarulo, but his rival Cooper Webb is also racing. Mark Worth, Rookie White, Andrew Pierce, and other kids can go, too. And how will the SuperMini bikes handle this track? Hmmm.
Finally, there's a Freestyle Best Trick comp, and Kyle Loza is planning to bring his ridiculous Bike Flip to this event. It's never been done in a competition before. The latest X Games Best Trick gold medalist, Jackson Strong, is competing. His buddy Mark Monea also packs a front-flip variation. Cam Sinclair did a double backflip to win X Games Best Trick in 2010. Mr. Personality, Todd Potter, is also on hand. This could be more exciting to watch than the races.