With one of the most closely contested points battles in XC1 Class history coming down the stretch run, massive crowds embarked on Powerline Park in St. Clairsville, Ohio for round twelve of the Can-Am Grand National Cross Series (GNCC). Points leader Charlie Mullins had built a 17-point lead over defending champion Josh Strang, with Paul Whibley trying to stay within striking distance—25 points down—and 30 points are available for a race win. But this round would belong to XC1 rookie Kailub Russell. After getting around Mullins on the second lap—due to Mullins stalling his bike—Russell would cruise home to his first career XC1 overall, with Mullins recovering to finish second, and extending his points lead in the process.
With Russell spoiling the championship party—and Mullins running a clear-cut second—the battle for championship hopes was raging between Strang and Whibley, with Thad DuVall playing the role of spoiler. The three would bang bars all race long with DuVall and Whibley bringing the ruckus all the way to the final corner with Whibley getting pushed out wide and colliding head first into a small tree. Whibley would recover to outlast Strang, but lost valuable championship points with his fourth place finish. Mullins now holds a 26-point lead over Strang and a 32-point lead over Whibley with just three rounds remaining.
In the XC2 Pro Lites class Jordan Ashburn's three-race winning streak came to a halt as points leader Steward Baylor Jr. lead start to finish to extend his already commanding points lead. Ashburn would finish second with Jason Thomas rounding out the podium.
Now onto the lap charts, brought to you by Motion Pro, to see how it all broke down.
GNCC
XC1 Pro Class

| | | | | |
| --- | --- | --- | --- | --- |
| Lap Rank | Finish | Best Lap | In Lap | Rider |
| 1 | 1 | 24:22.516 | 5 | Kailub Russell |
| 2 | 3 | 24:30.036 | 7 | Thad DuVall |
| 3 | 4 | 24:37.609 | 5 | Paul Whibley |
| 4 | 2 | 24:44.047 | 2 | Charlie Mullins |
| 5 | 5 | 24:48.875 | 6 | Josh Strang |
| 6 | 11 | 25:01.140 | 2 | Cory Buttrick |
| 7 | 6 | 25:32.828 | 2 | Jimmy Jarrett |
| 8 | 7 | 25:38.360 | 4 | Mike Lafferty |
| 9 | 9 | 25:42.281 | 2 | Jesse Robinson |
| 10 | 10 | 25:44.500 | 2 | Scott Watkins |
| 11 | 7 | 25:46.204 | 2 | Mike Lafferty |
| 12 | 13 | 26:25.032 | 3 | Jedediah Haines |
| 13 | 12 | 26:49.171 | 2 | Eric Bailey |
XC2 Pro Lites Class

| | | | | |
| --- | --- | --- | --- | --- |
| Lap Rank | Finish | Best Lap | In Lap | Rider |
| 1 | 1 | 25:14.828 | 2 | Steward Baylor Jr |
| 2 | 2 | 25:33.734 | 2 | Jordan Ashburn |
| 3 | 5 | 25:44.703 | 2 | Andrew Delong |
| 4 | 6 | 25:48.219 | 2 | Morgan Moss |
| 5 | 3 | 25:52.953 | 2 | Jason Thomas |
| 6 | 13 | 26:06.625 | 2 | Ted Mullins |
| 7 | 4 | 26:10.250 | 2 | Rory Mead |
| 8 | 8 | 26:36.203 | 2 | AJ Stewart |
| 9 | 17 | 26:36.328 | 2 | Cody Gragg |
| 10 | 7 | 26:43.031 | 2 | Nick Davis |
| 11 | 15 | 26:51.891 | 3 | Ryan Echols |
| 12 | 9 | 26:53.797 | 2 | Steven Squire |
| 13 | 18 | 27:01.750 | 3 | Zack Nolan |
| 14 | 10 | 27:05.672 | 2 | Ryan Lojak |
| 15 | 12 | 27:20.657 | 2 | Michael McGinnis |
| 16 | 11 | 27:42.282 | 3 | Zach Smith |
| 17 | 14 | 29:03.453 | 2 | Trevor Cobb |
| 18 | 16 | 29:31.219 | 4 | Jared Jordan |
| 19 | 19 | 34:31.093 | 2 | David Kilgore |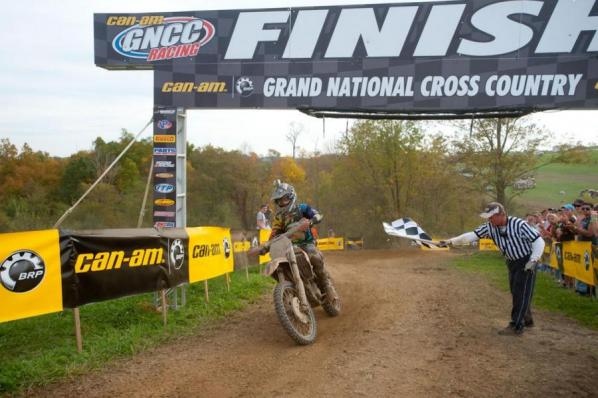 Russell would set the fastest lap of the day en route to his first career victory
Photo: Shan Moore