It was the best of times, it was the worst of times. No, we're not quoting famous literature; we're referring to Blake Wharton's supercross run in 2011. Battling torn labrums in his shoulders, Wharton took home two third-place finishes in Toronto and Dallas, and made it clear that he was gunning for a win, something that had eluded him since St. Louis in 2009. When the season was over, Wharton still hadn't gotten that win, but he had managed to finish fifth in the series, despite missing the final points race in Las Vegas. It's a position Wharton will be looking to improve upon next year aboard his new ride with Rockstar Energy Suzuki. We got in touch with the Lites rider to talk about his new team, his injuries and what he expects in 2012.
Racer X: How's the shoulder doing?
Blake Wharton: Actually, I got two surgeries. One was on the left, and one was on the right. The same problem, torn labrums, was on both sides. It's taken some time to heal, but they're getting better.
I didn't realize they were both torn. Did you know that during the season last year?
No. In supercross I thought it was just one that was acting up because I had fallen a couple times and injured it, but the other one was from crashes in years past. They're doing better now.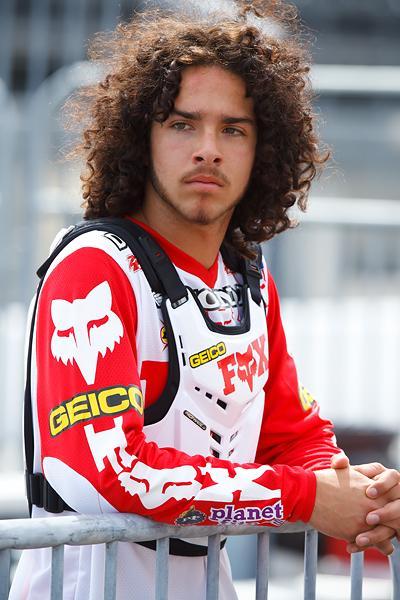 Wharton will make the transition from GEICO Honda to Rockstar Energy Suzuki next season.
Photo: Simon Cudby
What have you been doing in your time off?
I've been healing up, and doing the stuff that I don't normally have the time to do. I've been playing guitar and drums, and having fun with that. At this point, I'm actually starting to get back into the swing of things, but a couple months ago I was just taking it easy while doing therapy on my shoulders and stuff like that.
What coast will you be riding next year?
The coast is always up in the air. It depends on if everyone is hurt or if everyone is good coming up to the first race. I've been put on the west when I was going to do the east before, as I'm sure many people have. Right now, I think I'm going to do the east coast. I signed a couple days ago, and I'm happy.
Have you ridden the bike yet?
No, not yet.
Do you know who your teammates will be yet?
I think I do, but I don't know if I'm supposed to say or not. I don't think I'm supposed to not say it. What do you think, should I say?
Of course I want you to say it!
If I were to tell you, would you give me an extra three pages in the magazine or something? [Laughs] Maybe we can work out a deal.
Well, unfortunately that's not up to me, but obviously I still think you should tell me anyway.
I think my teammates are going to be Hunter Hewitt, Jason Anderson and Martin Davalos. I'll tell you, but I ain't telling anyone else that. [Laughs]
Well don't worry, I'm not going to tell anyone either, except for the Racer X readers. Let's go back to last year. You managed to have a pretty decent season last year, even with the injury. If it weren't for the shoulders, do you think you would have been up there banging bars with Dean Wilson and Justin Barcia?
Yeah. I mean, you go out there to win races, and even with my hurt shoulders I was still banging bars a little bit. It was some close racing last year, regardless of being a little banged up. Everyone is a little banged up sometimes, but I definitely had some shoulder problems with those torn labrums. But yeah, if I can get the starts, I feel like I can run the speed, and if I could just close the gap in some areas I think I'll be right there.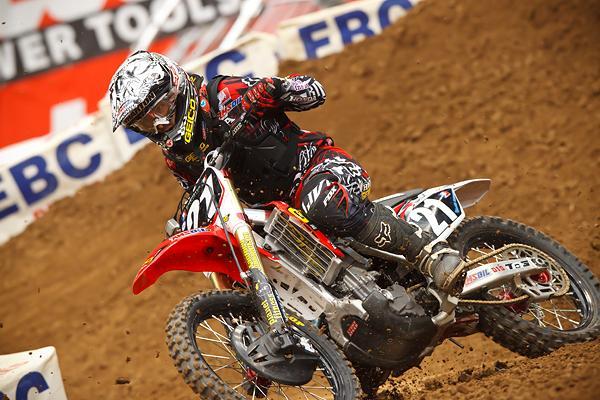 Despite battling shoulder injuries all season, Wharton still managed a top-five overall finish in supercross.
Photo: Simon Cudby
That leads right into our next question. What kind of season are you expecting to have in 2012?
Well, you always expect the best, right? So I'm thinking I'm going to get as many holeshots as I can, and lead as many laps as I can. Last year I was close to winning Atlanta, I had some podiums, and I had some times when I was battling for podium positions even though I had some problems. So I know that I can do well, and I know that I can be a title contender.
Did we miss anything?
I don't think there's anything we missed, unless you want to hear something else, I can make up some stuff if you want. [Laughs] Actually, you know, I've never gotten a professional motocross magazine cover!
I'm below the guys that decide that stuff….
Well, one day you'll be on the top, so I'm just letting you know first!
Well, if I'm ever on top I'll put you on the cover. Who's sponsoring you next year?
The team title is Rockstar Energy Suzuki, One Industries will be doing the gear, and I'll have Dragon goggles.