Well folks, that's it. The curtain closes on another American Motocross year, and what a year it was. We have one rider who swept both the Lucas Oil AMA Pro MX 450 Championship and the Monster Energy AMA Supercross Championship, but it wasn't without some major drama. An incredible indoor and outdoor season, no doubt about it. First though, let's talk about the 12
th
and final outdoor national.
For the second time in history, Pala Raceway was the site of the final national. A track added to the tour just last year, it's mostly flat with a little elevation and really, it's about the best one could hope for when you're in Southern California and have a flat pad to work with. I've been to tracks in Europe that are primarily road-race circuits with a moto track built in—Pala reminds me of those tracks. But I think Pala gets a little rougher and a little gnarlier. The jumps are big (more on that) but I believe the layout needs some work. There are too many switchbacks where the inside line is the only way to go but for a second year track, I think it's pretty good.
Kawasaki's Ryan Villopoto had 14 points over Ryan Dungey going into the last round and it was pretty certain that he just had to go out there, ride around and collect the title (and the $1.5 million or so he'll rake in for said championship). But that's not what he did in the first moto. He and Dungey swapped passes back and forth with a tad bit of animosity and in the end, RV won the first moto to add three more points to his lead. It wasn't something that I thought he would do. This was Bulls-Eye Bar-B-Que bold!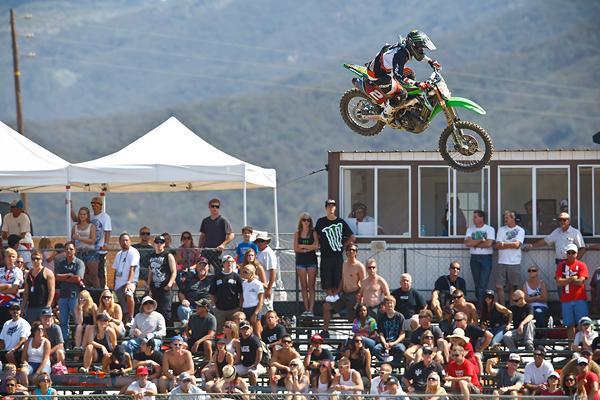 Villopoto en route to his first career 450 outdoor title.
Photo: Simon Cudby
Second moto he followed Dungey around the whole moto. In the end, RV settled for a third and with that, the 2011 450 National Motocross championship also. There have been three riders in Kawasaki's history to win both of the major titles in one year (Jeff Ward in '85, Jeff Emig in '97, and Ricky Carmichael in '01) but none of them did it with as little margin to spare as RV.
From a missed main event in supercross to some mediocre early season rides in the nationals, as well as a nasty crash, Villopoto's dominance was always in question. Whenever you thought he was going to take control, he failed to do so until the very end of each series (Salt Lake City in SX, Steel City in MX). But in the end, no one is going to remember the how, they'll just see his name in the record books.
Ryan Dungey won the overall with a late moto pass on Honda's Justin Barcia, and good for him, he had to get that win.  But one has to wonder where his motivation went once RV snuck by for the win in the first moto last week at Steel City. Ever since then, Dungey didn't put up the same fight for the next two motos and then won the last one, which was relatively meaningless for the title. Still, if you think about the one DNF that Ryan suffered in Texas when he was leading, the whole series could have been different.
He's off to KTM next year and the spotlight will be shining brightly on him and the orange crew, no doubt about that. He's got a big challenge ahead and I'm excited to see how he does.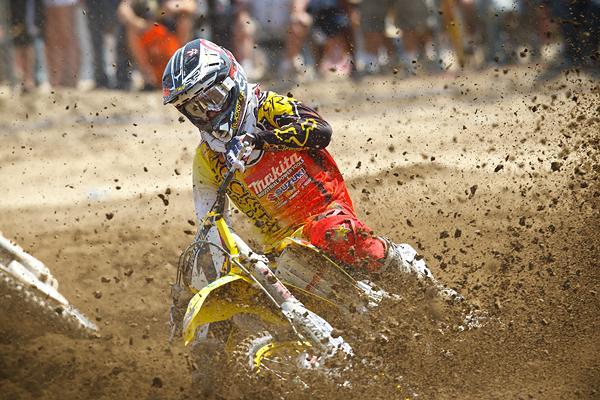 Dungey's overall at Pala wasn't enough to overtake RV in points.
Photo: Simon Cudby
Dean Wilson had nothing to ride for at Pala besides pride. He clinched the 250 MX title last week and so he really had to go out at Pala, ride hard and whatever happened didn't really matter all that much. Except Wilson went 1-1 last year at Pala in a dominating ride and I suppose he was feeling "it" going into the race. And I say all this because he again went 1-1 at Pala in two great rides. He awed the crowd with his leap over a gap and onto the backside of a whoop in the first moto. Wilson and his teammate Blake Baggett went at it in the first moto and in the second, he had to hunt down promising rookie Justin Bogle.
It was cool to see Wilson air out the gap and after the race I talked to him about it. He said it really wasn't that hard but you had to time it right so that you took off on the right whoop to air the gap. I saw Marvin Musquin try it, Kyle Cunningham cased it bad, and the only 450 guy I saw do it in the race was Chad Reed.
Wilson has now gone 1-1-1-1 at the two races at this track, and I suppose if a guy can ever "own" a track, Wilson owns Pala. But in his battle with Baggett in the first moto, he did some things that made Blake pretty upset, and then Blake voiced his anger to Dean right after the finish as well as on TV. This led to a closed door meeting inside the Pro Circuit truck with owner Mitch Payton where, I'm sure, the two guys were reminded that they were solidly in the "all for one, one for all" camp.
Baggett thought Wilson was cross jumping across the faces of the jumps and maybe he was, maybe he wasn't. From my view on the TV show, I didn't really see anything besides Dean setting up for the next turn. The Pala track has many sections where the inside is the favored line and your natural inclination is to drift wide as you get on the gas and then move back to the inside for the next turn.
I spoke to Dean's mom and dad (Andy and Jackie) for a while on Friday and they couldn't give Dean's decision to head to Florida to ride with Reed enough credit for Dean's championship surge. They both thought that getting away from the Southern California rat race--of the same old tracks, and the same old riders--to the open fields of Florida, hanging out and having fun afterwards as well as eating roost from Reed's CRF450 was greatly beneficial to Dean. I'd have to agree!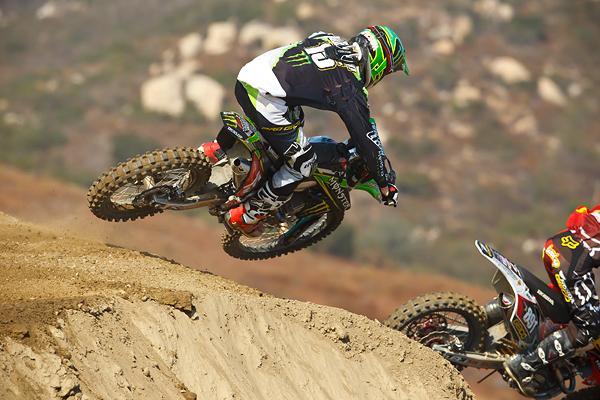 With the championship already in the bag, Wilson still went 1-1 at Pala.
Photo: Simon Cudby
Justin Barcia didn't have the Steel City race that he wanted but he rebounded nicely at Pala. Barcia led the most laps on the day (16) and ended up third overall. His addition to the 450 class was a brilliant move by the GEICO and Honda teams, he proved to be better than anyone outside of Pingree and Weigandt thought he would be. Barcia's going back to the 250 class next year to defend his number one plate and like I wrote last week, it's going to be tough for him to stay motivated and focused when he knows without a doubt, he can go the front runners speed in the big class.
Chad Reed grabbed the second moto lead from Justin Brayton and I thought Reed was going to end his miserable second half with a win. After all, the two Ryans were having their own little battle and Reed had to have been motivated to end the season right. But in the end, Reed went down and handed the lead over to Barcia. It wasn't the way that the two-two wanted to go out but life isn't always roses and teacups. Still, even though his post-Millville crash results stunk, Reed's still a winner in my eyes for coming back and for half a season at least, looking like he had plenty in the tank. And still, in the end, Reed tied with Dungey for most races won (4) in the series.
What's he going to do next year? I'm not exactly sure but in this interview, he drops a few hints. I think we'll see him back on a Honda with a second rider (wrenched by Mike Gosselaar) and maybe with Rockstar Energy drink as a sponsor. Or maybe an outside the industry sponsor that likes to help you on "do it yourself jobs." But eh, what do I know?
With Baggett and Wilson getting into it after the finish in the 250's, I suppose it was fitting that we needed to have a 450 dustup as well. Nico Izzi (riding for the Valli team in the 450 class) brake-checked Jake Weimer in the first moto while they were dueling which caused Weimer to get all up in Izzi's grill after the race. Of course, who can forget the Nico Izzi/Broc Tickle brawls taking place at a Southern California practice track near you? I guess it's the end of the season, nerves are on edge, and people get tired of each other. Add it all up with a light dusting of off track drama and this is what you get.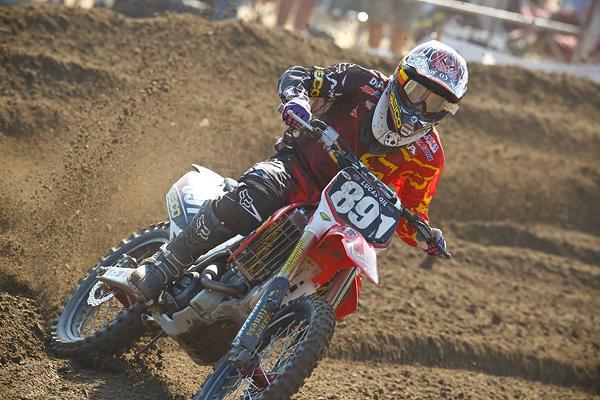 Bogle continues to impress during his short time in the pro ranks.
Photo: Simon Cudby
Maybe we could sell some tickets at the Monster Energy Cup for a "three men enter-one leaves" cage match main event starring Weimer, Izzi and Tickle. All sorts of brawling going on there and maybe even a steel chair or two will be involved.
Justin Bogle came out of the amateurs and right into Unadilla. He rode pretty well there but definitely got tired around the 20-minute mark. He's been a bit up and down after that (he was sick the week before Steel City) but this weekend at Pala, he was on it. In the second moto he led for a long, long time before Wilson got him. He, like so many other top amateur kids, looks to be the real deal. I don't know him at all but he also seems to be a cool kid. After all his Twitter handle is @Captain891 and that's funny in itself. Sort of like THIS Captain I suppose.
Funny what some confidence can do to you, huh Marvin Musquin? We all thought that Steel City was a good track for Movin' Marvin because of the throttle control and technique needed there, but how do you explain another podium at Pala? You explain it by saying the guy is fast. Stop the presses, the search party for the real Marvin Musquin can now be called off.
Let's take a looksee at the results shall we?
250 Overall
1. Dean Wilson (1-1) Kaw
2. Blake Baggett (2-3) Kaw
3. Marvin Musquin (4-4) KTM
4. Tyla Rattray (3-5) Kaw- Rattray looks to be staying with Pro Circuit next year but the question is, does he ride a 450 outdoors?
5. Justin Bogle (10-2) Hon
6. Gareth Swanepoel (5-7) Yam- Another solid ride by the South African and he ended the series as a legit leader of that second pack of riders (otherwise known as the gang that does not ride for Pro Circuit).
7. Kyle Cunningham (6-8) Yam- Since a crash, KC hasn't been as good as he was earlier, but he still had a great motocross series. Fifth in the points isn't where anyone would have put him except for his parents.
8. Jason Anderson (8-9) Suz- The decision to bench Anderson for a few races was a smart one. He's been better since his sabbatical.
9. Eli Tomac (7-11) Hon
10. Alex Martin (14-10) Hon- Alex Martin, everyone's favorite little Ewok, really came on strong in the second half of the season and secured eighth (!) in the series points. If I had told you Alex Martin was going to finish that high in the points at Hangtown, you would've called the cops on me. Great job for A-Mart. Yes I just went there.
11. Broc Tickle (19-6) Kaw
12. Cole Seely (11-14) Hon- A pretty good day for Seely and I hope he rewarded himself with some Chipotle on the way home.
13. Nick Paluzzi (13-13) Suz- Paluzzi was consistent at Pala, you can say that about him.
14. Martin Davalos (9-17) Suz
15. Darryn Durham (16-12) Hon- DDT slumped a bit in the second half but he'll be okay. Durham is dripping, nay, soaked, with talent.
16. Malcolm Stewart (15-16) Suz
17. Ryan Morais (12-38) Suz- Mo' crashed hard in the second moto and that's a shame because he had some good speed on this day.
18. Jimmy DeCotis (23-15) Hon
19. Gannon Audette (18-19) Yam
20. Ryan Sipes (17-21) Yam- Sipes is probably just pumped that his outdoor season is over, it wasn't pretty, that's for sure. He'll rebound in 2012.

Another top-ten for A-Mart.
Photo: Simon Cudby
450 Overall
1. Ryan Dungey (2-1) Suz
2. Ryan Villopoto (1-3) Kaw
3. Justin Barcia (3-2) Hon
4. Brett Metcalfe (5-5) Suz- Another solid ride for Metty and he would have had 4th in the first moto had he not stalled it late in the race and allowed Alessi to get by.
5. Mike Alessi (4-7) KTM- Solid ride for Mike in his good-bye to KTM (he's yet to find a home for 2012) as he led three laps in the first moto.
6. Kyle Regal (6-8) Suz- Great ride for Regal on the BTOSports.com BBMX Suzuki. What's he doing next year? I'm not sure.
7. Chad Reed (12-4) Hon
8. Justin Brayton (9-6) Yam- Brayton's farewell ride for JGR Yamaha was decent and he got better outdoors as it went on after missing the first few with injury.
9. Jake Weimer (10-12) Kaw
10. Les Smith (14-9) Yam- Another top ten for Les and another year of working the phones trying to find a ride. Maybe in 2012, he can stay on one bike the whole year!
11. Jimmy Alberston (13-10) Yam- Top Jimmy's back out on the streets looking for a ride next year and that's a real shame. He's a solid top ten guy and can ride supercross. Sign him up!
12. Jarred Browne (15-13) Yam- Browne's been back for a couple of races from an injury suffered earlier in the year. Pala is a solid result for him.
13. Nico Izzi (7-35) Yam
14. Colton Facciotti (8-39) Hon- When Facciotti was in 2nd early in the first moto, I got a bunch of texts and Tweets from people wondering if I was okay. Hey, I think Colton's rides down here prove that he's more than ready for a ride in the USA next year.
15. Jake Canada (11-20) Yam- Strong rides for Canada filling in over at the Motoconcepts Yamaha team this whole summer.
16. Tye Simmonds (34-11) KTM
17. Austin Howell (31-14) Yam
18. Fredrik Noren (17-18) Hon- Noren is going to the MXdN this weekend to ride for Team Sweden.
19. Mike Brown (36-15) KTM- The old man in the class showed up and did alright, now sure what happened first moto.
20. Nick Wey (22-16) Yam- Wey needed ten points to leap over Davi Millsaps and get into a season ending tenth in the points but he wasn't able to do it. That's like, a bummer bro.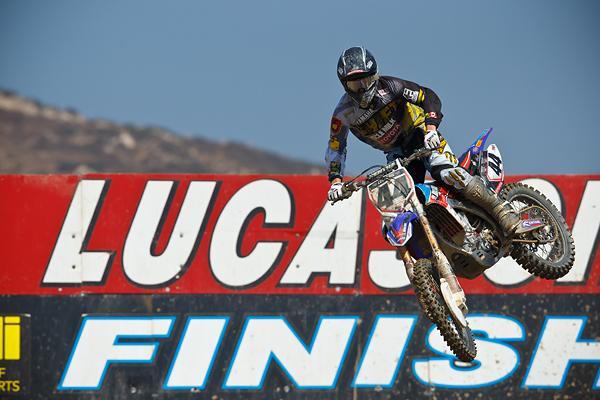 Les Smith finished the season on a strong note with a top-ten at Pala.
Photo: Simon Cudby
Classy move by Dungey to come on over to the tacos and beer party that RV had going on after the race to hang for a bit, hand over the plate and yuk it up with everyone. What wasn't cool was Ryan getting hammered, knocking over the taco platter and yelling, "I'll be back next year bitches!"
I might have made that last sentence up.
Always good to see Trey Canard at the races and indeed, the ginger warrior was there hanging out. His recovery is going along swell and he'll be ready to hang it out in supercross 2012.
And that's a wrap! The 2011 supercross/motocross season is over and what a season it was. We had everything you could ever want from a series and I've enjoyed giving you guys my perspective on the races. I'll do a column from this weekend's MXdN as well as the Monster Energy Cup and then it's recharge the batteries time. Thanks to BTOSports.com as well and see you guys soon. Write me an email at matthes@racerxonline.com if you want to tell me anything.