Sam Boyd Stadium
Las Vegas

,

NV
Monster Energy Cup
Monster Energy Cup
The Greatest of All-Time continues his quest to conquer a new sport—NASCAR—but all the while he will always have the best interests of his old sport in mind. His latest project for the supercross/motocross contingent includes contributing to the Monster Energy Cup, coming up in Las Vegas on October 15th. RC is helping design the track, announcing in the TV booth as part of SPEED's live coverage, and is even going to host two lucky people that weekend at both the NASCAR Camping World Truck Series race in Vegas and then the Monster Energy Cup later that night.
Go to www.MonsterEnergyCup.com for details on entering to win a weekend with RC. Or just read on to see how Ricky is doing with his new career, and how he expects the Monster Energy Cup to turn out.
Racer X: Congrats on the pole in the truck series over the weekend in Atlanta. Up until then it seemed like anything bad that could happen, has happened.
Ricky Carmichael: Absolutely. We've had a disastrous year, to say the least, and that was disappointing because last year we had a good series considering my lack of seat time and lack of overall time in the sport. We changed some things on the truck in the off season with testing, and this year all of the tracks where I felt good, it wasn't working. So a few weeks ago we went back to what we were doing last year, and it seems like we're turning the tide. So it was good to get a pole for the team, and especially to do it in Atlanta. That was always such a great place for me on two wheels, and even now on four, I get a good feeling around here. We had a pretty good race overall, we probably had our worst day of the year on pit road, but the truck was good.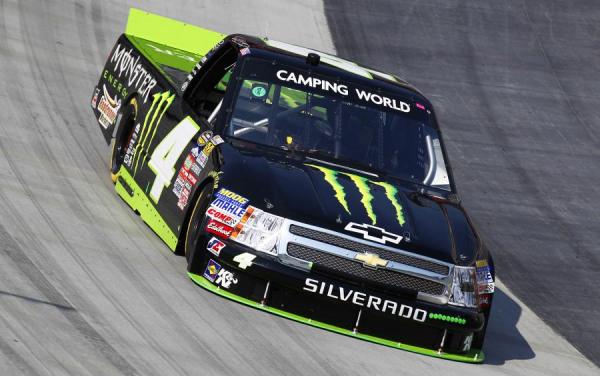 RC took his first career pole in Atlanta last weekend.
Photo: CIA Stock Photography
That was the big fear everyone had when we heard you were going car racing. You're not going to have perfect seasons there, and you're used to perfect seasons. At any point during your struggles this year did you think this may not work out at all? Or did you know once you fixed up the truck you'd be fine?
That's been the biggest thing. In motocross, when you're good, you're always good. Here, it's not like that. I've had to learn patience. We got the pole in Atlanta, and when we go to Chicago in a few weeks, I'm hoping it happens again, but you just never know. You have to know that if you have a tenth place truck, you need to get no worse than tenth. And if you have a fifth place truck, a tenth is disappointing. That's the ins and outs of it.
So we have a cool tie in here with you, you're racing your truck in Las Vegas on the same weekend as the Monster Energy Cup, and someone and a guest are going to win a chance to hang out with you at both.
Yeah, this is a pretty good opportunity. We're going to be running the Monster Energy Cup logos on the truck for a couple of races, and one lucky winner and a guest are going to come hang out with me for the day at the truck race in Las Vegas. They get to watch the pit stops and stuff like that, and then they get to head over to Sam Boyd with me and watch someone try to win a million dollars at the Monster Energy Cup.
And that's www.MonsterEnergyCup.com to get info on that. So talk about this track. I know you had a hand in designing it, and it's not going to be a typical supercross track.
Yeah with myself and McGrath having some say in it, it's going to be a hybrid supercross track. It's going to have some big jumps even outside the stadium, something where the fans can get up close and see. And once they race back inside the building, it's going to be a really unique design that I don't think any of the fans have ever seen before. We really want to provide real multi-groove racing, without anything being one lined. It should be really fun for the fans and TV. That's the goal.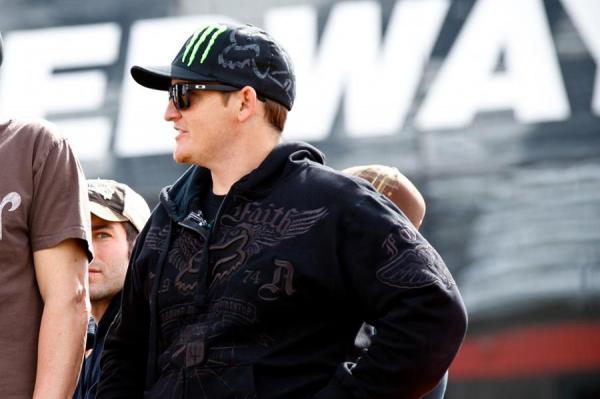 RC had a hand in designing the Monster Energy Cup supercross track.
Photo: Simon Cudby
So this will look nothing like the track at Sam Boyd we see in May for the Supercross final?
No, not at all. It's going to be totally different than any other supercross track. Plus, you have a totally different format with three main events. I'm really looking forward to watching it, it's something I've never seen before.
Yeah the format features three 10-lap races instead of a 20-lap main event. How will that change things?
I think it's going to be exceptionally good. A lot of the main events this year were good, but if you look at it, this year, the heat races were even good, and they don't even have all the main players in them. So think of it like three heat races that are totally stacked with all the main players. Everyone can go fast for 10 laps, and then you get a break and do another 10 laps. I think it's anyone's game. And if you win all three, you get a million dollars. And if someone wins those first two, and they are going for a million in the third one, well, I think winning three is going to be really hard, especially with all the depth and parity we have this year. I know this much: if someone beat me in two segments and they were in front of me in the last segment, and I had a chance to put them in the cheap seats, they're going for a ride, I guarantee. If I can't win the million bucks, I'd make sure no one else can!
[Laughs] What's cool is, because you only have one class, you're throwing guys like Barcia and Wilson in there on 450s, and lately it seems as soon as someone jumps up, they're right in there. Especially in 10-lap races, I would think. So who knows what's going to happen?
Yeah, you don't know what's going to happen. And, we've really designed the course to work for 250Fs and 450s. You know how hard packed Vegas can get, and that can work for 250s. I think they will have as good of a chance to win as a 450, and then with some of those Lites guys who are going ride 450s, it should play out well.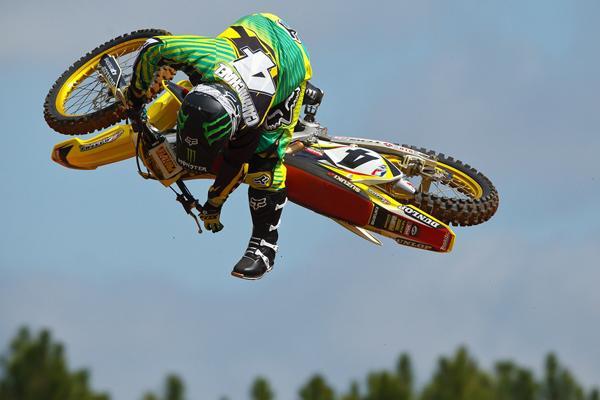 "I think this Monster Energy Cup couldn't come at a better year considering how much competition we had this year." - RC
Photo: Simon Cudby
How much does this serve as a preview of 2012, just from the mind-games perspective. I know it's a different track, but it would seem impossible not to read something into the results here.
I do think some of these guys will get to ride their new bikes and this and that, but I think it will have a totally different feel than a regular supercross race. I think of it as more of a big finish to a great year rather than a preview of next year. You still have a full off-season ahead of you.
Well, that's fine, because this was an awesome year.
Yeah and it has been fantastic. I think this Monster Energy Cup couldn't come at a better year considering how much competition we had this year. For some of the hardcore motocross and supercross fans that don't watch NASCAR, you may not realize this, but I can't tell you what the big NASCAR all-star race does for that sport. It's a segment race for a million bucks. That race, alone, did a lot for the growth of NASCAR. I think this Monster Energy Cup, that big purse is going to open up a lot of doors for this sport. That much money will draw a lot of attention from people who don't normally pay attention.
And since you guys are racing the same weekend, it's a good chance for someone to go to Vegas and try out a few different races all at once.
Absolutely.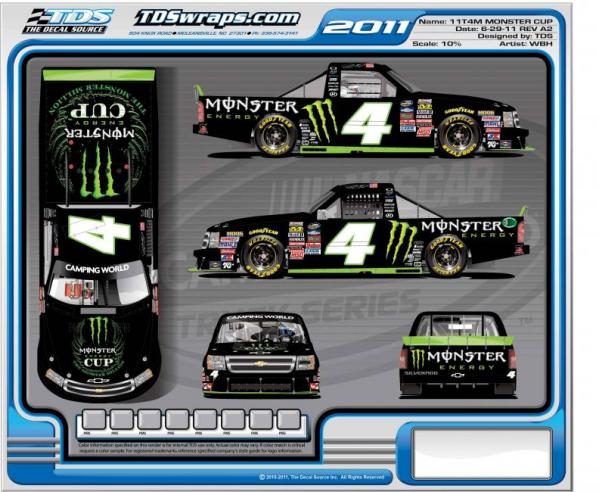 RC will be rocking the Monster Energy Cup logo the weekend of the race.
By: Turner Motorsports
Hey while we have you, I have to ask you about this summer's motocross battle. Supercross was unreal and this is good, too.
Yeah it has been phenomenal. It has been great for the sport in general, because this supercross season was so fantastic and so competitive, there was so much hype. It was epic! So for it to continue and for outdoors to be that strong and competitive, it was what the sport of motocross needed. We know how hard it is for some of these riders to want to race outdoors, so this has come at a perfect time, it has been very exciting. You just don't know who is going to win every week. One week it's Chad Reed, the next week it's Dungey, the next week it's Villopoto. Really fun to watch that.
I hear you're racing a Nationwide car this weekend?
Yeah we're racing at Richmond, and I'm excited because I've been to just about every track except this one and the road course at Infinion in California. So I get to check off another box.
And then finally in October you get to watch a dirt bike race again?
Yeah I'm so excited for this race. I'll have the logo on my truck and I hope maybe that can get a few more people to come on out and check out a supercross. I can't wait!