In last week's Bench Racing Ammo, we covered the fact that no team, ever, has swept all 12 rounds of the 125 (now 250) class in the Lucas Oil AMA Pro Motocross Championship.
Monster Energy Pro Circuit Kawasaki stands on the precipice of such a feat. The team has already wrapped up first, second, and third in the championship, something that has only been done once before. And that only happened when Honda swept the points in 1974, which was the first year for the class in AMA National competition. Most of the manufacturers didn't field teams in that first season of the championship.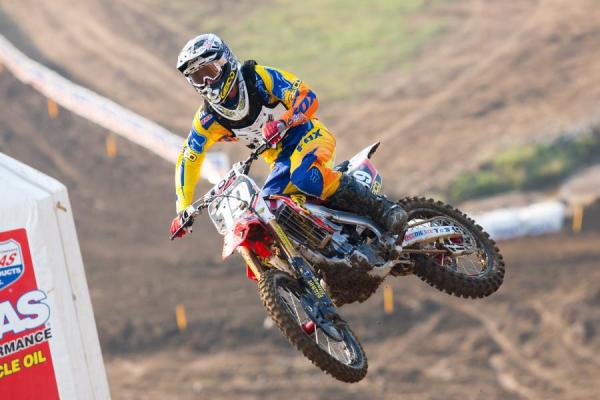 Tomac challenged Wilson for the overall at Steel City, can he seal the deal at Pala.
Photo: Andrew Fredrickson
So, if any other brand wants to find some solace in the summer, they'll have to get a win this weekend. DNA Shred Stix Star Racing Yamaha can at least claim a moto win courtesy of Gareth Swanepoel at Southwick, but two other riders who were expected to be winning races all season long seem to be surging just in time for the finale.
GEICO Honda's Eli Tomac was expected to have several wins by now, but his career total still stands at one--dating back to Hangtown 2010. After a rough summer of 2011, he's found his groove after making some bike changes, and showed the speed to run with new champion Dean Wilson at both Unadilla and Steel City.
"Obviously we want to get a win, but they've been on their game all year," explains Tomac. "It kind of sucks that I'm just now getting on my game. Before Unadilla we made the bike a lot better, and it seemed to give me a lot of confidence."
As for Musquin, he was about to take the lead at Freestone when Justin Barcia crashed on the first lap. But Barcia's bike ended up flying right into the Frenchman and ended his day right there. At Washougal, he returned from the broken thumb incurred in that crash, but it wasn't until Steel City that he showed his true speed with a third overall.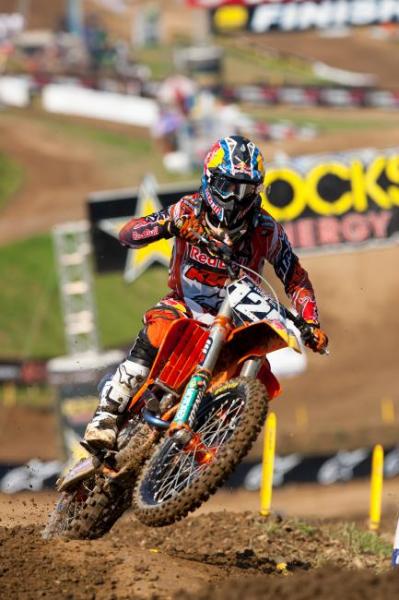 Musquin is finally getting back to form after some early season injuries.
Photo: Andrew Fredrickson
"I feel like I am getting better and getting stronger," explained the Frenchman. "I just need a holeshot!"
It's a little late for either to reach the heights they were expected to this season, but it's not too late to salvage something by preventing something from happening for someone else: preventing Pro Circuit from winning every race this year.