The Wick 338
Southwick

,

MA
Moto-X 338
Lucas Oil AMA Pro Motocross Championship
We always knew Southwick was extreme. But what I didn't realize was how it also favors the extremes. If you're a man of philosophy, you'd say this track giveth and it taketh away. If you're a man of science, you'd say for each action, there is an equal an opposite reaction. This track never picks the middle ground. It produces the highest of highs and the lowest of lows. It breaks bikes, breaks hearts and builds legends. It's Southwick, not Middle-of-the-Roadwick, that's for sure.
For example, the riders who did well here this year were from very close or very far away. It was New England heroes and international stars, without much left for anyone in between. The internationals swept the 250 ranks with two South Africans (Tyla Rattray and Gareth Swanepoel) and Scottish lad Dean Wilson. An Australian (Brett Metcalfe) won the 450 Class. Wilson admits he's not a sand specialist, so his podium is simply a byproduct of his usual consistency regardless of the terrain. But Rattray, Metcalfe, and Swanepoel will readily admit this is their best track of the year, and they'll trot out the, "I grew up on sand" mantra as proof. Growing up in Australia or South Africa makes you feel at home in Massachusetts!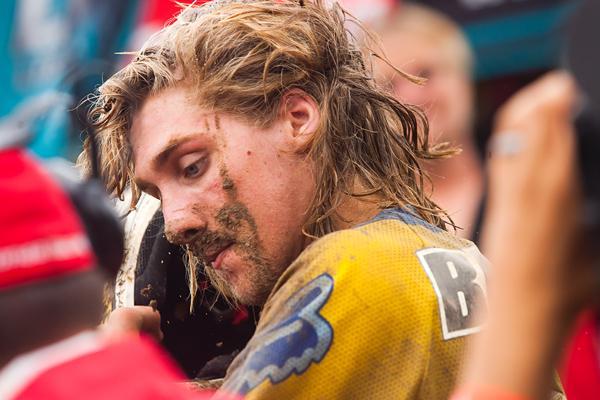 Barica likes Southwick, and proved it with a moto two win.
Photo: Andrew Fredrickson
And of course the guys who actually are at home feel at home here. And I get paid to write amazing stuff like this? Justin Barcia was raised in New York (but born in New Jersey, and don't you forget that) and has been cutting laps on this track since his 65cc days. This is his best track on the twelve-race Lucas Oil AMA Pro Motocross Championship, and it showed. We may be experiencing a valley after the late-1990s peak of the New England motocross glory days—when John Dowd and Doug Henry could win a national anywhere and were locks for wins at Southwick—other local fast guys still step up. And that group still includes Dowd, 46 years old but still able to get results through absolute relentlessness. Dowd is not going to blow people away with speed, but he just keeps grinding. Throw in some terrible weather and he's only going to do better. His ride was unreal.
And at one point during that crazy second moto, Dowd wasn't the only local in the hunt. Massachusetts boys Jacob Morrison and Robbie Marshall were also in the top-ten with Dowd, making for a bizarre three-rider freight train that probably looked like any of the other 137 rounds of NESC motocross during the year. From what I hear, Morrison and Marshall are not exactly best buds, so that was a real race within the race there. Morrison and Marshall eventually crashed out, I think, but the speed was impressive—same for Mike Sotille, the fastest qualifier.
But here is how this track plays to the extremes: The legends are there—Marshall and Morrison running up front this year, or the old days of Pat Bahhhhton or Scott Carter or JoJo Keller, Tony Larusso, whoever. This is a track where a local dude can come off the couch or a 9-to-5 job and lead the best in the world. But it's also the most physically demanding track on the circuit. When you're asking a local to win, you're asking him to run the pace for 30 plus 2 on the roughest track of the year, and the guy probably doesn't even do 30-minute motos at any other time!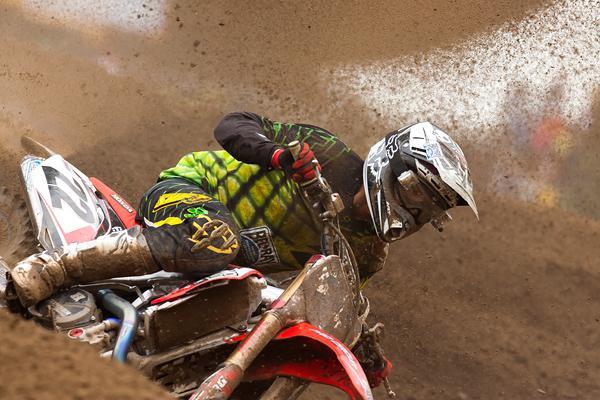 Southwick was not kind to Reed, who finished with two DNF's.
Photo: Andrew Fredrickson
The weather here goes two ways. Really hot and humid, or really wet and muddy. There are times when European riders come here to flex their sand-riding muscles and end up fried in the heat. There are other times when it rains really hard. Southwick doesn't get the rep of a mudder like High Point does, because the sand absorbs the wet and makes it seem better than it is. But I'm sure when you're getting stung in the eyes by wet sand, well, things actually look worse than they really are.
And how about the bikes? Is it just me or is the reliability getting worse here? Back in the day, it seemed like everyone rode Southwick hard, and occasionally someone blew up. Nowadays blowups are common, and the riders are actually starting to be careful with their bikes. Metcalfe explained how he tried to stay away from the clutch, because he knew that slipping it makes things hotter. Maybe it cost him some speed, but I'm sure he was happy with his decision when Barcia, who passed him while going crazy early in the first moto, didn't even finish that moto. Metcalfe's jubilation was linked to everyone else's devastation—something he was on the opposite end of last year.
And then we have the most extreme of the extremes. Metcalfe lucked out of a win last year, but this year took advantage of everyone else's bad luck to win. He rode smart, he managed the day, and he knew exactly what he needed to do. On paper, it looks like an amazing day for Suzuki, with a first and a third. But in reality, it must have felt like one of their worst days ever, with the team scrambling to get Dungey's bike going. And for Dungey, it was good for one moto and bad in another. Points wise, his result was a heartbreaker, because he literally pulled away from Barcia in moto two, proving he had the stuff to go 1-1. But yet, if he wins this title, his ride will be remembered forever as a legend.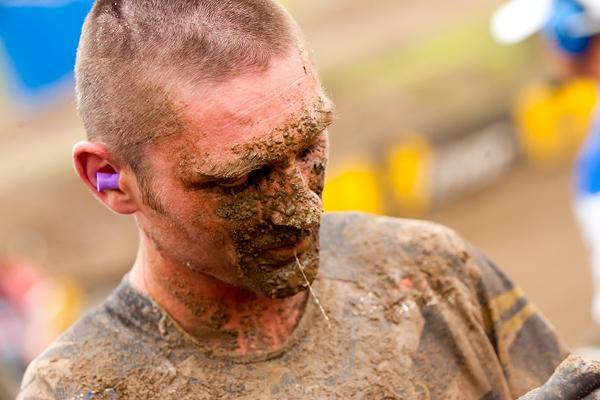 Metcalfe got his redemption at Southwick.
Photo: Andrew Fredrickson
He's not the only one with ups and downs to the day. Barcia had a bad and a good. Justin Bogle came from way back to 18th, but then nearly scored a podium in moto two. His teammate Eli Tomac told me he was feeling confident after riding in some sand dunes in New Mexico leading into the race. He had worked on his starts with Jeremy McGrath, and logged the fastest time in qualifying. It looked like things were going to turn around for Tomac, but instead, he got probably his worst starts of the year (worse than the terrible ones he's had so far) and had a really bad day.
The worst was reserved for Chad Reed, though. Yeah, his last few races have only been so-so. It looked like it was going to be another one of those days this time. But Southwick wouldn't let it end with nearly an middle of the road result. It ended both of his motos early, and removed him from championship contention as well.