Southwick, MA
Moto-X 338
Lucas Oil AMA Pro Motocross Championship
The sands of Southwick provided the backdrop for round ten of the 2011 Lucas Oil AMA National Motocross series and what a backdrop it was. With some help from Hurricane Irene (as well as a separate storm that came in early), the entire day featured rain on and off, as well as harsh wind. Truly a tough day for the riders, teams and even fans to endure. As well, the temperature of the coffee in the media tent wasn't exactly the right temperature, which just goes to show you how very tough it is to cover these races.
Here's the part where I annually complain about the Southwick track changing direction. I still don't like it, never have and maybe, never will. I'm just not sure why they had to go and do it. It doesn't seem to flow like it used to and the left-handed start is just not the same. Mostly because it's not right-handed, I suppose. I mean, c'mon, the "Buckley Berm" is now in a different direction! What's next, we swap wheels on the bikes?

Rattray had a good day at Southwick, taking the overall in the 250 Class.
Photo: Andrew Fredrickson
So anyways, it was a nightmare of a day for a few teams and riders (we'll get to that later) but at the same time, a monumental day for some others. All in all, it didn't clear too much up in the 450 MX title chase, that's for sure.
Man, I just don't know whether to lead off Observations with the winner of the class or the guy that put on the most impressive showing. Let me flip a coin here.
(Waiting)
Ok it came up heads, which means it's time to talk about Rockstar Makita Suzuki's Brett Metcalfe and his win at the 'Wick. The Australian, as we can all remember, snatched defeat from the jaws of victory last year when he ran out of gas on the last lap of the first 450 moto. It was a heartbreaker made worse by the fact that Metty had never won a race since coming to America in 2003.
Well this past Saturday, I'm not sure if he was the fastest rider at the track like he was last year, but nevertheless Metcalfe rode solid to 3-2 moto scores and it was enough to get him the overall. In the second moto he had to catch and pass series points leader Ryan Villopoto, in what became a battle for the win, and that's exactly what the #24 did. He earned full stripes for this victory. I don't think this year has gone exactly according to plan for the friendly Aussie (missed about half of SX with an injury, and now outdoors he's off the pace of the top three) but with this win--his first ever over here--Brett's got himself a nice little footnote in the AMA history books.
And I don't think there's anyone who can't say they are happy that Brett won the race (maybe, RV and Ryan Dungey) because he's been over here for a while, he's been a friendly guy, works hard and basically has time for anyone in the pits. It's a feel good win on this cold, rainy day in the sand. And the fact that his dad Steve was here to watch it (his first race in three years) makes it all the more awesome for everyone involved.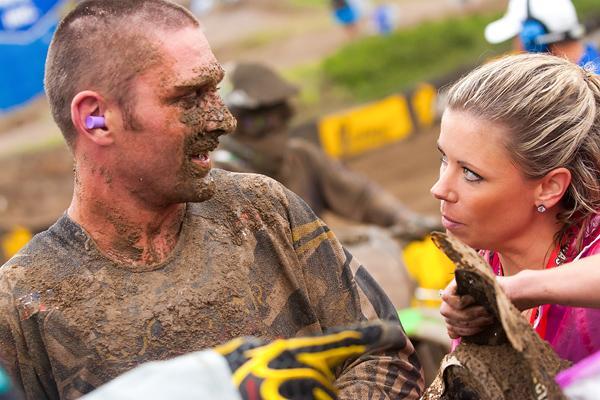 A career day for Metcalfe at the 'Wick.
Photo: Andrew Fredrickson
So congrats to the Suzuki team. Their Southwick encapsulated everything that ABC was telling us about in "Wide World of Sports." You know, that whole "thrill of victory, agony of defeat" stuff. The thrill of victory was Metcalfe's overall win and Ryan Dungey's first moto win. The agony of defeat was having Dungey's RMZ450 not be able to fire in time for the second moto gate drop. It was an electrical problem as the guys changed out the stator as well as everything else electronic. The bike briefly fired and then died again. That was it, back to square one for the boys, so they went back to work.
Meanwhile down at the gate, Dungey stood there with no bike and was heading back up the hill to surely say goodbye to the championship. Then, like Rocky getting off the canvas in Rocky II (On that note, I was talking to my buddy Scotty this week and he mentioned that Rocky beating Apollo in the first Rocky was a great moment in his life. I had to correct him and remind him that in the first Rocky, the fight was a actually a split decision in favor of Apollo Creed. People forget that little part and it wasn't until Rocky II that the Rock just beat the bell to win by KO. Anyways, this is a gift and a curse) the RMZ450 was up and running. Goose delivered it to the starting line (where the rest of the field had almost completed a lap. And had they completed that lap, Dungey would have been DQ'd) Ryan hopped on it about 15-20 seconds ahead of leader Justin Barcia and proceeded to have one of those AT rides. As in, All-Time.
Dungey's ride was amazing as he fought his way through the pack and picked off riders one-by-one. He made it all the way up to 7th by the end. With four laps to go, he was 12th and he ended up getting five riders in the last four laps. An incredible ride by the defending champion and with everything that happened, he only lost one point to Villopoto in the championship.
Man it just seems to be one of those years for Dungey, Suzuki, and mechanic Mike Gosselaar (who I'm sure is wondering what the heck is going on after his bikes suffered zero failures for the past 42 years and now this year, he's got 3.5 DNF's on his hands) as they seem to be cursed with some bad luck. There was the chain at Anaheim, the motor at Daytona, the fuel issue at Texas and now this. I refuse to blame Gosselaar for these issues, his track record is too good. Mike Webb, the team manager, is no rookie at this racing stuff and I don't think anything can be traced to him. It's the Moto Gods that I speak of each week, they have it out for Suzuki/Dungey and although it's no ones fault, I can guarantee you its one of the reasons Ryan is leaving Suzuki at the end of the year in what surely must be one of the worst kept secrets in the sport.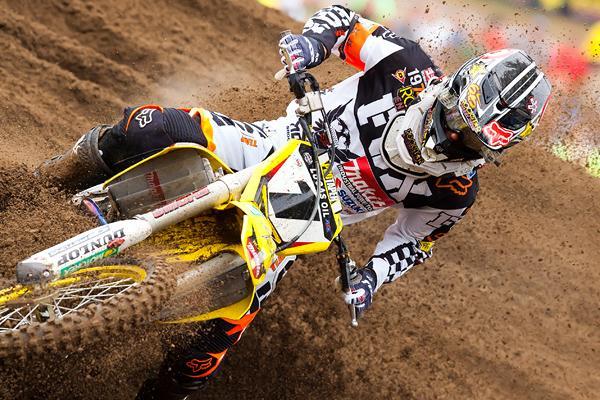 Will Dungey be riding for KTM next year?
Photo: Andrew Fredrickson
But definitely the team he's going to (KTM) hasn't exactly been a shining beacon of mechanical excellence this year. The orange team has had to push a few of its bikes off the track this year and I'm not coming down on those guys, either. As a former mechanic, I know all too well all the things that are moving around on a motorcycle and how taxed the parts are at the end of a national. My opinion is that, well, poop happens and it's happening to Suzuki right now. If Dungey and his people think that life over at KTM is going to be wine and roses, well, I'd beg to differ.
Man this Justin Barcia kid is for real huh? The 19-year old, who really does remind me of what Damon Bradshaw would have been like back in the day, won the second moto by leading every single lap and taking it pretty easily. And in the first moto, Bam Bam was in a solid third when his Honda CRF450 blew up about halfway through. I know playing the "What-If" game is not always journalistically prudent, but Barcia would have had the overall if his bike hadn't broke. Wow!
Who knew that Barcia would adjust to the bigger bike and tougher class the way he has? (Schnike, his GEICO mechanic, put your hand down.) Somehow, when you give the kid more power, he becomes smoother. The whole Spiderman theory applies here I suppose (with great power comes great responsibility) and it's working out for Justin. It's also going to be hard for Barcia to hand back that works CRF450 at the end of the year, no doubt about it. The challenge for 2012 is to make sure it doesn't feel like a prison sentence to be back in the 250 Class, go out there, kick ass, defend your SX title and have fun. He'll be in the big truck in 2013.
That sound you hear is the final nail being driven into the coffin signifying Chad Reed's championship hopes being kaput. A double DNF on the day is what it took to end this magical run of the TwoTwo's. Reed truthfully hasn't been the same since his Millville flight of a while back. Whatever edge he had, he lost it up there in the air and hasn't been able to get it back. I thought he'd come out swinging at the 'Wick, a place he likes so very much but even when he went out with a DNF, he was in fifth and not really moving forward very much. In the second moto, a first turn crash and then more mechanicals ended it. He's still won the most races this season in the outdoor series and seemed like he was destined to rewrite the history books but that's all gone now.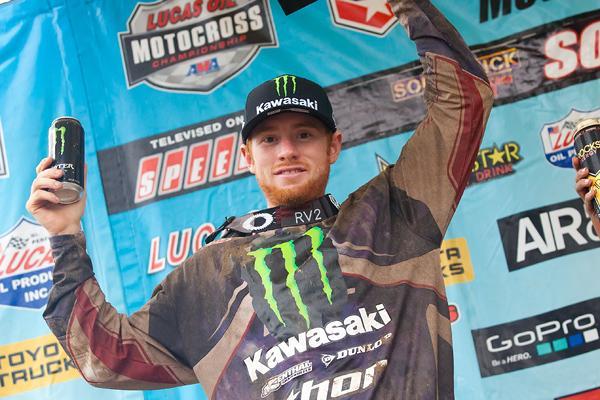 RV holds a eight point lead over Dungey heading into Steel City.
Photo: Andrew Fredrickson
And yes, factory Honda blew up three motors. Or I should say, two for sure. Reed pulled into the mechanics area in the second moto with a motor that was ready to go south and called it early apparently because he didn't feel like pushing it back to the pits. Honda hasn't had this kind of shame on them since last year when Andrew Short couldn't make a moto at Texas because his bike wouldn't fire. The guys at Honda are good guys and it's not a fun feeling to sit there in the Monday morning meetings explaining what went wrong and where. Reed told me that the motor was detonating pretty bad on or around the third lap so if I had to make a guess, I'd bet that the compression and heat the motor was generating just helped it eventually eat itself.
Tyla Rattray had won races before at Southwick so the fact that he won this weekend wasn't a huge surprise, after all he's won motos and races at just about every track out there. He's obviously comfortable in the sand and hauls butt in it. The surprise to me was seeing Rattray's fellow countryman and Star Racing Yamaha rider Gareth Swaneopol winning the first moto over Tyla. Clearly it's a South African thing to ride well in the sand. Swanepoel, like we've talked about in our Racer X Podcast shows, might be the guy highest up in the points who doesn't get much play in the media.
He's had flashes here and there of some top-five speed but generally he's right beneath that top-five group which is nothing to be ashamed about. Great ride for Gareth and on the day he was third OA.
Rattray on the other hand has to be bummed about his Unadilla crash-out day because otherwise he'd be right there with his teammate Dean Wilson for the points lead. As it is, Wilson can clinch it this weekend at Steel City with some help from Rattray.
Blake Baggett has definitely been off his usual stellar pace the last two races. He hasn't gotten the starts but then again, he wasn't usually getting the starts and that didn't stop him from raging through the pack to the front. I'm not sure what's changed or what's going on with the BB Gun but maybe he's just not a sand master. Not everyone is right? Maybe next year it's going to be Blake who's ringing Chad Reed's doorbell for a stay at the Florida compound.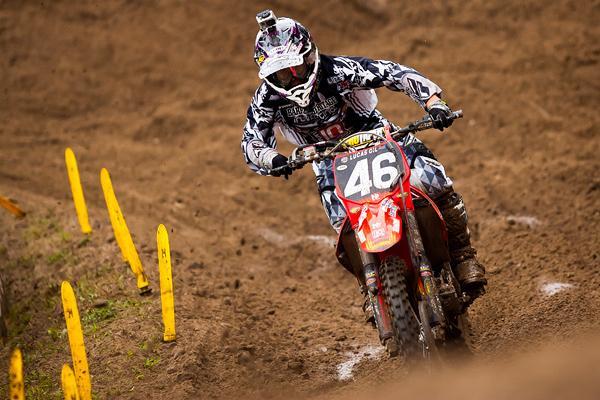 Alex Martin had a career day at Southwick.
Photo: Andrew Fredrickson
Early on in the season it was Eleven 10Mods Darryn Durham getting the love and attention from the fans and media and rightfully so, "DDT" was pouring it on and doing very well. But lately, Durham hasn't been at the front as much as he was and his teammate Alex Martin has been stepping it up with some great rides including this weekend, leading the second moto for three laps and finishing third. A career best fourth OA for the "Ewok Warrior" Alex Martin is cool for him and what do you know, he passed Durham in the points even. Watch out world, Chad Sanner's band of Eleven 10 moto warriors are coming to a track near you!
250 Overall
1. Tyla Rattray (2-1) Kaw
2. Dean Wilson (3-2) Kaw- Dean's poised to be Canada's first ever national champion!! Oh wait, never mind. I'm now going to light myself on fire.
3. Gareth Swanepoel (1-5) Yam- I don't know if Gareth's done enough to get re-hired by the Star team but he'll get something good with the season he's had.
4. Alex Martin (10-3) Hon
5. Blake Baggett (9-6) Kaw
6. Marvin Musquin (7-8) KTM- Still waiting for this Musquin take-over. I wrote a story on RXI.com that it was coming. I believe it, I really do.
7. Broc Tickle (5-12) Kaw- Tickle's first moto was good and even his second one was considering how far back he started.
8. Gannon Audette (4-16) Yam
9. Justin Bogle (18-4) Hon
10. Darryn Durham (8-13) Hon
11. Malcolm Stewart (11-11) Suz- Mookie's been trying hard but unfortunately, he's also been picking his bike up here and there.
12. Lance Vincent (13-10) Hon
13. Tyler Medaglia (12-15) Yam- Canada's 250 National Champion worked his way up from the back in both motos and did pretty well, me thinks. At least he gets another national number.
14. Ryan Sipes (6-35) Yam- Sipes would probably just like to forget everything that has happened from May on.
15. Jason Anderson (35-7) Suz- A seventh is Anderson's best finish of the year and for a kid that's a rookie and was benched for a bit--it's a nice comeback for him. I'd give him another shot next year if I were Dave Gowland. Then again, if I was Dave Gowland I'd have been Ross Pederson's mechanic at one point and my life would be complete.
16. Jimmy DeCotis (36-9) Hon- No offence to the huge fan-base little Jimmy D has out there but I thought he'd be a bit better at the 'Wick. I'm not prepared to get stoned by the Northeasteners. Here it comes!
17. Josh Clark (21-14) Hon
18. Dalton Carlson (17-18) KTM
19. Eli Tomac (14-32) Hon
20. Cole Seely (15-31) Hon- Seriously, Seely got twentieth overall this weekend which isn't good but in the first moto he went down in the first turn and showed speed and heart to get to 15th.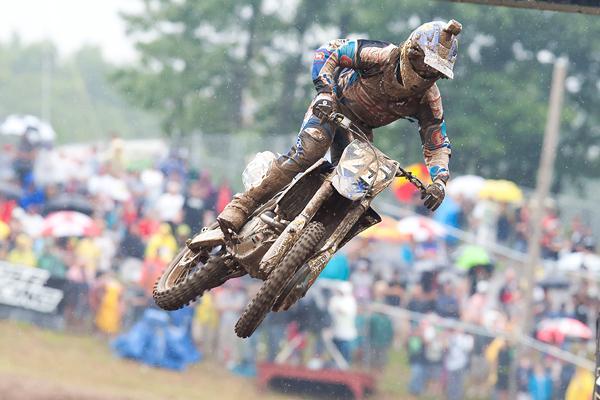 Sipes' return at Southwick didn't go as planned.
Photo: Andrew Fredrickson
450 Overall
1. Brett Metcalfe (3-2) Suz
2. Ryan Villopoto (2-4) Kaw
3. Ryan Dungey (1-7) Suz
4. Justin Brayton (7-3) Yam- Brayton was at his best when the conditions were at their worst. That says something. I'm not sure what, but something.
5. Mike Alessi (4-6) KTM- Alessi battled both motos, he wasn't in the lead group but he was fighting hard all day.
6. Jake Weimer (6-5) Kaw- Another good day for Weimer on the 2012 Kawi but I suppose with sand being the surface, the changes in the frame that helped at Unadilla weren't really in effect here. I did hear that he caught some flack from his team for the Canadian Facciotti passing him in the first moto but to that I say, what was he supposed to do? Hold off the irresistible Canadian pure raw speed? I think not.
7. Justin Barcia (35-1) Hon- I don't care what everyone says, Barcia is a major surprise.
8. John Dowd (9-8) Kaw- I heart Dowd. Great ride for the old guy. He just kept plugging along out there.
9. Les Smith (8-9) Yam- Right about now, Smith is really, really hoping that Davi Millsaps doesn't come back for the last two rounds.
10. Kyle Chisholm (11-10) Yam- First ride back for the Chiz since, well, first ride back being 100 percent healthy since Houston SX. If you listened to the Pulpmx Show this past Monday, you heard all the stuff that he went through to get fixed from that crash. It was a lot, trust me.
11. Colton Facciotti (5-36) Yam- Three-time 450 MX champion Facciotti's reward for such a great first moto? A fill-in ride with TLD Honda for the last two nationals and that makes me happy like a little school girl.
12. Shane Sewell (17-11) Yam- This week, Shane gets one-up on Travis and I bet the younger brother likes this very much.
13. Nick Wey (14-14) Yam- Speaking of Sewell brothers, one of them was standing right there when I walked by Wey before the first moto which made Nick yell out, "Keep walking, you need the exercise" and that made the Sewell brother laugh out loud.
14. Robert Marshall (10-34) KTM
15. Michael Byrne (15-17) Suz- Byrner stalled his bike on the line before the gate dropped for the first moto. Yes, he's a professional motocrosser. Not sure what happened there.
16. Kyle Keylon (12-20) Kaw- Good job for Floridian Keylon on his 12th. That has to be a career high in the 450 Class I would think.
17. Ben LaMay (23-12) Yam
18. Kyle Regal (37-13) Suz- Regal had a tough day at the 'Wick. Bike blew up in the first moto.
19. Travis Sewell (13-25) Yam-TWO Flying Sewell Brothers make the top-twenty and that has to make the Sewell clan out of Indiana very happy.
20. Tye Simmonds (38-15) KTM
Thanks for reading, email me at matthes@racerxonline.com and we can chat about what you thought about Southwick.