Southwick, MA
Moto-X 338
Lucas Oil AMA Pro Motocross Championship
Authors: DC, Jason Weigandt, and Chase Stallo

10. DOWD'S STILL GOT IT: He's 46, but he's going to be 16 again. As in AMA National number 16. Dowd needed to score 25 points this year to keep it, and after only claiming three points at Millville and zero at Unadilla, the odds seemed pretty tall. But at his home track, Dowdy once again came through, with 9-8 scores to result in exactly 25 points. Add in the three he scored at Millville and he actually had room to spare!

9. HOW TO PRONOUNCE MIKE SOTTILE'S NAME: He's the kid who burned the fastest lap in practice, laying down a 1:55 and change early in the 450 B practice, just before the skies opened up. He's a local, working out of a regular van, with his dad as his mechanic. It was a classic Southwick story! And it's said Sot-till-ee.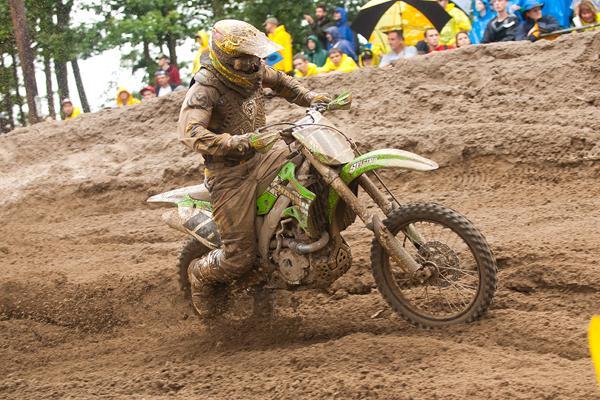 Dowd will be #16 for another season after gaining 25 points at Southwick.
Photo: Andrew Fredrickson
8. QUALIFYING IS TOUGH: We also learned how rough the track can get in the second practice (and how much that slows the pace). Valli Motorsports Yamaha's Ricky Dietrich suffered a broken rear wheel in the first practice, so he had to get a good qualifying time in the second 450 practice.  He was in the top-ten fastest there, but not the top-40 on the day due to all of the fast times laid down in the first sessions. It was kind of like Andrew Short's problems last year, but because he [Dietrich] was ranked eleventh in the standings, not in the top-ten, he did not get placed in the main event. RD ended up watching the races, and then he ended up stranded at the airport. Now he's at DC's house after catching a ride on Monday from Hartford to Morgantown after his flights back to San Diego were canceled!

7. SOUTH AFRICA LOVES SAND: The relatively small country (population and rider base) landed two riders on the 250 class podium and both moto wins, courtesy of Tyla Rattray and Gareth Swanenpoel. It was a remarkable day for South African MX, and somewhere both Greg Albertyn and Grant Langston must have been smiling.  

6. BOGLE IS LEGIT: A lot of rookies come out blazing in their first national and then crash back into reality at their next one. GEICO Honda's Justin Bogle, though, arguably rode even better than in his sparkling Unadilla debut, coming from an early crash to gut out an 18th in moto one, and then nearly stole a podium away from Alex Martin late in moto two.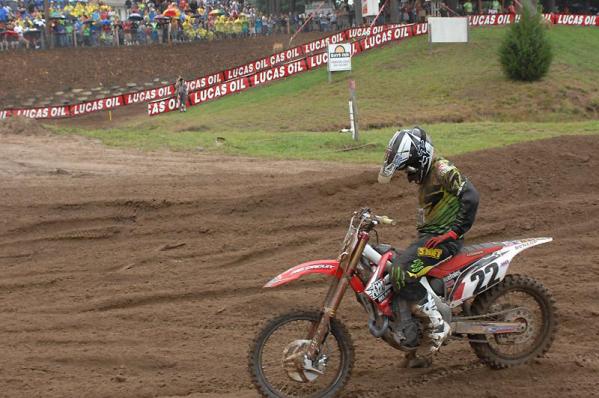 Reed's cinderella season looks to be over after two DNF's at Southwick.Photo: Carl Stone

5. CHAD REED'S CHANCES HAVE BECOME REMOTE: Chad Reed's cinderella season turned into a pumpkin. After the "crash heard round the world," Reed has struggled to get back to his pre-Millville form, and it looks like Southwick will prove to be the final nail in the coffin. After suffering a DNF in both motos, Reed is now staring down a sixty-five point deficit with only two rounds remaining.

4. HOME TRACK ADVANTAGE HELPS: Southwick has always been kind to riders from the Northeast, especially to those from the state of Massachusetts. This year proved no different as all four riders in the 450 class that hail from the 'Mass--John Dowd, Robert Marshall, Jacob Morrison, and Michael Sottile-- finished inside the top-25. Not to be left out done by their big brothers, both Jimmy DeCotis and Jake Abbott also finished inside the top-25 in the 250 class.  

3. SEASON'S BEST: Just a few months ago, Alex Martin was being called, "the teammate of Darryn Durham," but lately the Minnesota native has made a name for himself. He led early in 250 moto two and hung on for third. He's now tenth in points, top privateer, and a point ahead of his teammate in the standings. Another happy team: Muscle Milk/Toyota Joe Gibbs Racing. Justin Brayton, after being plagued by early season injuries, put in his best ride of the season finishing fourth overall--including his first podium of the year in moto two. And fill-in rider Les Smith scored the elusive top-ten he had been seeking, going 8-9 for ninth overall.
2. A STREAK DIES - A STREAK SURVIVES: Monster Energy Pro Circuit Kawasaki has had a season for the record books. Coming into Southwick, the PC squadron of Blake Baggett, Tyla Rattray, and Dean Wilson had managed to win 18-out-of-18 motos. While that streak ended at Southwick, due to a feisty South African named Gareth Swanepoel, another streak still lives on. The PC team still has yet to lose an overall in 2011, and with only two rounds remaining that streak could very well carry over into 2012. By the way, the PC team has already locked up the 1-2-3 spots in the standings, so no matter the name of the rider, they're taking their fifth outdoor crown in the last seven years.

1. IT AIN'T OVER FOR THE RYANS: When Ryan Villopoto won both Unadilla motos on his 2012 Kawasaki, it looked like the bike could be the championship difference maker. But Ryan Dungey responded with a moto win at Southwick. Then when Dungey's bike quit before the second moto, it looked to be over again. But Dungey recovered.  Reed may have fallen out of this title chase, but it seems pretty obvious that the Ryans are going to take this right down to the wire.