Author: Matt Muir
New York's Phil Nicoletti was once a top amateur prospect, and he hit the AMA scene with some decent results, piloting a privateer KTM at some supercrosses and nationals. Unable to get the kind of ride he wanted, he headed Down Under to compete in the Australian Motocross Series. Much like another American, PJ Larsen, Phil is hoping the ride in Oz will jumpstart his pro career in America.
Racer X: Phil, how did you end up racing in Australia?
I met Kawasaki team manager Troy Carroll last year before the start of the U.S. supercross season. We built up a relationship over time and I told him if he ever had a spot open for me to come down and race to let me know. He called me a couple of weeks before I was due to race the East Coast SX Lites class in the States this season and asked me if I wanted to come down and I said, "Heck yeah, I'm there."

How would you describe your first outdoor season here racing?
Really up-and-down, you know? At the beginning of the year I struggled bad, and by the fifth round I was down in eleventh in points. Then we made a huge amount of bike changes and the like. Pro Circuit stepped in and helped out a bunch, and since then we went on a real tear. We won motos and got an overall, and I'm really happy to climb back up to third. The top two guys were riding awesome this season, and like I said, I lost it at the beginning of the year, so I'm happy with a third overall for the series.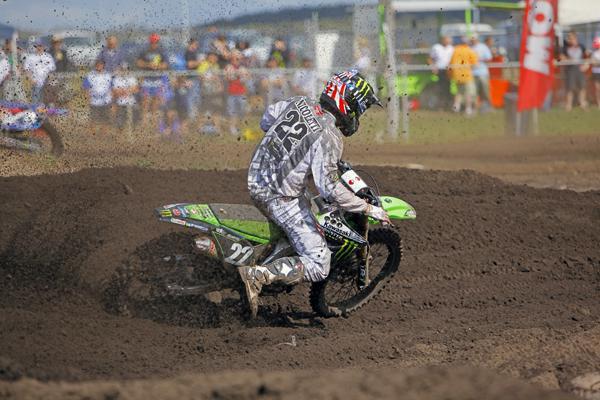 Nicoletti won his first Australian Outdoor National at round 6 in Connabarabran.
Photo: Matt Muir
What are some of the big differences you notice about the lifestyle and the racing in Australia?
Well, on the racing side of things, and in particular the format of four motos, it's kind of like going back to amateurs, where you really have to sprint. I wasn't really used to that at the beginning of the year, whereas now I'm back to being a sprinter again. I want to go and do the last three outdoor nationals in the States and try to get some endurance back and see where I stand.
You took the overall win at Round 6 in Coonabarabran. Some people were attributing that to the fact that the track was more of a larger U.S. style, which they say suited you. Was that true? And how have you found the tracks in comparison to back home?
Yeah, Coonabarabran definitely suited me better. It's a longer track, a lot wider and a lot more lines. All of the other tracks seem to be a lot more one-lined and hard to pass on, making the starts even more important. But yeah, Coonabarabran was awesome, and it was nice to reward the team with the overall, as I went 1-1-1-3 that day. Though I have to say, even at the other tracks, I won a lot of motos prior to and after that overall. That track was definitely the best track I've ridden in Australia and one of the best compared to even what I've ridden back home.

Has the race pace over here surprised you?
I always knew Matt Moss and Kirk Gibbs were fast, and I knew it would come down to those two in the final points. I tried my best to catch them and made up some points during the season. But I knew they were always going to run a good pace.
You've had some good supercross results back in the U.S. in previous years. Are you more an indoors than outdoors guy?
I like supercross a lot, but I do enjoy the outdoors as well, which as we know is a lot more grueling. I got eighth overall in supercross last year by myself and that was with a DNF. I'd like to come back down here and do the supercross series this year, so we'll see what happens.
Will you be staying in Australia to prepare for this year's supercross series?
No, I don't have a supercross deal down here—just outdoors. So right now I'm heading home in a few days and going to hang out back there. Hopefully the team will give me a call and I can stay with the Kawasaki guys, so we'll see what happens. I really like it down here.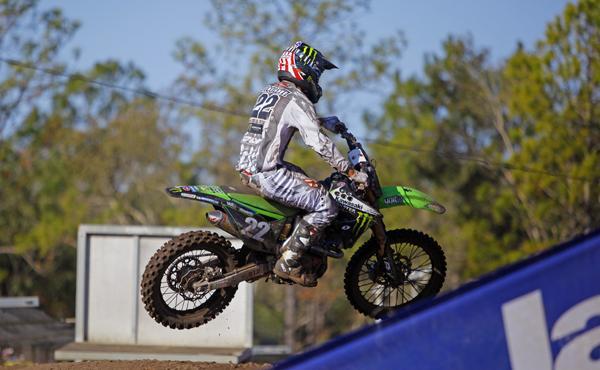 Nicoletti finished third overall in the Pro Lites (250) class this year.
Photo: Matt Muir
Are you looking to use this experience to gain a better ride back home in the future?
Yes, I am, to a degree. The teams down here are awesome, as are the ones back home. But it can be hard, and I want to find something that suits me. But yeah, eventually, I want to go back to the States and ultimately get on a 450 if I can, since I'm a bit bigger. Though as I said, I like it down here in Australia—it's like a second home to me, and I'm actually disappointed I'm going back to the States at this point in time. I've met so many great people, and a lot of them have become like an extended family to me.
Do you feel you've made the right decision by coming to Australia to race?
Yes. I figured I would be pretty stupid not to come down to Australia for five months and enjoy it while racing a dirt bike, so I really can't thank Troy and Monster Energy Kawasaki enough for this opportunity. Even when I was down in the dumps about my results, they stuck by me, and I'm glad to reward them with a third. I want to come back down here, so we'll see what happens.
Anything you'd like to say to your friends and supporters back home?
I just want to thank them for watching me and seeing how I'm going. Obviously, with only seeing lap times, it's hard for them to really know what's going on. But you know, I'm from New York, so my friends and family are up until all hours of the night watching me to see what happens, and I appreciate it greatly. A big thanks to them for watching me and paying attention to what I'm doing.