Loretta Lynn Ranch
Hurricane Mills

,

TN
AMA Amateur National Motocross Championship (Loretta Lynn's)
Amateur National Motocross Championship
The longest week of the year is finally ending. The Loretta Lynn's race—officially known as the 30
th
Red Bull AMA Amateur National Motocross Championship—is just an awesome week of motocross. Of course I have a biased opinion, as my parents founded the race back in 1982, the same year Team Green was getting started and Loretta Lynn herself was transcending mainstream popularity as the subject of the biographical film
Coal Miner's Daughter
. The race has been in a steady stream of improvement ever since, and leaving the ranch today—one day before the last checkered flag (I haven't been home for two weeks)—I would say this one was the best ever.
For starters, the place was jam-packed—a nice sign for the industry, given the wild ride the U.S. economy has been on lately. Red Bull came in big, with a massive hospitality structure that welcomed every rider's family for their motos, the Red Bull Air Force, a newly renovated arcade, and a really cool opening ceremonies film by Wes Williams and the Vurb Moto crew. This is the biggest motocross race they have right now, and they are all-in moving forward. The structures they brought—as well as all the OEMs, Thor/Parts Unlimited, the Oakley Rolling Labs, FMF, Pro Circuit, the new GoPro setup, and the one that really got this event on the west coast map, Fox Racing's Fox Tower—make the ranch a motocross village of sorts, as well as a microcosm of the whole industry right now.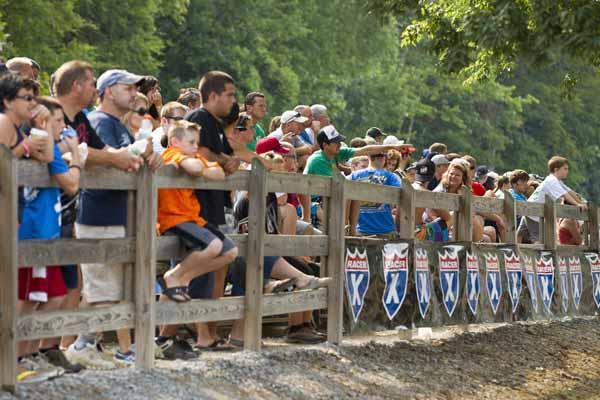 Fans have lined the fences all week at the Ranch.
Photo: Garth Milan
Among the famous alumni there were Ricky Carmichael, James Stewart, Ryan Villopoto, Kevin Windham, Jeff Emig, Andrew Short, Dean Wilson, Ryan Sipes, Mike Brown, the Renner brothers, and more. During the riders' meeting, Fro and RC got up on the stage and did some good old fashioned bench racing, doing their best to out-talk one and other. The kids and the parents seemed to love it, and I thought it was hilarious.
The track was once again a puzzle: smooth and well-groomed, with white stretches of sand in places, all of it untouched by a knobby since last August. Then it turned into a minefield, as the notorious ruts and deep berms rose up to challenge the riders. The original frame of the track is still there, but it was updated once again by Marc Peters and his partner Chad. The start was shortened, as the first turn was altered from a long sweeper to a more immediate 90-degree right, at the suggestion of Jerry Masterpool. I think it worked out extremely well, helping slow those 450s down. There was also a new tunnel jump for better emergency medical access, with three steps up and two down. It gave the riders something to separate themselves more upon, though the risk/reward made for some big crashes. The track was kept in excellent shape by Jeff Russell and crew, but man, did it get rough.
As for the new crop of AMA talent, there's a bunch of very fast kids, though no real amateur standout like we've seen before with guys like Tim Ferry, Kevin Windham, RC, Stewart, and Mike Alessi. The soon-to-turn-pro Justin Bogle is very fast, as is Troy Lee Designs Honda rider Jessy Nelson. And Justin Hill looks exactly like his big brother Josh, and I saw him jogging every single morning around the track before most were out of bed. I can't wait to see how he does as a pro. Team Green riders Jacob Hayes, Zack Bell, and Thomas Covington all showed flashes of brilliance, as did Chris Plouffe, who won the Open Pro Sport. Then there were Chris Allredge, Matt Bisceglia, Jeremy Martin, and a really fast kid from Canada named Cole Thompson, who will soon likely become Steve Matthes' #1 pick in every fantasy league.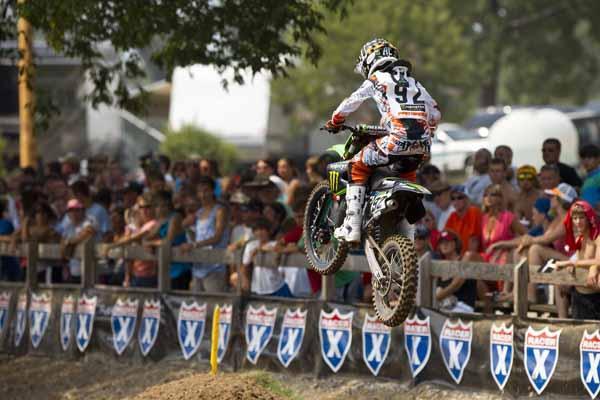 AC wrapped up the Supermini 1 title earlier today.
Photo: Garth Milan
In the mini ranks, Team Green's Adam Cianciarulo looked like the fastest guy out there, but he was having trouble here and there. That allowed Rockstar Suzuki-backed Jordon Smith and Nick Gaines to stay in the game, and Cooper Webb, injured leg and all, is going very fast. Those are just some of the names you will likely be hearing a lot from in the future. There are literally dozens and dozens more. American motocross has a bright future in the form of all of these young athletes who go extremely fast and work hard at the craft of racing.
You may also be hearing more two-stroke music, as the Mini Beginner class will not be back. We tried it, hoping to boost mini participation in the race and sales for OEMs, but it turned into a big headache. So now we're looking at an open-aged 125cc two-stroke class in hopes of giving an alternative to riders who still ride in the smoking class. We already have a Schoolboy class for 125cc only and people seem to enjoy hearing and seeing the tiddlers out there.
Beyond that, Loretta Lynn's will continue to be the world's greatest motocross vacation. It's part race, part festival, all fun. It was hot on some days, wet on others. There were seemingly as many golf carts as they were race bikes, and if you throw in all the pit bikes, it was like rush hour every night in the massive campground. Every night there were parties and tailgates to visit, and the beer tent was once again just epic.
If you have never been to the ranch, it's probably hard to imagine what it's like. If you love motocross and like the idea of seeing tomorrow's stars right now, this is the race for you. If you want to have epic bench-racing sessions with everyone from Barry Higgins and Gary Bailey to Buddy Antunez and Matt Walker to Mitch Payton, Ziggy, Todd Hicks, Scott Taylor, Anthony Paggio, Johnny O'Hannah, JH Leale, Hylton Beatty, and many, many more, you won't find a better platform than a week at the ranch. Circle it for 2012. Like I said, I'm biased about this event, so please come see for yourself someday.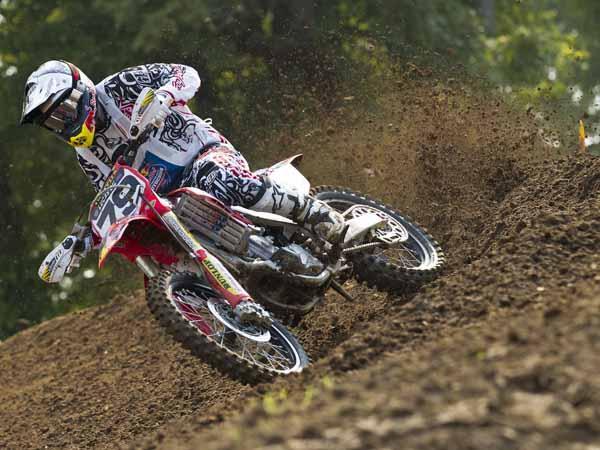 Jessy Nelson has had a stellar week at Loretta's.
Photo: Garth Milan
Looking for a rundown of the results and winners so far? Check out all the live timing and scoring here. Also be sure to follow the new Loretta Lynn's Facebook page and Twitter account for all the action from the 2011 Red Bull AMA Amateur National Motocross Championship at Loretta Lynn's. Be sure to check out some great photos from the Medium Group's Garth Milan HERE.
MX SportsCenter is also back this year, so make sure to check it out right here on Racer X Online. The guys at Vurbmoto have been cranking out some great content from Loretta's, click HERE for their video from Thursday or head over to Vurbmoto.com for more content.
That's all I've got after a very busy week out on the infield. Here's Jason Weigandt, also at the ranch helping out with announcing, along with DMXS Radio's Kevin Kelly and The Wes Kain.
The results can give you a clue, but if you really want to follow the ebb and flow of the title battles here at Red Bull AMA Amateur National Motocross Championship, you can find the drama hidden in the details. This morning, we started crowning champions, but by Thursday night, most people know where they stand. A quick Thursday night cruise of the ranch tells you how it's going. You'll notice a few camping spots are now left vacant—riders and families who are no longer in contention, or perhaps had their week end early due to bike problems or injuries—are out of here. This place is jam packed and you won't notice too many holes in the parking areas, but if you look closely, you'll see a few empty spots, and no doubt a story of some frustration to go along with that.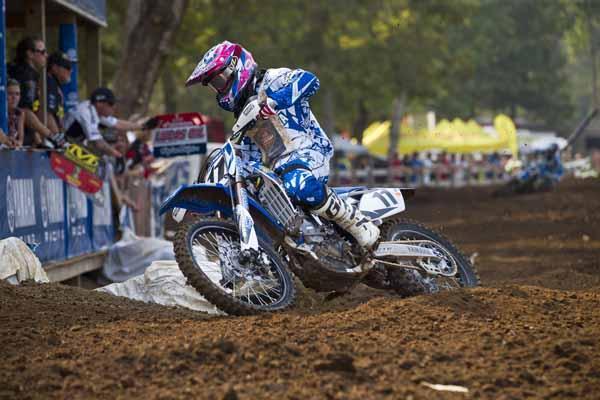 Kyle Peters has shined at Loretta's.
Photo: Garth Milan
Then you can head to the classic Loretta's beer tent on Thursday night and learn more. You won't see the youth riders over there, but you can get a key idea of how the vet classes have stacked up. If you're a Senior 40-Plus rider, for example, who expected to come here and do well and then struggled, the focus can shift from racing to fun, and a wild Thursday night can handle that transition. Expected to go top-ten and couldn't do better than thirtieth? Hello, good times and late nights. And a sore throat for me.
Some of the drama does get acted out on the racetrack. This morning's third motos have been crazy. The super-stacked Open A Pro Sport class was already shaken up in moto two, when moto-one winner Zach Freeberg and moto-one runner-up Grant Ransdell crashed into each other of the start of moto two. They finished way back and were eliminated from title contention. Chris Plouffe held the lead with 4-1 scores heading into moto three but got a terrible start and found himself in seventh. Austin Politelli needed to finish three spots in front of Plouffe to win the title, and he was doing that when he climbed to third. Then Politelli crashed. Plouffe eventually moved up to third to lock it up, and even when Freeberg got by him, Plouffe still grabbed the title via 4-1-4 scores.
The Women's class was up next, with Kasie Creson holding the first two moto wins. And she led moto three until the drama caught up with her. Under pressure from Jennifer Burton, Creson went down and Burton took the lead. Creson needed to finish second to hold on to the title, and Leah Cantrell was all over her to take that spot away. On the last three laps, Creson rallied to hold off Cantrel and then get Burton back, giving her 1-1-1 scores. But it was crazier than that. Burton has been dealing with problems with the heat all week, pretty much collapsing on her bike after the second moto. Even though it's cool and overcast today, she still had to be pulled from her bike as soon as she pulled into the shut down area. No one is sure what's up with Burton, but clearly she is struggling with something physically. But while she was being tended to, Creson was on the podium dedicating her championship to her mom, who was diagnosed with cancer a few weeks ago. Drama, drama everywhere.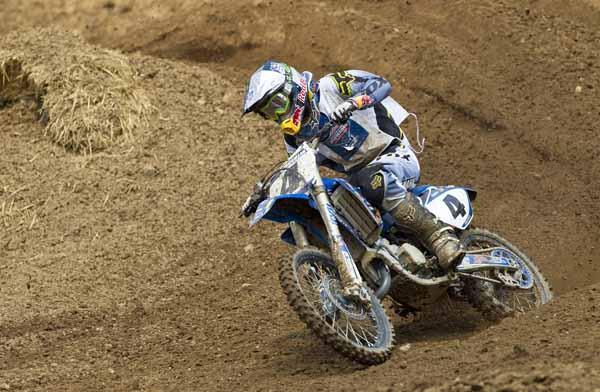 After a long layoff Matt Bisceglia has had a great week at the Ranch.
Photo: Garth Milan
One final note before I got back to announcing motos here. The 50cc classes are wrapping up, and the top three of the (4-6) class went to Ryder Defrancesco, Reed Cooper, and Jett Reynolds. Ryder, Reed, and Jett? Really? These are the names of the next generation. And most of that next generation seems to be coming from Bakersfield, California, which must be like the new version of the 1980s' El Cajon Zone. That includes three of the top four in the (4-6) class and the champion of the (7-8) class, Stilez Robertson. Yes, Stilez.
Here's Ping:
I've been trying to decide all week which sight was more disturbing at this year's X Games: Shaun White's skinny jorts or the women's Enduro X event. I think most would agree that both of them probably shouldn't have happened. Like a bad car crash on the side of the freeway, I couldn't look away from the women's Enduro X. From the first turn, where Tarah Gieger plowed into the corner marker and crashed, to the checkered-flag clip where a rider in the water hole next to the winner looks like she entered a Flugtag event, this survival "race" was chock full of carnage. Click the recap below if you don't believe me.
If you want full and, ahem, unbiased coverage of the X Games, check out the BTO Sports Podcast with Matthes, JT, and myself. We discuss all the moto events at X, world travel, spaghetti bolognese, and spontaneous morning … things.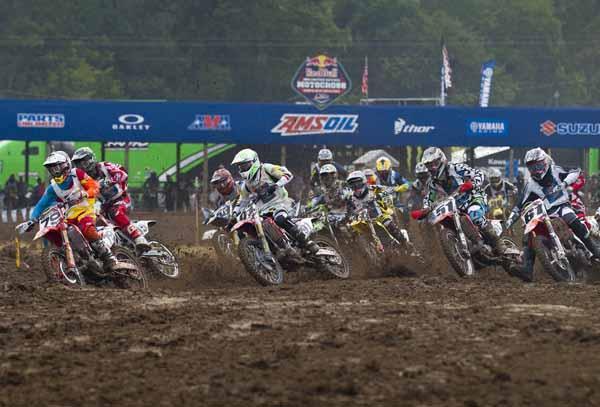 The 450 A start at Loretta Lynn's.
Photo: Garth Milan
I can't believe it's been nineteen years since I've been to Loretta Lynn's Ranch. I won a title there in 1992 but haven't been back since. Things were much different back then. You could climb into and jump/fall out of trees into the creek, riders didn't have factory contracts pre-signed or waiting for them at the end of the weekend, and any free time was spent hitting on your competition's sisters. Actually, I doubt that last bit has changed much. Good luck to all the riders heading into their final motos and, just as important, good luck making out with some chick down by the creek after the trophy presentation. Good times.
I'm headed off to the Sequoia National Forest with my family tomorrow for a little vacation. I don't get texts, tweets, email, cell service, or television for the next seven days. How awesome is that? I'm off the grid. Buh-bye.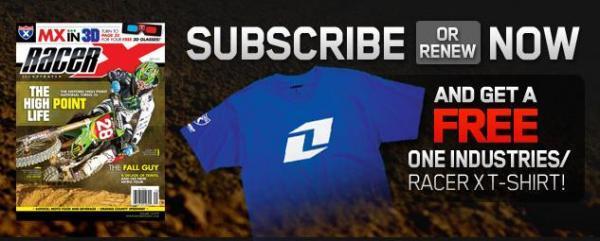 MISC:
Here's an important messages we received this week:
Friends of Julie Rodgers:
Julie has been battling breast cancer since early 2007. Over the last four years she has experienced multiple bouts of the cancer, followed by surgeries, as well as radiation and chemotherapy treatments. In January of this year, doctors discovered her breast cancer had metastasized into bone cancer. Initial injection treatments looked encouraging, but in late May the bone cancer had mutated and aggressively spread throughout her body. She WAS immediately started on a very aggressive chemo treatment that will be on going for months into the Fall at least. So far the results appear to be miraculous! The past few years have taken it's toll on the Rodgers family as they have done their best to care for their sweet Julie. We are having a Juli-E-Thon walk Saturday August 13th in Big Bear Lake, CA. For full details on how you can help click here.
The Rodgers family have been a big part of our sport for decades starting with Julie's husband Dave who was one of the top SoCal mx pros in the early 70's and went on to spearhead Bel-Ray Oils' west coast operation as well as stints with O'neal, Oakley, Answer and the MAG group. Now their sons are working in the industry at One Industries and Scorpion helmets.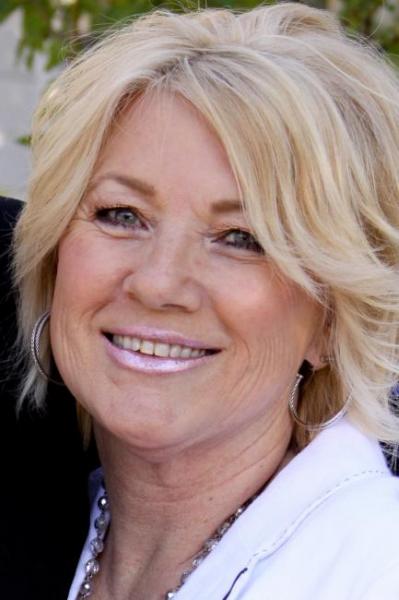 Unadilla is going to make two lucky Facebook fans … Inner Circle Superfans! All you have to do is visit their Facebook page and Like them and you'll automatically be entered into a drawing to win an Inner Circle VIP prize pack!
Here's the prize list:
2 Inner Circle VIP tickets, which get you access to the Inner Circle VIP viewing area, food, drink, two all-day pit passes, live timing and scoring feed, two programs, and an Inner Circle VIP parking pass.
2 Racer X Digital subscriptions
2 40th Anniversary American Motocross T-shirts
Winners will be chosen at the end of Wednesday, August 10, and notified via Facebook.
Thanks for Liking us, and we'll see you at the Unadilla National on Saturday, August 13.
A couple months back, Marko Vihriä of OFFROADPro magazine from Finland was in California doing a story on the local supercross races and the local motocross scene in Southern California. Racer X videographer Matt Francis was riding at Milestone MX that day and was approached about Racer X and his job. Here is the resulting cover and the article—apparently, "Linssin takana" means "Behind the Lens."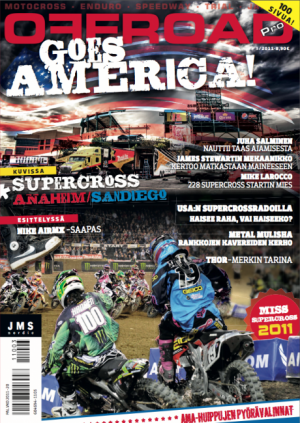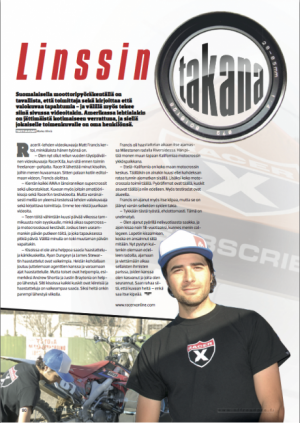 We also received this note this week:
My name is Dustin Moses. Recently a dear friend of mine passed away. His name is Thad Jones. Thad was very much involved in the motocross industry working for Western Power Sports for a number of years as a dealership rep. There are very few people who seem to touch the lives of everyone they are around, but Thad was one of those guys. He was survived by his nine year old daughter Natalie and wife Amy who reside in Pocatello, Idaho....
Services will be held in Pocatello on Saturday, August 6. If you have any questions please call me at 307-389-4887.
Thanks,
Dustin Moses
500cc National and MXoN Champion Chuck Sun has just confirmed that he will be at the Racer X party next Wednesday night, August 10, in Boise, Idaho. Chuck is looking forward to meeting Racer X fans and discussing his new association with Ricor suspension and Vibranator. Plus Chuck will be teaming up with Jim Gibson, Jeff Stanton, and Scott Burnworth to represent Team USA in the 2011 Vet MXDN to be held in September at England's famed Farleigh Castle.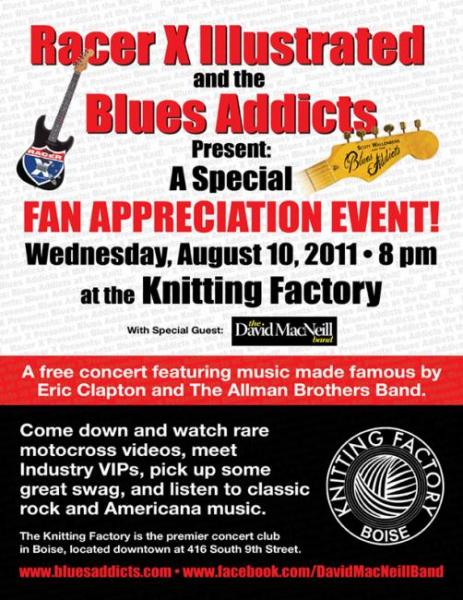 Ryan Dungey was just voted as one of the top 18 singles in the Tallahassee area, so if you're single and in the area make sure to give Ryan a call. Sorry ladies we can't provide you his number.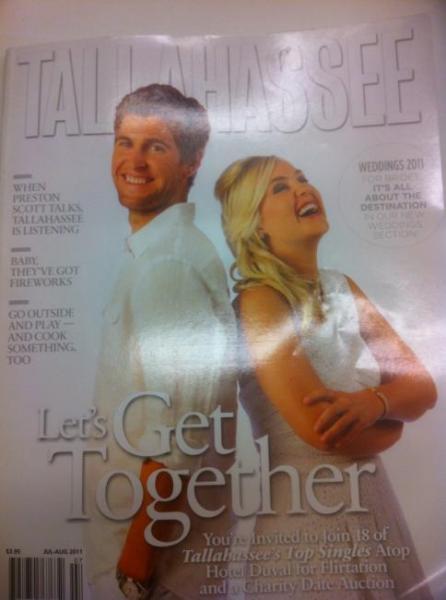 There is a big money race going off this this Saturday night in NorCal. San Jose's 408mx is hosting a winner-take-all bracket-style race. The race is being held in conjunction with the Santa Clara County Fair, and revives an age-old tradition of motocross races held in conjunction local summer fairs.
The event, billed as the IMS Sprint, is being presented with a bracket format, with two racers lining up and going for 1.5 laps each, until a winner is declared. The event is expected to host a number of fast riders, including Eric McCrummen, Casey Hinson, Kyle Partridge, Ricky Rinauro, Preston Mull, Tiger Lacey, Sean Kranyak, Jeff Willoh, Eric Sorby (really!), Drew and Chris Gosselaar, Cole Siebler, and NorCal's own Dennis Stapleton, as well as a host of other fast guys. And if Sorby shows, he should be good for at least 1.5 laps!

The promoter has a guaranteed purse as well as an online purse, for which fans could bid and "buy" riders and share in the winnings. The winner is guaranteed a minimum of $3,000, and that amount will likely be higher by tomorrow night. The event starts in the late afternoon. For more information, please visit the track website at www.408mx.com.
Finally we would like to thank Glacier Tek for donating over 40 cool vests to the track workers and just about anyone else at MX Sports that asked for one.
That's all we've got for today! Enjoy your weekend, and we'll see you at the races.