RedBud MX
Buchanan

,

MI
RedBud Track 'n Trail
Lucas Oil AMA Pro Motocross Championship
10. FIREWORKS:
It looks like Mother Nature is bringing her own pyrotechnics to the Fourth of July weekend. Even as this is typed out, Guy B is posting photos of big lightning strikes over the skies of Buchanan, Michigan. The
RedBud
track is normally smooth and fast – albeit littered with huge jumps – and sweeping momentum is key to fast lap times. At last year's race at the venue, some slightly overzealous track prep turned the turn below LaRocco's Leap into a maze of ruts that kept most 250 riders from attempting the monster uphill triple. With amateurs unleashed on a muddy track today, how will conditions be tomorrow?
9. PC VS FC: RedBud was the site where Pro Circuit's season sweep ended one year ago, with Trey Canard starting the run that would eventually deliver the title to the Factory Connection truck. Thus far this season, the PC riders have been unbeatable, and Blake Baggett is doubtless determined to put a stop to his "one week on, one week off" roller coaster ride. Teammate Dean Wilson wears the red plate, but is still looking for his first overall win of the season. It's Canard's 4-1 for his first ever overall that sticks in most minds, but a slightly more fogged memory from last season's RedBud is Wilson also beating out the then-points leader Christophe Pourcel's 1-5 with a 3-2 for second overall. This year, like last, Pro Circuit comes into the race with a stranglehold on the top three placings in the points. Can Factory Connection begin to eat into that lead again? Can Wilson get his first win? Can Tyla Rattray rebound and retake the red plate? Can Baggett shrug off his previous pattern and add another overall? Will the outdoor notes on indoor champion Broc Tickle keep hitting the cutting room floor?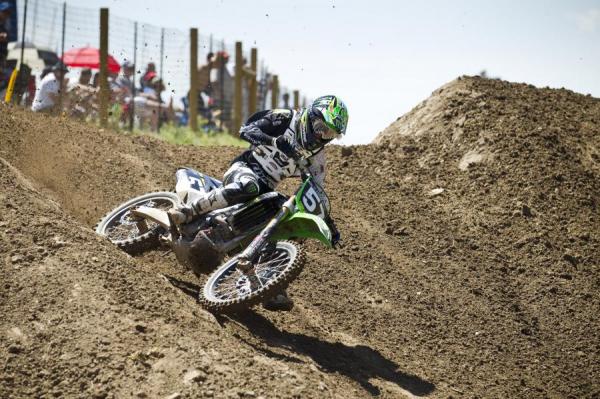 Can Baggett and crew keep the PC streak alive?
Photo: Garth Milan
8. WIL WILL RIDE: Back to buttress the Honda 250 effort is Wil Hahn. When the supercross season opened, Hahn was front and center on the radar as a possible favorite for the West Region Lites title. Alas, following a brutal practice crash at the very first round, instead of eventually trying on a championship crown for size Hahn wound up being fitted for a back brace. Then, after letting vertebrae heal, Hahn crashed again while practicing in Texas and suffered a broken shoulder blade along with rib injuries. Now all healed up and reportedly going very fast at the practice track, Hahn is finally ready to make his Factory Connection debut at RedBud – and claims to be ready to run up front.
7. ANOTHER OUTING FOR ALBERTSON: Like Hahn, Jimmy Albertson had been out since the supercross season opening practice sessions at Anaheim. Albertson deemed his season debut at Lakewood "a warm-up" ride, and a 12-12 is a pretty strong initial outing for our returned expatriate GP entry. Jimmy is riding a Merge Racing backed privateer Honda with a little help from his friend, the idled-by-injury Factory Honda rider Trey Canard. With Kevin Windham now confirmed as "in" full time – and thus technically no longer a fill-in rider – and Josh Grant's knees, plural, perhaps iffy... maybe Albertson could wind up being Team Honda's fill-in fill-in. Hell, he's probably already riding Canard's practice bike.
6. MOTOCONCEPTS MUSICAL CHAIRS: Since the "so backwards it's forwards" Yamaha 450 debuted, its performance has been polarizing. Some point to more positive results in the GP scene, while others decry perceived shortcomings – width, weight, and poor starts, to name just a few of the criticisms. Last week's privateer hero Jake Canada will provide the latest litmus test at RedBud. Lakewood was a good news bad news stop for Mike Genova's team, with Tommy Hahn riding to a strong sixth overall for the squad's best result of the season the good and Kyle Chisholm's realization that things aren't getting any better the bad. With the failed Christophe Pourcel experiment tabled and Chisholm electing to put his season on the shelf for a few weeks – hoping that his supercross injuries will further abate – team manager David Vuillemin has drafted Canada and Ben LaMay to go into battle alongside Hahn. Will their results improve on the blue bikes? Or not? It might be a little unreasonable to expect Canada – who posted a very impressive ninth overall on a privateer Kawasaki at Lakewood – to climb higher into the stacked field of 450s, but if his results suffer it'll only add fuel to the fire.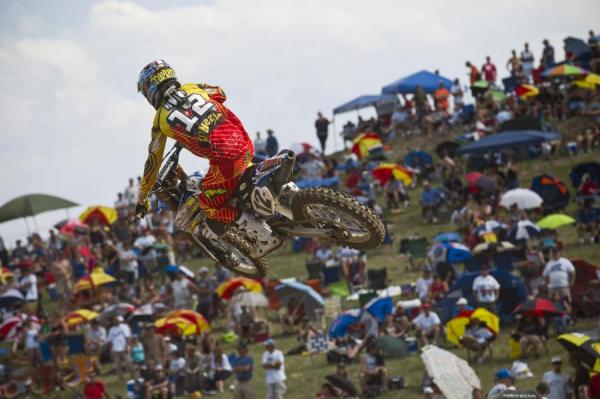 Hahn has some new running mates this weekend.
Photo: Garth Milan
5. VET PRO CLASS: With John Dowd's name appearing on the pre-entry list, it looked as though Kevin Windham's old man onus would be lifted for round six. Dowd had planned on racing as many as four rounds of the outdoor series and holding on to that permanent number for another season. The latest updates seem to indicate that we'll have to wait for Millville to see the decidedly plus-40 class Dowdy take it to the kids. Windham said after Lakewood that he was all in for seven more rounds, and that he was just looking for another five seconds... as in five seconds a lap that separates him from the three riders in the lead pack. After strong rides thus far, including last week's 4-4 at Lakewood, let's just assume that K-Dub's self-depreciation is none too serious. 

4. TWO-WAY STREET: Last year's RedBud race was like a microcosm of Ryan Dungey's season – then on a much smoother cruise to the number one plate. In the first moto, a race-long three-way battle finally culminated when leader Ben Townley crashed, taking down the second of two challengers, Chad Reed, in the process. Dungey was sandwiched between Townley and Reed when the incident occurred, but RD emerged untouched and unscathed. First place takes down third place, and second place goes right through the carnage for first. Everything went RD's way in 2010, including the second RedBud moto, which Dungey won going away for his fourth straight overall after shrugging off the early challenge of Andrew Short. Now on a bumpier road in an altogether tougher season, he's working on a streak of one straight win.
3. REED'S REBOUND?: It's been pretty quiet in the usually media/fan friendly Chad Reed camp since Lakewood... no twitters, tweets, or information stream. When that happened during the supercross season, it seemed to mean Reed was putting in the mid-week work and getting ready to come out swinging. Further, as mentioned above, Reed was right in the mix at last year's race. His first moto win at the Hangtown opener notwithstanding, Reed's ride for two second-place moto finishes at RedBud was arguably his strongest showing in that abbreviated 2010 season. Chad also took second overall at the same venue another year previous, behind Josh Grant's 2009 victory. Can he add another moto or overall win at RedBud – and more important, protect his points lead?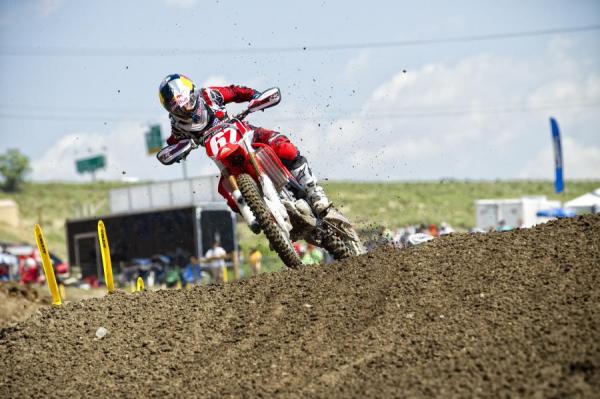 Can Fiolek keep her hold on the red plate?
Photo: Garth Milan
2. HOME-STATE HEROINE: A year ago at RedBud the then-defending champion and Michigan native Ashley Fiolek put her Honda Red Bull Racing machine on top for the first time in 2010 – the local girl rising to the occasion and posting a 1-1 to eventual title-winner Jessica Patterson's 2-2. This year is different: Fiolek comes into the contest holding a slight points advantage, 135-133, after taking over in Texas when Patterson's fall and stall cost her the lead. Can Fiolek again meet the challenge and put that red, white, and blue bike on top of the Fourth of July podium?
1. SCHEDULE SWAP: As an accommodation to the network television showing of the RedBud race on NBC, the 450 and 250 motos have had their order reversed to the old-school paradigm of small bores first and big bikes last. The 250 first moto will run at 1 PM eastern time (gate drop at about 10 minutes after the hour) with the first 450 moto to follow an hour later, with both shown live on Fuel TV and Allisports.com. The NBC broadcast will go live at 5 PM eastern with the second 450 moto. So, if you're watching at home, the second 250 moto (shown at 9 PM on Speed) will still be at the end of the day. But in real time, it's the big bikes on the rougher track. Somewhere trackside, local hero Iron Mike LaRocco will nod with approval.