Thunder Valley Motocross Park
Lakewood

,

CO
Thunder Valley Motocross
Lucas Oil AMA Pro Motocross Championship
Ryan Dungey scored more podium finishes than anyone in Monster Energy Supercross, but only took one victory and came up short of a championship. The early portion of the Lucas Oil AMA Pro Motocross Championship looked similar, with Dungey in the hunt for every win but not quite able to get over the hump, due to bad luck in one race, and close competition at the others. Finally, at Saturday's Toyota Trucks Thunder Valley National in Colorado, he came out on top, and then we caught up to him after the race.

Racer X Online: After the race, we were at a commercial break during the TV show, but we had footage of you and Goose under the tent. The two of you are talking about lines and bike setup and stuff, and then at one point you just looked at each other and smiled, and you just said, "Feels good."
Yeah. You know, it was a bit of a bummer, what happened in Texas with a couple of laps to go, but that's racing and there are no complaints. We still have to wake up every day and do our job. But today, absolutely, it feels good. Crossing that finish line 2-1 for first overall, it's nice. The bike worked really well today, I felt comfortable and it felt solid. Goose is there, and this whole team, really, they have been there before and they know this sport can be tough at times. I think it's important that you just keep pushing.
Talk about the challenge in this class right now. The three of you are so on it, it's not like when you get second in a moto or a race that you're not riding well.
Yeah, absolutely. That's what is keeping us on our toes. The goal is to get a good start, and you need to get a good start because if they get away and you need to play catch up, it's tough. It's a challenge, and we keep pushing each other.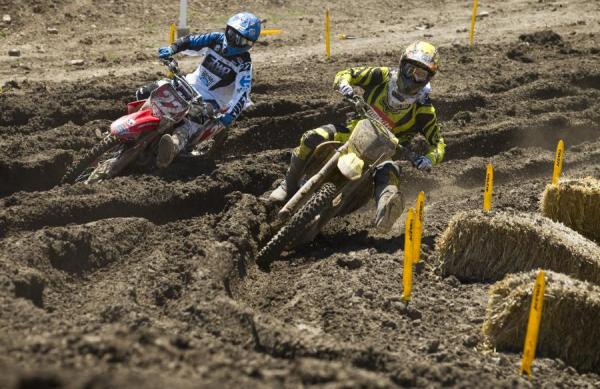 Dungey was finally able to make his way around Reed at
Thunder Valley
.
Photo: Garth Milan
First moto, you were behind Chad for awhile, how were you able to get him?
Yeah. I was in third and trying to get by Chad, and I ended up tipping over in a rut. I was able to rebound and catch back up and get by Chad. But by then, Villopoto had a big lead, and that made it tough. Second moto, Chad made a little mistake and I was able to get by down the inside and get by. Those passes are important. Budds Creek, I was behind him and I wore myself out by not making it happen sooner than I should have. You learn from it.

Yeah but is there something you can really look back on and say, "If I had just done this or if I had just done that I could have won?" Or is this is a case of, you're all going all out, and all three of you are about equal?
I mean, you can separate and try to find areas where you're better or worse. But it's easy to fall into a guy's groove, whether you're faster or not. I think we're all about the same speed, I don't think that's the issue. I think it's a matter of minimizing the mistakes and putting in consistent laps, and being out front.

So, you're saying it takes more energy to follow a guy and try to get past him than it does to be riding even faster in the lead?
Absolutely. I mean, you're being pelted with roost and rocks, you're probably working harder because you don't know exactly what's coming up in front of you because you can't see. You don't know which way the rut is going because you can't see them. I guess as a rider it's important to venture out and try to find lines to make that pass. The good side is, if you're able to make that pass, you know where all the good lines are, you know where you were making up or losing time on him. So if you make that pass, you're like "okay we know what to do" and you can take it from there.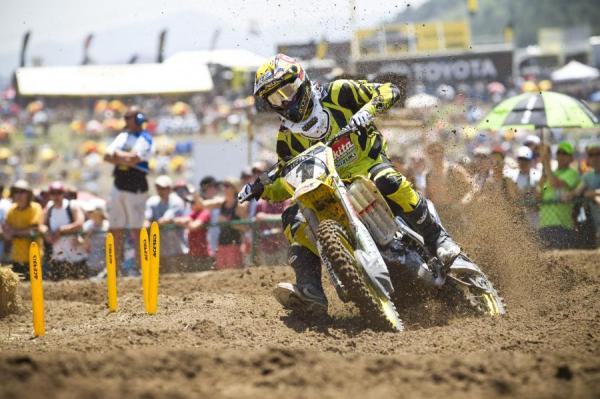 Dungey got his first win of the season at
Thunder Valley
.
Photo: Garth Milan
Second moto, Villopoto was close. Could you feel him back there?
Oh yeah, absolutely. I had to be on it and put down good laps. I tried to focus on the track and staying smooth. I found a few good lines once I was able to get into the lead so that was good, and from there, we stayed between two and five seconds, so all the way to the end of the moto, so it was "go go go" the whole way.

Is it more satisfying to get one that way? No excuses, you came on top in that moto.
Absolutely, when you work hard for it, it makes it feel that much sweeter than when it's handed to you, I guess. To put in a hard charge like that, it felt great. Really thankfull on the day.