Thunder Valley Motocross Park
Lakewood

,

CO
Thunder Valley Motocross
Lucas Oil AMA Pro Motocross Championship
So you proved you can win, like, not from tenth place. You were actually somewhat toward the front early today.
Yeah I think I was top five both motos.

Do you know what to do up there?
[Laughs] Uh, I was just trying to stay up, at first. Basically I was just watching, and Barcia was leading Dean, and I was kind of thinking they might take each other out. They were crossing all over the place, and I was thinking that would be pretty cool, because it would help me with points. I kind of need Barcia in there. So if they took each other down, it would have been funny. I don't know. They've done it before and they have that kind of rivalry. So then I got by Barcia.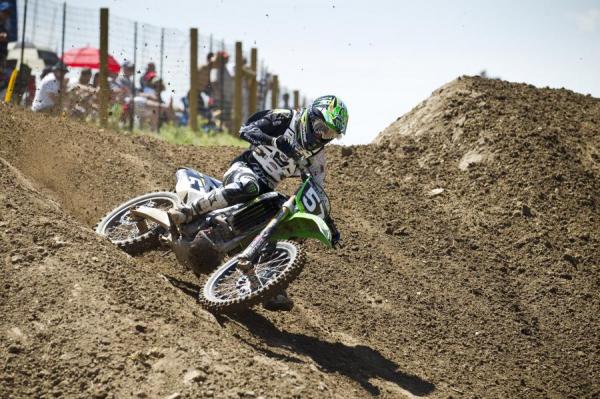 Baggett went 1-1 for the overall at
Thunder Valley
.
Photo: Garth Milan
You and Dean had a good battle back and forth there, too, you spent a good quarter lap going inside and outside of each other.
Yeah! There were so many ruts out there, it was kind of mind-boggling. If you thought about it too much, you would get a headache. Basically, whatever rut was two feet in front of you, that's the one you would hit!

So you weren't memorizing every line.
No, I think in some of the turns I hit a different rut every lap! Once I figured it out I got it going, then I was able to hit the same line each lap. But none of the lines were good lines. They were all rough.

Go back to that final pass for the lead in the first moto. You and Dean battled up the start straight and then you cut back underneath. Pretty slick. Is that one of those things you made up as you went along?
I knew that first turn was soft, and I knew there was that one rut we were both taking. But I also saw that there was some fresh stuff on the inside, so I just went in there, grabbed some front brake, and just knifed that thing as hard as I could. I jumped right up there inside of him, got on the gas and got the lead. You couldn't have done that move later in the race, there were ruts there. But at that point, it was still pretty soft.

Second moto, decent start again.
Yeah decent start again, just kind of plugged away, and rode.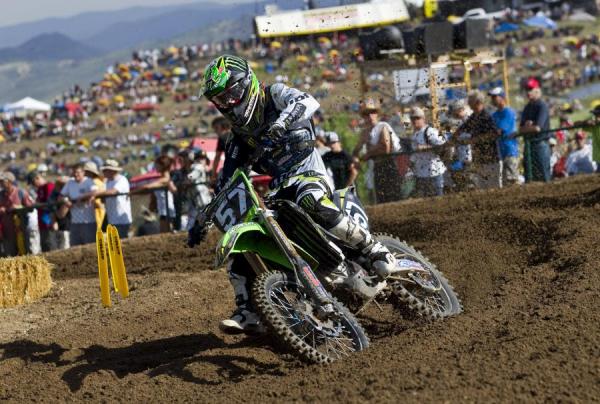 Baggett captured his third overall on the season at
Thunder Valley
.
Photo: Garth Milan
Talk about this front tire. I heard the rest of the team switched to a different type of tire for the second moto, because the track changed, but you stuck with the same one as the first moto?
Yeah, I run a tire that no one really likes. I mean, they like it in some places but I seem to run it no matter what. I just stuck with it. But at the second moto went on, it started getting pebbly and hard, and when you put a lot of pressure on that tire, it can give out. I had that little washout in the second moto, but that's definitely not Dunlops fault. They make an amazing front tire and it was just probably a bad tire choice by me. But, at the beginning of the race, that tire was amazing. It's crazy how much the track changed from the first two laps to the last two laps. The lines stayed the same, but the compound of the dirt, it changed an incredible amount. It was insane.

Any panic when you fell?
No, the bike was still running. I knew I had a decent lead on Dean because I was keeping an eye on it, but I also knew that if he saw that, he was going to put the hammer down and do what he could. I felt like I had pretty good lines, though, and I could hold him off if he did catch up to me.