Budds Creek Motocross Park
Mechanicsville

,

MD
Budds Creek Motocross
Lucas Oil AMA Pro Motocross Championship
Interviews by Steve Matthes and Jason Weigandt
Jake Weimer, Monster Energy Kawasaki- 10-7- 8th overall 450 class
My day was ok, eighth overall was ok. It's been the same story for the last couple of weeks. My starts are decent, a couple of tip-overs. The track was tough for me, I struggled with it a bit. I'm getting better but it takes time. Hopefully soon something changes for me.
Early on, Metcalfe was right behind me and he got around me and I tried to stick with him but he was inching away from me bit by bit. I had Short on me the whole race and I never got to relax. I don't feel like I'm showing up and having awesome days and then leaving with an eighth overall. I feel like I'm having tough days and still finishing inside the top ten. So I guess there's some hope for me.
Ryan Villopoto, Monster Energy Kawasaki- 1-3- 2nd overall 450 class
The day was ok, the first moto I stalled it in an off-camber and lost some time there. I rode good first moto, I felt really good. Second moto, almost from the start I had bad cramps and was trying to, you know, go to the bathroom to try and get rid of it. But I couldn't do it. For guys, we like to take our time on the throne, a good thirty minutes or so is how I like to do it, and so I just couldn't do it. It was affecting me out there. So after the race, I had to go bad.
I got around Mike and I was feeling the cramps bad even before I got by him, I wasn't going to catch those guys. That was my problem the whole moto, I couldn't get better. KW was catching me, I was really feeling rough and I relived a bit of pressure and was like "Oh wow", that felt better and I was able to pick it back up right away.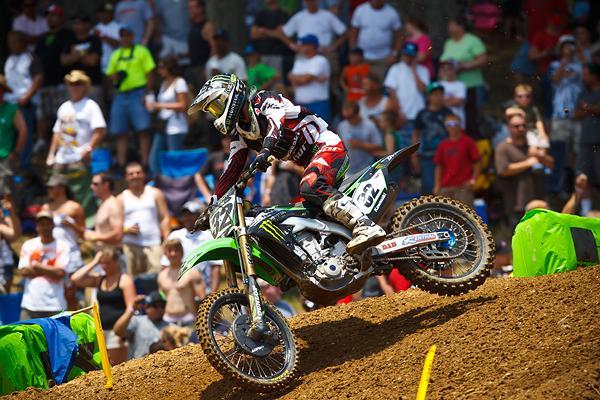 "I'm getting better but it takes time. Hopefully soon something changes for me," - Jake Weimer
Photo: Simon Cudby
Ricky Dietrich, Valli Yamaha- 11-11- 11th overall 450 class
I was up there in the start in the second moto, the 539 was sneaking in there a bit. We shouldn't even talk about the first moto, I had to come from behind. Second moto, I was behind RV the first few turns and then was behind Millsaps early on. For me to stay in the top ten is good because I'll pick guys off at the end. But that triple step-up in the back, I hail mary'd it and went off into the fence. I stayed on the bike somehow and fired my bike back up and got going. By then the pack was gone and so was my chance.

This my first time here and it was rough as crap. I thought it was rougher than Hangtown to be honest. I screwed up my flight and got in late, I didn't get to sleep until 2:30 AM and that wasn't good for me. This track was technical, was rough and had some deep ruts. I liked the rollers around the corner though, that suited me.
Broc Tickle, Monster Energy Pro Circuit Kawasaki- 3-9- 5th overall 250 class
I didn't get the start I needed in the second moto. Looking forward to the races to come, that was my first podium this season. Getting third kind of reassured me that I could do it, when I was out there it wasn't like I was out of control or anything like that. If everything goes my way, I think I can win a moto. It's building blocks you know? Last week I took the whole week off because at High Point, I just didn't feel like I had anything in the tank and I think that helped me a little bit. That makes me excited to race this weekend.
Second moto, I didn't get a great start and I crashed. I went way back to 15th or so and had to work my way to get ninth.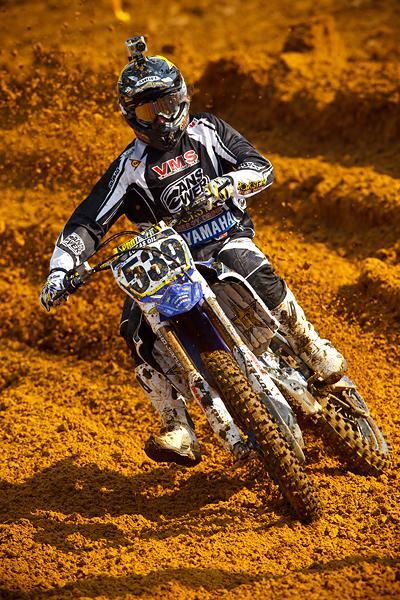 "This my first time here and it was rough as crap. I thought it was rougher than Hangtown to be honest," - Ricky Dietrich
Photo: Simon Cudby
Chad Reed TwoTwo Motorsports Bel-Ray Racing Honda 3-1 -1st overall in 450 class
It's always good to win, especially on Father's Day Weekend. I've always liked Budds Creek, and I was coming in here after a pretty exciting week. On Monday, we announced that I I was getting an order of Australia, and that was an honor for me. So I was excited and I tried to carry some of that momentum in. But I was terrible in the first one, but I was able to rebound in the second one and ride a little better.

Yeah I'm old and I suck at outdoors (laughs). I'm trying. You know I think it really comes down to the bike, I think we've made good choices as far as settings. First moto I put myself in a good position. I couldn't get around Mike, and I got frustrated, didn't ride my own race, and the two Ryans smoked me. So I went back to the truck and had a good talk with myself. I tried to think about some lines and come out and ride the way I know how to ride.

To be honest with you, when you ride as horrible as I did in the first moto, you hit every bump and it's actually harder on you. When you're on you're on, and it feels effortless. It's a great feeling to be able to move around the race track and feel like you have what it takes. It's nice to keep a little streak going where I have won every second moto. Fitness isn't a problem, it's just bringing it when I don't feel comfortable and then not getting frustrated with myself. That's what I need to work on.

My starts last week were very very poor, so I worked on them this week. This is a track, if you don't get a good start on, it's hard to come through, so to almost pull to holeshots, I'm happy with my progress there.

Justin Barcia GEICO Honda 6-2 -3rd overall in 250 Class
I came in this weekend and I just wanted to race. Doctors orders were to just stay home and lay in bed for three weeks. So I'm happy with the outcome today. This is one of my favorite tracks, best dirt of the season for sure.  So I just really enjoyed myself today even though I wasn't feeling the best. I had a good time. (After the first moto) I felt way worse. But I saw I was catching Rattray, I just couldn't pull the trigger, I think a lot of guys had that problem today, I heard Dungey saying the same thing. But it was definitely a fun day.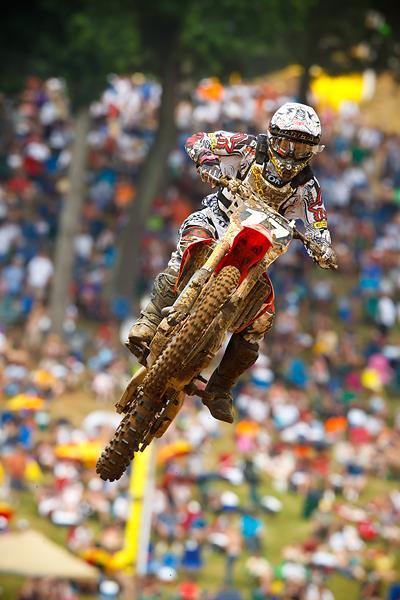 "Doctors orders were to just stay home and lay in bed for three weeks. So I'm happy with the outcome today," -
Justin Barcia
Photo: Simon Cudby
Dean Wilson, Monster Energy Pro Circuit Kawasaki 1-3 -2nd overall in 250 class
Ah, the day was good, second overall so I can't complain too much. But I really want an overall, so I'm a little dissapointed in the day just because I really wanted to win the overall. FIrst moto moto was good, I got such a good start, and I was so confident going into the second moto about my starts. But obviously my start wasn't that great,  I just didn't ride that great. I'll just take it to next weekend and take it moto by moto.

Second moto, I found  a little opening coming into the first corner and came out not that bad. But i made a couple of mistakes early and got passed by five or six people. I was just slow coming through the pack, and by the time I got to third those guys were gone. There was no sense pushing it and crashing. I need to keep trying my best and trying to get starts like that first moto.

In practice I had a pretty good crash. They have that wheels-on-the-ground flag on the first lap of practice so you don't jump anything. So second lap, I was going up to that triple step-up and I overjumped it pretty good. I hurt my wrist a little bit, but it was okay.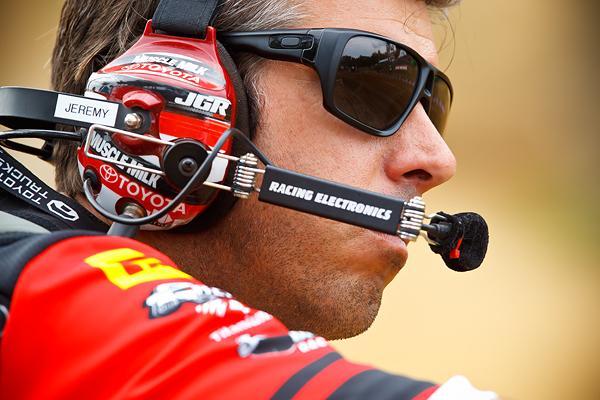 "It was our worst outdoor of the year so far," - Jeremy Albrecht
Photo: Simon Cudby
Jeremy Albrecht: Team Manager Muscle Milk/Toyota JGR Yamaha (Davi Millsaps 7-9 for 7th overall, Les Smith 16-16 for 15th overall)
It was our worst outdoor of the year so far. Davi had been riding really well coming in, but he got two horrible starts. He rode good and got through pretty quick, but once he got to around sixth or seventh he couldn't get any further. But he gave it everything he had and that's good.
Les, he's in a tough position. He came in without any expectations in Texas and rode really good, and we've seen this happen before, we brought on Nick Paluzzi last year and he rode really good in his first race, and then they start to feel the pressure after that and it gets tougher. It's just a tough position to be in to have a week-to-week deal and put that kind of pressure on yourself.