Budds Creek Motocross Park
Mechanicsville

,

MD
Budds Creek Motocross
Lucas Oil AMA Pro Motocross Championship
Hello, everyone, and welcome to the Rev Up. Sorry I'm late, but before I get into the business, I beg your forgiveness to honor this disclaimer, I had a bad day yesterday. Do any of you have bad days? What exactly constitutes a bad day? It's relative on a very wide scale. What was weird is when I got on the Internet and scoped the social network; I noticed friends from all over the country also had flat-tire-crap days of their own. Apparently it was a full moon yesterday. It was. Now, I am no astrology worshiping jelly head, but the moon does affect ocean currents. Are we so smart and finely tuned to think that it doesn't bother us as well? It has to. There is no other explanation as to how or why every single human I came in contact with yesterday was askew. I even sat down to write this column and when I did, nothing happened. I loathe bad days. But I know we all have them. It was a bad moon. A bad damn moon.
What's crazy is today was amazing and everything was great.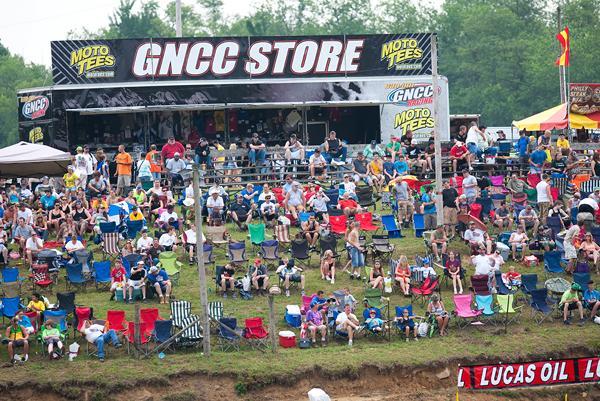 The fans are always out in full force at High Point.
Photo: Andrew Fredrickson
Before we run to the hills of Budds Creek, I want to talk a little about how cool High Point was last weekend. It was my first outdoor national of 2011, but it was all I knew it would be. It's funny how after the years you can virtually predict what will transpire, to a point. I told you RV Park was going to be a madman. Told you Durham was going to get them on their feet, and I reiterate that I claimed Blake Baggett was going to be a house of fire. It was funny how the weather and the day was almost identical to last year. It rained big on Friday, then was gorgeous Saturday morning, then dumped buckets at halftime. It was perfect. It was all I wanted it to be. I just sat there with my arms crossed and watched the fans literally run from fence line to fence line after the first drop of the gate.
Now, on to round four.
It's hard to pick a venue on the schedule that isn't special. But, Budds Creek is truly nostalgic. The 2007 MXoN was probably the single coolest moto event I ever attended. It was a mammoth classic that saw the perfect motocross day. But, on said day I saw a man ride a motocross bike with more aggression and speed than I ever had. Ever. Even more than Ricky. Ryan Villopoto kicked a damn mudhole in the world and I'll never forget the sound his 250F made as he shifted gears around the sweeper before the finish line. It was the most rage-fueled cacophony ever. He was carrying the mail, son. He showed "them" why they will never beat us at this game.

Can Villopoto keep the streak alive at Budds Creek?
Photo: Andrew Fredrickson
Turn the page back a few and we all know what happened in 1995. I'm still calling that the gnarliest thing I've ever seen anyone walk away from. Doug Henry knows things no human wants to know. Then he broke both of his arms a couple years later at the same place. My man is still making all of us ask, "What's stopping you?"
Ok, well, what's current? In the 250 Class it is a bit of a pickle. The reining alpha make, "Bad" Blake Baggett (ahem, if you haven't seen Crazy Heart you ain't seen shit) smooth broke his humerus bone here last year and if you've ever done that (I have) well, it's gnarly. Motocrossers are weird in returning to places where they've experienced the heavy. Maybe that bad day will deter #57 from dismantling those guys again? I doubt it. He's doing the bull dance right now. Feeling the flow. Working it.
But something is about to get switched up with these guys. Justin Barcia is sick and might not be ready to throw on the real charge, but there are a couple guys that could put their boots on Saturday morning and be ready to be the man. Tyla Rattray might be ready to wear these kids out. There's a reason he's donning the red number plate this weekend.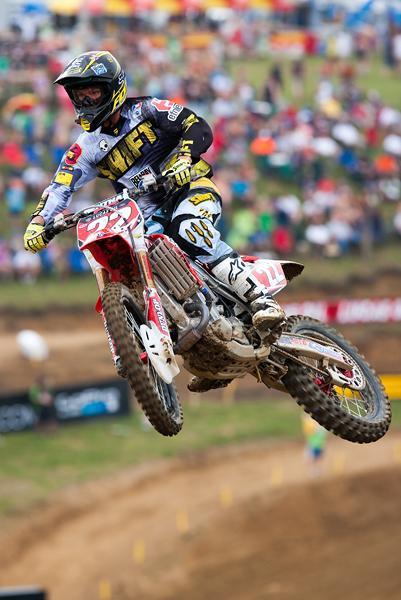 Reed still holds the red plate.
Photo: Andrew Fredrickson
On to the big boys. Ho, ho. Now it's getting interesting. But, I'm telling you, you better watch out for more fangs and talons from Number 2. Villopoto absolutely crushes Budds Creek. We could be on the cusp of seeing some straight ugly antics from RV Park. And not to go back to High Point, but I'm going back to High Point with respect to how nuts my man was going in the opening laps of Moto 1. There is a timing section on the far side of the track that guys double and triple through, but, oh no, Ryan was just leaving it taped WFO and using the whole section like whoops. With my own two eyes I saw him leave frame marks at the lip of the table top in the middle of the rhythm. You just don't do that stuff.
It could be bad. It probably is going to be pretty bad.
You can laugh or whatever but I'll tell you who is going to finish second this weekend. Mike Alessi is. He rode extremely well last weekend in his return from going beyond thunder dome at Hangtown. It won't take him long to get back to winning form. That's right, winning form. He can still beat everyone. And he will. I've always been soft on #800. He's a born winner, not just a racer. Mark my words, he'll win this year.
Reed still looks strong. Dungey has to be ready to break out. There is a real storm brewing with these guys and it might be ready to unleash the fury. Kevin Windham can ride Budds Creek as well as anyone too. I can picture Kevin putting together one of those days when he just cruises around and makes the whole mess look like a child's game. He can still create that scenario.
Budds Creek. Legend has it the man that shot Abraham Lincoln, John Wilkes Booth, tried to escape through the rolling green confines of the facility after he shot Abe. The venue is close to our nation's capital and pretty much everything about Budds bleeds Red, White and Blue. It's one of those special moto places. And it is going to be a great day for the 2011 Lucas Oil Outdoor National Championships.
In closing, I hope I didn't space anyone out at the top of today's column. I'm just a real person like all of you and bad days find me sometimes. I've earned bad days, but the ones that get me are the ones I wake up to with a clear head and take off ready to do it right...but it goes wrong. Was it the full moon? Do all things happen for a reason? Nobody can prove it otherwise. Best we can do is carry the weight, roll with the punches, and know that tomorrow is another day.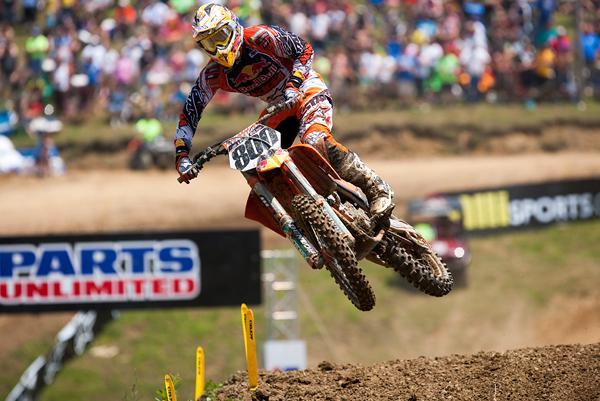 Alessi is back and proving he can contend.
Photo: Andrew Fredrickson
Well folks, now that I'm late, we only have one more day until the ultimate form of controlled chaos unfurls. It is such a great show. You just can't compare the feeling and the rush of blood pressure you own when those boys fire off the gate. It screams 100 percent pure danger. But, those animals aren't scared. They want more power out of their machines and are stretching their tendons for every possible reward of speed they can muster.
But beware. Back in the old days (circa late '70s) they used to flash a sign at the stadiums that read, "Hurricane Warning." Folks, we're stepping into Villopoto territory. I compare RV more to the Hurricane than anyone. Just pure aggression. He is going to ride a motorcycle very, very fast this weekend.
Let's get ready to see the show, folks.
Thanks for reading, see you next week.