High Point Raceway
Mt. Morris

,

PA
High Point Raceway
Lucas Oil AMA Pro Motocross Championship
Racers will tell you that there's nothing quite like the feeling you get when you race at your hometown track. Factors such as familiarity with the course, the support of the local fans, and the presence of one's family and friends, sometimes give a rider that extra boost he needs to have a breakout ride, and that this was in full affect for local hero Darryn Durham on Saturday at High Point.

After qualifying a very solid third fastest, Durham quickly dispatched of Nico Izzi to take the lead on the second lap of the first moto. Durham had Ryan Sipes hot on his tail, but handled the pressure brilliantly, pulling out a massive lead that would last for 12 laps before  he fell victim to the hard-charging Pro Circuit freight train of Blake Baggett, Dean Wilson and Tyla Rattray. Even so, it was a fantastic ride for Durham, and he still had another shot at bettering his finish in the upcoming second moto.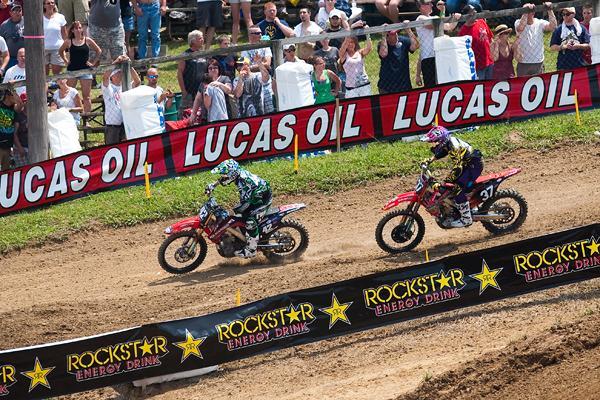 Durham would get around
Nico Izzi
early to take the lead in moto 1.
Photo: Andrew Fredrickson
Then, with just minutes remaining before the 250s began rolling to the gate for the start of the second moto, the decision was made to replace the clutch in Durham's motorcycle. It turned out to the catalyst in an unfortunate chain of events that would end Durham's bid for a podium at High Point. The team didn't have much time to change the clutch, and Durham was late to the gate, resulting in the loss of his hard-earned gate pick. Even on a dry day this would be a big deal, but after the deluge of rain that came through before the second motos, it was a critical blow. Durham got a bad start, went down in the second turn, and rode the rest of the race "bummed out," below his potential. It was a gloomy end to what could have just as easily been the best overall finish of Durham's career.

Of course, ninth overall (4-14) is still a pretty good showing, and at the end of the day, autograph-seeking fans surrounded Durham's pits, journalists sought interviews, and members of competing teams offered up congratulatory fist pumps as they passed by. Look out for this guy at the upcoming nationals, he just might find himself leading another race sometime soon. That is, if he makes it to the gate on time.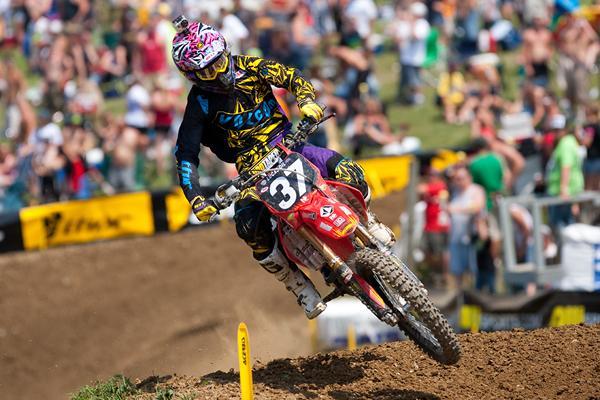 Durham would finish ninth overall on the day.
Photo: Andrew Fredrickson