High Point Raceway
Mt. Morris

,

PA
High Point Raceway
Lucas Oil AMA Pro Motocross Championship
Valli Motorsports Yamahas Ricky Dietrich is making the transition from off-road legend to motocross rookie this season, and after a top five finish at Freestone you would be hard pressed to find anyone doubting Dietrich's abilities on a motocross track.  We caught up with Dietrich at the High Point press conference yesterday to talk about his 2011 season thus far and how he is adjusting to a full-time motocross schedule.

How do you think your off-road background helped you make a late charge in moto 2 at Freestone?
I think it helped quite a bit. In the heat and stuff like that I think that there is a mentality that comes from off-road racing that allows you to push through in the worst conditions. Because that is what off-road is all about—having the worst conditions and seeing who can strive through it. I think just having that mental edge has been helping me late in the motos no matter what race it is, but especially at Texas. I still have things to work on, though, because I got a horrible start that first moto and I made a huge charge and I didn't really save enough for the second moto. If I could just get good starts both motos I would have a little more energy left. I think mentally I do have that edge, but there are still things I need to work on.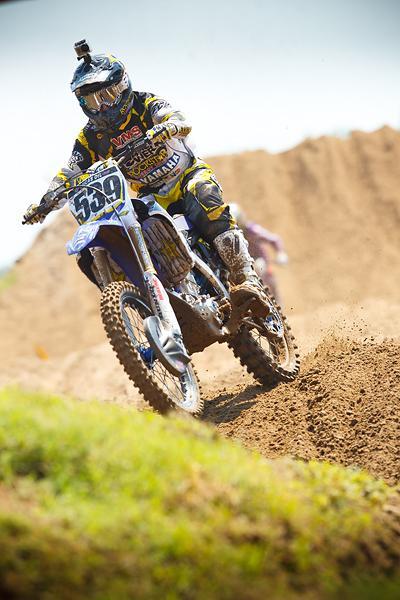 Dietrich finished fifth overall at Freestone.
Photo: Simon Cudby
Do you think that is something that with more experience you will get better at—being able to pace yourself?
Yeah, and that is what I'm still learning. Each race I am downloading so much from each moto and still I'm learning so much, just doing the two-moto format. Even the whole day, just the program learning what I need to do at certain times. I am learning so much each moto, and these guys got it dialed. It is a lot to take in each weekend, but I have been improving. My goal is to be top five and by the end of the season, have my routine figured out, and have everything dialed.
You gave up a pretty lucrative off-road contract to race motocross full-time. What went into making that decision?
It started in '09 when I got the fill-in ride for Villopoto. I did really good that year and ever since I have had the itch to go race motocross. I have won a championship in WORCS, in Endurocross, I have been the top American in ISDE, I have done all these things and at that point it was just, 'This is for the record books." I got ten years left in off-road, let's see how many I can rack up. Once I got the itch for motocross, it's like I think I might have something here. It would have eaten me alive if I never would have taken the chance, and that's simply what it comes down to.  I can always go back to off-road, I will always have a ride sitting there. But I had to do what I had to do to make it happen and these guys [Valli Motorsports] here gave me an opportunity so this is where I'm at, so we will see how it goes.
How has the transition been coming from off-road to a full-blown motocross schedule?
It's been good. Everyone needs change in their life, and I think that is where I was.  I had been riding off-road for Kawasaki for six years. To come to Valli with a new team, new series, new people, new bike, new gear—it doesn't get any different than that. That is completely changing my entire program that I have ever known. Change is good and I think I made the biggest damn change of them all that I could possibly make.  It makes everything new and exciting again and gives you that energy when you first started racing. It's starting over and basically reinventing myself. With learning a whole new series it is a lot to take on, but it is so exciting at the same time.

What are your thoughts on this weekend? I know being from Washington you are probably hoping it rains a little, huh?
Yeah, pretty much. I did the race here in '09, so I do have a little bit of time on this track and I like it. I remember in '09 and I did the first race in Texas for the Monster team and got fifth that weekend which basically shocked everyone and I remember Davey Coombs saying that is pretty good, but if you can back it up next weekend at High Point then that will be impressive. I did and I got sixth that next weekend and everyone was kind of like, "This kid has really got it." I like these kind of tracks; it's big, it's real motocross and it has a big crowd. And it is kind of off-road a little bit; there are off-chamber and big ruts and stuff like that.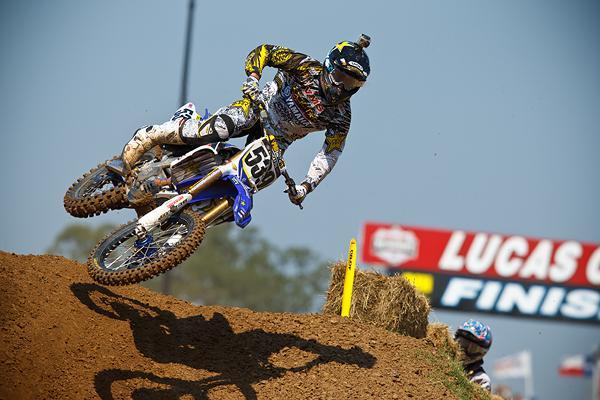 Dietrich sits sixith in the points standings after two races.
Photo: Simon Cudby
You have proven you can run in the top five, so what are you expectations coming into this weekend?
I would like to stick to the top five. I would like to get a couple more top fives under my belt. Honestly my biggest goal is to get a good start. I need the start so bad. So my goal is to get two good starts in both motos that will allow me to run with those guys. That is all I need right now, because for me right now it is strictly mental. I need to get the good start and run with those guys for as long as I can and figure out what is going on.
How did you approach the off weekend after a grueling weekend at Freestone?
Freestone was rough. I thought I did a WORCS race after Texas. It felt like a WORCS race, it hurt the body. But I haven't backed off at all; I was right back in the gym on Monday and rode a couple of times that week and then on Saturday instead of taking the weekend off I went out and did two motos with my trainer Ryan Hughes and then we did a grueling hill climb road bike deal. So, no time off. I'm pretty locked in right now and I need to keep it going every weekend. Come September I will have plenty of time off.