Freestone Raceway
Wortham

,

TX
Freestone Raceway
Lucas Oil AMA Pro Motocross Championship
The heat and humidity at the Rockstar Energy Drink Freestone National in Texas means every rider is going to have to dig through pain late in the races, but Ryan Dungey's heartbreak surely felt a whole lot worse that any kind of physical fatigue after the second 450 moto. Near the end of a hard-fought day of racing, Dungey appeared to have the overall win in hand. He finished second in the first moto behind Chad Reed, and then pulled away from the field in moto two and looked to have the win locked up. But then, with two laps to go, his bike let go, and Dungey coasted to a stop on the side of the track, powerless. Chad Reed, cruised past, and took his second straight overall win in the Lucas Oil AMA Pro Motocross Championship—as well as a sizable points lead.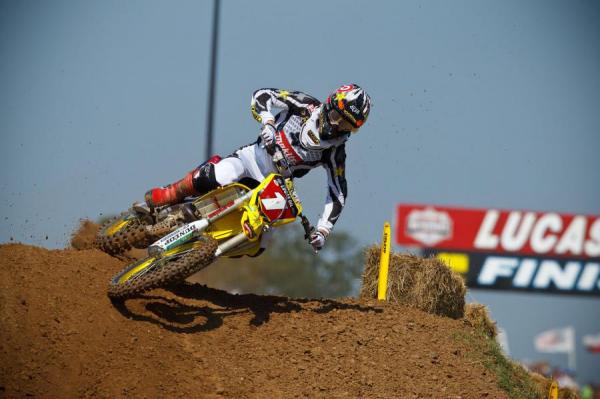 Ryan Dungey appeared to have the 450 overall won in Texas....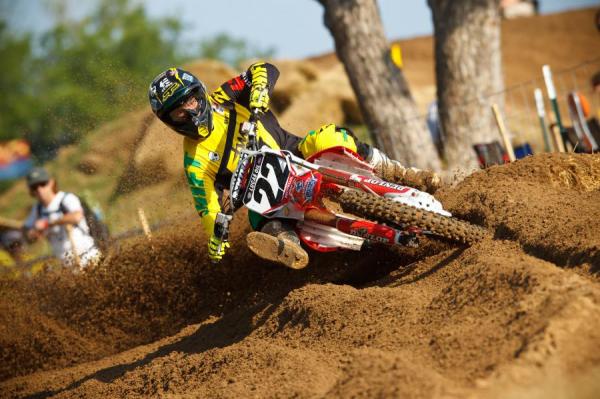 ...until his bike broke with two laps to go. A determined Chad Reed rolled past to take his second-straight overall win.
Simon Cudby photos
There was also a shakeup in the standings in the 250 class, as Hangtown winner Blake Baggett had a bad day, while his Monster Energy Pro Circuit Kawasaki teammates Tyla Rattray and Dean Wilson battled for the win, and in WMX, Honda's Ashley Fiolek battled back to make up championship ground as well.

Reed won the first 450 moto, and he did it in impressive fashion. Lucas Oil Troy Lee Honda's Christian Craig led early after grabbing the holeshot, and Reed was off in second early. But Motoconcepts Yamaha's Christophe Pourcel was on the move, passing Reed and going after Craig, while Dungey was making his way back from a bad start. Pourcel's run at the front didn't last long, and he started dropping positions to Reed and Dungey, and then pulled off the track, saying he wasn't comfortable with his bike set up.

Dungey was all over Reed for a few laps but just could not find a way to make a pass. Then Reed stepped up his pace and pulled away from Dungey while also going after Craig. Reed took the lead, and eventually Dungey took second, but Dungey was never able to mount a serious challenge to Reed. Craig finally fell back a few more spots but held on for an impressive fifth.
Monster Energy Kawasakis Ryan Villopoto fought his way to third after a bad start, but the new Monster Energy supercross champion was never in contention with Reed and Dungey. Muscle Milk Toyota JGRMX Yamaha's Davi Millsaps took fourth ahead of Craig.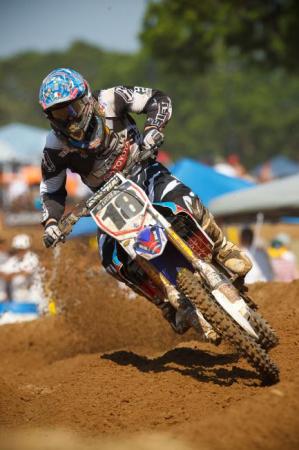 JGR's Davi Millsaps rode well, and took advantage of trouble for Dungey to net second overall with 4-2 scores.
Cudby photo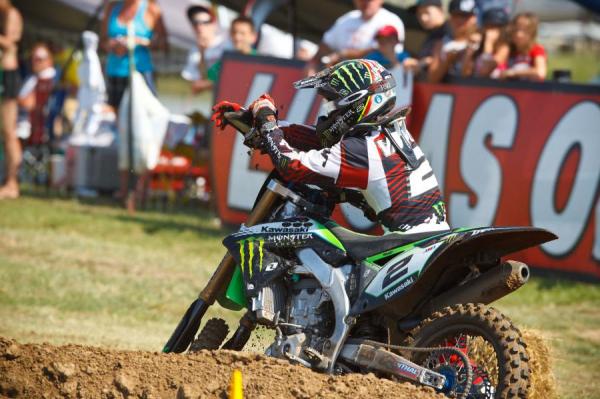 Not quite the day
Ryan Villopoto
wanted. Bad starts and a second-moto crash held him to third overall with 3-5 finishes.
Cudby photo
In moto two, Dungey passed his Rockstar Makita Suzuki teammate Bret Metcalfe to snag the early lead. Reed was quickly up to second and kept some pressure on, and it looked like a rematch of Hangtown's second moto was about to materialize. Then Reed tried a new line and crashed, handing Dungey a big lead and what seemed to be a sure overall. Until his bike quit. With two laps to go, Dungey started slowing, and then soon his bike let go altogether. Reed, some 25 seconds behind, rolled through to take the lead and the win, while Dungey was left to push his bike off. Dungey's team said they were not yet sure what had gone wrong with the bike.

Millsaps logged another great moto to take second ahead of Metcalfe and Valli Motorsports Rockstar Yamaha's Ricky Dietrich. Villopoto suffered another bad start and a crash, dropping him to fifth. Millsaps' 4-2 scores carried him to second overall ahead of Villopoto's 3-5 for third.

The 250 class was equally crazy. GEICO Powersports Honda's Justin Barcia holeshot the first moto with Red Bull KTM's Marvin Musquin battling with him. But Barcia slid out and crashed, and his bike flipped right into Musquin, knocking the Frenchman from the race with a broken thumb—that's about as bad as bad luck can get.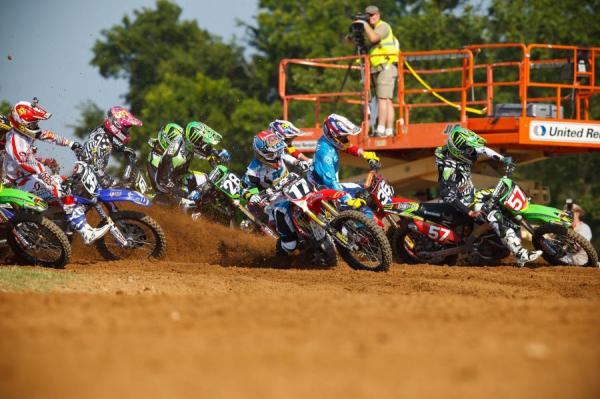 Last week's Hangtown winner, Blake Baggett, jumped out to an early lead, only to crash out of the top ten. Dean Wilson picked up the lead from there and checked out, winning the moto over his Monster Energy Pro Circuit Kawasaki teammate Tyla Rattray and DNA Shred Stix Star Racing Yamaha's Kyle Cunningham.

Things got crazy in moto two, as well. Barcia got into the lead again but stayed up. Wilso was second, and then Wilson started round 137 of the Barcia/Wilson battles. Dean tried to make an aggressive pass, tangled with Barcia, and went down. This left Rattray and Cunningham battling for the overall, and when Rattray passed Cunningham to get into second, he had the race won overall. Until Wilson started making up time and passed his way into third, putting him into the overall lead based on points.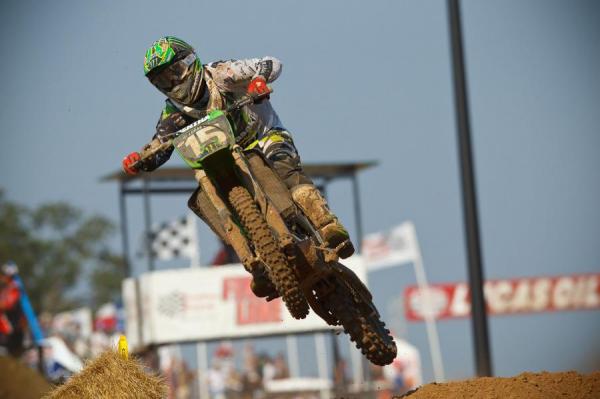 Dean Wilson won moto one, but crashed battling Barcia in moto two.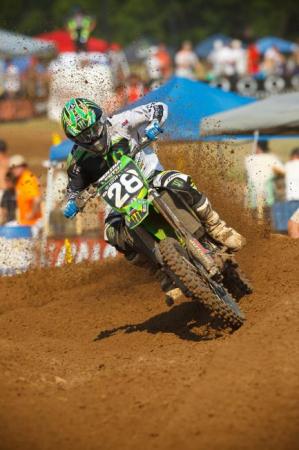 Tyla Rattray outlasted the field in the second moto to take the win and the overall.
Cudby photos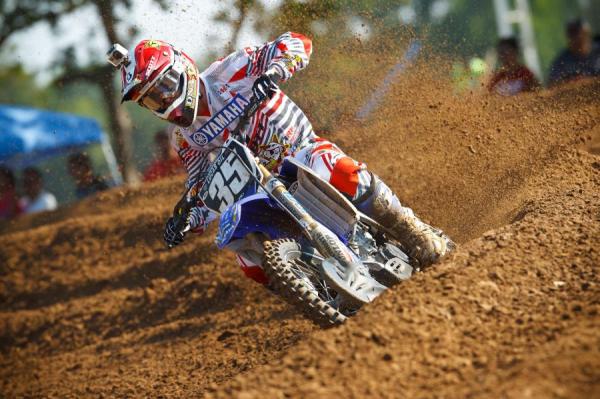 Kyle Cunningham rode well in his native Texas to grab third overall.
Cudby photos

Barcia held a big lead at one point, but he couldn't hang onto it down the stretch, as Rattray logged some impressive laps late to reel Barcia in and steal the lead with two laps to go. That gave Rattray a 2-1 for the overall win, over Wilson and Cunningham.

In WMX, American Honda Racing's Ashley Fiolek struck back to win the overall with 2-1 scores. Fiolek had crashed hard in practice and wasn't even sure if she would be able to ride with a back injury. In the first moto, she sprinted out to an early lead, but then stalled, and last week's winner, Jessica Patterson, ran into the back of her. They both went down, but Fiolek got up and going quickly, while Patterson had trouble restarting and finished 13th.

Patterson came back to win moto two, but there was no stopping Fiolek for the overall with a 1-2. Lucas Oil Troy Lee Designs Honda's Tarah Gieger took second overall and Mariana Balbi was third for the day on her Motoconcepts Yamaha.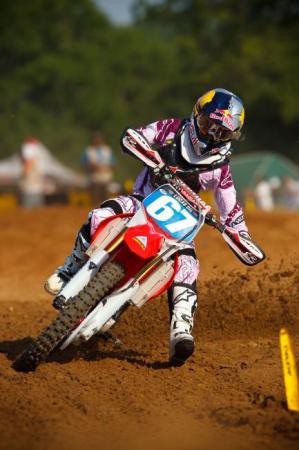 The 2011 Lucas Oil AMA Pro Motocross Championship takes a weekend off, before returning to action on Saturday, June 11, with the Rockstar Energy High Point National. Round 3 of the season takes place at High Point Raceway in Mt. Morris, Pa.

Lucas Oil AMA Pro Motocross Championship
Rockstar Energy Freestone National
Freestone Raceway - Wortham, Texas
May 28, 2011
Round 2 of 12
450 Class (Moto Finish)
1.    Chad Reed, Australia, Honda (1-1)
2.    Davi Millsaps, Murrieta, Calif., Yamaha (4-2)
3.    Ryan Villopoto, Poulsbo, Wash., Kawasaki (3-5)
4.    Brett Metcalfe, Australia, Suzuki (9-3)
5.    Ricky Dietrich, Menifee, Calif., Yamaha (8-4)
6.    Jake Weimer, Rupert, Idaho, Kawasaki (6-7)
7.    Christian Craig, Hemet, Calif., Honda (5-8)
8.    Ryan Dungey, Belle Plaine, Minn., Suzuki (2-25)
9.    Andrew Short, Smithville, Texas, KTM (15-6)
10.    Nick Wey, Dewitt, Mich., Yamaha (10-11)
450 Class Championship Standings
1.    Chad Reed, Australia, Honda - 97
2.    Ryan Villopoto, Poulsbo, Wash., Kawasaki - 76
3.    Davi Millsaps, Murrieta, Calif., Yamaha - 72
4.    Ryan Dungey, Belle Plaine, Minn., Suzuki - 69
5.    Brett Metcalfe, Australia, Suzuki - 64
6.    Ricky Dietrich, Menifee, Calif., Yamaha - 53
7.    Christian Craig, Hemet, Calif., Honda - 47
8.    Kevin Windham, Centreville, Miss., Honda - 45
9.    Jake Weimer, Rupert, Idaho, Kawasaki - 44
10.    Tommy Hahn, Decatur, Texas, Yamaha - 40
250 Class (Moto Finish)
1.    Tyla Rattray, South Africa, Kawasaki (2-1)
2.    Dean Wilson, Scotland, Kawasaki (1-3)
3.    Kyle Cunningham, Aledo, Texas, Yamaha (3-4)
4.    Justin Barcia, Ochlocknee, Ga., Honda (9-2)
5.    Eli Tomac, Cortez, Colo., Honda (5-6)
6.    Martin Davalos, Ecuador, Suzuki (10-7)
7.    Matt Lemoine, Collinsville, Texas, Kawasaki (8-11)
8.    Cole Seely, Newbury Park, Calif., Honda (14-8)
9.    Blake Baggett, Grand Terrace, Calif., Kawasaki (7-16)
10.    Gannon Audette, Cain, Ga., Yamaha (12-12)
250 Class Championship Standings
1.    Dean Wilson, Scotland, Kawasaki - 90
2.    Tyla Rattray, South Africa, Kawasaki - 85
3.    Eli Tomac, Cortez, Colo., Honda - 69
4.    Blake Baggett, Grand Terrace, Calif., Kawasaki - 66
5.    Kyle Cunningham, Aledo, Texas, Yamaha - 64
6.    Justin Barcia, Ochlocknee, Ga., Honda - 52
7.    Gareth Swanepoel, South Africa, Yamaha - 46
8.    Martin Davalos, Ecuador, Suzuki - 44
9.    Cole Seely, Newbury Park, Calif., Honda - 42
10.    Broc Tickle, Holly, Mich., Kawasaki - 38
WMX Class (Moto Finish)
1.    Ashley Fiolek, St. Augustine, Fla., Honda (1-2)
2.    Tarah Gieger, Puerto Rico., Honda (3-3)
3.    Mariana Balbi, Brazil, Yamaha (2-4)
4.    Jessica Patterson, Tallahassee, Fla., Yamaha (13-1)
5.    Tatum Sik, Temecula, Calif., Yamaha (6-5)
6.    Marissa Markelon, Winchester, Calif., Yamaha (5-8)
7.    Sara Price, Canyon Lake, Calif., Kawasaki (4-11)
8.    Alexah Pearson, Rocklin, Calif., KTM (8-7)
9.    Kasie Creson, Byron, Calif., Honda (9-9)
10.    Lindsey Palmer, Conifer, Colo., Honda (10-10)
WMX Class Standings
1.    Ashley Fiolek, St. Augustine, Fla., Honda - 91
2.    Jessica Patterson, Tallahassee, Fla., Yamaha - 83
3.    Tarah Gieger, Puerto Rico., Honda - 72
4.    Mariana Balbi, Brazil, Yamaha - 66
5.    Tatum Sik, Temecula, Calif., Yamaha - 59
6.    Kasie Creson, Byron, Calif., Honda - 48
7.    Jacqueline Strong, Sedona, Ariz., KTM - 48
8.    Marissa Markelon, Winchester, Calif., Yamaha - 47
9.    Sara Price, Canyon Lake, Calif., Kawasaki - 43
10.    Alexah Pearson, Rocklin, Calif., KTM - 42