Sam Boyd Stadium
Las Vegas

,

NV
Las Vegas
Monster Energy AMA Supercross Championship
In dramatic fashion, Broc Tickle and Monster Energy Pro Circuit Kawasaki claimed the West Region Lites Championship with a solid run at the Las Vegas finale. The race featured so much passing and action it was hard to even describe it all, but Tickle does his best for this week's Monday Conversation.
Racer X Online: This was basically a whoever-finishes-in-front-gets-the-title situation, so what was the mindset coming in?
Broc Tickle: I was just trying to have fun. The last few weeks, I've been struggling, and you have seen that on TV or if you were at the races. I had a good week this week, but to be honest with you, it was a hard week. It was hard to keep my mind off of what was happening with things being so close, and I tried to go out there and not get tight. But this day was good, from practice on, everything felt good…until I started eighth in the main. That wasn't good! So I just tried to ride my own race, I just sat back there and did my work. Then I passed three guys on the last lap, which is pretty unbelievable, actually!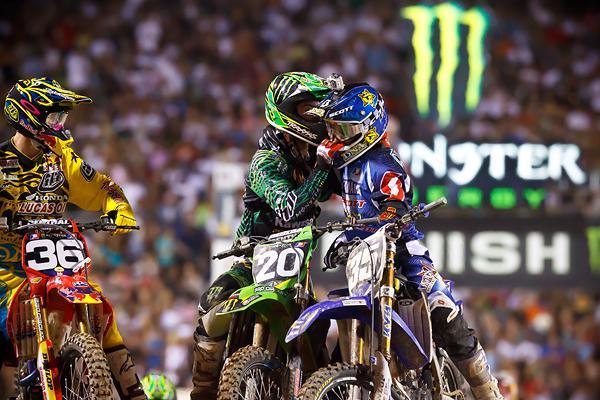 After a hard fought battle, Tickle celebrates his first career SX Lites title with Kyle Cunningham and Cole Seely.
Photo: Simon Cudby
This race was so crazy. In your own mind can you even run down what even happened out there?
Oh yeah, I could replay it all together—especially the Cunningham part where I almost landed on his head! I tripled out, and he was doing table over two singles. When he landed his hand came off, so when I was in the air, he weaved underneath me. I swear, at one point he was directly underneath me! Somehow, I swear, God or something just moved him back in front of me, and I landed right on his back wheel. It almost looped him out, and then I got by because he lost all of his drive.
When you were in the air did you think it was over?
Oh yeah. I was in the air and I was like, "This is done right now. It's done." It was gnarly.
Take me through the battle with Tomac.
I was trying to be smart. It was tight, but I tried not to think about him too much. He was trying to get aggressive at the end and show me a wheel here and there, but I tried to ignore it, obviously what he wanted me to do wasn't what I needed to do. I think he was just being a little too…you know, I think he kind of did what I did the last few weekends. And what can I say about this team, these guys are awesome. We did a lot of testing this week, and Mitch told me I just need to have fun and I can do what I can do. And here it is, 2011 champion.
So what are you saying made you struggle the last few weekends? The pressure, the broken collarbone? What was it?
It was a combination of both. I was putting too much pressure on myself. Obviously, that injury kind of breaks that roll you're on, and I was riding really well before I got hurt. So it kind of messes with your confidence a little, even though I did get back onto the supercross track twice before Seattle. I'm just happy to be in the situation I'm in now.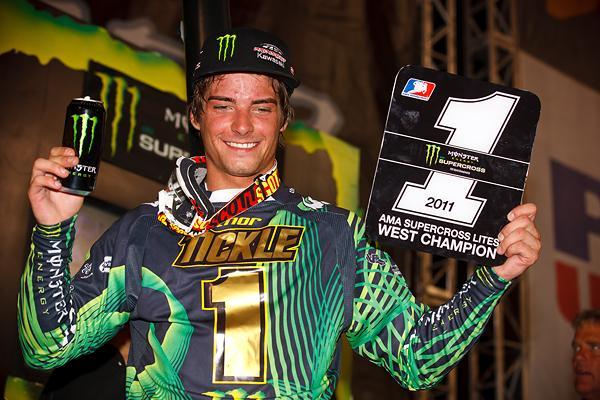 Tickle claimed his first career SX Lites title at Vegas.
Photo: Simon Cudby
At one point Tomac was in front of you, dealing with Hansen, Seely, Cunningham. Did you see what was going on?
Yeah, I was just kind of waiting for things to happen. There was too much going on for something to not happen. Then I ended up passing all three at one point in one corner, which is amazing, and then all three got me right back so I went back where I started. I had to reset, and I was what, like fifth? I had gone all the way to second, and then I was back in fifth. Then Tomac was trying to make a move over the triple, and both of us doubled, and then on the last lap he tried to slam it in there, so I just said screw it, I'm going to jump this triple, and I did, and it was over after that. Then I passed Cunningham and Seely on the last lap. That was the best race we had all year, the funniest, most entertaining race. Had to be for you guys, too.
What's this do for you career?
I definitely think this will be a stepping-stone for my career. I'm really looked forward to outdoors. Now I know I just need to keep having fun, because as soon as I start taking it too seriously, I put too much pressure on myself, and it's too much. I just need to keep the fun factor there and we'll see where it takes me.