By: Geoff Meyer
Nearly a year ago to the day we lost a good friend in Andrew McFarlane. I still get a lump in my throat when I think that Sharky is no longer with us. Here is a short story I did with him in the middle of his best season ever, when he came so close to beating Antonio Cairoli in the 2005 World MX2 Championship.
As Andrew McFarlane stood atop the podium at the Grand prix of England he looked far from overwhelmed. Despite bagging his fourth GP victory - which saw him surpass Jeff Leisk as the most successful Grand Prix rider to emerge from Down Under - and the overall lead in the MX2 world championship, here was a man who was calm and assured. A man who is confidently, but not arrogantly, sizing up his competition, and the trophy that should stand him in good stead to make Australian motocross history.
For years Andrew McFarlane has nested in the shadows of his fellow compatriots and while
Chad Reed
boldly marched though America, capturing the 125 and 250cc supercross championships, McFarlane battled away, racing the likes of Stefan Everts, Joel Smets, and
Ben Townley
in his plight to become the best Australian Grand Prix rider of all time. In Aussie MX folk law Andrew McFarlane will always be considered a good rider, a solid scorer, but he's was not thought of in the same vein as a Reed or a Leisk.
That, though, gradually changed. Mid-way through his best season ever Andrew McFarlane was marching towards the status he has always wanted and nobody, it would appear, can stand in his way.
'You set goals and try to achieve them," explained a laid back McFarlane. "But sometimes you can't achieve that goal. From the outside people don't really appreciate what it takes to have really good season. From an athlete's point of view you have ups and downs. You have injuries, problems with your team and other issues. Sometimes you have to deal with that, and accept it, it can wreck a season, or you can be strong enough to fight through it - this year I am ready for anything."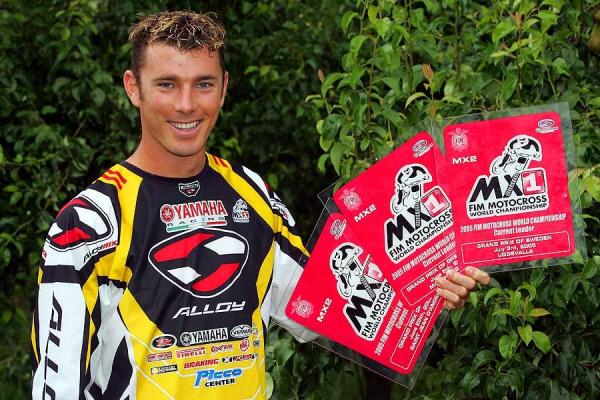 McFarlane came very close to winning the MX2 title in 2005.
As the 2005 pre-season got under way in Europe McFarlane remained at home in Australia working on his condition and mindset. Many skeptics in Europe questioned his motivation, wondering whether he was just enjoying an extended holiday. Little did they know he was about to step off a plane and become one of the strongest contenders for the MX2 world championship.

"I know that I traveled to Europe late, but I was just working so well. Some people called me and said: 'You're not in Europe, you're missing all the pre-season races,' but I felt that with the weather in Australia, and the fact that I was working so well, that I was doing the right thing. I was confident that my hard work in Australia was going to make me competitive.

"I came straight to Belgium, picked up my motorhome and left for Italy. I was training with guys like Chiodi, Melotte and Philippaerts and from that moment I knew I was going to do okay. As soon as I rode with those guys I knew my speed was good, and that I was ready for the season."     

The question that always gets asked in these situations is: how did he turn the corner? In the past he's fallen short, although considered a strong competitor the former Australian Motocross Champion has failed to set the world alight. But things had changed over the winter. How's that? How do you go from mediocre to blazing hot in a few months? What's changed?

"I would say we worked hard in the winter on my mental attitude. Stephen Gall and my wife Natalie (for those that don't recognize that name, Stephen Gall is another former Aussie MX champ and a true Legend in Australian Motocross circles). We spent a lot of time going inside my and looking at what I can do better. It is not easy pointing out your weak points and working on your mind. Everybody can tell you what to do, and give you advice, but it's you yourself that has to find out what you need to do to be dominant. I worked hard with Stephen and there were a lot of things I could do better. Some pieces of the puzzle were missing and we managed to get the puzzle back together during the winter.

"I trained hard too, and we did a lot of work on the bike, changing some things. There is still a lot of room for improvement."

Sure enough Sharky finished that 2005 season with the runner-up spot behind now MX legend Antonio Cairoli. He came so close to winning Australia a World Motocross Championship.

Now five years later and Cairoli is the best of the best in the MX1 class, and Sharky, he's probably looking down on us all with that cheeky smile on his face. He might be gone, but we will never forget him.

Thanks for the memories Andrew McFarlane.