AT&T Stadium
Arlington

,

TX
Arlington (Dallas)
Monster Energy AMA Supercross Championship
By Jason Weigandt and Steve Matthes
Ryan Villopoto: Monster Energy Kawasaki -- 2nd Place SX Class
I had a bike problem the whole race. It was a little bit of a problem because I had to change my riding style a little bit, so I had to just ride the way I could and hope to stay close. I could go just fast enough that once some things happened to those guys, I was close enough to be able to get up front.

Reed, Stewart and Dungey all had crashes in front of you. Did you think that kind of thing could happen? The track was gnarly and guys were crashing all over.
When it's like that, it's crazy. Those whoops, they were sketchy. There were probably the toughest whoops we've seen in a long time. I was just, I wasn't just riding around, but I was riding my own race, and what was going to happen was going to happen. I couldn't really put in a charge.

Was it almost safer in a way? You're one of the few riders who didn't have major problems with crashes.
It was, because the way the track was, it was really easy to make a mistake.

So if you hadn't had bike problems and had been able to charge….
Exactly. Who knows what could have happened.

Ryan Dungey: Rockstar Makita Suzuki – 3rd Place SX Class Main
The race was pretty good, and we made a few changes for the main that helped a lot. I ran into a couple of things out there, I got into second place but then I ran into a lapper and fell. I tried to make a comeback to get back into second, I almost got to Villopoto's fender, but I ran out of time. But overall I felt good, physically I felt good, and the bike setup was good, so big thanks to the team. It's definitely a step in the right direction.

Last few laps it looked like you really stepped it up.
I just tried to sprint. The whoops were definitely the hardest part of the track. The bike was working, and even in the whoops it felt great. I actually felt good for the whole moto. I was into second and was going to try to steadily reel in Trey, but I ran into that lapper. It was just unfortunate.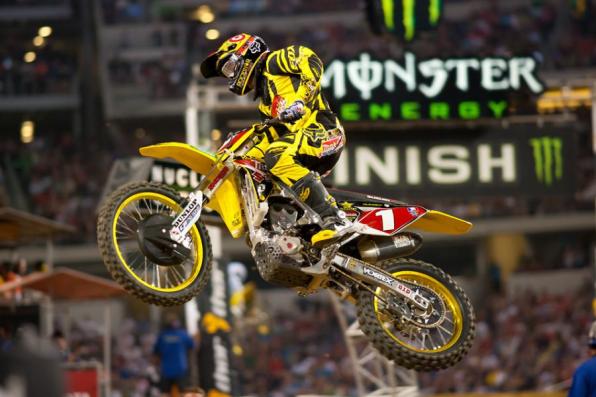 Michael Byrne: BTOSports.com BBMX Suzuki -- 14th Place SX Class
The race was going good, it didn't start that well but I was up to tenth. I was behind Tommy (Hahn). I felt the best I have, but I just stalled it in a corner after the sand. I was just trying to go to the inside and I stalled. Then I ended up taking out Dungey when he was lapping me. I didn't know he was there, they weren't waving any blue flags. I jumped to the inside and all of a sudden I felt someone run into me. It was too bad, they didn't wave the blue flags so I didn't know. I ended up 14th, so it wasn't that good. I feel like I'm riding way better than my results have been. It's frustrating.
Tommy Hahn: MotoConcepts Yamaha -- 7th Place SX Class
In practice I made a mistake in the rhythm and it seemed like my bike was in neutral because it just didn't go anywhere. I twisted my knee a little bit and took a handlebar to my other side. It's nothing bad, I'll ice it and be okay. The race was very good. I didn't even ride that well, I just rode around and didn't make any mistakes. I kept the same lap time all along—52s or so—they weren't fast by any means, but people were grenading left and right. I got an okay start, I made a few good passes and avoided some pileups, so I was in seventh and that was good. Reed came up on me and I actually let him around, I didn't want to get in his way or anything. So I cam around to the finish line and he was laying in the whoops, so I was like "Should I wait for the guy and just stop here?" I didn't want to interfere with any of these guys. I went around, it was okay.

Why were there so many crashes tonight?
The track was real slick and the whoops were really big. When they don't start out with big whoops at the beginning of the year, we don't set our bikes up for them, and then it makes it pretty hard for some guys to conquer them when they're big like this. Luckily that's one of my stronger points, I felt pretty solid most of the way through them. I think it was also the dirt. I don't get it, the dirt at my track is nothing like this and I live 45 minutes from here. This is not Texas dirt that I'm used to.

Ryan Sipes: DNA Shred Stix Star Racing Yamaha -- 17th Place SX Lites Class
The beginning was great, the start was great, I was riding behind Justin trying to figure out where I could make a pass. I saw that I was quicker through the whoops leading to the finish, so I made my move there and put a little time on him. I made a mistake in that rhythm section and cased it hard. I ended up going like single single single all the way through there, and then I blew the whoop section too. So Justin was able to make the pass. I kind of lost my focus from there and crashed the next lap. And I don't know if I was holding my breath too much, or I ate something bad, but my stomach was killing me. I couldn't get going after that—it's kind of a bummer because I felt like we had this one. It was just one mistake in the rhythm lane, which happens, but I'm disappointed because I feel like mentally that just messed me up after that. And I've been good about that this year, so I'm bummed on that. But what can we do now?


Kyle Regal: San Manuel Red Bull Yamaha -- 16th Place SX Class
It was pretty good. I got fifth in the heat race. I was doing good in the main, think I got an eighth or tenth place start, and then a bunch of us just weeded. I was fighting back, fighting back, got all the way to ninth, so I was pretty pumped on that considering how far back I was. Then I think on like lap 18, those whoops were gnarly tonight, and I was just trying to keep up with the guys I had just gotten lapped by, and I missed a whoop with my front wheel and went down pretty hard. I had to do the last two laps without any air in my lungs. It was pretty tough, and I was going over some jumps not even able to breathe thinking "why am I doing this?" But it was pretty good besides that, I feel like I was better than I was at the races before I was injured. We had changed a lot with the bike right before I was going to go to Daytona, so I never got to race with that until now. I'll just go back to Florida and ride with James and Malcolm and see how we do next week.

Blake Wharton: GEICO Honda -- 3rd Place SX Lites Class
Race was pretty good. Didn't start good with my practice and heat race. I was not exactly feeling it, and it's definitely tough with the shoulder sometimes. But in the main I knew it could be done—I could get a start from the outside. I would have like to have won it, but no excuses, I feel like my speed was good and I got third. I think the track was maybe the most technical so far, with the whoops and the slickness. It really was sketchy. You have to race it hard either way, but at the same time you can't crash, so you have to figure out the right mixture.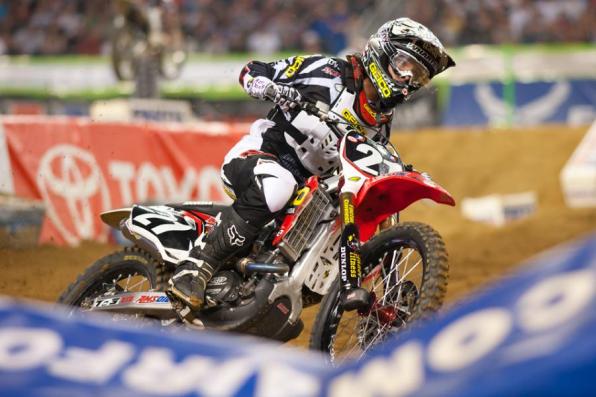 Wharton grabbed a main event podium after a heat race crash.
Andrew Fredrickson photo
Nick Wey: Valli Motorsports Rockstar Yamaha -- 18th Place SX Class
It was the first few laps and I was making some moves, passing some guys. My bike was working good in the whoops and this track was suiting me. I was picking some guys off and coming out of the sand, I hit neutral and flipped over the bars. I don't know what happened, some sort of malfunction I guess. I hit my head and it happens.

I rode well today up until then, I was inside the top ten when I crashed and I qualified inside the top ten which is good for me because I've never been the best at laying down the hot laps.

Austin Stroupe- Valli Motorsports Rockstar Yamaha – 9th Place SX Class
Coming from where I was a few weeks, a ninth is a good finish. We're reaching some of our goals and I'm just trying to be consistent and race every event. The track was tough, I couldn't see much but I could hear the crowd so I knew there had to have been some guys going down.  I feel like I see too many crashes off the start and it kind of freaks me out.

Jeremy Albrecht- Team Manager- Muscle Milk/Toyota JGR Yamaha (Justin Brayton 17th and Davi Millsaps 20th)

We had high hopes coming in, we were excited coming into the main event but it was very tough. Davi Millsaps was going around the corner when (Cole) Seeley's bike just hit him. There were a lot of crashes tonight, and that was a bummer. His hand got injured, I don't think there was anything broken. I guess we'll find out more this week.

Justin Brayton was coming through the pack pretty good, he came from about 11th to 7th and crashed in the whoops. They took him to the hospital to check him out, they don't think it's anything serious but they don't know right now. [Note: Brayton later checked out okay]

The track was tough, it was a great race. Even though both my guys were out, I stayed there to watch the race. It was very exciting with people crashing out everywhere and that's not what I want to see, but the crowd does. It was great for our sport to have this, the stadium is awesome and like I said, it was an exciting race.