AT&T Stadium
Arlington

,

TX
Arlington (Dallas)
Monster Energy AMA Supercross Championship
Lots going on in Blake Wharton's world right now. He's fighting through shoulder injuries while trying to land on the podium, and he's also headed to his hometown SX in Dallas this weekend, with a bunch of elementary school kids right behind him. We checked in with the man they call Purple Rain for this week's Between the Motos.
Racer X Online: Okay Blake I'm just warning you that this is being recorded, and anything you say can and will be used against you.Blake Wharton:
No, anything I say can and will be used for me, and to help whatever cause I choose to support.

Well that's a great transition, because I hear you've got a whole bunch of kids coming to the race this weekend.
Yes, its' called Tracking 21. It will be done.
Explain what this is.
It started with me going to a school to talk to the kids in a fourth-grade class. The teacher wanted to find a way to keep the kids interested in different subjects, so they focused on some of the things I did. The teacher came up with an idea where the class tracks me. Every weekend when I travel to a race, they calculate how many miles I have go, the history of each city I'm in, they use math and history and things like that. Like, over the weekend, they put a report together on the city of Toronto. The teacher has a cool way of letting the kids do fun things. We were all in fourth grade at one time and I'm sure we all wished we could have paid more attention at times.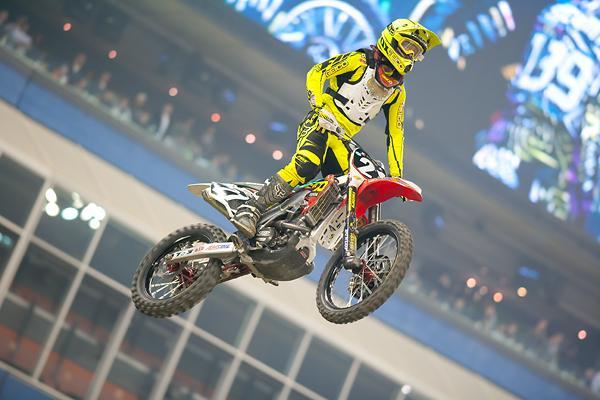 Wharton returns to homestate of Texas for the second time in 2011.
Photo: Andrew Fredrickson

I bet they're even teaching you some things.
Yeah well they did. I learned some things I didn't know about Jacksonville and Toronto thanks to them. Next year I'll have to switch it up and do a fifth grade, and I'll just keep it going all the way through high school.
You'll have to be racing for quite some time
.
Yeah by the time I'm done, I'll be ready for college. Then I'll be outsmarting the competition!
So the whole class is coming to the race this weekend?
Oh yeah, a whole slew of them.
It's cool to have a home race and have the kids coming out to watch, but I hear you're also hurt, so that's not good
.
Yes, I'm definitely wounded. I have a torn labrum in my shoulder, and I will have to have surgery after St. Louis probably. Right now I'm trying to tough it out.
Why after St. Louis?
Well, I want to get some races in. This is a big surgery, and once it's done, I probably will be out for the rest of the year. I likely won't even be back for outdoors.
At all?
No, not at all. It's pretty bad. I've had a torn labrum for awhile, and we didn't know it was as bad as it was. I dinged it up at Daytona and then again in Jacksonville. It's something I need to do, but at the same time, I want to race a few more and see how it goes.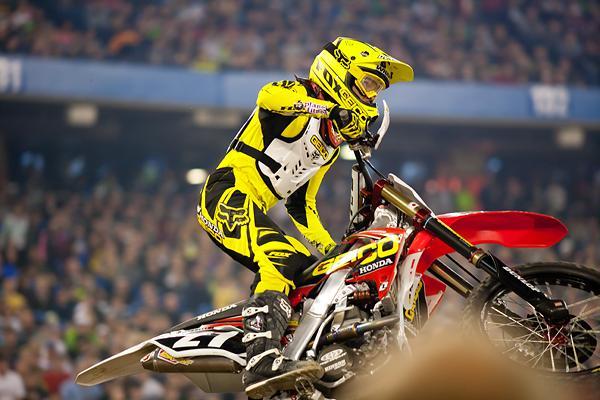 Wharton is likley to miss the entire outdoor season with a shoulder injury.
Photo: Andrew Fredrickson

You got on the podium in Toronto, but you're saying even if you keep getting results, eventually you will have to shut it down?
I've been putting it off for awhile now, and it's getting worse. It's tough because any fall I have could really set me back—a small crash can knock my shoulder out of the socket. I know I can do okay with the shoulder like this, but I also know I can do even better if it's fixed.

I owe you an apology. On Monday I posted that you were on the verge of pointing out of the Lites class, but apparently the limit was raised to 120 points instead of 100 in an eight race series now, and 135 in a nine-race series.
Yeah it's 120 so I'm fine.

Does this mean you're already focused on 2012, since you're getting the surgery soon?
Yes and no. Yeah, you could say that, but really, there's never a good time to get surgery. I've never had surgery before, but I know how long it can take. I actually am going to get work done on both shoulders, so six weeks after I get one done, I'll have to do the other.

So you have two bad shoulders?
My right one is worse, that's the one I've been dealing with lately, but the left one has been bad for awhile.

And you can't get them done at the same time?
No I guess they prefer not to do that.

I guess if they did you wouldn't even be able to move.
Yeah. If they did that, I'd be like "Someone get me a snack. Someone play me my guitar."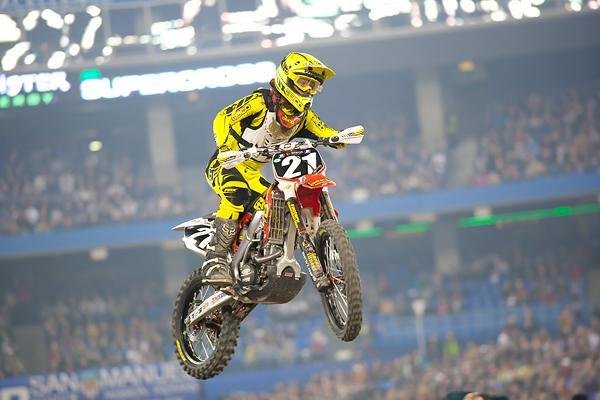 Can Wharton make it back to back podiums in Dallas?
Photo: Andrew Fredrickson
The guitar is second on the list only to eating?
Oh yea. Man, if I can't play the guitar with my hands I'd be playing it with my teeth or something. I'm not giving that up. I have plenty of limbs, I can find a way.

Let's talk about the season a little bit. You've ridden well at times, but I'm sure you didn't want to go all the way to Toronto before you got your first podium of the year. So are you bummed at all?
No I've been pretty happy with the way I've ridden. I should have had more podiums, for sure. Round one I should have had a podium but I didn't, and round two in Atlanta, I should have won the thing. I don't want to look back and get mad about it. I've had some bad circumstances here and there, a crash, or a bike breaking and making me go to the LCQ, but I think people have seen that my riding is better than the results. And considering how bad the shoulder is, if I can finish out on the podium again I'd be pretty happy.

So if you don't get a win you're not super bummed?
No, I know what I'm capable of and I know it's going to happen again, either this year or next year.

Talk about that hard pass you put on Sipes over the weekend. Was that revenge for Houston?
No, if you were to watch it, you'd see what I did to him was nothing compared to what he did to me. I went to the inside and I came in hot, but I turned. I completely turned. I think we barely made contact. It's hard to say, when you get taken high in a turn it often feels worse than it is. I've had times where I came in and said, "Oh I got pushed off the track!" and then I watched it and realized it wasn't that bad. Revenge? No. But at the same time, there's a certain level of aggression you have to have or you're going to get left behind.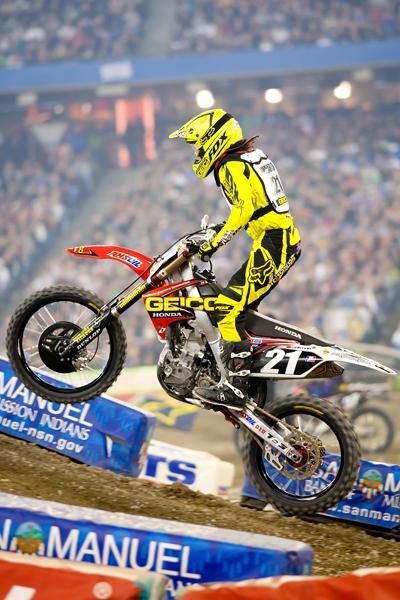 Wharton will likley hang up the boots after St. Louis to undergo shoulder surgery.
Photo: Andrew Fredrickson
So it wasn't anything to do with Sipes. You were just trying to get the lead.
Yeah, and I don't normally pass like that. I'm not a guy that's going to go bang bars if I don't have to, but it's just that the competition is so tough nowadays that you have to get aggressive sometimes. I prefer to make the pass without doing that if I can. There's a fine line between aggression and being ridiculous, and that was just aggression. I think he could have saved it, I don't think he had to fall.

Okay. So is this weekend the home race or is Houston?
No no, Houston is four hours. Dallas is like 30 minutes.

But weren't you born in Houston?
I was but we weren't living there. My parents were on vacation.

Are you serious? They went on vacation when you were due?
Yeah. You know, they were like, "Let's make sure he's happy when he comes out. Let's go on vacation." No. I was racing out to the world—I came early. I got the holeshot. Holeshot!

(Laughs). Nice. Okay Blake we'll see you this weekend.
Excellent. Thanks man.