AT&T Stadium
Arlington

,

TX
Arlington (Dallas)
Monster Energy AMA Supercross Championship
Hello, everyone, and welcome to the Rev Up. Ladies and gentlemen, we have something special going on here. This is how it used to be back in the halcyon days of Supercross. In the days of Glover, Bailey, Ward, O'Mara, and Johnson. It's like the early nineties seasons of Stanton, Bradshaw, Kiedrowski, Bayle, and company. We fans have endured a painful stretch of domination, which year after year, spawned a single powerhouse. At best, we've had one or two riders going for the title in the past ten years.
Ricky Carmichael
,
Chad Reed
, and
James Stewart
had a couple three-way title fights, but what we have here is something special.
With five rounds remaining, the charge makes its way to Dallas.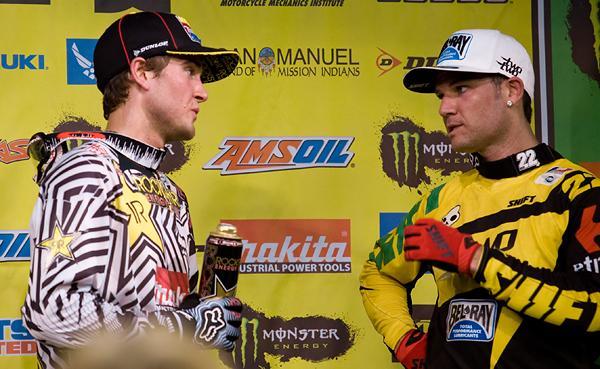 Dungey and Reed are seperated by a mere eight points.
Photos: Matt Pavelek
What a setting. Take all of the energy of the series, couple it with a five-rider-freight-train for the title belt, and then throw it into the "Cowboys From Hell" arena of Dallas, Texas, and what we have is a reason to know that the show is coming.
From a distance we watched Ryan Villopoto race out to an early advantage which accompanied a rejuvenated and strong as ever James Stewart. The two set the bar, but have since fallen on less than stellar fortune. In the wake of the two early flag carriers floundering came the arrival of "The Thunder." Chad Reed has been through the G.O.A.T and a young James Stewart, whilst both in their prime, and he is still pushing his horse to the line and going for title number three.
Blow past that smoke and in the clear you will see Trey Canard. Not only has the "Ice Trey" achieved his lifelong goal of tasting supercross victory against the big boys, he can actually see the championship.
Then comes a wrecking ball of a conundrum with defending title belt wearer, Ryan Dungey, getting his first win of the year.
Hey, Jeff Stanton snagged a title in 1992 in the same fashion when Damon Bradshaw melted down inside the LA Coliseum. Dungey is very Stanton-esque, as both are true-grit core, and will always remain steadfast.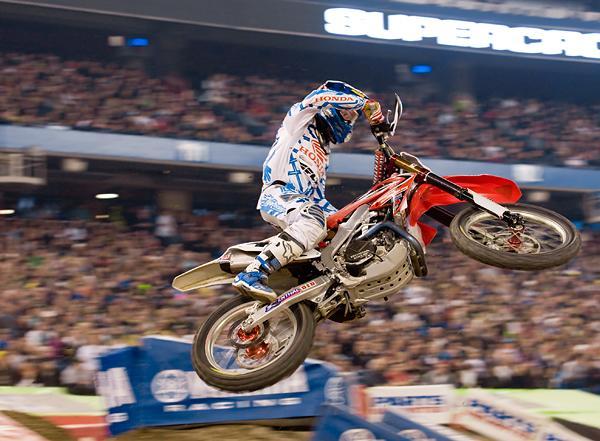 The rookie sensation, Trey Canard, is still very much alive in the championship hunt.
Photo: Matt Pavelek
As the plot thickens and begins to gel, I mean, really, who among you can take a long look in the mirror and say who is going to win this championship?
Ah, Texas. The land of the "Cali-Cowboys" as I like to coin them. An odd group that my childhood, teenage, and adult Texas friends have been. It's a cliche to say that supercross is "big" in Texas, because, well, you know. But, the Lone Star State carries a hard and strong fan base that is devote to the charge.
Crazy things happen deep in the heart of Texas. Remember when Carmichael went sailing across the "hoops" and almost got impaled on that infield wakeboard boat in 2005? That same race, JBS sailed a little off the right of a timing section and almost stacked it up huge. There's a lot more, but I'm already rolling my neck and scratching my arms at the thought of what the show may become this Saturday night.
Wow, this whole deal has been insane! "Captain Insano shows no mercy," style craziness! There are five races to go and five animals ready to unleash their teeth in the darkness, their talons in the night. Over the top? Sure. But, is it really? I'm actually laughing because this season is so completely off the frame.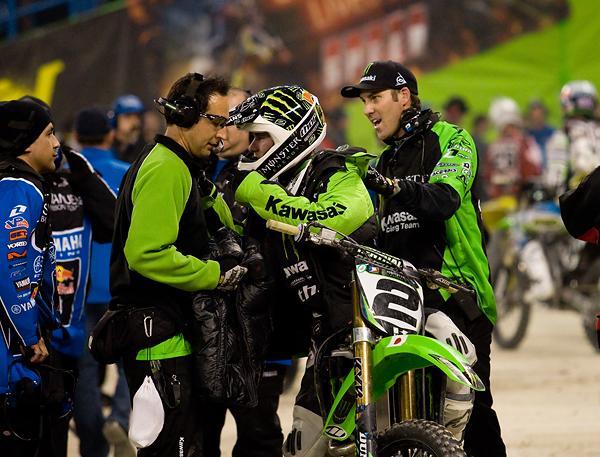 RV has let his points lead fade away. Can he rebound?
Photo: Matt Pavelek
It's time to see who is going to try to make a run. Stewart and Canard need to make up some points, while Dungey, Villopoto, and Reed will make a sprint for consistency and strength.
One hundred laps remain to see who is going to win the show.
Dallas, Texas, is the setting.
Thanks for reading, see you next week.