Jacksonville Municipal Stadium
Jacksonville

,

FL
Jacksonville
Monster Energy AMA Supercross Championship
Monster Energy AMA Supercross an FIM World Championship is back outdoors and back in Florida this weekend. Maybe the sunshine will help take the edge off, because at this point in the season, a lot of riders have a lot to prove.
10. Wilson is Mad: Dean took control of his destiny after an inspiring, come-from-behind ride for a win in Atlanta. The world was his for the taking, but he's instead become a giver—handing a whole bunch of points back to his competition. Chalk it up to bad starts and mistakes, or championship pressure? We'll see how he responds this weekend.
9. Baggett is Mad: Blake Baggett was darned fast every time the Lites East boys hit the track. He turned his speed into a win in Daytona, and it looked like he could be the man to beat in the series. But Ryan Sipes matched his speed in Indy, and that pressure forced Blake to make a mistake. He must rebound well this weekend, or it may be too late in this short series.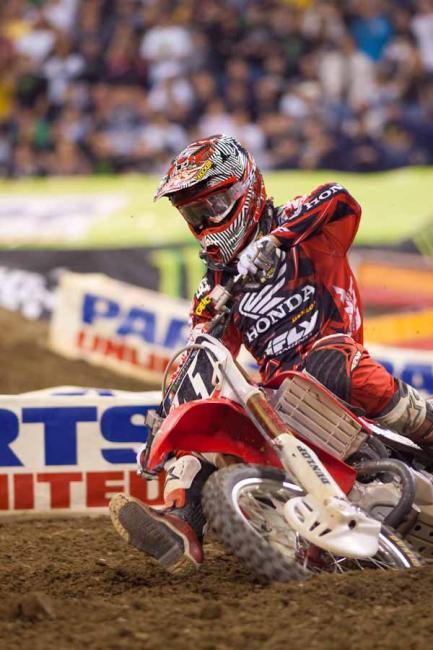 Trey Canard is mad.
Photo: Andrew Fredrickson
8. Barcia is mad: Barcia's happy to hold the points lead, but he has taken three-straight second place finishes after his opener win in Houston. He's still fighting a bad wrist and can't ride much during the week. How long can he keep showing up on weekends and maintaining this level of performance?
7. Veterans are mad: The "big five" have now long established themselves as the guys who can win races this season, and that leaves a scarce number of podium spots for everyone else. The once-established players who are no longer in this group are not happy. Ivan Tedesco started the year with good speed, but his results have really gone sour since. Kevin Windham could have had a win in Houston, and ever since, the top five has proven elusive. These guys don't like finishing out of the top five.
6. Canard is mad: Make that four-straight races where Trey Canard was up front early and crashed or stalled himself out of contention. The speed to win is still there, which only makes this more frustrating.
5. Dungey is mad: Consistency was good for a while. But now we're past midway and Ryan Dungey still hasn't won a race. He was really mad about it after last week's frustrating fourth. Is all this anger going to give him an extra boost?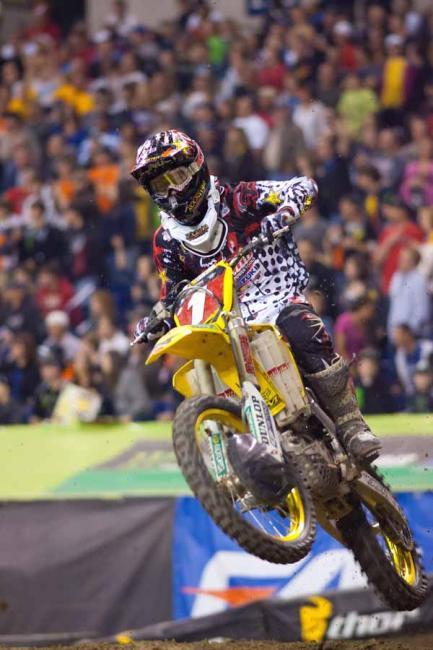 Ryan Dungey is mad.
Photo: Andrew Fredrickson
4. Stewart is mad: Bubba has lost five-straight supercrosses for the first time in his career. If he doesn't rip off a big streak starting right about now, the title will be out of reach. Like a few of these Lites riders, this is pretty darned close to a must-win situation for Stewart.
3. Weather is good: Here's what great about an outdoor stadium in Florida in the spring: High of 86 degrees, zero percent chance of precipitation. Enjoy.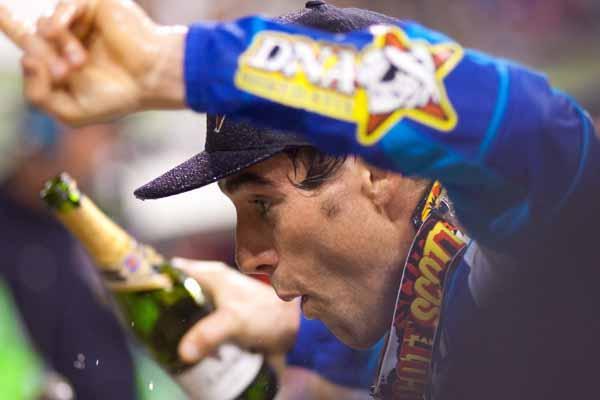 Ryan Sipes is happy.
Photo: Andrew Fredrickson
2: Sipes is happy: Ryan Sipes is playing with house money right now. Another shot in the Lites class meant another chance to make some money and win a race. Check. It's all a bonus from here. He's just 12 points back in the series. If he carries what he did in Indy over to the next races, he could end up fighting for the title—the ultimate bonus.
1. RV is happy: Well, he won't exactly act that way. Villopoto knows it's way too early to start thinking he has a title wrapped up, but at the same time, he's riding a three-race win streak and holds his largest lead of the series. He's certainly happier than everyone else.