Lucas Oil Stadium
Indianapolis

,

IN
Indianapolis
Monster Energy AMA Supercross Championship
Kentucky's own
Ryan Sipes
has been very close for a number of years to winning a Lites supercross. He's had many podiums, but he's been the bridesmaid, never the bride, for most of his career. This year, Sipes has been fast in practically every practice and heat but hasn't been able to break through until this weekend. The DNA Shredstix Star Racing Yamaha rider pressured early leader
Blake Baggett
into a mistake and then held off
Justin Barcia
to grab the win. In the pits, surrounded by friends and family, Ryan talked about his night.
Racer X Online: Ryan congratulations of the ride, can you tell us about it?
Ryan Sipes: Thank you very much. It's like, it's not even real. Everyone around me right here is responsible for this.
You've always been pretty fast but it seems like this year, you've stepped it up a bit.
It's the DNA Shredstix, they are in my DNA and I shred (laughs). No, we've been working hard and we came in knowing that we didn't have as much time as some of the other guys, but we were tired of making excuses. We knew that we had the speed, we weren't going to make the same mistakes, we weren't going to blow it again. The whole team has been doing great, my mechanic has been awesome. This is the fourth year we've been together [with mechanic Scott Adkins] and I'm glad to finally get him a win.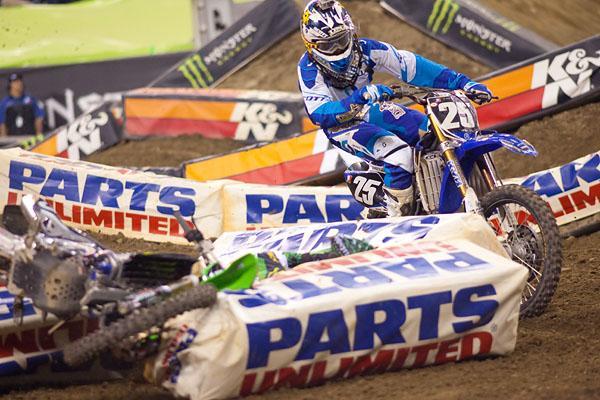 Sipes pressured Baggett into a mistake early, then held off a charging Barica for the win.
Photo: Andrew Fredrickson
Talk about the race a bit, you pressured Baggett into a mistake and then the one guy I wouldn't want on me during a last lap would be Barcia, but you kept strong.
It was nuts, I was pacing Blake in the beginning. I knew that I had more in the tank as we kept racing but then Justin was catching us because we were sort of pacing each other. So I'm like, "now is the time" and as soon as I was thinking about making a move, he went down. It looked really bad and I almost hit a tuff block that was on the track. So then I got out front and I focused. The gap was about the same until the lappers came into it. You can't blame anyone for that, it just happens, but I was determined that this wasn't going to turn out like Dallas last year.
What about this track? It was challenging wasn't it?
It was tough, it was very technical. I felt good from the very beginning today and felt like throwing down some laps. I was all set and ready to go. I think this is my kind of track and my bike was so good today, it was awesome.
Yeah all day you were great, was it a case of just having a really good cup of coffee before you got here or something?
No, not at all. It was one of those things that Steve Hatch and I have been working. You win championships on your bad days. I wasn't into it that much, but I thought back to the stuff that we've been working on. I just kept doing the things we were working on. Every time I went to the gate, it didn't matter what I felt like five minutes ago, I now felt great. Steve is the man and he's got it going on.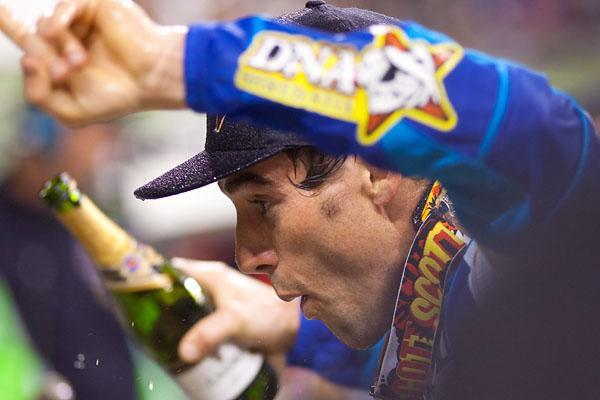 The sweet taste of victory.
Photo: Andrew Fredrickson
As a former mechanic, I love the fact that you have been giving your wrench Scotty Atkins lots of props on the podiums.
Scotty's the man, he's out there every day at the track every day and I'm asking him what we need to do and he's doing everything he can. He's driving back and forth to get parts for me, he's timing me, and videotaping me--whatever it takes. He's the second half of the team and it's cool.
And your brother Pooh Sipes also won something-the Asterisk gas card!
Yeah man, he should've made it in! But he did get a little publicity though.