Lucas Oil Stadium
Indianapolis

,

IN
Indianapolis
Monster Energy AMA Supercross Championship
Last weekend's Daytona race was easily the roughest and toughest on the tour, but Indianapolis presented challenges in its own right. The track was technical already, with two particularly challenging jump combinations—one between the sand section and the big triple, and one after the 180 degree turn that came next. Jumping these jumps each lap was tough, but the soft, rutted soil made it much more challenging. "It was really though," said Trey Canard. "Obviously it wasn't as tough as Daytona, but with the ruts in the faces of the jumps, it was really demanding."
You may be thinking, "What's the big deal with ruts in Indianapolis? Isn't this track always soft and rutted?" Actually, over the last few years, riders mentioned how the track had become dry and hard packed. This year's return to softer soil actually caught a few riders and teams off guard.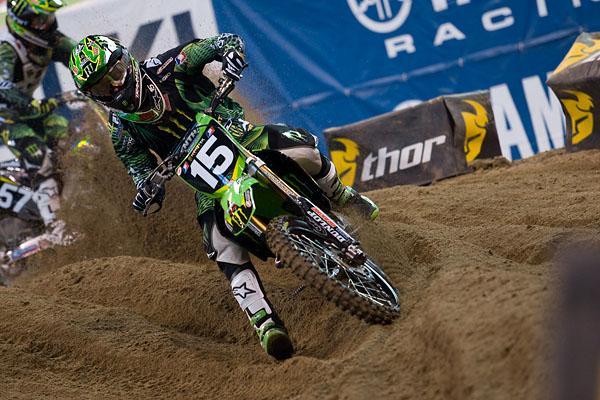 Wilson has struggled since winning in Atlanta.
Photo: Matt Pavelek
Tough couple of weeks for Dean Wilson. He crashed twice last week—including one big over-the-bars dismount that the TV cameras didn't pick up. More problems this weekend: he crashed in the sand on the last lap of practice, then got a bad start and crashed again trying to come through. Since winning his first supercross and grabbing a share of the points lead two weeks ago, Wilson has dropped to fourth in the standings with eighth and sixth place finishes.
After a string of consistent rides, Red Bull KTM's Andrew Short had a bad night in Indy. The Throttle Position Sensor (TPS) on his bike broke, knocking him out of the race and resulting in a 20th place finish.
Dodge Motorsports Hart and Huntington's Ivan Tedesco started the race strong, running in the top three. But two crashes set him back, one caused by losing traction near the finish line turn, which had been dug all the way down to the plywood. At the very same moment that Tedesco fell, his teammate Chris Blose crashed in the next turn. They finished a disappointing 18th (Blose) and 19th (Tedesco).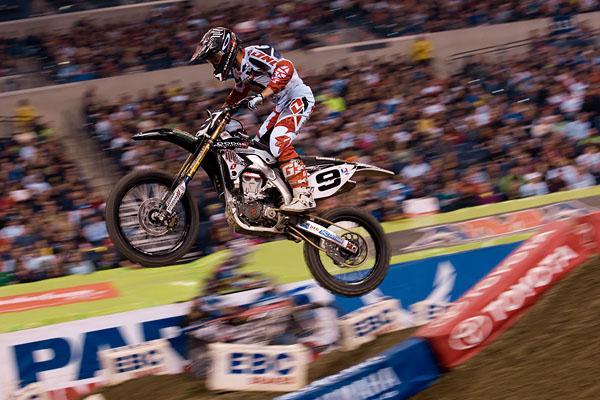 It was a tough night in Indy for Dodge Motorsport Hart and Huntington's
Ivan Tedesco
.
Photo: Matt Pavelek 

Daytona usually requires a completely different bike setup than a typical supercross race like Indy, but one team actually stumbled on a better SX setup thanks to the rough track in Florida. Muscle Milk Toyota JGR's Justin Brayton ended up using a softer shock at Indy, and he rode well, carding his first top-five finish since taking a fourth at Anaheim 2.
Trey Canard and Ryan Dungey came together on the first lap of the race right before the finish line jump. Dungey knifed inside of Canard in the previous corner and held his line through the next turn, causing Canard to bobble and stall. Canard dropped from 5th to 19th. "I was so mad," said Canard. "It took at least ten laps to get that out of my system." After the race Canard rode past Dungey and tapped him in anger. He later went over to Dungey's pit and apologized once he cooled down.
Rockstar Makita Suzuki Team Manager Mike Webb explained that last week's engine failure in a heat race for Dungey was caused by something outside of the engine—probably a rock—punching a hole in the case. Webb said the transmission, crank and other bottom end components were still in working order, and the engine was still spinning freely when Dungey came into the pits, so clearly the hole was not created by a broken internal part.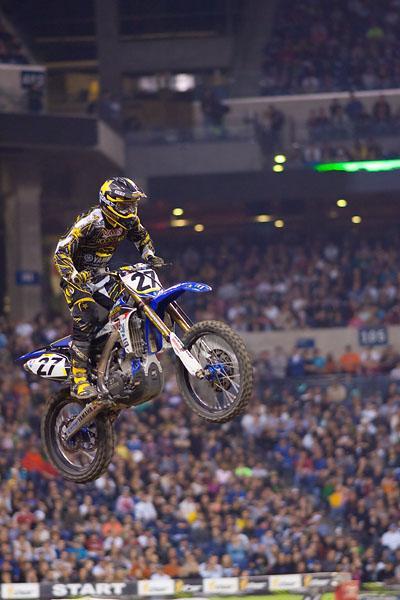 The veteran
Nick Wey
had his best finish of the season at Indy.
Photo: Andrew Fredrickson
Brett Metcalfe skipped the race after a series of hard crashes over the last two weeks.
Veterans Nick Wey (Valli Motorsports Rockstar Yamaha) and Michael Byrne (BBMX BTO Sports Suzuki) logged their best finishes of the season with 8th and 13th place finishes, respectively.
Remember last week, when JDR J-Star KTM's Tye Simmonds said he had to go to Canada to get his Visa issues sorted? It worked, apparently, because he was back at the races and made the main event. The 18-year-old Aussie finished 16th.
Malcolm Stewart is beginning to settle down and log solid results. After 14th on opening night in Houston, he has gone 8th, 7th, and 4th in the last three rounds. Matt Lemoine also scored his best result of the year in Indy with a fifth.
Malcolm is beginning to find his groove in the Lites class.
Photo: Matt Pavelek
Red Bull KTM team manager Roger DeCoster said the team will begin outdoor testing this week, and the riders (Andrew Short and Mike Alessi) will have their choice of racing a 350 or 450 for AMA Motocross. "We want them to ride whatever they think will help them win," said DeCoster. "And that could be a different bike for each rider."
Muscle Milk Toyota JGR's Davi Millsaps looked to have a good race going before he crashed and hurt his hand and thumb. He soldiered on even though the hand had pretty much went numb—then he stalled on his last lap to drop back to a eleventh.
The key to holding on to a win for Ryan Sipes? "I didn't even think about winning it," said Sipes on the podium. "I think that was my problem last year in Dallas, I started thinking about finally getting a win with about two laps to go. That doesn't work. So I just blocked it out of my mind until I got to the checkered flag."