Lucas Oil Stadium
Indianapolis

,

IN
Indianapolis
Monster Energy AMA Supercross Championship
Ryan Villopoto won his third race in a row in the Monster Energy Supercross Series and solidified his hold on the points lead which is now 26 points with seven rounds left. The Monster Energy Kawasaki rider has certainly been the beneficiary of a couple of breaks going his way in recent weeks but this win was a tour de force performance. On a track that was almost as challenging as Daytona, RV kicked it into overdrive after getting by early leader Chad Reed and checked out for his fifth win of the season.
After the race, with the bikes loaded and the team wrapping things up, I caught up to Villopoto to get his take on the night.
Racer X Online: RV, that's three wins in a row and good job. Can you talk about it?
Ryan Villopoto: It was a good one for sure, I'm happy about it. No one really went down, it was pretty legit.
Well, Dungey went down- I'm just saying.
Alright, fine.
Let's talk about the pass that I didn't see and that was you getting by Chad Reed early in the race. How did that happen?
There was that triple/triple section that all of us were doing after that right hander and he went in and tripled/doubled and I did the second triple and squeezed by him right there. Soon as I passed him, I tried to get a gap because I knew that Stew [James Stewart] was going to be coming. I figured he was going to get second.

Did you see him once he got into second?
Yeah, I knew he was there--I could hear the crowd cheering. Things like that and I could see him when he was fourth as well. Lappers got really bad, we got into them really quick and that was a problem. I got hung up with Mike Alessi a little bit and there were a couple of guys that were hard to get by so he caught me right there. That was a bit difficult but once I got through those guys, I opened my lead up a bit more I believe. I'll have to check the charts and see but I think that's what happened.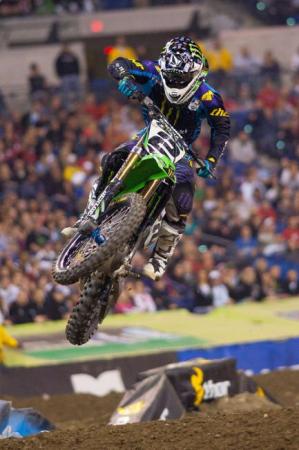 Villopoto knows even a 26-point lead isn't safe with how wild this season has been?
Andrew Fredrickson photo
Yeah, you did. How gnarly was the track?
It had plywood showing in some places and there were ten ruts on the faces of the jumps. It made doing twenty solid laps really difficult. I had some close calls out there, I landed on a tuff block in that same section I passed Chad in and I got squirrely in the whoops one lap. I had a few close calls out there for sure.
This one has to feel pretty good to win this one straight up after the last few laps, no one "gave" you anything.
Hey, that's what you're saying. Not me. That's what I've read on some of the boards anyways.
You have over a race lead in the points now, does anything change?
No, nothing at all. Not yet, I'm going to keep trying to win races and when we get two rounds to the end, then we'll talk.
You're undefeated since you moved your base of operations to the east coast, living at your house in Florida. Do you think that is a coincidence?
The travelling is so much shorter, that helps. Just being at home is cool, I can keep my tracks up the way I want them. If I want it dry, I can make it that way, if I want it wet, then I can do that as well. It makes it better for training for sure. I don't think it's a coincidence, but I had wins when we were in California also like in LA and Anaheim, you know.
I know but you seem like you're on more of a roll right now.
Yeah, maybe it's a long season and it's taking a toll on people I think. Week in and week out it's a grind and I'm just trying to make it through.