Indianapolis, IN
Indianapolis
Monster Energy AMA Supercross Championship
James Stewart: San Manuel Red Bull Yamaha – Second Place, SX Class
On the podium you said you had a rough week.
Definitely a rough week. I wasn't able to ride the motorcycle after my crash at Daytona, and it obviously had an effect. But really, I gave the race away in the first five laps. You can't start dead last trying to win this thing. I'm disappointed for my team. I let them down like that. We had a good chance to win it, and I didn't.
We saw some big mistakes from you out there. Was that because of the track, not riding this week, or what?
It was a little bit of everything. I didn't perform tonight. I wasn't myself. I was still able to come up and get second, and I think that's always good, but, I think the week and the track did have an effect on me, and I struggled.
How gnarly was the track?
It was gnarly, but it was my kind of track, to be honest. It was really technical. I would start getting it going, making some passes, or making some time up, and then, like I said, I would just make a mistake. When Ryan is that far out front, all you can do is try to close that gap, but like I said, I gave the race away on the first few laps.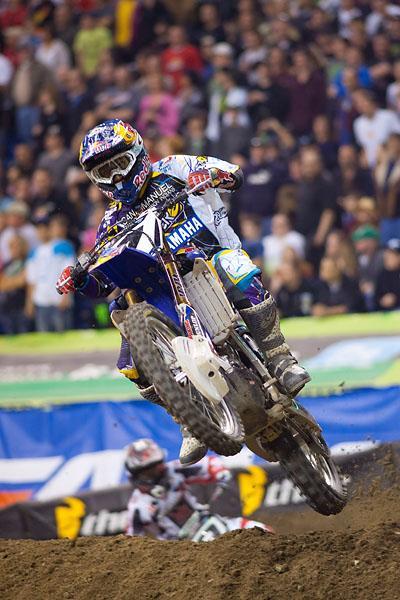 Stewart made some mistakes early but was able to rebound and grab second place ahead of Reed.
Photo: Andrew Fredrickson
Even though you haven't had the results you wanted in the last few weeks, do you feel like think things are working well with you and the bike, and you just haven't had the results to show it?
I don't know, I was two seconds faster than everyone last week so I don't know how much better we can get. This weekend I did not execute, not off the start, not on the first five laps.
So your strategy hasn't changed, and you think you're still riding okay.
"Yeah it's just little things here. Getting taken out doesn't help, going over the handlebars didn't help, starting dead last didn't help. Next week we'll get it figured out and get a win." - Stewart
How's the team situation right now?
Good. Yeah. We're making headway on everything, we're making good moves for the future. I've got a great group of guys here behind me, and that just disappoints me more that I can't win for them. It's pretty damn pathetic, really, I just can't do anything for them right now. But we'll win next week.
Matt Boni: Ti-Lube Kawasaki, twelfth place SX Class
I felt really good, I was fighting a cold all week and didn't have a lot of confidence going into the night. My goal is a top ten, so I'm not there yet but I'm working hard on it. The track was gnarly but I tend to do better on those types of tracks, last week in Daytona it was tough and I got twelfth there. Same thing with tonight, another twelfth.
I got a really bad start and I got up to about ninth, made a few mistakes and got tired. It was tough and I got tired but then again I think there were a lot of guys who dropped anchor out there. It feels good to know that sure I got tired, but a lot of other guys did too!
Talk about that pass on Vince Friese in the heat race, it seemed like there might have been some prior history with that one?
Yeah, last weekend he stopped me on top of a berm in practice and I tweaked my knee because of it. I have no idea why he did that. There's no mercy out there and I needed to make the main. Payback comes around full-circle I guess.
Justin Barcia: GEICO Honda, Second Place, SX Lites Class
The wrist is getting better and healing every weekend. I'm not able to ride too much, but I don't think I'm losing anything, riding wise, yet. The wrist is getting stronger and stronger so that's really what matters.
Do you think you might be able to get back to a normal schedule before this series is over?
Definitely. I'm going to try to do some riding this week before Jacksonville, but I'm probably saying too much because it probably won't happen. I did some riding this week, a little, and it felt pretty good. But I need to be smart about it and save myself for the weekend because we're going for a championship here.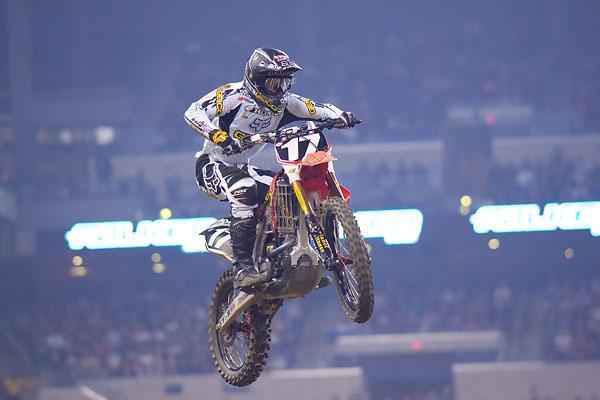 Barcia is still battling a wrist injury, but hopes to be 100 percent soon.
Photo: Andrew Fredrickson
Are you trying to ride a little smarter with the wrist and due to the points?
It was a smart ride, but it was a tough ride. I tried to make a run at Sipes a few times, but it was a tough track to pass on. Lappers were also really tough, but that's nothing new anymore. Oh and I hit a haybale on the finish line that almost got me. Baggett popped it out on the lip of the jump, and it went right in front of me. I had to lock up, pop over it, and try to catch the backside of the first jump on the finish. It could have been bad but luckily I had my focus going.
Where you going for it all-out on the last lap?
"Oh yeah, but I didn't want to take anyone out, and I'm trying to keep it clean." - Barcia
I was running it in there, but I wasn't going to take anyone out, or take us both out. I'm just trying to be a smart here. It wasn't the right place for that tonight.
Ryan Dungey: Rockstar Makita Suzuki, Fourth Place SX Class
Well, definitely had a race going there, right off the bat we were sitting third. I think I fell into Reed's pace, and I watched the leader kind of walk away a bit. It took me awhile, and as I was trying to get by Reed, he stopped, kind of quicker than I thought, and I high sided. I think I rode pretty good after that, felt great on the bike, almost went back to a podium, but just didn't make it happen.
You were pretty far back of Reed late and made a run to get back him on the last lap. How did you make up that ground?
Just going for it. I mean, I don't know, I want to at least podium. For what it was, we did all we could, but sometimes things don't go your way.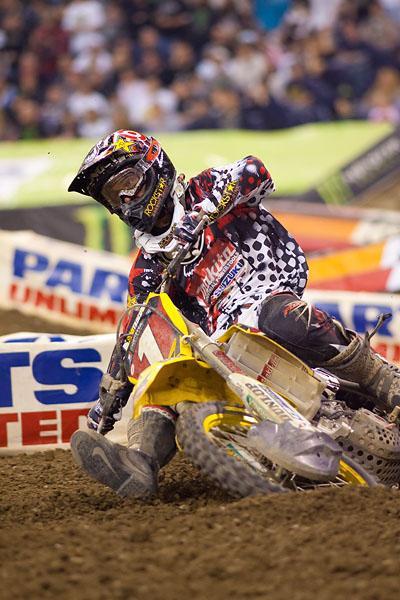 Dungey battled with Reed all night, but came up just shy of the podium placing 4th.
Photo: Andrew Fredrickson
You looked like you were more aggressive.
Absolutely, I wanted to get off to a good start, and I did, and I wanted to make my passes right away, but I didn't do that well enough. I need to get a start and get out and go.
I can tell you're not very happy. How long before you start getting really mad?
We'll get our win soon.
Nick Wey: Valli Motorsports Rockstar Yamaha, Eighth Place
This was pretty good. I mean, eleventh was my best result so far, so to get eighth was really good. And even with that, I think I could have done even better, but last weekend I was disappointed with how I rode. At Atlanta, I actually felt like I rode much better. The team has been working to get me comfortable, and Todd Brown our suspension guy helped out a lot. We did some more fine tuning for this week, and I got a good start, so I was able to ride with the guys I feel like I should be able to key off of. So it was a step in the right direction.
What kind of changes did you make?
Well, just stuff with the clutch, and we changed some fork and shock settings, we were searching for some stuff to get me comfortable, and I think we found it. In Atlanta, I think I rode awesome, I started like last and got a 12th. Daytona, I usually look forward to Daytona but I was sick all week with a sinus infection and an ear infection, and with how rough that track was, it didn't go that well. This track was actually pretty rough, too, so I was happy with my lack of training time to get eighth.
Trey Canard: American Honda Racing, Sixth Place Supercross Class
How was it?
Dude, you reporters need to come up with something new.
Okay, well, let's step back from the races. Give me your whole feeling about the day, in general.
I felt good. I had clean boots, and a clean neck brace. The team has the bike graphics looking good. I had a sweet mustache in the opening ceremonies video. I felt like my standing on the seat wheelie was probably my best wheelie of the series. I had a good air wheelie at the end of practice. I thought I looked good. I felt lean, and I saw an ab muscle coming through. I felt good. Only thing was, I only got in one brush in on my teeth during the day.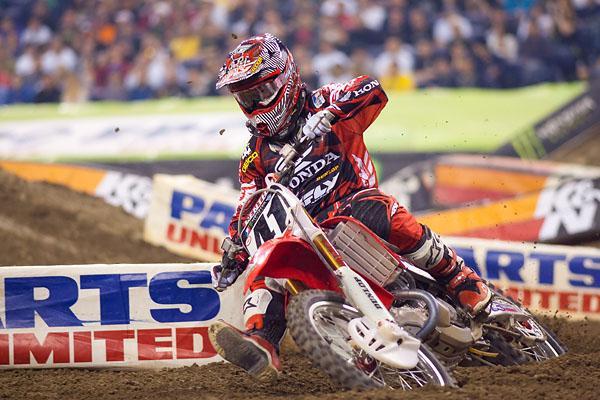 Canard left Indy frustrated after going down again.
Photo: Andrew Fredrickson
How was the race?
Lites race was awesome.
Did you race tonight?
Yeah but we don't want to talk about that.
Anything?
I was frustrated. The last four races have been tough for me. I felt so good. I had the fastest qualifying time in the second practice, and that was really huge for me, I've never done that before. The heat race was good, I felt like I was at least staying in the lines of Stewart. I got a good start, I was third or fourth. Then I got close to Dungey and I stalled it. I just stalled it. I was so mad. I was just demoralized. It just sucked, I rode around for ten laps. I was in 19th when I crossed the finish. I was so bummed. For one there's no one around you, and two, you can hear the crowd and see the guys up front, and dude, I was right there. But I have to get past it. I'm in a surprisingly good mood right now.
Well you had ten laps to blow off steam.
Yeah that's true.