Lucas Oil Stadium
Indianapolis

,

IN
Indianapolis
Monster Energy AMA Supercross Championship
Just when it looked like the veterans of the AMA Supercross class were taking over in Atlanta, one slight miscue (in this case, an aggressive block pass by Chad Reed on James Stewart) has shifted the momentum. Ryan Villopoto may have been "gifted" the win in Atlanta, but he was in the right place at the right time. Now he's on a three-race win streak, with this past weekend's win being anything but a gift.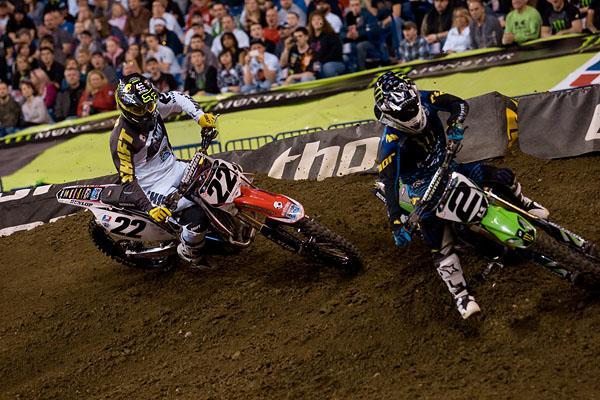 Villopoto charged around Reed early and never looked back.
Photo: Matt Pavelek
Prior to Atlanta, TwoTwo Motorsports' Bel-Ray Racing's Reed was coming off his first win of the season, and stood within sixteen points of series leader Villopoto. Stewart, meanwhile, was only trailing RV by three points and had the most wins of the season at that point. A win in Atlanta would've put him in the driver's seat. But then Reed attempted "the pass," which resulted in Villopoto's third win and changed the complexion of the series.
The tour then headed to Daytona, where Villopoto took his second consecutive Daytona SX victory. Coming into Indy, many thought that if James Stewart was going to rebound, this is where it was going to happen. Once again, though, Villopoto used his calm, calculated and very fast riding to take his fifth—and probably his most impressive—win of the 2011 season, stretching his lead to twenty-six points over Stewart, who seemed to really struggle with the soft, rutted Hoosier State soil. There were several occasions throughout the twenty-lap main where Stewart brought the crowd to its feet after he used his "super human" riding skills to save himself from crashing after cross-rutting. But not once can I recall Villopoto getting super out of shape, although he said he had a few close calls in today's Monday Conversation.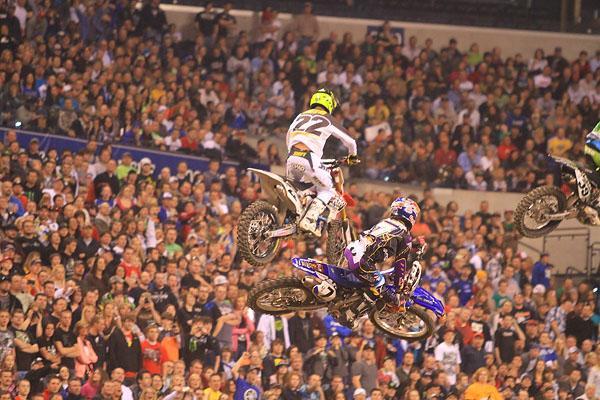 Stewart used a classic "Bubba Scrub" to pass Reed for second.
Photo: Zak Lowery
As for Stewart, he's not very happy right now. He still flashed that million-dollar smile on the podium in Indianapolis (especially after seeing a replay of himself Bubba Scrubbing his way past Chad Reed), but it was only for a brief second. And who could blame him? The "fastest man on the planet" hasn't won a race since February 5. His winless streak is at five, which is a new career-high for a healthy James Stewart. (In 2006 he went four races without a win.) And every time Stewart doesn't win a supercross these days, you know that Jeremy McGrath rests a little bit easier, knowing that his career record of seventy-two SX wins, a record Stewart said he was coming after, is a little bit safer.
Stewart can find a little solace in this: he didn't win the race, but he won some respect after riding out in opening ceremonies flying the Japanese flag. Win or lose, it was a gesture that will resonate with the fans for quite some time—but he needs to win some races soon. Just a few weeks after slugging it out for a win in Atlanta and closing in on the points lead, Stewart and Reed are on the ropes in the series.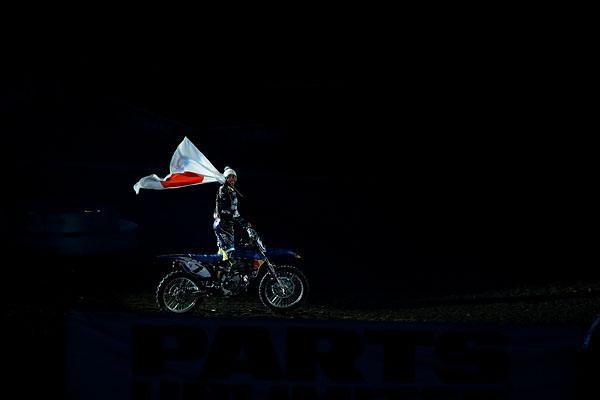 Stewart honored the earthquake victims of Japan by flying the Japanese flag during opening ceremonies in Indy.
Photo: Matt Pavelek