Lucas Oil Stadium
Indianapolis

,

IN
Indianapolis
Monster Energy AMA Supercross Championship
Another year, another Daytona. This one, however, was different. After slowly working its way toward the end of the Bike Week festivities over the years, to the point where it became arguably the biggest event of all (sorry, coleslaw wrestling fans), the Daytona Supercross by Honda was moved to the front of Bike Week this time. As a result, there was less traffic, less noise up and down the streets from the Bike Week warriors, and just fewer street bikes in general going up and down International and Bill France Blvd. But the race itself? It had a huge crowd, plenty of excitement, and a wild outcome, as you well know.
Before we dig into the nitty-gritty of Bike Week, let's look forward to tomorrow night—another live broadcast on SPEED TV, this time from Lucas Oil Stadium in Indianapolis. The action begins at 7:30 p.m. ET and will run through both main events. Also, stay tuned to Racer X Online and our Thor Racecenter for information and updates all afternoon and evening from Indy.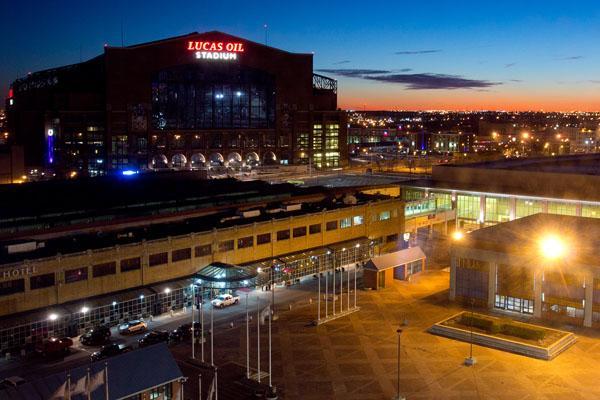 Supercross returns to Lucas Oil Stadium on Saturday.
Photo: Andrew Fredrickson
Here's the animated track map to get you prepped on what the riders will be seeing tomorrow night.
First, though, there's Ian Trettel. A great kid, well-liked, and with a wonderful future ahead of him, Ian crashed hard in practice on his Rockstar Energy Suzuki and landed on his head. He was knocked out immediately, and maybe worse. It's been touch-and-go since then. As of Thursday afternoon, Ian was still in a medically induced coma, but the swelling and bleeding on his brain have the doctors deeply concerned. Trettel landed headfirst on the face of a jump, which was made of heavy clay at Daytona.
Here's the thing: Trettel was coming off a broken collarbone and contemplated not wearing his Leatt Neck Brace, according to his friend and trainer John Louch. When doctors looked at him in the Halifax Emergency Room, they saw that the brace had not damaged his injured shoulder further—the plate he'd just gotten had held—but had he not been wearing it, he almost certainly would have broken his neck. The crash and the injury he sustained are bad enough; it's easy to imagine how much worse it might have been.
By the way, it's now been five years since Ernesto Fonseca suffered his career-ending neck injury in a practice crash in California, an anniversary Ernesto himself mentioned on his Twitter feed.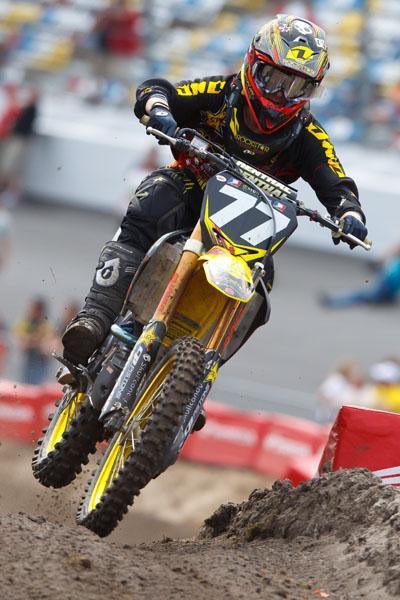 The entire motocross community has IT77 in their thoughts and prayers after he suffered a bad crash at Daytona.
Photo: Simon Cudby
The other big crash at Daytona was less costly to the athlete, but it may have long-term effects. James Stewart's spectacular crash while leading has been the grist for bench racers, pit pundits, fans, and fellow riders since last Saturday night. It was a terrible crash that he was lucky to walk away from, let alone ride away from and still salvage some points. The immediate finger-pointing went toward the Asterisk Mobile Unit Medics, who were literally right there when Stewart got up and tried to get back on his bike. His foot got caught on his rear fender, which was bent straight up, and he lost his balance and fell backward when he couldn't swing his foot over to the other side of the bike. He got to his feet again, with the help of the Asterisk men, who are considered officials and rightfully so—they help everyone equally and do their best to maintain a safe track and good medical care when needed.
So did Stewart get good medical care? I have to think so. No one but James and the medics have any idea what was said between them, but he obviously had his wits about him enough to get back on his bike and ride as fast as anyone for the rest of the race. He even kept doing those amazing leaps over both the Wall Jump into the Gator Pit as well as that big leap in the next rhythm section. According to the AMA's Jeff Canfield, they had five sets of eyes on his every move for the next few laps, and the black flag was in hand in case he looked the least bit woozy or unstable. He didn't, and he ended up reaching the top ten.
Here's the thing: Had the medics kept Stewart off his bike, his team, his sponsors, and James himself might have had grounds to bring a suit against the medics, the officials, and everyone involved in the race. They had to assess him in the heat of the moment, with the racing continuing around them. They felt he was able to get back on the track, and they monitored him closely from there until well after the race in the pits. They made the right call.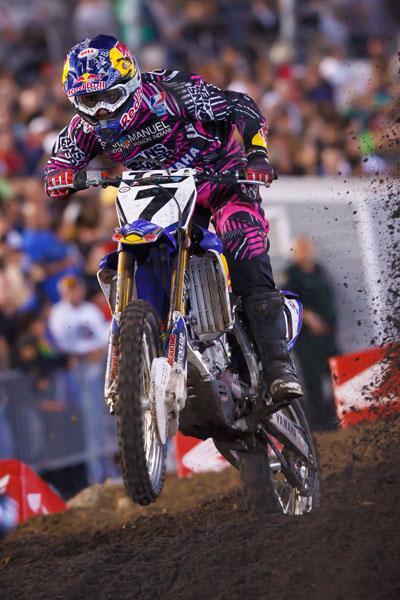 Stewart overcame a big crash at Daytona to keep his championship hopes alive.
Photo: Simon Cudby
Had Stewart quit, he would have been vilified. He soldiered on, and was quite fast, and he's still being vilified, as are the medics and the officials. That's the thing about James Stewart: sometimes he just can't win, whether he finishes first or twenty-first. I applaud him for gutting out the ride he did, and then getting himself checked out after the race.
Meanwhile, Ryan Villopoto just keeps plugging along. He won the Daytona Supercross for the second year in a row, only this time both Stewart and Chad Reed were out there too. RV has been impressive from Anaheim 1 on, and that's why he's in the driver's seat right now. Here are some video highlights from the race on SPEED TV.
Could Villopoto have lapped Stewart at the end? Maybe, maybe not. But I think he was better off not driving the dagger any deeper. It's like a football team throwing bombs at the end of the game even though they're way ahead—insults like that can come back and haunt you, and RV knows that a win is only worth 25 points no matter who you lap, so job well done.
I also think Reed and Ryan Dungey rode their asses off, particularly in the second half of the race. Both had their fair share of trouble in the heat races—Dungey's bad luck with bike problems continue—and they had to scramble to get up there in the main event. But both of these guys are professionals, and they are obviously doing all the work it takes to be in a position to win. It just hasn't happened yet for Dungey.
What gives? Obviously, the competition is stronger this year, and it's hard to measure the changes in the whole Rockstar/Makita Suzuki program after losing both Roger DeCoster and key technician Ian Harrison to Red Bull KTM. They had a championship program working together last year, and now they are apart. It has to have had an effect.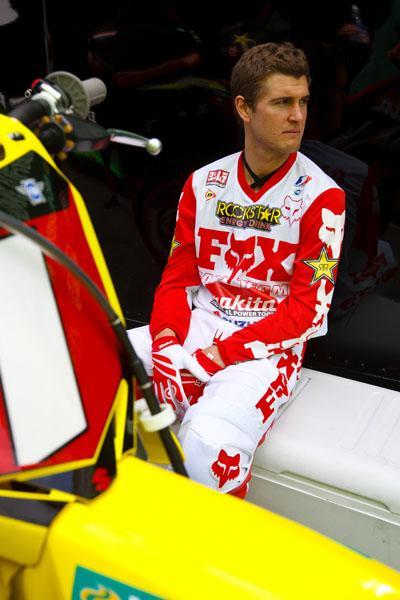 Dungey has had his share of mechanical issues this year.
Photo: Simon Cudby
At any rate, back to Trettel and Stewart. Both went down hard, and one did not get up. It's all relevant to the continuing conversations about medical care for athletes like Ian and James, particularly post-concussion care. I brought up the Brain Injury Research Institute that's now working with the NFL and the NCAA. We as a sport have to get serious about this discussion, just as they are in hockey after a few brutal incidents this year, and other sports.
Our Racer X Virtual Trainer, Tim Crytser, sent me this question and link: Is there any talk in the AMA about using shock sensors on helmets to determine if a rider can continue? If the red light goes off from a crash, the rider is done.
I also got a call from longtime enthusiast Doug Brown from North Carolina, who wanted to pass on the suggestion of large doses of fish oil as a way to help alleviate post-concussion problems like we see with former football players. It's the same thing Dr. Julian Bailes told me about last week at the Brain Injury Research Institute here in Morgantown, West Virginia, only they now offer it as a direct product called Brain Armor (www.brain-armor.com). If you race, or play football or any other sport where concussions are possible, you really should check this out—it could help you immensely by providing you with a meaningful amount of DHA, which can help optimize cognitive and visual performance after an injury. It can also be taken for pre-action protection. It's what a lot of NFL players are using now before games and practice.
Let's switch gears now. It's always fun to bench race with Mitch Payton, the high overlord of the Monster Energy/Pro Circuit Kawasaki team. After the Daytona SX Mitch and Bones, driver Greg, and their two East Coast mechanics stuck around at Daytona for the Ricky Carmichael Amateur Supercross and the early sessions of RCU. Mitch was out on the infield, right next to the start, watching the action all day long. If you were a fast young rider racing on Sunday, that must have been nerve-racking to know that the most powerful team manager/owner in Lites SX and 250 Motocross was there at the edge of the track watching!
Payton also spent some quality time in the camping area, hanging out with friends like Ricky Carmichael, Fox Racing's Todd Hicks, Chris "Beeker" Onstott, Oakley's Anthony Paggio, and more from the industry, telling stories that might have seemed like lies to anyone who doesn't know him. But for those who do know him, they were absolutely true! He was also smiling because the very impressive Blake Baggett won, marking the fourth of his riders so far this season (after just nine rounds), joining previous winners Josh Hansen, Broc Tickle, and Dean Wilson.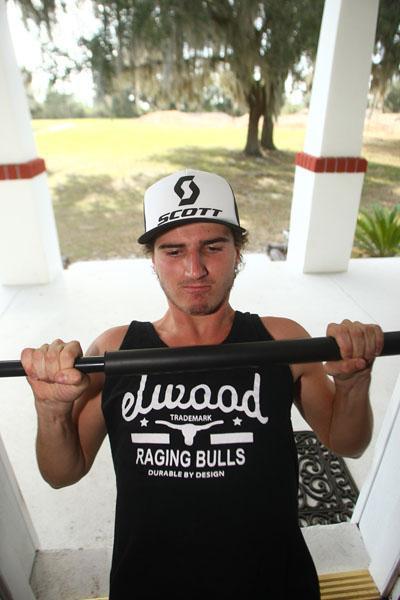 Pourcel somewhere down in Florida, CP377 is getting ready for the outdoors.
Photo: Bertrand Sanlaville
We chatted about everything from James Stewart's mercurial speed to the immediate future of a certain missing-in-action French rider who used to be his #377. Can't divulge much about any of those conversations—The Bench Racers' Code—but one thing Mitch has found to be quite impressive this year is Ken Roczen, the German import for Red Bull KTM. Payton has been impressed by his speed and style, as well as his fearlessness in doing things like jumping into the 450 Class to learn supercross as quickly as possible. Payton's GP team, including Tommy Searle and Max Anstie, will be going up against Roczen in MX2 this summer, then Ken's coming back to the States to prepare for 2012. Payton sized the kid's future here like this: "He's learned enough now that he's going to be tough to beat."
And speaking of the GPs, the economy in Spain took a toll on the FIM World Motocross Championships when the terrible state of affairs in the Spanish market caused the cancellation of the Spanish GP at Bellpuig in June. Spain's housing-market crash caused problems worse than we've seen here, and there are no discretionary funds left in the Catalunyan state to funds like major sporting events. No word on whether or not an event will be added to the schedule at this time.
We have an amazing collection of old photos here, and I recently came upon a stash from the 1976 AMA Supercross tour—all from the Dallas race at what was then the almost-new Texas Stadium. There were great photos of old pros that played an active role thirty-five years later in the Daytona Amateur Supercross.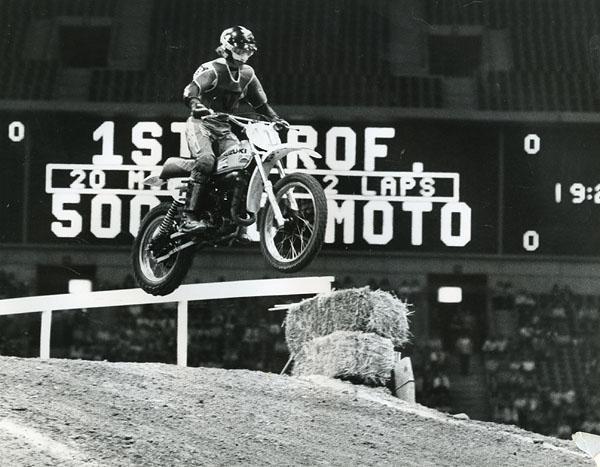 That's Monte McCoy, leading the 1976 Dallas 500cc AMA Supercross, and yes, they ran 20 minutes + 2 laps just like the scoreboard says!
First, Monte McCoy raced on Sunday and finished eleventh in the Masters +45 class. Bench racers may recall McCoy as the last man ever to win a 500cc AMA Supercross, which happened to be the aforementioned '76 Dallas SX when he was a Suzuki support rider! After that race, the 500cc class was scrapped, only to be replaced in 1985 by the 125cc class (now Lites).
And then there's John Ayers, the director of operations for MX Sports and owner of Moto Tees and Gear Racewear. But once upon a time Ayers was a very fast East Coast privateer, and for a while a factory-supported rider for Husqvarna and Maico. He was AMA National #31 in 1976 and also raced the Dallas Supercross that year, finishing in the top ten.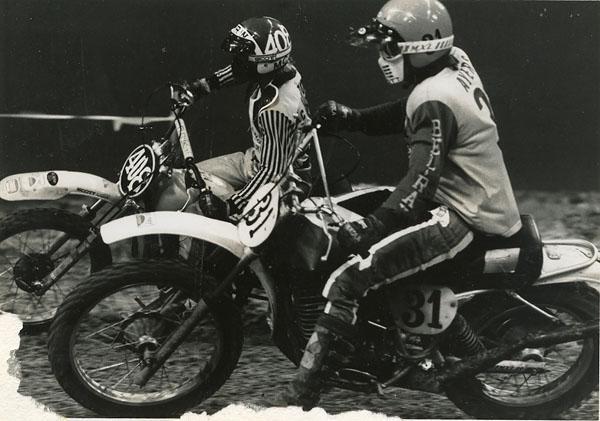 John Ayers is now known as an operations guy at AMA Motocross, but he used to be a very fast rider in his own right.
And finally, speaking of the old school, my good friend Tim White took a little road trip recently to the High Desert State Prison in California. He was accompanied by fellow lifelong enthusiast Bryon Farnsworth and the legendary SX announcer Larry "Supermouth" Huffman. They were there to visit the Godfather of Supercross, the notorious Mike Goodwin, promoter of the first modern supercross at the Los Angeles Coliseum, way back in July 1972.
Goodwin, of course, is spending his time behind bars after being convicted of first-degree homicide in the shotgun slayings of his former business partner Mickey Thompson and Thompson's wife, Trudy. It happened way back in 1987, and the crime was in the national news for years. Though Goodwin was a suspect from the beginning, he was not tried until nearly two decades later—and it was a rather bizarre trial, thin on actual evidence and heavy on innuendo and eyebrow-raising eyewitnesses who had not come forward before. Needless to say, Goodwin maintains his innocence, and he explained his defense in a long conversation with his visitors. Someday, Goodwin may get another chance in court. In the meantime, if you're an aspiring screenplay writer, this is could be your movie!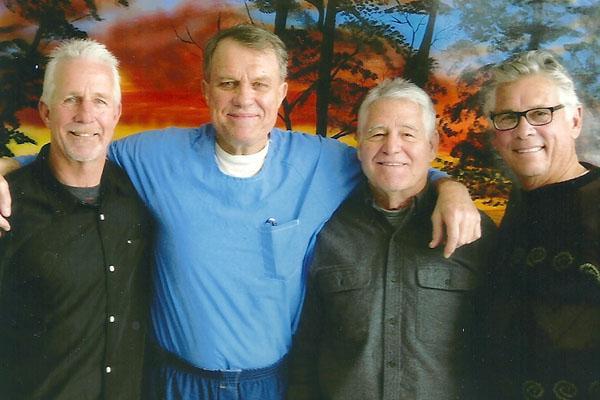 Tom White, Mike Goodwin, Bryon Farnsworth and Larry Huffman
Okay, let's switch gears over to Steve Matthes....
What a race we had thirteen days ago in Atlanta, and man, it was another humdinger in Daytona! I wrote this in my Observations column but I'm telling you people, if there is a race in your area, go and buy a seat. You won't really need the whole seat, just the edge because the 2011 Monster Energy AMA Supercross Series has been everything you could expect and more. Think of it like a Hollywood movie and the cast is as follows:
The ginger-haired amateur phenom desperately trying to live up to his hype but has been overcome by injuries the last few years. There are whispers that if he doesn't make it happen soon, he never will. That's Ryan Villopoto, and he's played by Seth Green, an actor who has the goofy side but can also play it serious and straight.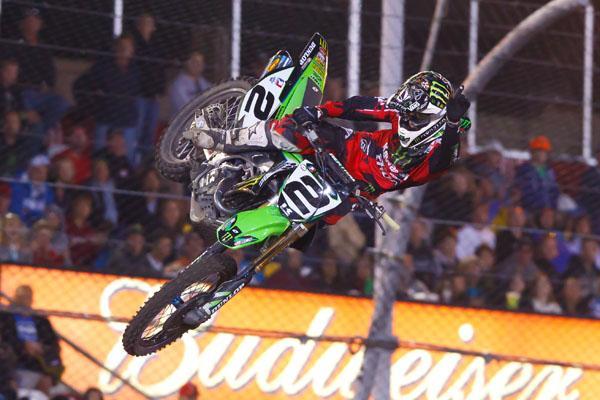 Villopoto has now won back to back races.
Photo: Simon Cudby
His trainer, Aldon Baker, the guy that's split ways from the very man that Ryan is competing against and knows the Stewart camp inside and out--he knows what makes James tick--would be played by Matt Damon. Damon just has to adopt that South African accent that he did so well in Invictus.
You have the gifted one, the man with all the skills on the bike. He's able to leap tall buildings in a single bound but his weakness is that he's actually not Superman. He's human, and for as many thrills as he produces, he also ends up crashing quite a bit. For all his talent, all his race wins, he only has two supercross titles and that has to burn him up inside. He's James Stewart and is played by Jamie Foxx, who has to "young it up" for the role of the 25-year old Stewart.
Chad Reed is a veteran of the series. Everyone counted him out but on his own team. Paying the bills on a bike that started off as something you could buy, Reed has done the unthinkable: he's won races and challenged for the lead at times. It seems the old dog can learn some new tricks. At one point out of the series, Reed's in third, one point behind second. He's also played by fellow Aussie Hugh Jackman.
Ryan Dungey is the matinee idol who some think won the title last year by default. It was a year where everyone got hurt and Dungey cruised home to a rookie-year championship. He's eager to prove that was no fluke, but he's been unable to win this year and is looking to avoid being the first defending champion to not win a race since Jeff Emig (he's played by Keanu Reeves, by the way. "Ralph, I'm an FBI AGENT!!!") in 1998. He's a bit mysterious, a bit of a cut-out to how a person should act in the limelight-more robot than human at times and for that, we'll need James Franco to suit up and smile more.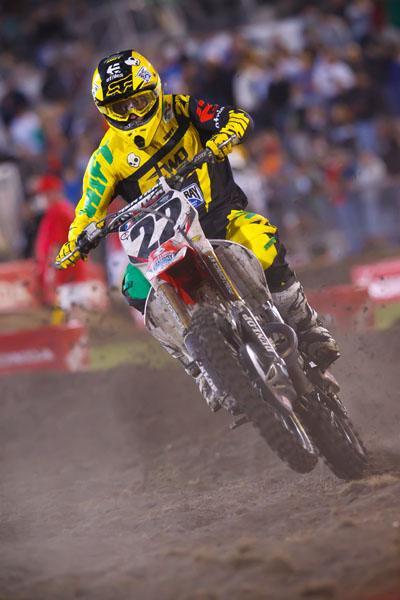 Reed is still in the hunt after a second place finish at Daytona.
Photo: Simon Cudby
The other challenger is just someone happy to be there. He's an emerging star but in his first full year and with the least experience among the top four. He's deeply religious and by all accounts lives what he preaches. He's a great personality, a wondrous talent, and has a race win followed by some down finishes. But he's okay, he's happy, and his future is bright. He's Trey Canard, and he's played by Jesse Eisenberg, who was the lead in The Social Network.
Canard's coach, Tim Ferry, is played by me because I'm really the only one who could possibly hope to transform his awesomeness onto the screen. I've got to lose four, maybe five pounds to make this work, but since I'm a method actor, no problem (I've been playing the part of an ex-jock who becomes a sports reporter/nuclear physicist for awhile now). See what I mean?
The drama and intrigue inside this series it one for the ages, and I'm not sure how it's going to turn out. Judging by the Racer X Bench Racing Ammo of points leaders after Daytona, it looks good for Ryan Villopoto, though!
Last week on the Pulpmx show, Kenny Watson came back in and we had RV, Bryan from Dodge Motorsports, and John Mitcheff (team manager of Valli Yamaha) on the show. It sounds like John is as frustrated as anyone over Austin Stroupe and his inability to stay healthy enough to race week in and week out on the 450. Combine that with some poor choices off the track and John's probably got a few less hairs on his head. Mitcheff's committed to the kid though and wants to see this situation through because, as we've all seen in flashes, Stroupe's got some serious talent.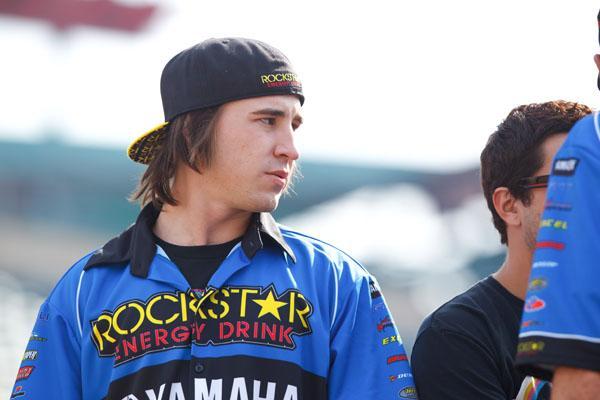 Stroupe has had his share of struggles this year.
Photo: Simon Cudby
I asked the man known as "Throttle" if he asked Austin's old team manager, Mitch Payton, for advice on how to handle and motivate Stroupe. Throttle just mumbled something about him not knowing and Mitch rubbing his forehead over and over.
Stay tuned on Monday nights over on Pulpmx.com for all the dirt from the weekend's supercross races. We try to keep it light over there.
I spoke with Rockstar/Makita Suzuki team manager Mike Webb this week about his job and how everything is going. Mike's been around a long time and knows the sport inside and out. He told me that despite the two DNFs by Ryan Dungey's machine not being anyone's fault, it occurred under his watch and he has to take the arrows for it. Webb mentioned that he thought a collision with Canard at A2 bent the chain guide causing Dungey's chain to derail and this weekend in Daytona, a rock got in there and split the cases.
I thought for sure, judging by Dungey's quick reaction to whatever ailed his bike, that it was something inside the motor, but Mike assured me it wasn't and I'll go with him, absent any proof otherwise. Mike said he and ace tuner Mike Gosselaar were talking about the odds of two DNFs this year and in shock about them. As we all know, the man known as Goose doesn't make mistakes on machines!
Webb then went on to say that he thought, given all the circumstances, that Dungey's Daytona ride was his best of the year. The fight Ryan had to show overcoming a bad start and making moves early was great to see, and they've been working on first-lap aggression with the defending champion. Mike was also pumped on the way his team worked together in quickly changing the motor and making it work.
Over to Ping:
You often hear people say that the series really starts to take shape once it heads back east. In the case of the 2011 series, that statement couldn't be more accurate. Atlanta and Daytona have been really good to Villopoto, and he is now in control of this series. There are still a lot of rounds to run, and anything can happen, but RV can miss an entire race and still be right in the mix for the points lead. That's got to be a good feeling.
James Stewart was clearly the fastest man on Saturday but suffered a dirty body slam that Jimmy "Superfly" Snooka would have been proud of. He gutted out a ninth and did a great job salvaging points, but this one hurt him in the standings. James has once again crashed himself into a corner, and he's now facing a massive points deficit. He'll have to go on a big winning streak to close that gap.
Of course, Chad Reed has been riding great, so he isn't going to make things easy. And Ryan Dungey still hasn't earned his first win of the season, so you know he is going to be hanging it out. Somehow, despite two mechanical failures and not yet seeing the winner's circle, Dungey is still smiling and "having fun." Regardless, the rest of the series is going to provide great racing.
I had a flashback as I watched Blake Baggett romp away to his second supercross win. You see, back in 1997 I was riding for Pro Circuit Kawasaki, I was #57, and I only had one SX win to my credit and it came at the hands of a Damon Huffman/Ryan Hughes crash in San Jose (much like Blake's Dallas victory last year). And I pulled the holeshot in Daytona and checked out—for thirteen laps, anyway. That's where my story differs from Blake's. I started to fade and got passed by John Dowd and Tim Ferry, putting me third on the day. It was during the daytime back then and hotter than hell. I was also riding with a broken finger (that's why I only ran the one hand guard) from Steve Lamson landing on me at Gainesville the weekend before. I actually wasn't even going to race because I was having a hard time hanging on, but Mitch told me to go out and try. Glad I did. Still, I couldn't help but picture myself doing burnouts on the speedway like Blake when he won. Good job, Blake. And congrats on win number two.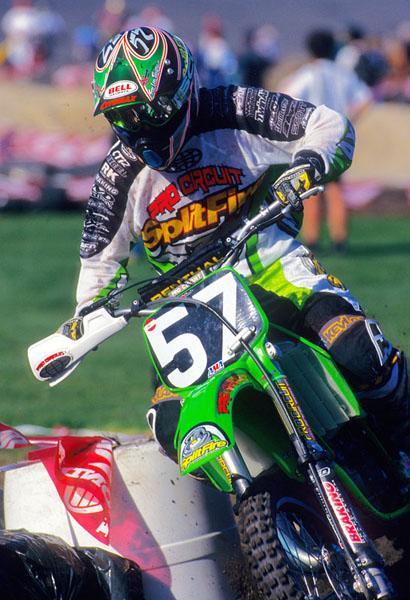 Ping or Baggett?
Photo: Paul Buckley
Blake is quietly sneaking up on the two riders the media has been focusing on, Barcia and Wilson, and it wouldn't surprise me at all if #57 keeps winning and finds himself in the driver's seat at the end of this series.
Panic Rev ministries have a cool event coming up this weekend. Former world and national motocross champion Greg Albertyn will be the guest speaker. Check out the flier for more details.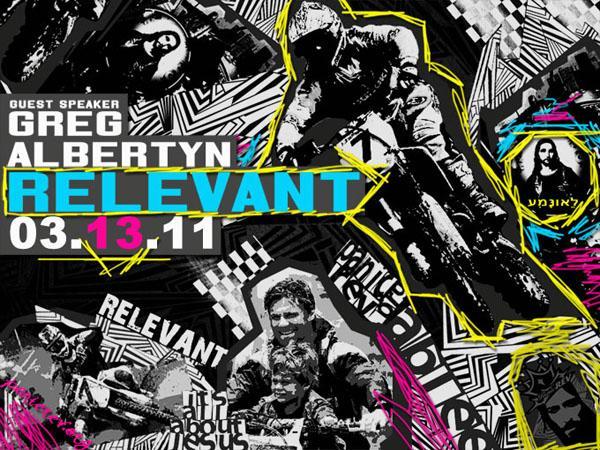 And Competitive Edge needs your help! This came to me this week from Joe and Kristen:
"2011 marks a new year for the State of California Off Highway Motor Vehicle Recreation Division to accept Grants. Since the Competitive Edge Motocross Park facility is owned by the City of Hesperia – the City and CEMX came together for a grant proposal for the State. The proposal is available to view from March 8th to April 4th for the public to add their comments – this is where you come in! This grant will enable us to continue what we have always done at our facility now and in the future. Please know that this grant supports what we all love – the sport of motocross. The state needs to see that the City of Hesperia needs this motocross facility and by your letters they will see the support from our customers."
Your letters should be sent to the following emails so that they can be added to the application:
slantsberger@cityofhesperia.us
Any questions please contact Kristen at Kristen@ridecemx.com.
Here's Weege:
I really have not at all recovered from Daytona, where you don't sleep and you don't stop working—or if you're one of the fortunate ones, you don't stop riding. Bike Week is about as good as it gets for a motorcyclist, regardless of if you're into the road or the dirt.
For me and for this company I work for here, it was wide open from the moment when we hit the ground. There was the Daytona SX to cover, the Ricky Carmichael Amateur SX on Sunday and the RC University on Monday, and all the while we had GNCC racing going on about two hours away. If someone really wants to get some riding in next spring, I challenge you to bring a bike down, race a few amateur SX classes on Sunday, take the RC school on Monday, and then race the GNCC on Tuesday. You'll be sore, tired, blistered and happier than you've even been before.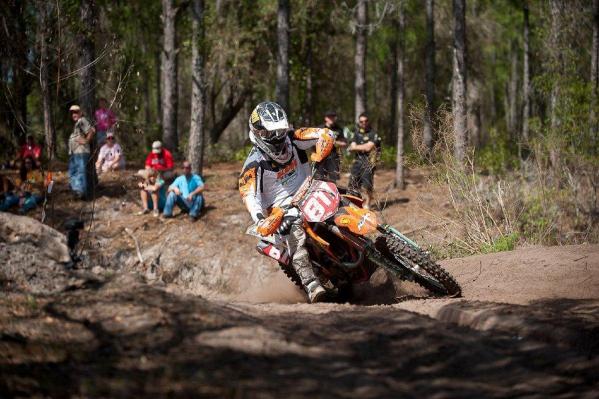 What can Brown do for you?
Photo: Shan Moore
I can think of few riders who are crazy enough to try all of these things, but if anyone where to do it, I'd put my money on Mike Brown. Last week, we were making a big deal about the Pro Circuit team winning its 200th race, and got into some of the history of the team's 20-year existence. Amazingly, Brown was signed for the Pro Circuit team for 1992, and here we are 19 seasons later, and he's still a factory KTM rider, and he still likes what he's doing so much that he'll race seemingly anytime and anywhere. His main job is to race the WORCS out west, but this year he very nearly won the Florida GNCC, leading all the way until the last lap when Charlie Mullins ran him down. It was an impressive ride for both Mullins and Brown, and I think the win came down to the fact that Mullins was training to peak for this race and this series, and has a little more experience with the three-hour format. Brown was only riding for fun. Still, Mullins and his new trainer Rob Beams of MotoE must be doing something right, because we all know Brown is an animal, and running him down late in a race is an accomplishment.
Anyway, Brown was signed up for the Alligator Enduro today but chose not to ride, but he will be back for the Georgia GNCC, and I'll bet he goes fast again.
One rider who's a real glutton for punishment is GEICO JG Off-Road Honda's Jimmy Jarrett. He raced the GNCC Tuesday, the Alligator Thursday, and will race GNCC again on Sunday. That's will be over ten hours worth of racing in a five-day span!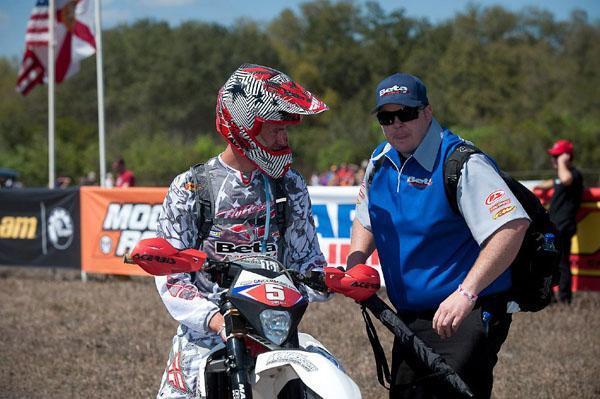 Bach finished third on the new American Beta.
Photo: Shan Moore
Also, huge credit to American Beta and their new factory rider, Chris Bach. Bach rode his tail off in the Florida whoops and took third overall. On a Beta! This team and brand may be onto something.
David Knight had a bike at the GNCC but chose to race the Alligator instead. (The enduro race. Not a an actual 'gator or even a John Deere Gator). Knighter was fast, but then ran into bike problems--chased back to, wait for it, wait for it--Knighter accidentally filled his gas can up with diesel fuel and poured it into his bike! KTM's may be from Europe, but they don't run on diesel!
For me, I was just pumped to be reunited with my old friends from the GNCC tour. I spent eight years as beat reporter and announcer for that series. It's all in good hands now that I'm a supercross/motocross guy full-time, thanks to people like Rodney Tomblin, Shan Moore, Jen Kenyon, and Jason Hooper, who work tirelessly to promote and serve that series. I know the feeling.
If that's not enough, there are ways to cram in more seat time. Some of the off-road set hit the Alligator Enduro on Thursday before heading to Georgia for the second round of GNCC Racing at Aonia Pass. And the amateur moto set has a new location for the annual Spring Classic, which now takes place at Mill Creek in Alabama. And the pro supey stars are heading to Indianapolis right now for more Monster Energy Supercross. Like I wrote here a few weeks ago, the real season starts now, because everyone with a bike is finding a way to ride it.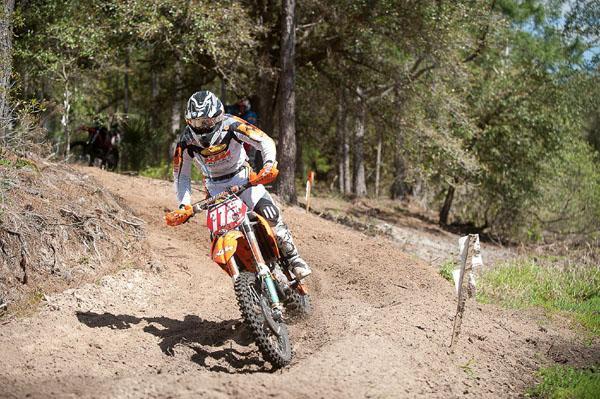 Mullins won round one of 2011 Can-Am GNCC.
Photo: Shae Moore
For several riders in supercross—namely anyone not named Ryan Villopoto—this is the time of year they had better step it up. I recently talked to Chad Reed about doing just that, as Reed has gone from merely "it would be cool to see him back on the podium" to winning a race and contending every weekend. After a slow start, is Chad now better than ever? How does he compare himself to his last great supercross season, in 2009?
"I feel physically stronger and in a better place," says Reed. "My fitness is great. I have a new trainer, and I haven't had a trainer since '06. I think the bike is great, the Honda is a great package. I've always raved about how awesome and how comfortable I was on the Suzuki, and that was obvious. I really felt like this Honda had the potential to be better than that, but when you start a race team in October, we've had to tick boxes along the win. We've gotten a win, we've fought hard, we've show we can go strong for twenty laps. I feel like my pace and my comfort level are coming up as we get used to the bike. I feel like I'm in a better position than I was back then. I'm two years older, I'm smarter, I'm leaner, meaner, hey I'm better looking, right? So I think we're good."
But he'll need to be great this weekend if he wants to earn his way into the hunt.
By the way, check out DMXSRadio.com and their awesome interview with Chad Reed from earlier in the week. He covers all topics, from James Stewart's riding style and Larry Brooks, to his upcoming new book. Good stuff.
Okay, let's wrap it up with some miscellaneous notes:
Jason Hooper of Digitaloffroad.com wanted to share this link with us, which shows the AmPro Yamaha GNCC team at 1000 frames per second.
Husqvarna intro, with an interview with Michael Leib, in English, a few minutes in:
Even though the Daytona Supercross is over, Bike Week continues. This year the annual Daytona Classic bike auction features a number of the Primm Collection's finest classic examples, including several early 1980s Honda CRs, as well as Jeff "Chicken" Matiasevich¹s All Japan KX/SR works bike from 1995. Also included is Steve Lamson's circa-2003 factory Husky racer. Normally this auction is mostly street-bike-related, but there are some really cool dirt bikes up for grabs, and most of them are in brand new condition. For more info on the auction, click here.
With the help of Sprocketlist.com we've recently launched the new Racer X Classifieds, so if you're looking to buy or sell your bike / gear / etc head on over to RacerX.SprocketList.com to check it out.
Finally, and all too briefly: If any of you are in Japan or any of the affected areas following today's devastating earthquake and its aftermath, or if you have loved ones who are there, we wish you nothing but the best.
That's all we have room for this time around. Check back later, and thanks for reading Racerhead. See you at the races.