Daytona International Speedway
Daytona

,

FL
Daytona
Monster Energy AMA Supercross Championship
Daytona is a special race no doubt about it—there are certain things that a moto man should do in his life, and although the spectator viewing isn't the greatest, going to the Daytona SX should be on every fan's list. Its green grass with jumps just plopped on top of it, it's pits dug out, and it's Florida sand/dirt that turns from pristine to every rider's nightmare. Just being there is cool, and it's a great race to go to no matter how the actual race turns out.
When Daytona was all said and done, it just ratcheted up the drama and intrigue that this year's supercross series has already delivered so much of. If you live near a city that hosts a supercross race, please get down there and buy a ticket. There are so many subplots on and off the track that you just never know what is going to happen next and any one of five guys can win a race each and every night.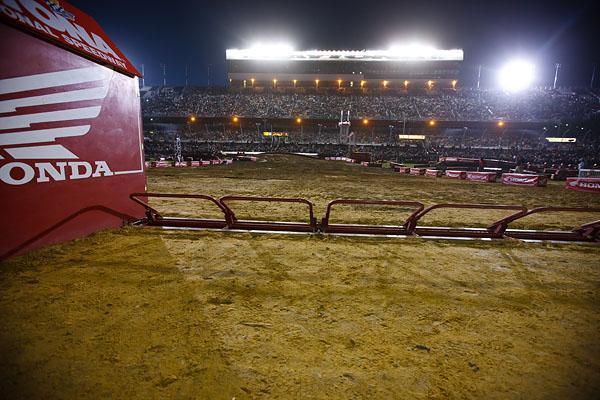 Every race fan should experience this.
Photo: Simon Cudby
Also, let it be known that I can't believe Larry Brooks took this time to spend some time with his family; it's incredible that he's missing all this action. He wasn't at Daytona nor Atlanta and I wouldn't look for him anytime soon.
Since the Daytona race is not a Feld Motor Sports event, the folks who run the speedway are free to get anyone out there to build the track. For years and years it was Gary Bailey before he was replaced by the folks at Dirt Wurx (the guys who build the other sixteen tracks) and now, multi-time SX and MX champion (and at one time an employee of Dirt Wurx) Mark Barnett has done it for a few years. You can't really compare Daytona to any of the other tracks because of the layout and the fact that Barnett has the advantage of being able to dig into the ground.
I thought the track was fantastic—some real cool obstacles and a little bit of thought and experimenting ended up working out. The track changes from one lap to the next, and the riders have to be real careful out there. The ruts form, the square edges appear, and you're still trying to jump 30-foot (or bigger) gaps. I loved the gator pit into a wall, the section that a few brave souls tripled/doubled into, and the on/offs. Kudos to Ricky Carmichael for designing it (although there were more than a few things that were on the track map that weren't there in real life, for whatever reason) and to Barnett for bringing it to life.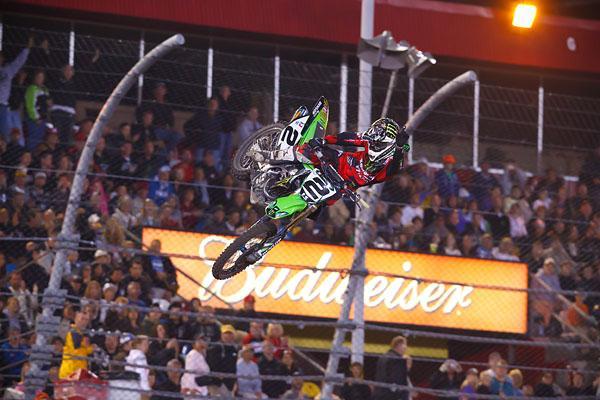 Villopoto celebrates two straight wins.
Photo: Simon Cudby
Ryan Villopoto has now won two races in a row on his Kawasaki, but even he would say he hasn't been the fastest guy either week. But that's okay. The bonus checks still cash and the points still get added to your total. RV was the second-fastest guy at Daytona but played it smart, didn't push too much, and then was handed the race when James Stewart went down. The #7 was going all crazyballs on the field and jumping this insane wall jump, which was probably about a second faster. RV saw it but stuck to his traditional line in that section. In his mind, if he was going to get second, then that was okay also.
That mentality paid off, as Stewie did what he sometimes does and crashed hard. RV inherited the lead and held it strong all the way to the end for his fourth victory of the year. And more importantly, he has almost a race lead in the points.
Oh, James! Stewie was the man for a few laps in Daytona and his balls-out jump over the wall in the gator pit was cool and sweet or whatever word you want to use that means awesome. It turns out that some other riders knew that he was going to do that because they had it on film when he jumped it on the last lap of practice as well as one lap in the heat race. It says something that the guys knew about it and still didn't pull the trigger on it. We all saw what happened: with an ever expanding lead, Stewie wheelied up the face of a triple and went over the bars in a frightening crash. It was crazy that the jump he bit it on wasn't the gnarly wall or the triple/double thing that he was one of a few doing—it was a pretty easy triple that he had probably done fifty times that day.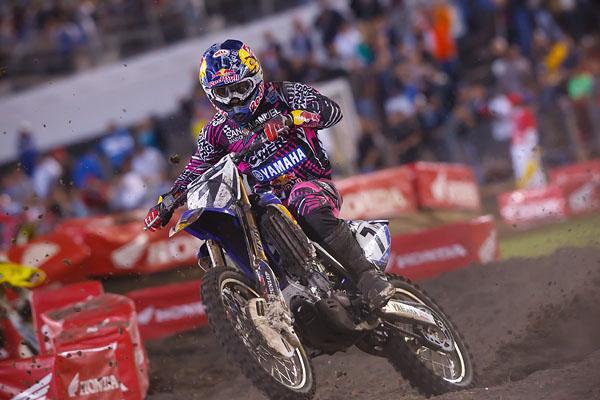 Stewart put in an iron man effort at Daytona.
Photo: Simon Cudby
Stewie got up and stumbled to his bike, clearly dazed and confused. He eventually got his marbles straight and incredibly started going really fast again. Everyone's lap times dropped off somewhat in the last ten laps and Stewie set some of the fastest times after the horrendous endo. He kept jumping the wall, kept charging, and actually managed to avoid being lapped by RV. It was a gutsy performance and one that might help him down the road to win this title.
There was a lot of chatter on the message boards and at the track about the outside assistance James got from the Asterisk medical crew. There was no outside assistance by anyone that isn't allowed to help the rider, so you can throw that talk out. Also there were some people saying the track crew should have stopped James from continuing. That's not the call of the Asterisk medical crew to make—every rider has a right to ignore the medical advice and continue racing. They just have to sign a waiver indicating they have understood they were advised to not race.
James got up, and although he was a little koo-koo, grabbed his bike and because his fender was up from the crash, he hit that and fell down. Had his fender been normal, he would have slung a leg over. The Asterisk crew was talking to him and he was responding well to comments. Besides, James' lap times were still great, he was jumping his wall jump, and 40 feet after getting going after the crash, he cleared the finish-line jump, pulled a tear-off, and it was back on for him.
Take a look at Stewie's lap times compared to the other top finishers and I think you can see that he was doing just fine from his crash. The times that are in bold are when he was the fastest guy on the track:
| | | | | | | | |
| --- | --- | --- | --- | --- | --- | --- | --- |
| Lap | Villopoto | Reed | Dungey | Short | Millsaps | Stewart |   |
| 2 | 01:17.3 | 01:18.9 | 01:19.1 | 01:18.7 | 01:19.1 | 01:15.6 |   |
| 3 | 01:17.7 | 01:18.1 | 01:18.9 | 01:19.2 | 01:19.0 | 01:15.6 |   |
| 4 | 01:19.5 | 01:23.7 | 01:21.8 | 01:22.0 | 01:22.5 | 02:29.0 |   |
| 5 | 01:18.5 | 01:19.5 | 01:18.8 | 01:20.3 | 01:18.9 | 01:24.4 |   |
| 6 | 01:18.0 | 01:18.7 | 01:18.3 | 01:21.7 | 01:18.7 | 01:18.8 |   |
| 7 | 01:19.1 | 01:19.6 | 01:20.5 | 01:22.4 | 01:18.4 | 01:17.9 |   |
| 8 | 01:19.0 | 01:18.6 | 01:18.4 | 01:21.2 | 01:19.3 | 01:19.6 |   |
| 9 | 01:18.5 | 01:19.1 | 01:19.4 | 01:21.8 | 01:20.9 | 01:20.5 |   |
| 10 | 01:19.0 | 01:20.3 | 01:20.5 | 01:21.7 | 01:22.9 | 01:22.4 |   |
| 11 | 01:19.6 | 01:19.8 | 01:20.9 | 01:22.5 | 01:23.1 | 01:22.4 |   |
| 12 | 01:21.4 | 01:20.1 | 01:21.2 | 01:23.0 | 01:23.5 | 01:21.0 |   |
| 13 | 01:21.5 | 01:19.9 | 01:19.1 | 01:23.1 | 01:24.9 | 01:23.6 |   |
| 14 | 01:22.4 | 01:20.4 | 01:20.1 | 01:22.2 | 01:24.3 | 01:20.5 |   |
| 15 | 01:21.2 | 01:19.6 | 01:20.9 | 01:23.2 | 01:23.6 | 01:20.0 |   |
| 16 | 01:19.8 | 01:19.5 | 01:19.5 | 01:22.4 | 01:22.9 | 01:20.6 |   |
| 17 | 01:20.7 | 01:20.3 | 01:20.2 | 01:22.6 | 01:25.6 | 01:21.0 |   |
| 18 | 01:20.5 | 01:20.1 | 01:20.2 | 01:23.5 | 01:27.7 | 01:22.7 |   |
| 19 | 01:22.3 | 01:21.2 | 01:20.2 | 01:24.3 | 01:26.1 | 01:24.3 |   |
| 20 | 01:23.7 | 01:23.8 | 01:23.6 | 01:27.9 | 01:28.6 | 01:32.8 |   |
As I said, you guys reading this have to get a ticket for a sx race in your area. This #7 guy delivers on the entertainment, no doubt about it. Sometimes to his detriment for sure but either way, he's going to make you shake your head at the end of the night.
I've been up in the press box watching the guys race. but for Daytona I was down on pit row watching and was amazed to hear just how much Andrew Short revs the crap out of his KTM 350 SX-F. He's been doing better lately, and one of the things he told me was that he's figuring out how to ride the bike a little better. His "little better" is like I said: revving the bike to the moon. Shorty rode a strong race to a fourth place and thus tied Mike Fisher in 1991 for the best supercross finish ever by a KTM.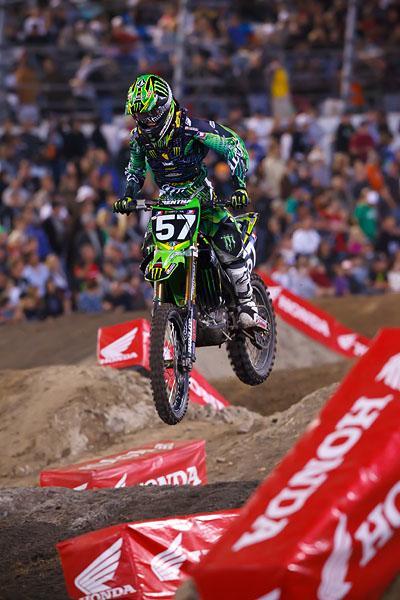 Baggett was flawless in Daytona.
Photo: Simon Cudby
Blake Baggett is definitely as low on the hype meter as possible for a rider on the Pro Circuit team. Baggett, who won last year's Dallas SX on a Suzuki, just goes about his business in a quiet manner and might just win this title over two of favorites Dean Wilson and Justin Barcia. Baggett checked out at Daytona and slowly pulled away from Barcia and Ryan Sipes to win and in the process, moved into second in the points.
When I watch him, he's just a solid rider who doesn't look to me to have a distinctive riding style or riding trait—he's just fast. Blake is going to be a real factor in this thing and he can thank his opening race at Houston for him being in there. That race was almost a disaster but he salvaged a third there to keep him in the race.
Barcia is riding with some broken bones in his wrist and probably just trying his best out there on the Daytona track. I imagine the pounding the wrist took on that track probably had him searching for the nearest ice bag immediately after the main event. Kudos to him for holding strong with the injury.
Let's take a look at the results, shall we?
AMA Supercross Lites Class East:
1. Blake Baggett
2. Justin Barcia
3. Ryan Sipes Sipes is trying the whole "slow down to go fast" thing. It got him a podium.
4. Blake Wharton Wharton is Wharton. You just don't really notice him all that much for some reason but he's fast.
5. PJ Larsen Larsen well, good although he was kind of by himself all race.
6. Jason Anderson Anderson didn't look good at any point in the day and perhaps his teammate Ian Trettel's bad practice crash had something to do with it. Jason barely made the main but once in there had a good ride to get sixth.
7. Malcolm Stewart Mookie once again—wait for it—crashed. He's really fast and will figure this thing out soon enough. He's an easy top-five guy if he can smooth out.
8. Dean Wilson Wilson went off the track and crashed in the main but came from last to eighth on the treacherous Daytona track. He's nine points back and in third in the points, which isn't great.
9. Matt Lemoine
10. Les Smith
11. Lance Vincent Vincent had to go to the LCQ to make the main but his impressive rookie year continues.
12. Taylor Futrell
13. Alex Martin Martin is a solid eleventh in the points, right behind Vincent.
14. Levi Kilbarger
15. AJ Catanzaro
16. Hunter Clements
17. Nico Izzi Izzi was fast in practice and all night but crashes did him in. He falls into the Tommy Hahn category of having no real results to match his speed.
18. Kyle Keylon
19. Hunter Hewitt
20. Ryan Zimmer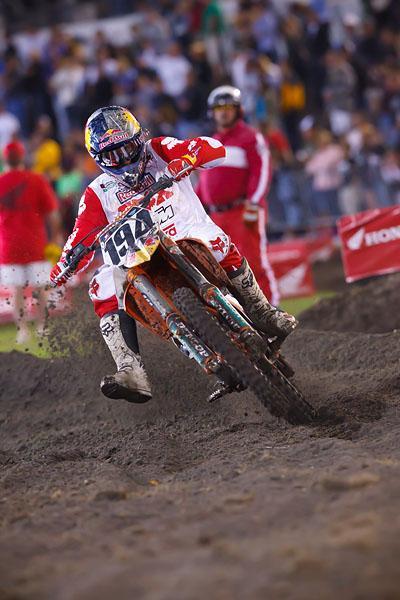 Roczen finished eighth in his second Supercross class race ever.
Photo: Simon Cudby
AMA Supercross Class:
1. Ryan Villopoto
2. Chad Reed Reed's second was strong but to be honest, I thought he'd be a bit better. He wasn't on JS or RV's pace and a second was probably the best he could have hoped for.
3. Ryan Dungey Dungey is tied with RV for most podiums in the series (seven in nine races) and he rode well considering his starting gate position, but he's yet to straight-up pass any of the top four guys in the last three or four races. He can't rely on crashes and bad luck if he wants to win this thing.
4. Andrew Short After Indy this weekend, Short's going out to California to test the 450 for outdoors. I also hear that Alessi will get the same chance as well to ride the bigger bike.
5. Davi Millsaps Millsaps was again pretty good on this night and when he got by Short he was in second for four laps. Then he got tired and dropped back his podium went bye-bye. Looking at the lap time charts, you can see that after lap ten, he really slowed down (4-5 seconds) while the guys around him were much more consistent. Still, he's been much better lately.
6. Justin Brayton Brayton did what I thought Tedesco would do, ride steady and fast the entire race and end up doing pretty well. Brayton didn't have his blazing speed but he was pretty steady. This was a Justin Brayton 2010 ride, not his new 2011 style.
7. Kevin Windham KW had a quiet night and took home a seventh.
8. Ken Roczen Kenny was a little more in control than usual and was rewarded with an eighth place. He's done nothing in his two 450 races to indicate that he's not going to be a great rider in the future.
9. James Stewart
10. Mike Alessi The most amazing thing about Mike's night was his hit the gate in the heat race, came into the first turn in last, and somehow, in three-quarters of a lap, passed twelve guys to get into eighth at the end of lap one. That was pretty impressive.
11. Ivan Tedesco Tedesco was way back and just soldiered on the whole race with steady lap times. He said after that it was one of the gnarliest races he's done.
12. Matt Boni Boni ties his best finish of the year. That's two main events in a row for a guy that I think should be there every week.
13. Trey Canard Rough couple of races for Canard.
14. Michael Byrne Byrne owes a couple of guys some payback in the upcoming races, as he got cleaned out a couple of times.
15. Nick Wey Wey wasn't feeling well all day but did the best he could. Incredibly, he has yet to finish inside the top ten this year (he's got two elevenths) despite being one of only thirteen guys to make every main this year.
16. Fabien Izoird Saw Fabien inside the truck and asked him how was his first Daytona. He replied, "Crazy, man!" and kept walking.
17. Tye Simmonds
18. Brett Metcalfe Oh man, Metty crashed a couple of times to go with his crash in Atlanta and he's beat up from the feet up. Don't look for him this weekend in Indy as he tries to get healthy.
19. Chris Blose Blose twisted his ankle on lap two and tried to make it work but Daytona is pretty much the worst track to "try to make it work."
20. Matthew Goerke Matt also twisted an ankle and was forced to pull off.
In the award for coolest gear of the night, it wasn't even close. No one else could even hope to have anything as cool as the Fox retro gear that the boys rolled out for Dungey, Roczen, Barcia, and Wharton. And they are selling it! It's just clean lines, a retro look that still holds up with all the new features that the modern stuff has. So yeah, this stuff and the Washougal retro gear from last year is what you would call mega-sweet. Dungey topped off his look with two different color Nike boots as well, a la RJ in '86.
Saw Troy Adams there and he's going to rise up and take on Michael Picone this summer in the Dade City Cup series and is hoping to go back to Canada this summer if he can. He is also a toothpick away from looking exactly like Razor Ramone.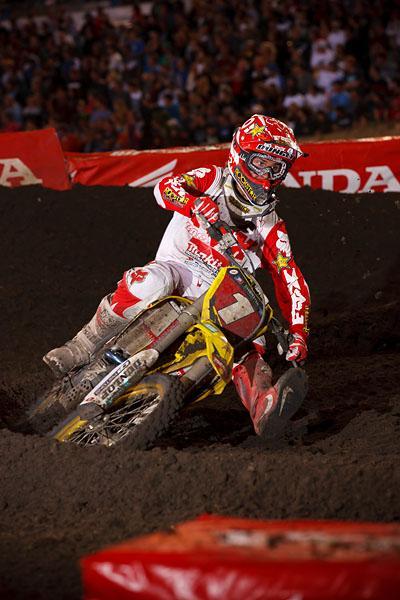 Dungey was rockin two different colored boots at Daytona.
Photo: Simon Cudby
Jason Thomas is struggling bad since getting landed on by James Stewart at Houston. In the crash (which JT refuses to blame on Stewie) Thomas tore his ACL, matching his other knee, which also is torn. Thomas is barely riding during the week and is sort of just riding around out there. He just needs some time for his knee to try and repair itself before he can get back up to speed. Sucks to be JT right now, no doubt about it.
Austin Stroupe is certainly causing a lot of people in the pits to whisper about him and wonder what's going on with him. Valli Yamaha team manager John Mitcheff was on the Pulpmx Show on Monday and talked a bit about the challenges working with Austin. It seems Austin doesn't always make the best decisions on and off the track, and the team has benched him until, in John's words, "he's 100 percent healthy." What Mitcheff left out is 100% healthy means body and mind.
Thanks for reading this, and shoot me an email if you want to share your thoughts with me: steve@pulpmx.com.