Daytona International Speedway
Daytona

,

FL
Daytona
Monster Energy AMA Supercross Championship
This Daytona track was unanimously voted harder and more physically demanding than last years. Lap times were about 10-12 seconds longer that last year, and the overall race time for race winner Ryan Villopoto went from 21 minutes 36 seconds last year to 26 minutes 40 seconds this year.
"It was really tough, rough and demanding," said Chad Reed in the post race press conference. "More so than last year. I liked it, though. This is the way Daytona is supposed to be."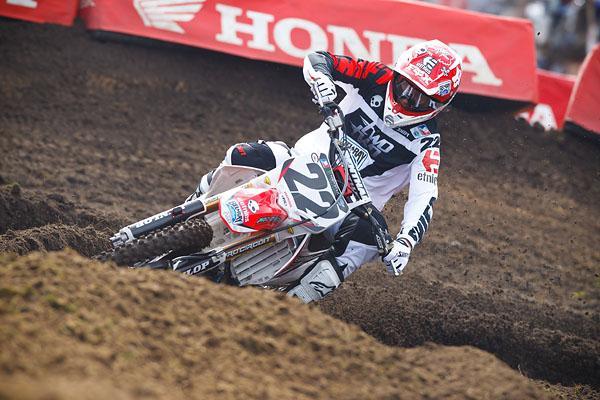 Reed enjoyed the typical rough and tough Daytona track.
Photo: Simon Cudby
Bike setup is tough on this track, since it's somewhat of a hybrid supercross and motocross track rolled into one. "You have the breaking bumps and holes like a motocross track, but you can't soften it up because you have to be able to handle the supercross obstacles," says Pro Circuit's ace suspension tuner Jim "Bones" Bacon. "The main thing we do is bring the front of the bike up, maybe by going to a lighter rear spring to get the back end to settle down. You need the front up for those bumps. If we set the bike up with the front end high last week in Atlanta, you'd wash out the front end in every corner. Here we have good sand and traction and ruts so washing the front really isn't a big issue, so we can run the front high."
TwoTwo Motorsports Bel-Ray Racing team manager Dave Osterman said they had a much, much different setup compared to a typical supercross race. "And we've never raced here before, so if we get it wrong, at least we have an excuse!"
You may not think of the Lites race winner, Blake Baggett of California, as a favorite on a rough, sandy track like Daytona, but he actually rode with the leaders for most of last year's race, finishing fourth, just five seconds off of race winner Christophe Pourcel. And speaking of Pourcel, the two-time Lites SX Champ returned to the scene at Daytona! Well, as a spectator. CP is back in Florida working on preparations for this summer's Lucas Oil AMA Motocross Championship. Rumors have linked him to several Honda teams, but Pourcel would only answer the question in his typically dry, understated fashion. He said, "I don't ride motorcycles anymore."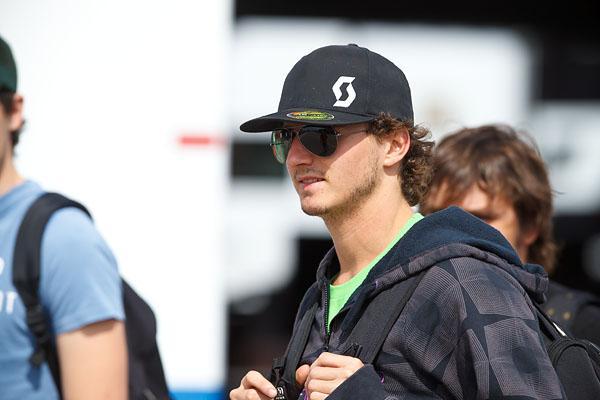 Pourcel was out enjoying the racing at Daytona.
Photo: Simon Cudby
Justin Barcia has officially broken his wrist. Two bones, in fact. He did in a crash near the mechanics' turn last weekend in Atlanta. "I'm not going to hide it, I want the fans to know so they don't talk trash on me if I'm only getting second," he explained. Barcia rode on Wednesday for a photo shoot and said he felt okay, and he held on for second in the main event. He says he'll spend the weeks between races off the bike trying to recover, and thinks the wrist will keep getting better.
Ryan Sipes took third in the Lites race on his DNA Shred Stix/Star Racing Yamaha. "I want to give it up to Barcia, we had a good battle for second going for awhile and we kept it clean," said Sipes on the podium. "We've had some problems in the past so it's good to know that's behind us."
Blake Wharton took fourth, withstanding a strong challenge from Matt Lemoine on the MotoExtreme Kawasaki. Lemoine caught Wharton but then stalled, and lost almost 20 seconds refiring. He finished ninth.
Rockstar Suzuki's Jason Anderson finished sixth, which was impressive, actually. The rookie bent his shift lever and was stuck in third gear for most of the race.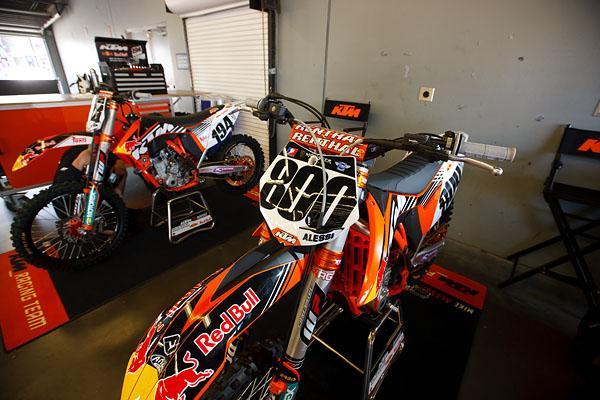 KTM is happy with their progress thus far in the season.
Photo: Simon Cudby
The Red Bull KTM team is happy with their progress, putting three 350SX-Fs into the top ten, and four into the main event. KTM's Ian Harrison says they really haven't made major bike changes over the last few weeks, the riders are just pushing hard and learning to adjust to the new machine. KTM is thinking big picture on the 350 project so they're not worried after some rough results in the first few rounds. And they're ready to change if needed—team riders are allowed to race a 450SX-F outdoors if they so desire. The KTM bikes are so interchangeable, Ken Roczen's wrench Carlos Rivera doesn't even need to build a new bike when Roczen goes from 250 to 350. They simply put in a new frame and engine, and bolt up the same suspension components and everything else back up.
Another rough weekend for Rockstar Makita Suzuki's Brett Metcalfe. He crashed twice on the same lap, once swapping into Trey Canard, and then crashing on the gator pit a few moments later. To give you an idea how much time he lost on that lap, Metty went from a 1:23 lap on lap 12, to a 2:10 on lap 13. He never gave up and finished 18th.
Nico Izzi looked super fast in practice, and he had a good jumping combination into the gator pit. Izzi pinned his Kilbarger Racing Honda and jumped over the gap in the bottom, stepping right onto the table top at the bottom (James Stewart's super fast line in the main event saw him jump from the table top at the bottom over the top of the next jump). Izzi was fired up and motivated all day—he says he's back training with his dad like he did in his amateur days. Unfortunately, he crashed in a rhythm section in the main event. He got up a lap down and actually ran right behind the front runners to test his pace before pulling in.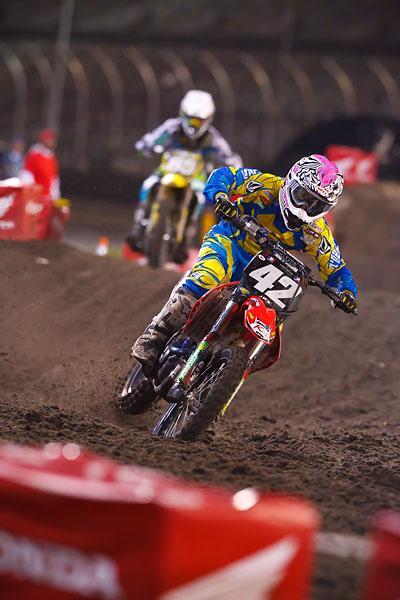 Mistakes would once again cost Izzi in the main.
Photo: Simon Cudby
By now you probably all know what happened to James Stewart in Daytona—holeshot, early lead, huge crash, fought back from last to ninth. But in case you've been living under a rock, that's what happened. He got up right in front of race leader Ryan Villopoto but never went a lap down, staying in front of RV the whole way. Late in the race, a fan who had missed his big crash probably thought they were watching an exciting Villopoto/Stewart duel for the win!
Crazy night for Mike Alessi. He jumped the gate in the main and got stuck in it, so he had to roll back and start about last. He later went off the track and hit a flagger—who, contrary to rumors was not seriously injured—and then found himself in the top ten late in the race. Then he moved over for Stewart when the blue flag came out, because Mike thought Stewart was about to lap him. He finished tenth.