Georgia Dome
Atlanta

,

GA
Atlanta
Monster Energy AMA Supercross Championship
The Moment in Atlanta was obvious to all: the race changed when Chad Reed tried and ill-fated last lap block pass on James Stewart.

We caught up to the two contenders after the race for their reaction. Reed, as always, was outspoken, while Stewart chose to take the high road, downplay any controversy, and focus on next week.

Chad Reed
Racer X Online: First off all, you said your goal all along was to be in the battle. I think you accomplished that tonight.
Chad Reed: Yeah I feel I was in the battle [laughs]. The goal was to put myself in a position to challenge. The track was challenging to pass on, to say the least, and I really feel like my technique and everything with my start is solid. I feel like everytime I sit on the gate, I'm going to get a good start. James made a mistake and I tried to capitalize and put in solid laps. On this track, there were times were you could go faster by backing in down in spots, so I really tried to work on that, finding the right rhythm. And I did that. I was really stoked on the pace. I made one mistake, really. And the biggest one was, I found myself hauling ass through the whoops, and I found myself on the left side of Blose. He was totally cool and tried to get out of the way, but I was already on his left, and he moved that way. Wasn't his fault at all.

So I gave up that gap right there to James. I really feel like other than that, it was a win, and it just required going through the motions on the last few laps, and it would have been a big W. So confidence is good, you know, your first win, you always feel good, but there I think things went my way. Tonight, I felt really good. I put myself in a position. James was aggressive, I was aggressive back. I hope James and I were still cool. I respect that this is a championship that we all want to win. I need points and it's go time. That was it.

Take us through the pass he made when you were passing Regal, and then the pass you made on him.
It was nothing Regal did, it wasn't intentional, but I was at the mercy of what he was doing. And James took advantage, just as I would have done in that situation. He made contact, he made sure he made that pass, but that's understandable, it was the last lap coming up. I just tried to stay close. Honestly, I put it up the inside, it was very aggressive, it was, it was….I gave him an option. Back off and let me through, and keep it on and we make contact, and if we make contact, I go down, you go down, or I go down and he stays up, or he flys off the track to the left and I go on to win. There's a lot of and ifs or butts, and unfortunately we both ended up going down. The fastest guys tonight finished third and fourth.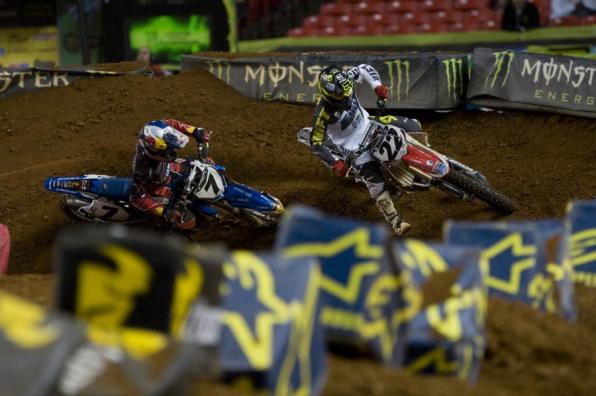 Seven and twenty two, back again.
Matt Pavelek photo
What happened in the time after the big crash?
Yeah he had the advantage, he was on the outside, so he took advantage of that to kind of…stand on my bike to make sure he could get to what he needed to do before I could. And I would have done the same thing, that's fair play in that situation. I think, the only thing I'm disappointed that he did was, he had an easy second. There was no passing on this track. He got up in front of me, if he had just maintained his race pace to the finish he would have finished second. Um, but he seemed really, kind of mad, and he wanted to take me out again. He was watching me and trying to cut me off. And I knew Dungey was there, when I was going through the whoops, I felt him on the right side, and I had to kind of come over and squish him off. So, disappointed that he did that, and when you look at the big picture, he gave up four points, and those four points are going to add up. He threw those points away. I was happy, I felt like he got his from going from second to fourth. But really, I hope things are still cool with us, we've been cool with each other all year. It's a long series, and James and I can't get into a battle of concentrating on each other, or it will end up being a race like it was this weekend, where the Ryans capitalize on our mistakes.
Racer X Online: Crazy day at the races?
James Stewart: No my day was pretty good. Felt good in practice, heat race was pretty good, and I got a good start in the main event. I just made a mistake and Chad got around me. Then I made one smaller mistake and he pulled away. I had to close the gap. Then I passed him on the last lap, pretty clean pass, I don't think I even touched him. Then on the last lap, obviously we tangled up and we both went down.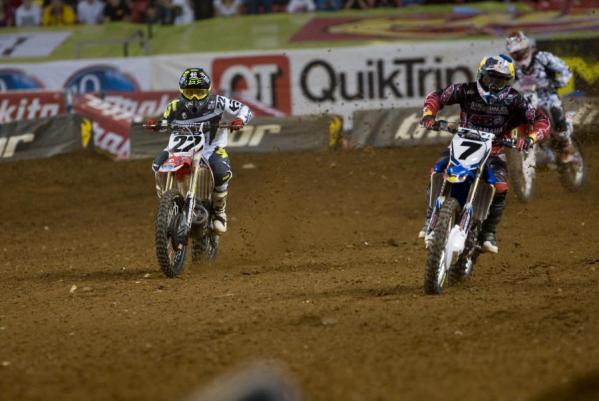 Check Reed's right elbow. These guys were going for it on the last lap.
Matt Pavelek photo

Where you mad at that point? What went down there. Take us through it.
It's just racing, right? I just chalk it up to that. I guess we're just going for the same place at the same time. Unluckily, he got third and I got fourth. The guys who we are trying to catch up to in the points, they gained more points on us.

Was it fun for at least 19 laps? You two were pulling away from the rest of the pack. You were on it.
Yeah we were, I guess it was like old times with us up front. I felt like, I was in shape, I wasn't going to get tired, and the track was hard to pass on, so I had to take my time. I tried to pick my spot, and not hit him. I had plenty of times do to something dirty. Otherwise things were good. San Manuel Yamaha worked great, team was great. But like I said, it is what it is, we will move on, regroup next week, put this behind us. It's just racing, right?