Georgia Dome
Atlanta

,

GA
Atlanta
Monster Energy AMA Supercross Championship
Back about 20 years ago, Atlanta, Georgia hosted one of the greatest supercross races of all time, and the old school guys like to go on and on about it. Tonight Atlanta hosted another classic, and this one was definitely old school in its own way, because it ended with James Stewart and Chad Reed down on the ground, in a heap, battling for the win and bringing the drama. Just like old times.
The results column makes this one look totally new school, as Monster Energy Kawasaki's Ryan Villopoto won the race and Rockstar Makita Suzuki's Ryan Dungey took second. Two Two Motorsports Bel-Ray Racing's Reed was third and Stewart fourth on his San Manuel/Red Bull Yamaha. Villopoto extends his season point lead from three to twelve over Stewart. But make no mistake, Stewart and Reed were the two fastest men on this night.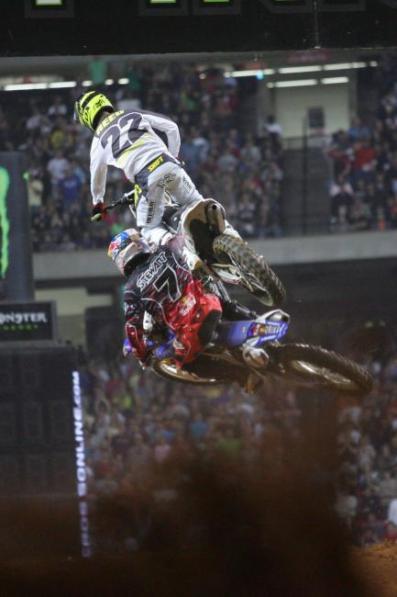 Reed and Stewart battled close, but clean, until the last lap.
Andrew Fredrickson photo
Stewart nailed the holeshot on his San Manuel Red Bull Yamaha, and Reed got out right behind him and started applying pressure. Reed, powered by his victory last week in San Diego, was riding confident and not letting Stewart get too far out, and then on lap three, Stewart made a mistake and lost the back end of his bike and slid out. Reed capitalized and took the lead, while Trey Canard stood third on his American Honda Racing bike. Then Canard, winner of the race in Houston two weeks ago, crashed, putting Villopoto and Dungey into third and fourth. But the two Ryans could not quite get into the battle with the duo of two-time SX Champions up front, as Villopoto raced about three seconds behind Reed and Stewart, while also distancing himself about the same amount from Dungey.
The battle up front went on and on, and the massive Atlanta crowd of 65,517 went crazy. Stewart would make a mistake, then close back in, then make another mistake and let Reed pull it back out. Stewart was making up major time in a right hand 90 degree turn, but then he made a huge bobble in that section and handed Reed a gap of about 2.5 seconds with just four laps to go. Reed seemed to have it in hand, but then, in the same corner where Stewart bobbled, he made a mistake of his own, getting caught on the wrong side of lapped rider Chris Blose.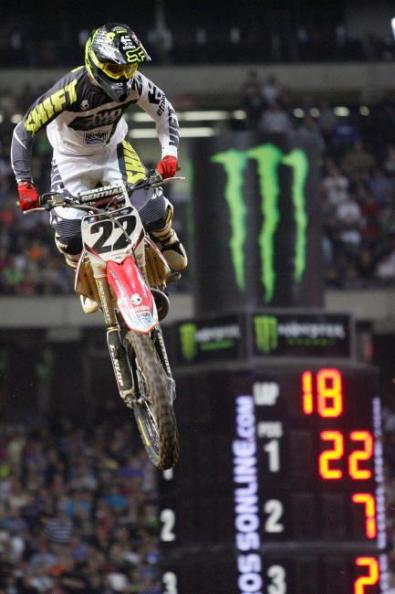 Reed won last weekend's race in the slop, but his speed on a dry Atlanta track was just as impressive.
Andrew Fredrickson photo
Reed admitted that it was his fault for trying to pass Blose on the outside, as Blose was moving outside, also, to get out of Reed's way. With that incident, Reed and Stewart had exchanged mistakes, and they were going to battle for this one wheel-to-wheel over the final three laps. Then Reed came up on Kyle Regal to lap him. Regal is Stewart's teammate, but didn't do anything dirty, he just held his line, but Reed hesitated just held up long enough for Stewart dart to the inside and slide through for a pass just as the white flag came out.
With just one lap left, Reed started getting desperate. He began working Stewart inside and outside, looking for a spot to pull a dramatic pass. He found the opportunity in a right-hand corner, diving way underneath Stewart and pointing straight to the exit of the corner to take his line away. Stewart, around the outside, had already committed to the next section (which included the whoops) and came out of the corner with a handful of throttle. There was simply nowhere for Stewart to go, and he collided with Reed. They both hit the ground in a heap, eerily similar to their collision at Phoenix last year.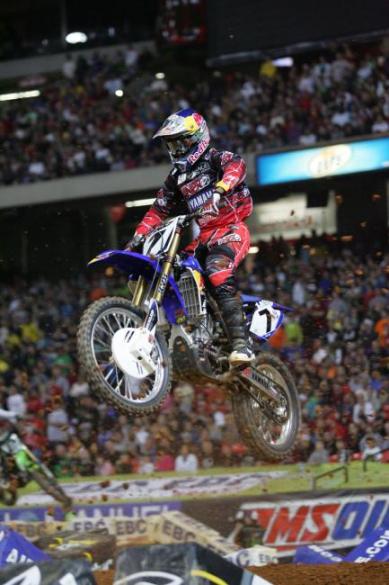 Reed rode well, but Stewart made the clutch pass he needed and appeared to have the race won. Until Reed struck back, hard, on the final lap.
Andrew Fredrickson photo
Was Reed at fault? Clearly it was a rough pass, as he aimed his bike straight to the exit of the berm. But it was the last lap and the win was at stake, so you may be a little more willing to accept that move, depending on your own personal opinion. Either way, Stewart made sure to stand on Reed's bike for a moment to make sure he would be the one to get up first. As they struggled to get up, the focus shifted to Villopoto, who was closing on the downed riders from third. He was able to go by and grab the lead, then Stewart got back going in second, ahead of Reed.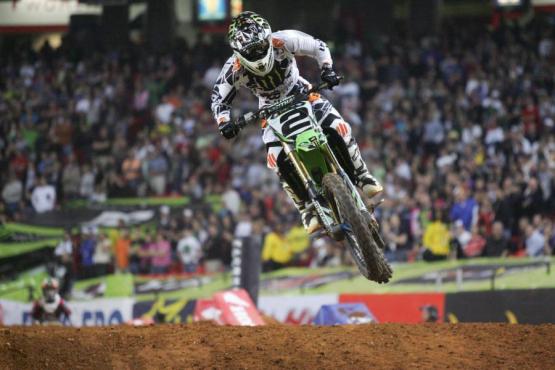 Reed and Stewart probably don't agree on much right now, but they did team up to give Villopoto a nice present.
Andrew Fredrickson photo
Stewart was angry, though, and rode Reed rough on the last half lap, going slow and cutting off his old (and new) rival all the way around. Dungey snuck past both to take second. Stewart hugged the inside in the final corner, so Reed went around the outside, gassed it, and squirted past him in the final corner to steal third. On the last lap, Stewart had gone from first to fourth.
Over the last few weeks, Stewart and Reed had seemed to be building an unlikely friendship. Before the race, it became clear that Stewart's old Team Manager, Larry Brooks, was no longer coming to the races as Team Manager of Stewart's team--Stewart said Brooks was, "Going to spend some family time." Reed and Brooks are bitter enemies, so the Brooks move would seem to have only strengthened the new-found friendship between Reed and Stewart.
That lasted all of about 24 hours.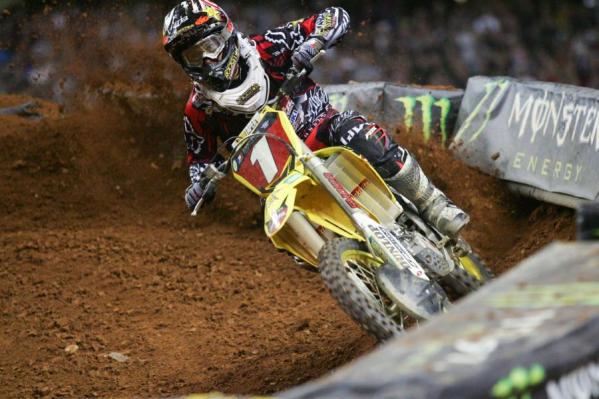 Dungey took second, also gift wrapped.
Andrew Fredrickson photo
Fifth went to Canard, who battled past Red Bull KTM's Andrew Short late. Justin Brayton was seventh on a Muscle Milk Toyota Yamaha, Kevin Windham eighth on a GEICO Powersports Honda, Ivan Tedesco ninth on his Dodge Motorsports Hart and Huntington Kawasaki, and Brett Metcalfe tenth on a Rockstar Makita Suzuki.
If the SX Class hadn't been so incredible, the Lites class would have generated a ton of buzz. The racing in that class was superb as well, with Dean Wilson railing to his first career win, not too shabby considering he started in the middle of the pack and had to pass the other fast guns in the East to make it happen. It also marked the 200th victory in the history of Monster Energy Pro Circuit Kawasaki.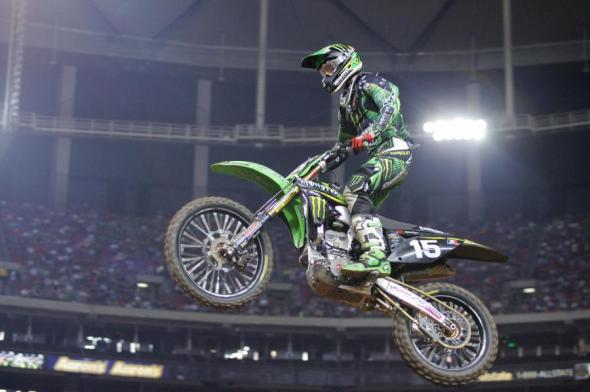 Dean Wilson put his name in the record books with a first-time win.
Andrew Fredrickson photo
As well as Wilson rode, Blake Wharton may have had this race won. He crashed twice in his heat race and had to race the LCQ, and after winning that, he held the 19th gate pick for the main event. But he got an incredible jump off the start in the main event, and pulled the holeshot from all the way on the outside. His GEICO Powersports Honda teammate Justin Barcia was away in second, but Barcia was hurting a bit from a practice crash that left him with a sore wrist. Whatron inched away while Barcia dealt with heat from Blake Baggett and Ryan Sipes. Sipes crashed, and Wilson moved up to fourth. The Barcia and Baggett battle began to close in on Wharton around the halfway mark, but Wharton caught a huge break. A lapped rider made a mistake right in front of Barcia, jamming up him and his pursuers. Wharton pulled his lead back out, while Barcia, Baggett and Wilson were left scrapping for second.
It was not easy to make passes on the Atlanta track, but Wilson found some lines, getting past Barcia and Baggett in the whoops and in a corner. This put Wilson second with a small gap to try to make up on Wharton, but Wharton handed the win over on a silver platter when he tucked the front end in a corner and crashed.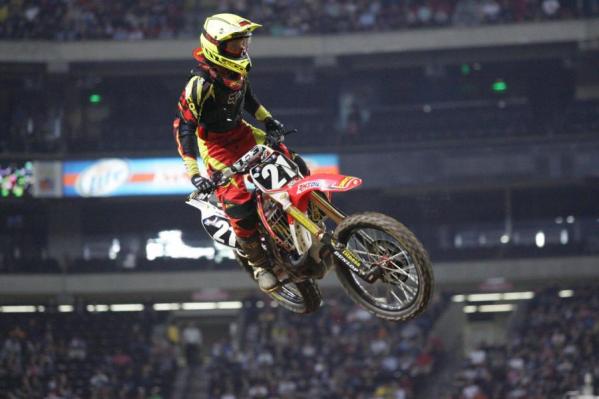 Blake Wharton was cruising with the lead for the entire race, until a late crash.
Andrew Fredrickson photo
Wilson rode past him, and the race was over. Barcia and Baggett spent the entire race battling, and Barcia never gave up the spot, finishing second. Baggett was third, matching his Houston result. Barcia and Wilson are now tied for the series lead, each with a win and a second.
The series heads to Daytona next weekend, with more championship drama and intrigue at mid-season than this series has seen in decades.
Monster Energy Supercross
SX Results: Atlanta, GA
1. Ryan Villopoto
2. Ryan Dungey
3. Chad Reed
4. James Stewart
5. Trey Canard
6. Andrew Short
7. Justin Brayton
8. Kevin Windham
9. Ivan Tedesco
10. Brett Metcalfe
11. Davi Millsaps
12. Nick Wey
13. Kyle Regal
14. Chris Blose
15. Tye Simmonds
16. Matt Boni
17. Fabien Izoird
18. Mike Alessi
19. Antonio Balbi
20. Kyle Partridge
Lites SX Results: Atlanta, GA
1. D Wilson
2. J Barcia
3.  B Baggett
4 B Wharton
5. R Sipes
6. H Hewitt
7. P Larsen
8. M Stewart
9. J Anderson
10. M Lemoine
11. L Vincent
12.  A. Martin
13. J. Sipes
14. L Kilbarger
15. B. Ripple
16. M Akaydin
17. S. Lipanovich
18. N Myers
19. V. McKiddie
20. K Rusk

Supercross Class Season Standings
1.     Ryan Villopoto, Poulsbo, Wash., Kawasaki – 171
2.     James Stewart, Haines City, Fla., Yamaha – 161
3.     Chad Reed, Tampa, Fla., Honda – 150
4.     Trey Canard, Shawnee, Okla., Honda – 146
5.     Ryan Dungey, Belle Plaine, Minn., Suzuki – 145
6.     Andrew Short, Smithville, Texas, KTM – 110
7.     Brett Metcalfe, Lake Elsinore, Calif., Suzuki – 104
8.     Justin Brayton, Cornelius, N.C, Yamaha – 90
9.     Davi Millsaps, Carlsbad, Calif., Yamaha – 88
10.  Ivan Tedesco, Murrieta, Calif., Kawasaki – 78
Eastern Regional Supercross Lites Class Season Standings
1.     Dean Wilson, Menifee, Calif., Kawasaki – 47
2.     Justin Barcia, Ochlocknee, Ga., Honda – 47
3.     Blake Baggett, Grand Terrace, Calif., Kawasaki – 40
4.     Ryan Sipes, Ekron, Ky., Yamaha – 34
5.     Blake Wharton, Aubrey, Texas, Honda – 33
6.     Jason Anderson, Edgewood, N.M., Suzuki – 26
7.     Lance Vincent, Youngsville, La., Honda – 23
8.     Matt Lemoine, Collinsville, Texas, Kawasaki – 23
9.     Malcolm Stewart, Haines City, Fla., Suzuki – 20
10.  Alex Martin, Millville, Minn., Honda – 20