Georgia Dome
Atlanta

,

GA
Atlanta
Monster Energy AMA Supercross Championship
The Atlanta SX has become a big happening over the last few years, with not only a massive crowd in the dome and a great TV audience, but also plenty to do before and after the race. DMXSRadio.com hosts a big party at The Masquerade in downtown Atlanta Friday night, and then Bremen Race Park (Bremenmx.com) opens its doors for riding all weekend as part of the annual Ride 4 A-T charity event. What's the event for? How can you get involved? Here's the man who started it, Atlanta's own Heath Hamrick.
Racer X Online: Okay Heath, the Ride 4 A-T is back again this weekend after the Atlanta supercross.
Heath Hamrick: That's right, we'll be riding Sunday morning the 27th, at Bremen MX park. Definitely looking forward to it. It's the eighth annual event, and we're already looking forward to number ten coming up shortly.
Okay explain how this event started, which included a personal connection to you through the diagnosis of your daughter.
Yeah, it started out when I found my daughter Savannah had A-T, which is Ataxia-Telangiectasia. It's a rare disorder that affects a variety of body systems, including muscles and nerves, and your immune system. It's horrible; the kids that get it are usually in a wheelchair by age ten and usually pass before their teens. We wanted to do something. We contacted the A-T Children's project, and got great help from a man named Brad Margus. There are only about 500 cases of A-T in the nation, and both of Brad's kids have it. He's very passionate about it, obviously. We talked to him about how we can raise money for research, and we basically figured out I could make the biggest impact through the motocross community, because I've raced my entire life, and I had some great friends in the sport.
I know the event raises funds by donating the entire day's track riding fees to A-T, and also through some great auction bids. But how did that idea come together?
Well, I went to one of the A-T Children's Project conferences in 1999. We learned about their fund-raising events, and started doing a walk-a-thon in Atlanta Motorspeedway. I wanted to do something fun like that within motocross, so I talked to Kevin Kelly who owns Bremen. He was like, "I'm game."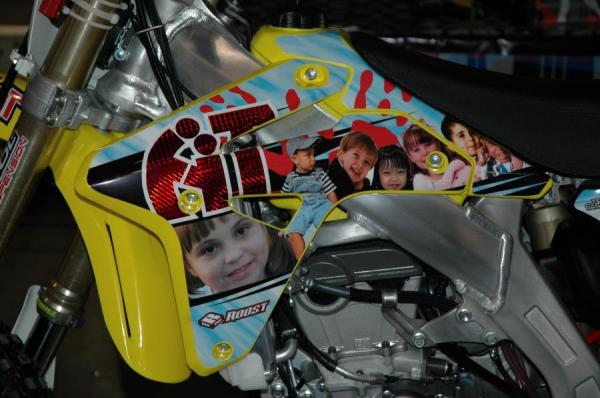 Ride 4 A-T graphics.
Photo: Ray Backman
That's big, but then you start getting some of the biggest name in the sport involved.
Yes and we've been very fortunate there. Being around racing, you get to know a lot of the guys. One of my close friends was Shae Bentley, and I used to go to a lot of races with him. I work for Delta, so I could fly wherever I wanted, so I would go to a good ten races a year. And when Shae was growing up, one of the main guys who used to battle was Ricky [Carmichael], who was also from our area. So I got to become good friends with Ricky, and I would go to some of the races with him. He got to know Savannah and her story, and was willing to help in any way he could. We've now raised over $229,000 over the years. It's pretty amazing.
Well it helps to have a good group of local talent down there in the Southeast.
Yeah we've got a pretty good crew down here, and pretty much all the southeast guys have been to the event. RC went to it to sign autographs the last four years he was racing. Ezra Lusk is also a good friend of mine and has come several times; Ezra also got Davi Millsaps involved and has done a ton for us. Timmy Ferry has come out several times, Shae of course, Andrew Short, Justin Barcia, we're so fortunate to have these guys helping out. Shorty is even coming this year, he even changed his plane ticket to come. Matt Lemoine is going to come this year, and Barcia. So many people want to help.
Fox Racing, along with RC, is one of the biggest reasons we've been able to generate so much money. They make four sets of gear with Ride4AT on the butt patch, and when Ricky was racing, they got special permission from the AMA to have RC on the back of his jersey instead of Carmichael. That makes the gear really special. Our best year was 2007, Ricky's last race in the Georgia Dome. We made over $50,000 that year.
Last year Ryan Dungey started wearing the Fox gear with the Ride4At patch, and this year he will run it, and Barcia will in the Lites class. And I'm telling these racers, that Ride4At gear has a pretty good record—I think the guy wearing it has only not won the race one time.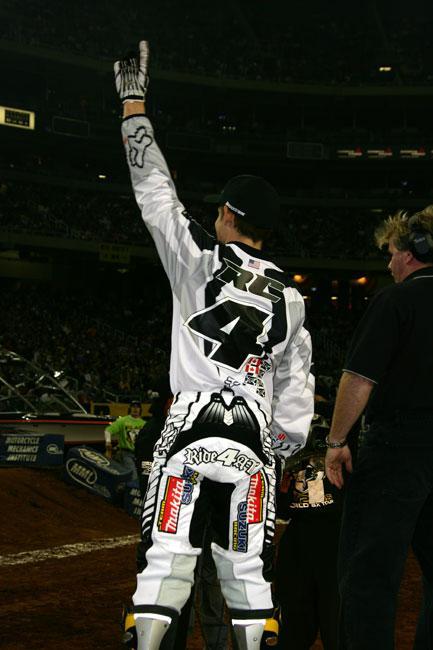 RC is a big supporter of Ride 4 A-T.
Photo: Ray Backman
So with the gear, you usually hold an auction at the ride day, which is always fun.
Yeah but this year we're going to do it a little differently. Normally we have you and Kevin out there running the auction for the gear, but we're going to do it online on eBay now. We will have all the gear on display at the charity ride, though, and I'm thinking we can let people who want to bid on them in person bid on them, and then we will start the initial bidding on eBay at that level. This gives the people who actually come to the ride a little advantage—they might just bid it up so high that no one on eBay will match it.
The Monster Energy Supercross people at Feld have been pretty helpful, too.
Yeah, Todd Jendro and Dave Prater have been a big help. They let us promote the ride during the supercross, and last year they even showed a video clip. Big thanks to those guys.
Last year Red Bull got on board and hosted their Re-Mix race at the ride day. That happening again?
Yeah that was awesome, had a little different spin on it. The ReMix race was a relay with their riders mixed in with some local fast kids. It was definitely fun, but this year we're going back to the traditional ride day so everyone can get in more track time. Kevin is even going to allow riding on Saturday, too. And it looks like awesome weather for a change, it's looking like 70 degrees, which may be an all time temperature high for this event. We want to give everyone more time on the track. It's $10 to get into the Bremen track and $20 each day to ride, and all of that money goes to the A-T fund. Also, Kevin hooks everyone up with free camping at the track for the weekend, too. So come on over and ride with us all weekend.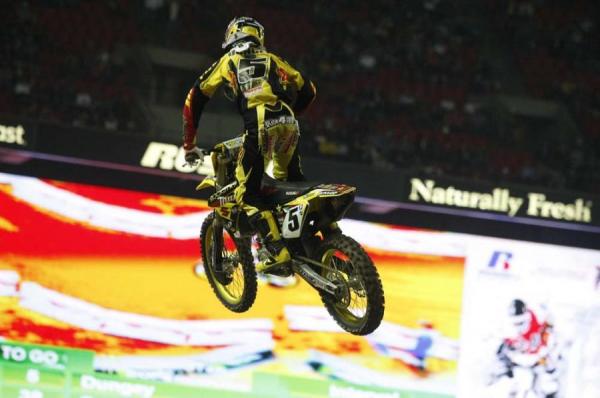 Dungey is also a big supporter of Ride 4 A-T.
Photo: Ray Backman
Sounds good. Anyone else you need to thank?
Big thanks to Roost MX, with Chris and Christina Denney, and Ryan Hardwick at Mountain Motorsports. David, Kevin and Brian at DMXS Radio, and Kevin and his whole family for opening up Bremen to us. Jendro and Prater at Feld, and Todd Hicks and Beeker at Fox.
And for information on the ride
Check out Ride4at.com, or heck, I'm so proud of this event, just email me directly, Ride4at@aol.com or call me at 678-300-7773. And for more on the A-T Children's Fund, go to ATCP.org
See you this weekend, Heath.
Thanks, Jason.