Georgia Dome
Atlanta

,

GA
Atlanta
Monster Energy AMA Supercross Championship
By: Jason Weigandt and Aaron Hansel

Welcome to Redux and welcome to my couch.
Not even my couch, to be honest. I sold my house in Morgantown in December with the expressed goal of buying a new house and completing the moving process before the season began. But unfortunately there is nothing short about the term short sale, and the house we were trying to buy fell into foreclosure.
Meanwhile, San Diego travel costs were out of control. Big medical convention going on over the weekend and I couldn't find a flight for under $600 or a decent priced hotel that didn't accept pesos only. So the bosses decided to just rely on our west coast guys, leaving me home in February for the first time since 2004.
What did I miss? Well, I'm crashing with my buddy Jason Hooper near Charlotte, NC, and the weather was so nice on Saturday that we got to grill out in the backyard. Meanwhile, texts were flowing in from San "Best weather in the nation" Diego about freezing temps, rain and more rain. So while my colleagues were shivering in the antiquated Quallcomm Stadium Press Box, I was back indoors, on someone elses' couch, enjoying a burger and watching the whole thing live on SPEED. Wife and baby had long since gone to bed. Now I know how the other side lives.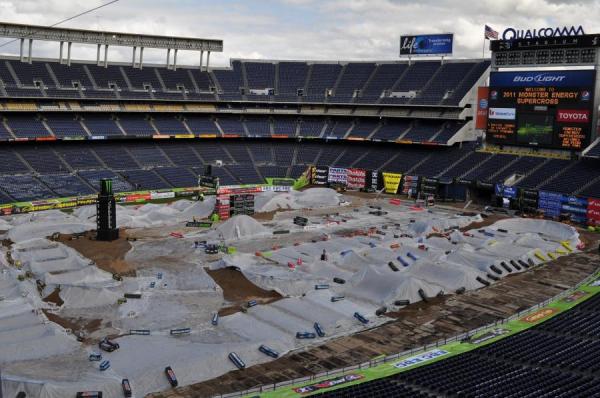 The calm before the storm in San Diego.
Photo: Aaron Hansel
Except now you're thinking, "dude, I watched it on TV, too, so what are you going to tell me that I didn't already see myself?"
Well, I solved this problem by having one of our West Coasters, Aaron Hansel, who actually did go to the race, pen his thoughts below.
But for a few paragraphs here, I get to be as knowledgeable as a sports talk radio guy who did nothing more than watch the game on TV and then go off with opinions.
First, how awesome is this point's race? RV and Stewie are just three points apart, Trey and Reedy are just 16 points back from the lead, and even the Dunge is only 23 back despite going off the chain two weeks ago. He was 38 points behind after Anaheim 2, 14 days before San Diego.
I've done some digging (into the memory banks) and I believe you'd have to go all the way back to 1993 to find a point's race this close. The first few rounds of that tour featured a mad scramble between Jeremy McGrath, Damon Bradshaw, Mike LaRocco, Mike Kiedrowski and Jeff Stanton, with Guy Cooper even getting in the mix. It was close early, but then McGrath launched a second win streak and firmly took over the series, and the whole darned sport.
Today, everyone only references 1993 as the year McGrath took over. No one remembers the early season, with MC taking two fourths, then four wins, then having a few sub-par rounds before just shutting everyone down. It's all lost in the sands of time.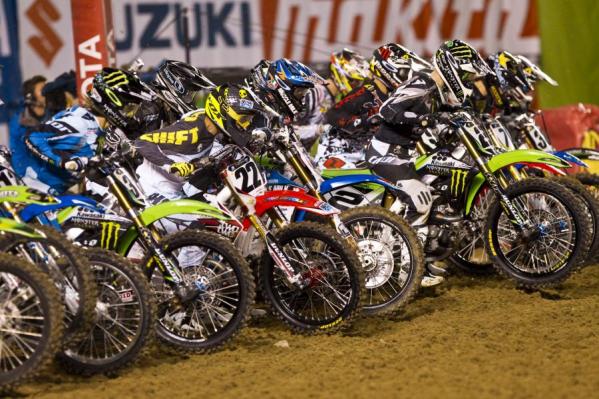 This season could be one for the ages.
Photo: Garth Milan
So, don't make that mistake. We wanted this to be an epic season, and that's what we're getting. Embrace it, live it up, savor the moment and seize the day. We have five riders within 23 points, and there's a chance someone is just going to go on a big streak soon and blow it all up. If we go into Vegas and it's still this close, start gambling because by then we'll have overcome ridiculous odds.
Speaking of, Chad Reed won the darned San Diego race. Odds were not quite ridiculous, but pretty long. Just a few weeks ago, a mere podium was a big deal for Reedy. I know Trey Canard snagged the lead from him with the "scrub to end all scrubs" and started getting away, but Trey's pace probably would not have lasted 20 laps in those conditions (note: it didn't). And Reed really seemed to ride better after the first few laps. He learned Trey's lines and started getting aggressive. Chad still has some issues getting going early, but in these conditions, patience ended up being a virtue.
Meanwhile, James Stewart was back to mere mortal, and when he stalled, he not only let Canard and Dungey by, he also forever dispelled Matthes' idea that he's running a Rekluse clutch. I think it's now fair to call Stewie a liar for claiming he would not change his "win or crash" style—he's definitely trying to be smarter and more consistent this year. Besides that crazyballs flashback on JT$'s back last weekend, he's been pretty strategic in the main events. You could tell Stewart was just riding super conservative, and I can't believe I just typed that.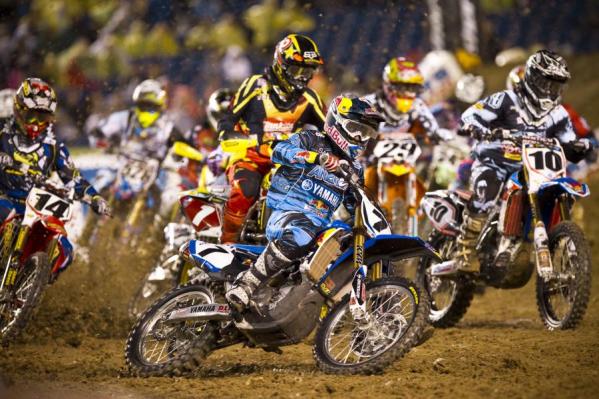 Stewart rode to a very quite third place finish at San Diego.
Photo: Garth Milan
Villopoto was the dude who was really on it. He looked positively unbeatable in his heat race. The track just bred mistakes, and he wasn't making any. I have no doubts he would have won the main if he just avoided crashing early, and yet, that's exactly what he did. And man, his old buddy Mike Alessi was almost a factor, because Mike led him until the final lap!
Finally, how about Shorty and Millsaps battling late for the "top former Honda rider" trophy? Good racing there, Millsaps made the move on lap 17 to snag a top five. DM18 is starting to hit his stride just in time for tracks like Atlanta and Daytona, where he will be very comfortable.
In the Lites, Eli Tomac obviously killed it, and somehow he's now within 12 of the series lead. There are now three, not two, West races after the break since Las Vegas counts for points, and with Josh Hansen going in for hand surgery, Eli has a real shot at this. He can definitely make up 12 points in three rounds, because I have a feeling he'll be on fire after taking this win.
Meanwhile, this was Broc Tickle's race to win. And title to grab. He excels in these conditions and just couldn't get it done, taking third behind his teammate Tyla Rattray. There's something about these Lites titles—it almost always seems like a guy has to lose one before he can win it. Dungey had to blow it to J-Law in '08 to get it in '09, where he edged Weimer, who had to lose to Dungey in '09 to win it in 2010. Trouble for Tickle is, the next big things are here in Tomac and Roczen, so if he doesn't get the crown this year, it won't be sitting on a silver platter in 2012, either. These Lites SX title fights are usually the first experience with big time pressure for these riders, and sometimes that gets to them. How much better has Dungey been in championship scenarios since he lost that one in 2008?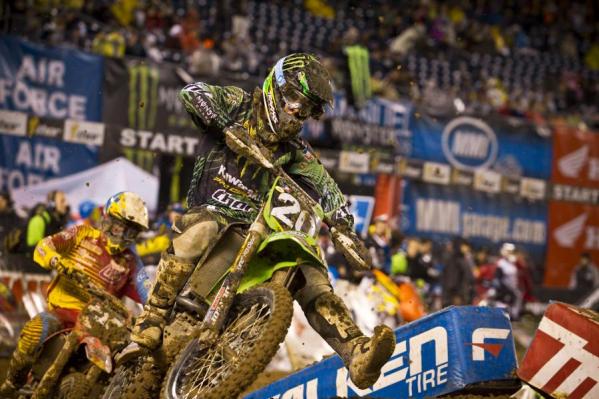 Tickle may have missed a golden opportunity in San Diego.
Photo: Garth Milan
Okay, that's it from me. On to Hansel (and Gretel), the guy who actually went to the race.
Bad luck. Self inflicted or not, it sure seems like it's making the rounds, doesn't it? From first turn pileups and rider collisions, to mechanical issues and plain old mistakes, everybody seems to be getting a taste of the nasty side of things this year. In San Diego, several of the guys ran into it.
First of all, there was Ryan Villopoto. RV is pretty good in the mud, and after the ass-whipping he handed everyone in his heat race, I was ready to award him first place on the night and head back to my hotel. Well, we all know it didn't work out that way. Villopoto crashed early in first lap, and by the time he got going again, the rest of the field was nearly half a lap ahead of him. RV even had to make a stop in the mechanics' area so they could remove a damaged rear fender and front number plate from his bike. It wasn't all bad for Villopoto though, as he was able to minimize the damage by charging back up to seventh place. He also remains the championship leader, three points ahead of James Stewart.
Trey Canard had a good ride going, and even had the lead for a while until he crashed all by himself, allowing Reed and Stewart to get past him. Later, Canard would crash again while running second and lose a ton of time when he couldn't get his bike started right away.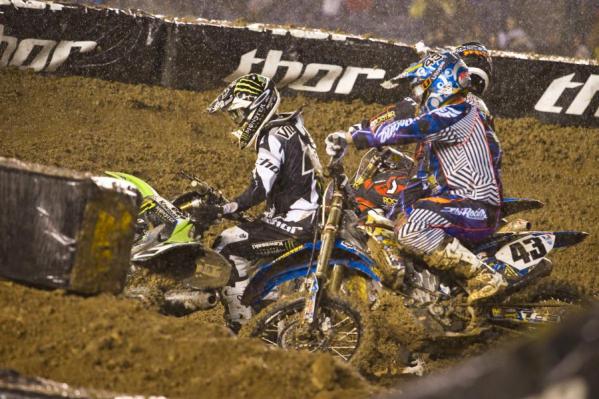 RV had his share of troubles in San Diego.
Photo: Garth Milan
Stewart got bit as well, when he stalled the bike in the right hand corner following the straightaway.
Kevin Windham also had a rough night. He took a nasty fall in his heat race, and didn't pop up right away. When he did get up, he was holding his right wrist, and it looked like he was in a lot of pain. When the Asterisk Medical Mule took hauled him away, I really thought he was done for the night. That is, until he came back and completely dominated his LCQ. Unfortunately, Windham had to pull out of the main with what looked like a mechanical issue (note: bent brake disc). Bummer night for K-Dub, especially after what happened in Houston.
Yup, bad stuff has been happening to just about everybody this year, and San Diego held true to the trend. As a result, nobody has really been able to get any traction in the point's race. With seven races down, just 23 points separate the top five guys. How cool is that? Think about it. If Villopoto DNFs the next race (I'm not saying it's likely), the potential is there for him to drop all the way down to fifth place!
Of course, even with all of this misfortune floating around, there was one guy who was ripping and keeping it on two wheels, and his name is Chad Reed. In practice, Reed started out slowly, but after a few laps he was looking great. Maybe it's just me, but lately Reed hasn't seemed like he's had the same confident, smooth style he had a couple years ago. In San Diego, however, something seemed different about him. I'm not going to say I called him for the win, because I didn't. But I distinctly remember thinking we might see something special from him that night. I really should have tweeted that so I could jump up and down and say, "I told you so!" Live and learn.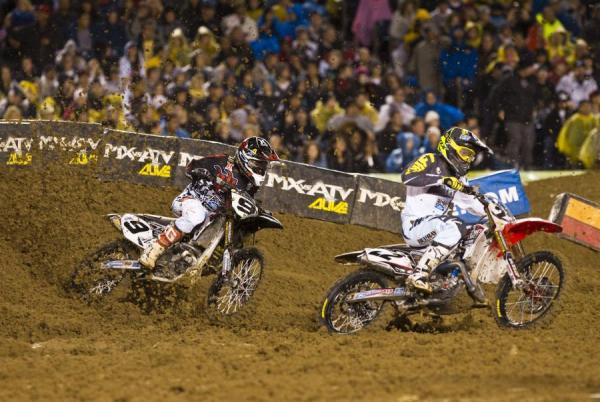 Reed got his first win of the season in San Diego.
Photo: Garth Milan
It was a great comeback for Reed, who hasn't won a supercross race in over a year. That's crazy, especially when you consider just how often the guy was winning before that. The fans loved it, and it was great to see a happy Reed cruising around after the race, doing burnouts all over the stadium. If Weege had been at the race, this column would be nothing but an endless series of Rocky references. On an interesting side note, Reed is tied for third with Canard in the series right now, and is the highest-ranking Honda rider after you factor in the tie-breaker (Reed and Canard have a win apiece, but Reed has more second place finishes than Canard). How long before Honda opens up the war chest and starts giving Reed the full factory advantage?
Matthes caught up with Reed after the race for this week's Monday Conversation, which you can check out HERE.
Let's go back to some of the bad stuff that happened in San Diego for a minute. Has anyone ever seen the movie, A Christmas Story? You know those big, thick, heavy eyeglasses that Ralphie, the main character, wears? There's a good chance I could be sporting a set of those the next time you see me, because apparently, my vision is not so great. In the Racer X Race Report from San Diego, I wrote that Ken Roczen crashed three times in the main. The truth is, he only crashed twice, and it wasn't long before Roczen corrected me on Twitter. I could have sworn I saw the 194 on the ground three times, but obviously, nobody would have a better idea of how many times Roczen crashed than The Roc Show himself. It was pretty muddy out there, and there's a chance that I got the 194 mixed up with the 149 of Casey Hinson (also on a KTM) at some point, but that doesn't really matter. The bottom line is that I got the call wrong on that one, and for that I apologize, both to Roczen, and the Racer X readers. Any further discontent and/or angry sentiments should be directed toward my immediate supervisor, Weege.
How about Andrew Short? He nearly took the holeshot, held down third for a couple laps, and then spent a ton of laps in fifth, then jumped up to fourth for a while, only to be passed by Canard and Davi Millsap's on the second to last lap. If he could have held on to fourth, it would have been his best finish of the year. I talked to him for a brief moment after the race, and he seemed just a little bummed that he slid two spots at the end, but was still positive about sixth, although he admitted he was a little tentative and ended up riding tight. Short broke his foot in the mud last year in San Diego, and I think he was just happy to leave intact on Saturday night with decent results.
Let's talk a little bit about the action in the Lites class. We had a first time race winner in the form of supercross rookie Eli Tomac, and what a win it was! Tomac was ridiculously fast in San Diego, and ended up winning the race by over ten seconds. He also set the fastest lap time and had the lowest average lap time of the race. He was on fire! Ok, he wasn't literally on fire, but even if he was, the crazy amount of water falling from the sky would have doused the flames anyway. The win put Tomac just 12 points out of first, and with three rounds remaining, his shot at the title is very much alive. Congrats to Tomac on getting his first and to the whole GEICO Powersports Honda team on getting their first win of the season.

Tomac shined in San Diego.
Photo: Garth Milan
I also thought Tyla Rattray put in an outstanding ride on Saturday night. Ratters was forced to sit A2 out two weeks ago after a crash on press day left him with back spasms, and for a few days, he couldn't even bend over! In San Diego, he came out and took second place despite heavy pressure from Broc Tickle and Cole Seely, on a track that that was tougher than Charlie Sheen's liver. Rattray's website, www.stylamx.com, attributed his result to the "boing factor," as in, he sprang back after facing adversity. I had a good chuckle when I read that, and I'm even laughing right now as I type it. If you aren't seeing the humor, just picture big Tyla Rattray rapidly springing up off the ground. For the full experience, be sure to make a, "Boing!" sound effect as you do it.
Let's talk about something that's not funny. Kyle Cunningham has had a rough season this year, and even though he often has the speed to run up front, he frequently finds himself on the ground. Sometimes it's his own fault, sometimes it's not. When he hit the dirt in San Diego after Hansen came up the inside of him, it wasn't KC's fault. Cunningham was pinned underneath his bike for a few moments, and after remounting, managed to finish in tenth. I talked to Cunningham about his night, (HERE) and I got the impression that Cunningham (what he said, the way he said it, tone of voice, etc) was more bummed about the fact that he had crashed again than he was about anything else. He also mentioned that he didn't think it was wise for a points leader (Hansen) to make such an aggressive pass.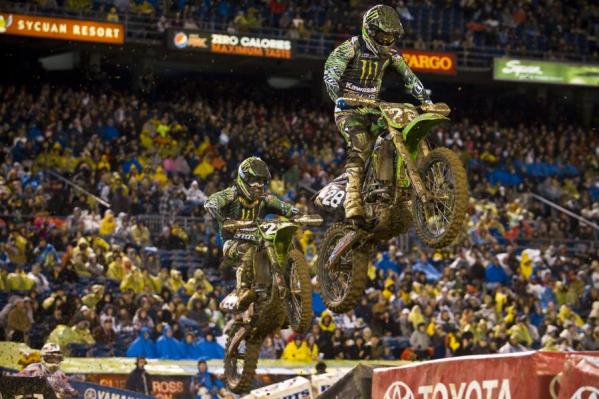 Rattray held off a strong charge from teammate Broc Tickle.
Photo: Garth Milan
That does it for what I have this week, folks. In closing, I'll let you in on a bit of knowledge that may help you if you ever have to spend any time with Steve Matthes. Never, under any circumstance, offer the man anything that even loosely resembles health food. During the race, I offered him a granola bar and he looked at me like he wanted to kill me. When I offered him a can of V8 juice a few minutes later, I really thought we were going to come to blows. If you were following @racerxonline on Twitter during the race (and really, why wouldn't you be?) you saw some of this unfolding. I'm not going to lie, it was pretty ugly for a few minutes.
Thanks for reading, feel free to email me, aaronhansel@sbcglobal.net if you feel the urge to do a little virtual bench racing. See you at the races!
(And if you want to email the boss, Weege, hit him up at jasonw@racerxonline.com)