Atlanta, GA
Atlanta
Monster Energy AMA Supercross Championship
Thanks for reading this thing and remember to shop at
BTOSports.com
for everything that you need for your bike or body. They give sweet deals to those that listen to the podcast and Pulpmx show as well.
This week the supercross series made its stop in San Diego, which we all know is Spanish for Whale's Vagina. I always like going there. It's a real cool city, laid back and is small enough that it doesn't feel like LA or wherever. I used to live down there in my KTM days (2000 and 2001) and thoroughly enjoyed all the things to do down there.
The rain fell off and on all day long and it was a weird day for sure. On Friday, it poured all day, but then Saturday morning started out sunny and hot. Despite this, the AMA and Feld pushed the practices back because of the condition that the track was already in, as well as the upcoming rains expected. And sure enough, the clouds came in, the skies darkened and rains fell. The delayed program was super-rushed and keeps the riders and teams on their toes. There is only about an hour from the end of practice to the start of the opening ceremonies, so the guys are still prepping their bikes when the huge fireball comes out signifying it's time to go racing.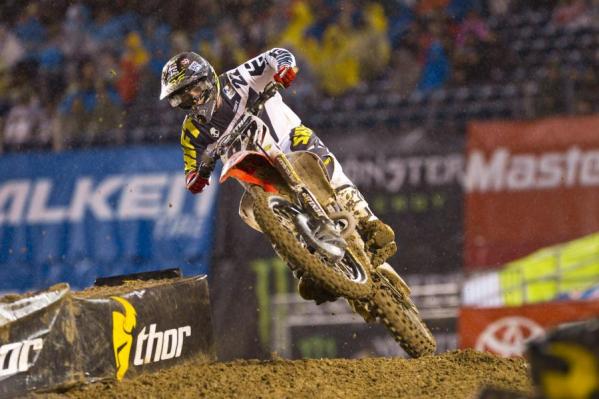 Reed was on the pipe in San Diego.
Photo: Garth Milan
So what about the track? Well, I have to give Dirt Wurx credit for covering the track and saving it the best they can. It was a weird paradox of super slippery sections and then lots of traction here and there. Then the rains came and it was slipperier than John Candy in Stripes. If dry, I think the track would have been pretty good, there was only one triple and that's always a good thing in my opinion. The whoops were pretty gnarly but were flattened before the night show because I imagine they anticipated rain, and slick whoops.
Quite a story Chad Reed is cooking up this year. After seeing last week's first-time winner Trey Canard go down while in the lead, the two-two retook the lead (he had the holeshot) and sped off to become the fourth different winner this year and improve his record in San Diego to 6-2. I'm not sure if anyone out there has noticed, but Reed's catching fire lately with three podiums out of the last four races after none in the first three. He's getting used to the Honda and may just make a run at this thing. He's 16 points back right now.
Some of you out there in Internet land can say that Reed's win wasn't straight up or earned, but the fact is that idea would be wrong. Once Reed got into the lead he had James Stewart right there and Stewie was powerless to stop the 22 train. It was a great ride for Chad and well deserved for everyone on the team.
I went back and forth with Reedy on Twitter on Sunday because David Vuillemin had said he was a privateer who won a race. In my opinion, he's not a privateer at all because he's got parts on his bike from Factory Honda, that's the end all to the argument. Access to riding on the Honda track is no big deal, that happens all the time. But it's the parts that I can see (and the ones that I can't see that I know he has) that make me wonder if he really should be considered a privateer.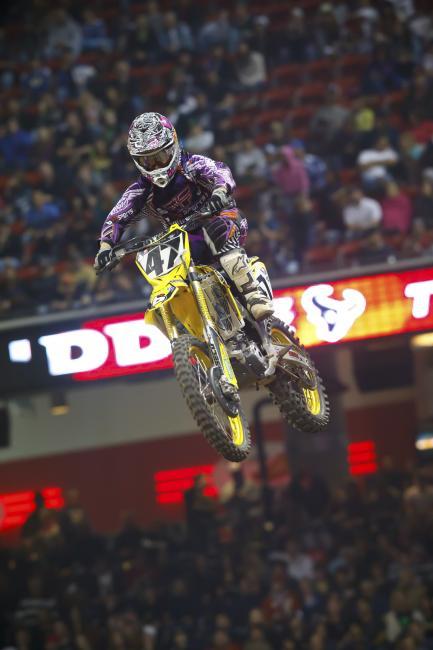 Are JT and Reed in the same boat?
Photo: Simon Cudby
Y'see I was a mechanic for the top privateer in SX twice (Ferry in '99 and Wey in '02) and we didn't get any special parts from anyone. There wasn't much of an acknowledgment from anyone for what we were doing besides a "good job" and some technical questions answered here and there. Wey did get to ride the Yamaha track in '02 though. I drove the series, slept in rest stops, showered in truck stops, and feared for my life in parking lots at 4 a.m. My biggest issues were finding water I could steal for the box van's water tank, and finding a place where I could get power for working on the bike. In short, I am not mentally able to wrap my head around Reed as a privateer. But then when I step back, maybe I'm just being the old man who walked uphill to school both ways. I'm the crusty old-timer who says, "Sure Chad Reed is fast, but Steve Stackable, now THERE was a real racer!" I'm starting to sound like one of those guys that wears the orange helmets and thinks all bikes should have holes in the side panels to help them put their dirt bikes on stands.
And I don't like sounding like that one bit.
I had Reed on the Pulpmx show on Monday and he was on for an hour taking calls from fans, talking about his race and many other things. He's always a great interview and the fans always light up the phone lines when he's on. We got into the privateer thing and his point was that if a guy like Jason Thomas started making podiums or winning races, you'd be damn sure an OEM would start flowing parts his way. He does buy many if not all his. parts and the team is operated by Reed himself. I asked him what he got for winning San Diego and he said purse money (12K) and Honda contingency (10K) and that was it. No OEM bonuses or anything like that.
His transmission has stock ratios but is hardened, and he has factory clamps. Despite that I'm going to say that he's very much a privateer. No, he's not like a Jason Thomas (but then JT's support is far above a guy like Tanner Riedman, just like Reed is above JT, and we all call JT a privateer right? You see my conflicts with this right?), but he is indeed a privateer and he convinced me on the show.
Last week I wrote about how his team was a little bummed that they couldn't have someone in the first turn to help Reed out if he went down. Things were made right this week when Feld awarded each OEM a third armband for first turn access, with the stipulation that someone from each OEM has to be in the first corner in the LCQ, even if they don't have an official rider in the race. I think that's a good move all around and glad to see it was handled in the right manner.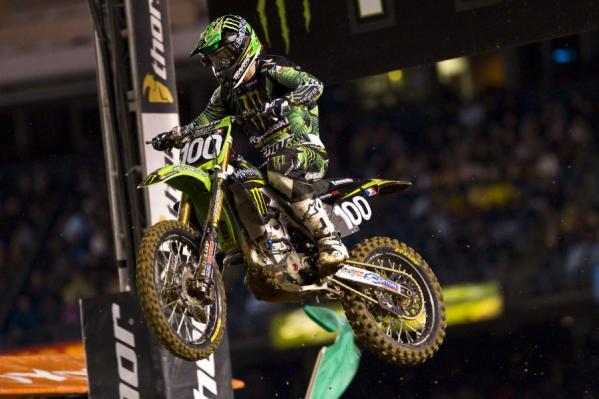 Hansen salvaged a sixth in San Diego.
Photo: Garth Milan
I wrote a few weeks ago that Josh Hansen might have saved himself the championship in LA when he came from dead last to fifth to salvage points. Champions need to limit the damage on your worst days. Well, Ryan Villopoto had one of those rides. RV could only make it up to seventh but it was a valiant seventh at that. As he explains in the post race podcast HERE, that he hit Justin Brayton in the third turn and then everyone piled onto him. By the time he got up he was way back, he pulled into the mechanic's area pulled off his rear fender and front number plate and headed back out to get whatever he could.
At first, he was closer to getting lapped than catching anyone in front of him, so it was pretty remarkable that he made it up to seventh. He remains in the points lead by the slimmest of margins, but it could have been a real disaster. RV hasn't won in over a month now and while he's been fast, he's got to get on top of that box to get his mojo flowing again. After Atlanta this weekend, I'm going to be staying in Florida for the week and hanging out at his place for a day, I'm sure that will be what he needs to get going.
I really thought that KTM's Ken Roczen was going to win the 250 main event. I had no doubt about it, kind of like how you know getting married and signing up for Ashleymadison.com is a bad idea and you're going to get busted. Think about this: Kid Rocz was fastest in the abbreviated practices by almost a second, he's from Europe and loves the mud, he had a great ride last week on the 350 while the other jerkies took a week off, he won his heat and simply, he's due. This was the perfect combination of speed, luck, fortitude and good old German know-how that was going to produce this win.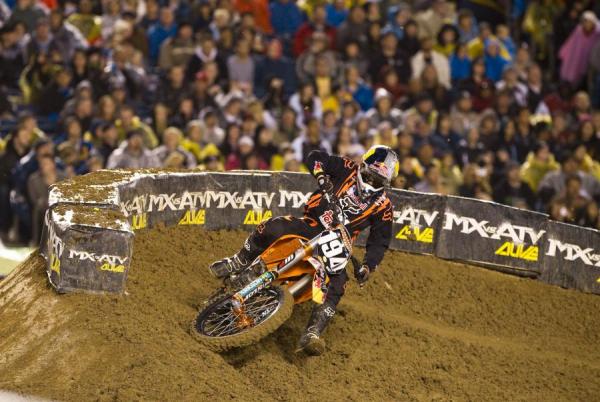 Roczen overcame two crashes in San Diego to finish seventh.
Photo: Garth Milan
Except he got a terrible start, crashed in the first turn and was way back at the beginning of the race. So that was it for him, onto Daytona he goes on the 350 and then back to the 250F to get ready for the GP's.
But you know what? Even if he had gotten everything right with his start, I'm not sure he had anything for the guy who actually won the race and that would be GEICO Honda's Eli Tomac. Tomac was a force on Saturday night and at one point he had somewhere around a 14-second lead until he ran into some lappers. What a race for Eli and congrats to him and his family, they all seem like real cool people who have a good grasp on this whole professional dirt bike racing thing.
With the win, Eli moved into third in the standings--he's got four podiums (all in a row) in six races--and he's actually in the running for the title right now. In the Racer X Podcast I did with Weege and Ping, he seemed to be Ping's pick for the title, actually, as he's twelve points down with three races to go.
And if you check out the official AMA points, you'll see that there are only two more races left in the championship. Hopefully someone tells them soon that Las Vegas actually counts for the title this year, which would make it three races. Think about that, the west and east guys are going to have practice and then BOOM--what would have been their heat race is actually going to be a final main event for all the championship marbles. That alone makes it worth going to the final race. Ping brought up a good point on the podcast: if previous races in Vegas are an indicator; I hope they lay off the water because the heats are always goopy and poopy due to overwatering (which you could argue is needed in the dry Vegas air). I'd hate for the title to be decided because dudes were just sliding out everywhere.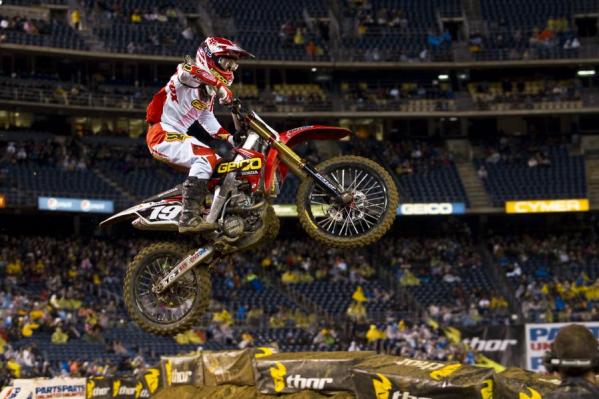 Tomac is 12 points down with three races to go.
Photo: Garth Milan
Broc Tickle was also a favorite for the race win based on previous rides in some sloppy conditions. He took third. I think that if he loses this championship (he's second right now, three back of Josh Hansen) he's possibly going to look at the two points he could have gotten by passing his teammate Tyla Rattray. Ratters is a great guy and a great rider but if you're Tickle, you have to find a way to make a pass on a guy that's coming back from injury, has raced a grand total of four Supercrosses, is on your team, and frankly, isn't as good of an indoor rider as you are.
Ryan Dungey is going to win a race this season, there's no doubt about that. He's got to be frustrated by seeing Trey Canard win one and Reed, a rider he was clearly better than early in the season, win his first of the year. The Dunge has been very solid (he's got the second most podiums in the series-tied with RV and one back of Stewie) and take away his chain derailment, he would be right there for the lead. The thing is, there aren't too many guys that believe Dungey is faster than Stewie, Villopoto, Canard or gasp, even Reed. Take an informal survey on this scenario: line them up, drop the gate and no one have any problems and I think people would tell you he's coming out either fourth or fifth fastest out of the above group. He's consistent, he's there, but he's been unable to close the deal when provided an opportunity. I do believe he'll win before the year is out but I don't believe he's going to straight up beat these dudes in my, and many others, opinion. Got to be frustrating for Ryan but he's working hard, having fun and you have to give it up to his team.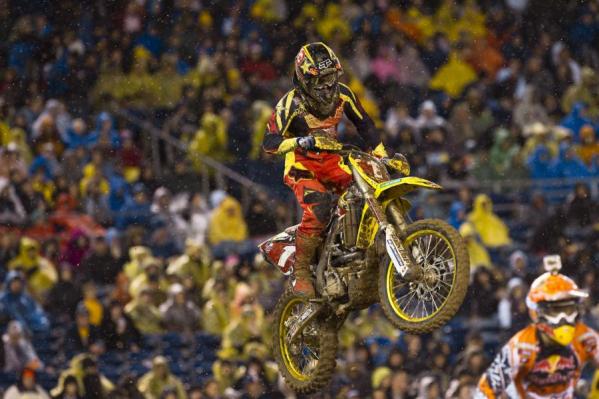 Will Atlanta be the place for Dungey to get his first win of the season?
Photo: Garth Milan
Two guys who have had tough starts to their years are Tommy Hahn and Kevin Windham. Hahn just came back from a shoulder injury when he went down in his heat race and twisted an ankle. He didn't come back for the LCQ, he's nineteenth in points with only one decent race and has at no point been at the front of any race. He's better than that and needs to hit reset on his year.
Windham has now DNF'd three races out of seven and has slipped outside the top ten in points. KW went down in his heat and I honestly thought that was out, as he was holding his wrist/arm/shoulder and got carted off. But then he lined up for the LCQ and won it handily. In the main he pulled out with front brake problems. When it rains, it pours for sure and for both of these vets I predict sunnier days lay ahead.
Trey Canard probably should've won San Diego as he blew by Reed and started checking out early in the main but, I swear to you guys reading this, I thought to myself that he looked to be pushing it a little too much out there in the slop. No sooner than I thought this, he slid out in the mud. Canard left this win on the table, no doubt about it--he had the best lap time but was charging a bit hard. I spoke to his trainer/man-friend/coach/shoulder to lean on Tim Ferry (I know, you're all shocked I spoke to Ferry) and he said that Trey wasn't that upset by the crash. Things happen and he'll learn from it.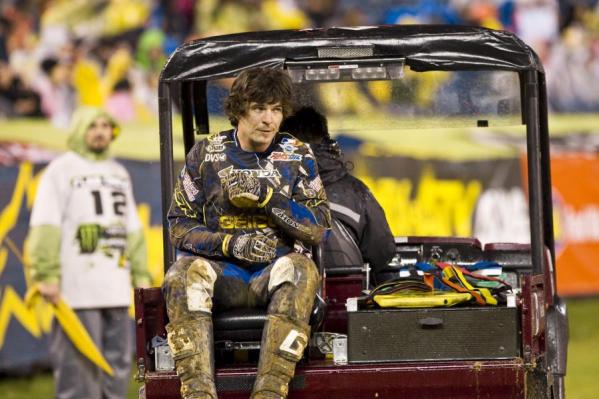 Windham had a rough night in San Diego.
Photo: Garth Milan
And I heard from someone that knows things that Honda is looking to put someone on the vacant number 33 Honda CRF450 of Josh Grant. They had great luck last year in reaching down into the GEICO Honda team, maybe they'll look to do it again with Eli Tomac? You'd think they wouldn't want to do that because of Eli being only a first year SX'er but stranger things have happened for sure.
The dynamic KTM duo of Andrew Short and Mike Alessi have both been much better in recent weeks and I can see Shorty kind of, maybe, getting into the mix for a podium soon. I've hammered KTM on the 350's so it's only fair to talk about how the #29 and #800 were 2-3 going into the first turn and for Shorty, that's two pretty good races in a row. With his sixth, Andrew moves into the points lead of the "B pack" of 450 riders, which is anyone that doesn't have the last name of Villopoto, Stewart, Canard, Dungey or Reed (for more proof of that B pack idea, consider that in seven races, with a total of 35 top-five spots available, those dudes have scored 29 out of the possible 35 top five placing's so far this year. The fifth place rider in the points--Dungey--has over a race lead in points on Shorty, and he DNFed Anaheim 2. Not hating, just saying. Top of the next group is a goal for Andrew to shoot for.
He's figuring out that bike more and more. Let's see what he can do with a few more races under his belt. I'm definitely not abandoning my absolute crazy, nutball theory (to anyone that bleeds orange) that having a motorcycle that is 100cc less than the guy next to you in a race isn't ideal, but let's just say I've eased up on the pedal a little bit.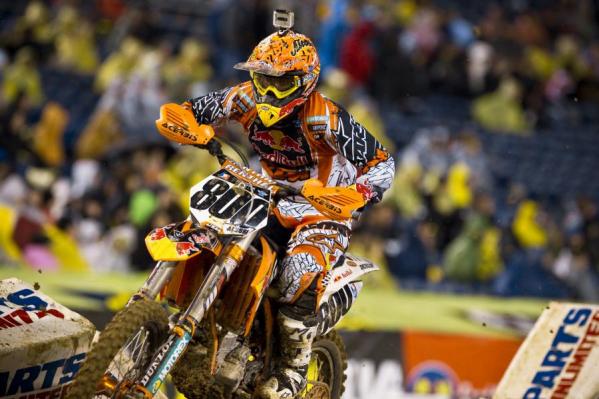 Alessi is starting to turn around his season.
Photo: Garth Milan
As far as Mike is concerned I feel like he's back to his " I don't care that I can't win or even sniff the top five right now, I'm going for the start and to hell with what happens after that" mentality. His results have picked up after his father Tony came back to the races (Tony vowed on the Pulpmx Show that he wasn't going to the races this year because he didn't want to be perceived as a problem anymore). Both Mike and Tony say that is coincidence, and Tony is not taking credit for the turnaround. I did hear that Tony told Mike after his sub-par performance at Oakland that he had better go get a real job if he was going to ride like that. I know "real job" would put the fear of God into a lot of racers out there so maybe that's it.
Let's take a look at the results shall we?
250 class
1 19 Eli Tomac
2 28 Tyla Rattray- great return for Ratters as he grabs a career-best second place in the mud. He must have thought he was back at Bulgaria or somewhere like that.
3 20 Broc Tickle
4 36 Cole Seely- Good ride for Seely.
5 66 James Decotis- Decotis was pretty good for most of the race and seemed to be ready to make his first podium but he slipped at the end of the race for whatever reason. Three laps over the one minute mark doomed him.
6 100 Joshua Hansen- As I've written before, Hanny can't seem to not start drama in his life or racing and, like I've written before, he's going to need friends at some point if wants to hang on to his points lead. His clean out of Cunningham wasn't cool and he should've taken the route that Decotis used to pass him a few laps before, but nope, he couldn't seem to do that. I hope he doesn't find himself needing to get around KC or Jake Canada at some point at the end of the series.
7 194 Ken Roczen
8 49 Ben Evans- Evans gets his best finish of the series and with it, the title of top real privateer at San Diego.
9 71 Ryan Morais- Mo is finally back practicing during the week and trying to get a win here but he's running out of races in his last year on the lites bike.
10 35 Kyle Cunningham- I'm sure that Cunningham has the #100 on blast at some point when the series picks back up.
11 903 Antonio Balbi- Antonio got the tap on the shoulder to fill in on the Motoconcepts Yamaha team while Kyle Chisholm is recovering from his injuries.
12 23 Martin Davalos- It's official, the wheels are off the Davalos bandwagon.
13 831 Ryan Smith
14 55 Tommy Weeck- Tommy was pretty good in the slickness of San Diego. He was clearly the fastest rider in his practice group and this was his first main of the year.
15 72 Nick Paluzzi
16 149 Casey Hinson
17 152 Scott Champion
18 965 Travis Bright
19 166 Dakota Tedder- I feel like I'm a long way away from knowing which Tedder is which.
20 132 Kyle Beaton- Canada's kid wonder again made the main but another rider took him out early in the race and his bike was too jacked up to continue. Good thing he rode his practice bike.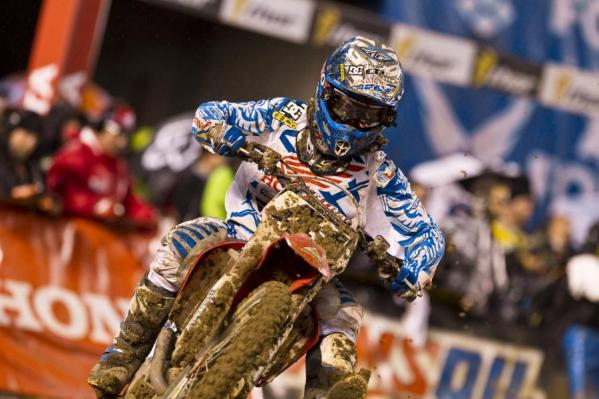 A couple of mistakes cost Canard in San Diego.
Photo: Garth Milan
450 class
1 22 Chad Reed
2 1 Ryan Dungey
3 7 James Stewart- Quiet night for JS7 and this was his Tweet after the race:  "Man it's so funny that people are calling me Like Yo what happen last night??? My answer is pretty simple... I GOT BEAT lol. Merry Christmas." Love the Merry X-Mas line in there and love the "Proud to be an American" podium speech.
4 41 Trey Canard
5 18 David Millsaps- Don't look now but Davi's on the move. He's passed his teammate Brayton in the points and his last two races are top fives. Want to bet he keeps the roll going for this weekend in Atlanta?
6 29 Andrew Short
7 2 Ryan Villopoto
8 24 Brett Metcalfe- Metty has five eighth place finishes in seven races with a fifth and a ninth in there.
9 800 Mike Alessi
10 10 Justin Brayton- Brayton's had a couple of bad races (for him) in a row now and he needs to get it back up there. Like he told us in the podcast, last year he was top ten every single race but this year he's faster but way more inconsistent. He likes it better this year, because when it clicks, he's up there.
11 27 Nicholas Wey- Nick did in San Diego what he does, keeps it on two wheels and puts in consistent laps to almost make the top ten.
12 30 Kyle Regal- Regal and Wey tie for the "I didn't really notice them all that much but I suppose they're doing okay" award so far this season.
13 321 Fabien Izoird- I've spoken to Fabien a few times at the Kawi truck and he seems like a very cool dude, he's happy to be here and he works hard.
14 38 Chris Blose
15 9 Ivan Tedesco- To me Ivan's best ride of the year was in the opener and since then he's shown some speed but I've also seen him on the ground a few times.
16 26 Michael Byrne- "That was embarrassing"- quote from Byrner after the race but I mean, c'mon, it's his first race on a beaten down track. Don't be so rough on yourself Michael!
17 877 Maxime Lesage- He's from France and rides for Le Top Kawasaki team. Now you know as much as me.
18 74 Austin Stroupe- Stroupe didn't have a good night. I maintain the fact that he's fast and talented though.
19 43 Weston Peick- Weston didn't have a good main but hey, at least he's in the main! Last year he made six mains in seventeen races and this year he's four for seven so that's an improvement.
20 14 Kevin Windham
I didn't give out my award for best-dressed rider last week and got more than a few emails about it. It flatters me that people actually care enough about that and also scares me that people actually care enough about that.
So with that being said, the best-dressed rider in San Diego was…
Fly Racing's Andrew Short and his orange and star laden General Lee motif! I have already stated that I do love the look of the KTM machines and when you combine the gear with the bike, it's a winner to me! I know that Thor did the General Lee motif a few years ago so this Fly stuff isn't original by any means, but they do a nicer job than Thor did a few years back in my opinion. So congrats to Fly and Shorty on this prestigious honor, I'm sure it's right up there with the MXDN win.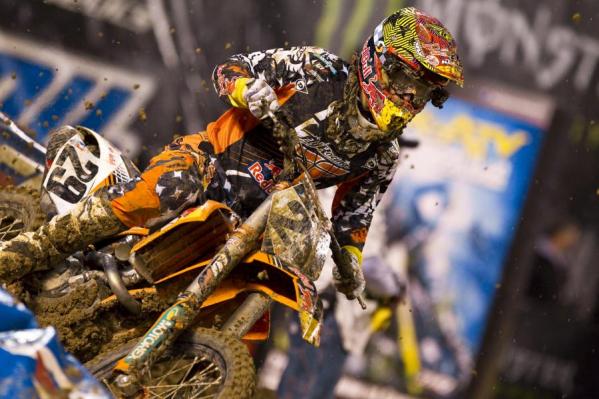 Shorty won best-dressed in San Diego.
Photo: Garth Milan
Thanks for reading and email me at steve@pulpmx.com and we can be column buddies. See you next week from Hot-lanta!