San Diego, CA
San Diego
Monster Energy AMA Supercross Championship
What a story Chad Reed weaved on Saturday night in San Diego. He took home a somewhat unlikely victory in a stadium that he loves so much. The Honda mounted Reed grabbed the holeshot and  kept it on two wheels in some slippery and treacherous conditions to win the whole thing. It was a great ride for the two-two, the man who went out and formed his own team for 2011 when his options for a ride weren't to his liking. While the rain poured down off and on after the race, I caught up to a very happy Reed by his truck, still in his gear, signing autographs and getting high-fives from what seemed like half the industry.
Racer X: Chad, congratulations on the win, it must feel pretty good.
Chad Reed: It's a different feeling for sure than my other wins. The last lap I started thinking about, well you're always thinking about how you can win if you put yourself in position to win, but this one was coming to reality on the last lap and over the triple, I took a look down at my radiator shroud and saw the Two-Two logo and thought, "Wow. That's pretty cool.' It's a pretty cool feeling to have your name on that bike and it could be fun. It's hard to put into words what the feeling is. That's what? 39 race wins now?
I think so.
Yeah, so thirty-nine other wins and [with the other ones] it's what you expect to do. So I'm more proud of the team and the supporters of the team. I understand what it takes on this level to go racing, all the people on the team took a leap of faith to come work for me. You offer them a two-year deal but anything can go south on you at anytime. The economy sucks and all that. The people that came over and believed in me, I was more happy for them than anything else. I've won a bunch of races already, but the feeling of having the guys on the team have their first victory is a pretty damm good feeling, to be honest.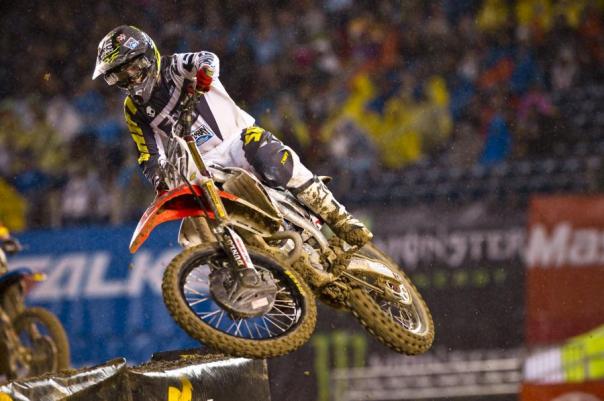 Reed was cautious early, but turned it on when it really mattered.
Photo: Garth Milan
Trey Canard passed you early in the race and pulled away a bit, what was going through your mind at that point?
Yeah, Trey was riding well. As soon as he showed me a wheel, I let it happen. I wasn't comfortable, I was riding cautious and let him by. He had some good lines, some that were more fluid than mine and he was attacking the track better than I was. At that point I was just getting ready to recoup and try to make a run at him again when he washed the front. That was unfortunate for him, but for me it was time to go and I was trying to extend that lead. I saw him crash, tried to sneak around the outside of him and I was just gauging myself off of James. That feels good to say. I was going off of him and it feels nice for him to come over and say that he had nothing for me. Right around lap ten, he had a burst to try and catch me but I responded well, I thought.
I had some great lines out there. Trey showed me some new ones. Thanks Trey! I was just putting it together and I changed my line up in the whoops, I was launching through them and it set me up pretty well. Overall, I'm so happy and proud and complete right now. It's not one of those wins where you're like, "Yeah we killed it" but you can get momentum from it. I still need to be faster and better but nothing changes besides gaining some points and winning. These guys are going very fast and I need to go back home and go to work.
What is it about this place (San Diego)? You're like 6-2 here in your career.
Depends on who you ask, if you ask (David) Vuillemin it might be different but I'm claiming 6-2! I don't know, I like the vibe here, I love the big stadium and I feel like that's how supercross should be raced. The track allows for lots of passing, I love the long start straight and it just makes me happy. When I got on the plane I was happy. I had one of the worst heats all year, I got smoked and I didn't even care. The race that pays the big bucks and the twenty-five points was coming up. We made a few changes, but mainly, for the main it was just an attitude change on my part.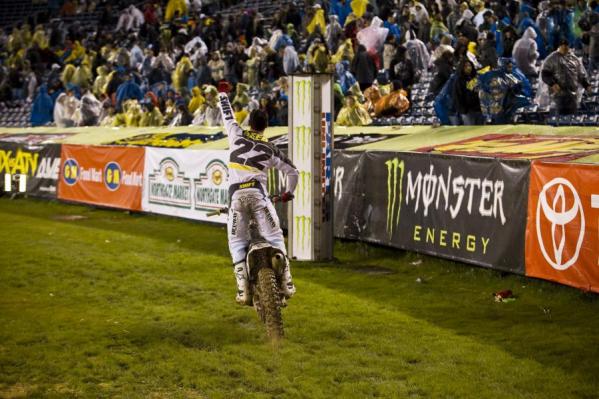 The glory of victory.
Photo: Garth Milan